The top 10 cushions I want to buy right now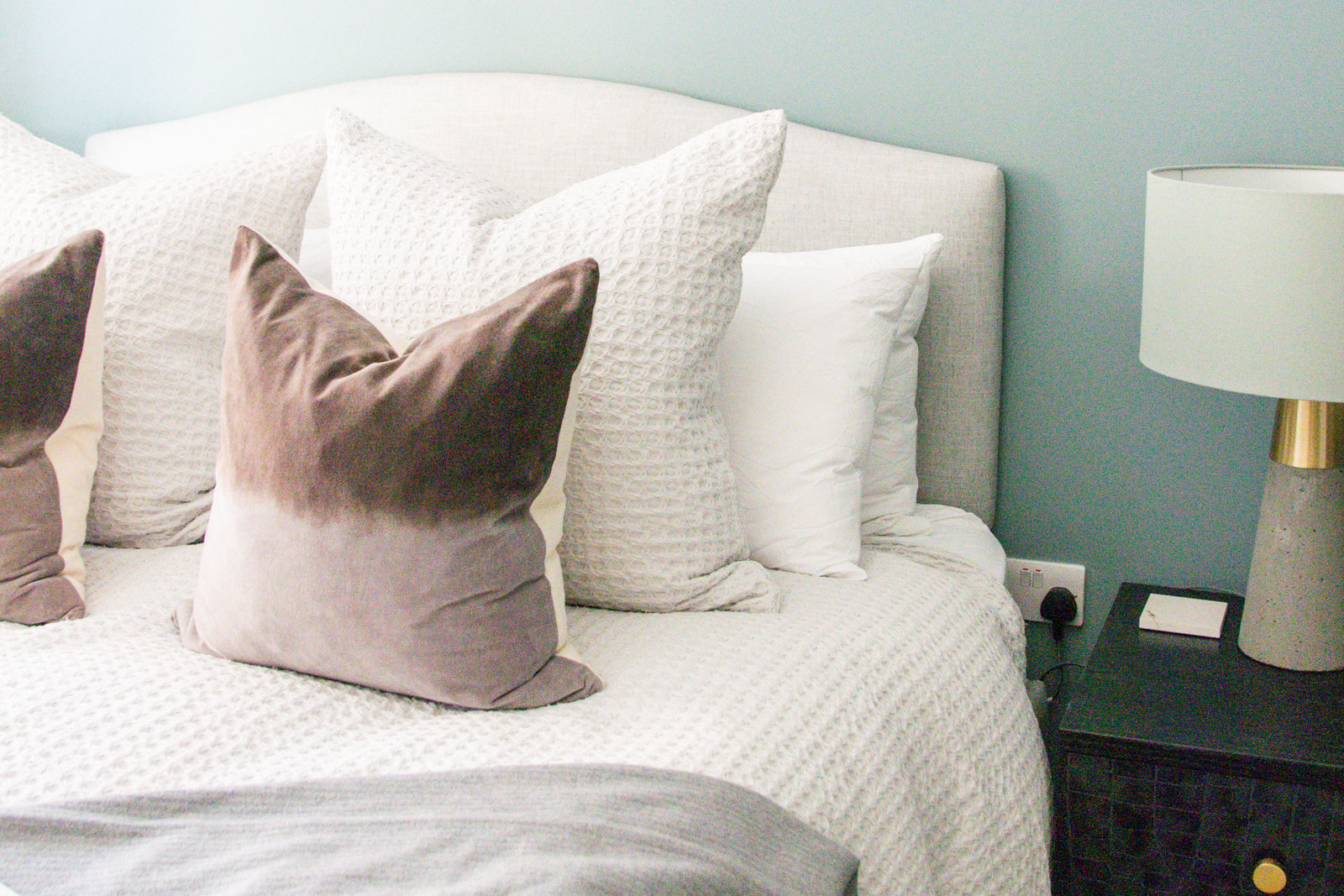 With summer on the way (yey!), it's time to switch up our homes a little. I find the quickest and cheapest way to change an interior is to buy a few new cushions. So here are the top 10 cushions on my purchase list right now.
I've always been a little cushion obsessed. I mean if any of you reading this have been to my home then you will know. You basically can't sit on the sofa for there being so many cushions. I have 8 cushions in my living room, 4 cushions in one bedroom and 7 cushions in our bedroom. So for a tiny apartment, we have a lot of cushions!
But that doesn't mean that I'm not always on the look out for new cushions. They are a great, fairly inexpensive way, of changing up your interiors come season changes. So with summer around the corner, I thought I'd write a list of the top 10 cushions I want buy right now. (If only we weren't saving for a wedding).
I can't promise that they will be anything other than grey, blue and silver. But I might just throw a wild card in there for good measure!
To say we live in such a tiny apartment, we have a hell of a lot of cushions. So I thought I'd tell you which are the next 10 on my list.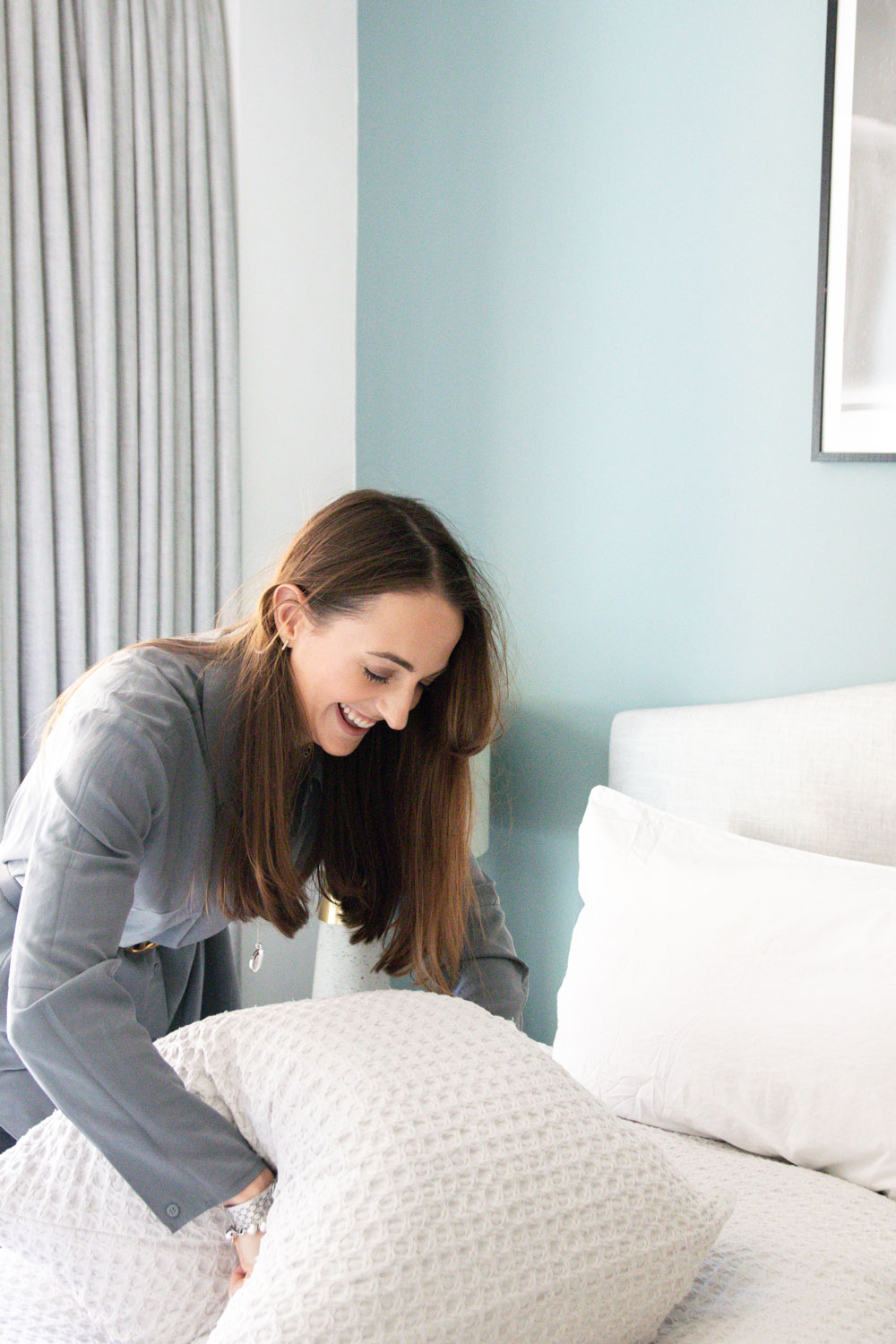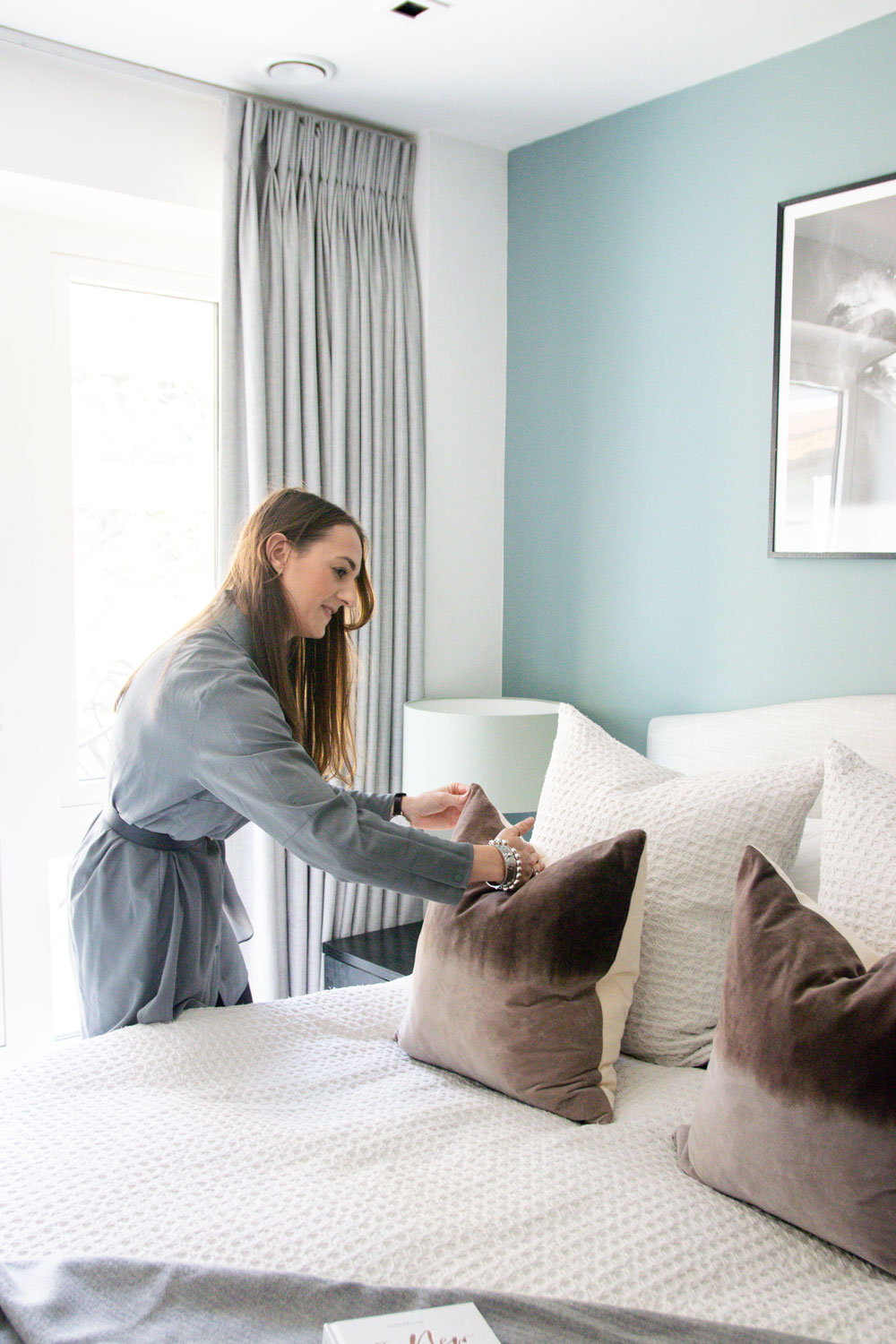 First up, come the two cushions on my list from my favourite high street store. 8 out of the 19 cushions I have come from here. The remaining 11 I've mostly had made, with the exception of two from Oliver Bonas and one from Kelly Hoppen.
White company cushions
I've actually already got the Colville Cushions from The White Company on my bed. I have two medium squares, two large squares and the throw. Although I've got it already, I'd love to have it again. We've had them for 3 years now, and despite serving us well, we could do with a fresh set!
I'd also like to have a complete second set of bed cushions and throw for our bed too. So that every week when we change our bed, we change our throw and cushions too. Obviously this isn't practical or affordable which is why I haven't yet. But if I could I'd go for the Pale Blue Vienne quilt and cushion covers.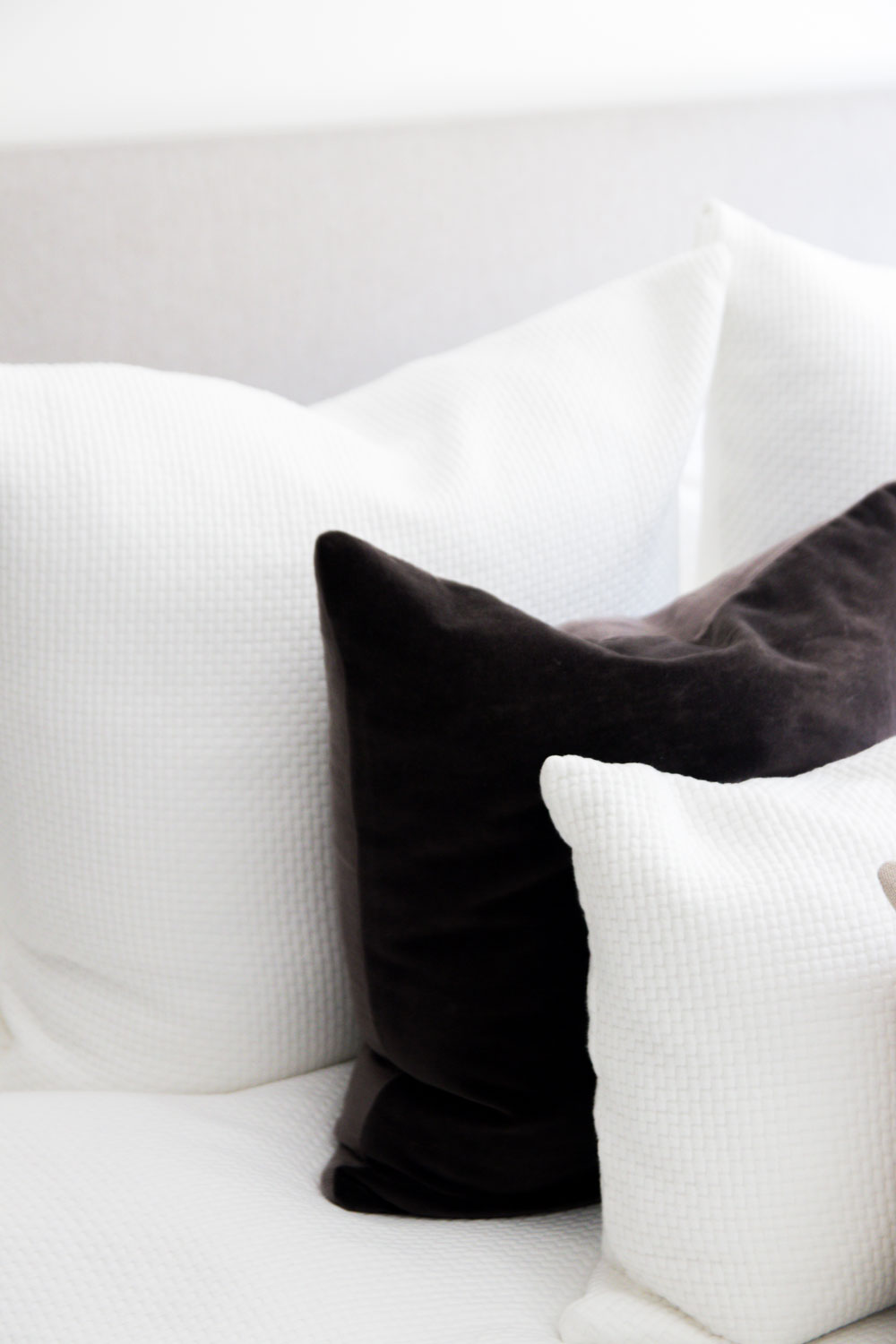 Somewhere I'm really loving for all things home right now is H&M Home. They have just nailed affordable, stylish homeware. And every time I go into one of their stores I want to buy EVERYTHING! So I thought it would be weird if a couple of cushions in my list didn't feature from there.
My Top H&M Home Picks
Slight wild card maybe, because it's not grey, blue or silver! But I love this pink linen cushion cover. And I'd love to find a way to work it into our interiors some how. Soft rose pink works beautifully with white, so if you have a blank canvas then through in some pink.
I also love this slightly more rustic fringe trimmed cushion cover. I wouldn't add rustic accents into my home all the time. But I think they really work in the summer as you are bring more of the outdoors in.
A long time favourite
When I used to work at Kelly Hoppen, I always wanted the Pimlico Linen Cushion. But I always wanted everything from there, so had to restrict what I bought from them. Even four years on, I still love them. So these definitely had to make my list.
A new cushion though, and a set I haven't spotted until putting together this list are the Hampstead Linen Cushions. Which I'm not totally obsessed with! They match my plates and mugs from Kelly Hoppen that are in the same three colours – white, taupe and grey.
A great way of seeing if cushions work is to just purchase them and see. I once styled a clients home from a selection of 50 cushions. We kept 3!
I've also always had a little bit of a 'thing' for Zara Home. They make some lovely cushions, and are really inexpensive too. They manage to make really different cushions that don't at all look cheap or tacky.
The cushion I'm loving from Zara Home at the moment is their Cream Cushion Cover with Beading. It's not really me at all, but I absolutely love it. I think whenever the sun comes out, I immediately want my home to look more rustic and outdoorsy. And this cushion definitely reminds me of an outdoor rug and bring the outdoors in.
Something Glam
Now I know I said that changing cushions was a really cheap way of being able to change an interior. But for one second, let's just forget the word cheap. There are some cushions that are 100% worth investing in. Particularly when you are cushion obsessed like me.
I will definitely have to save up for this cushion. But if I wanted a treat, or needed something to add my birthday wish list, then this would definitely make the cut. At £150 the Zinc Barriere Cushion from Lux Deco is pretty pricey. But the embroidery detail is just exquisite.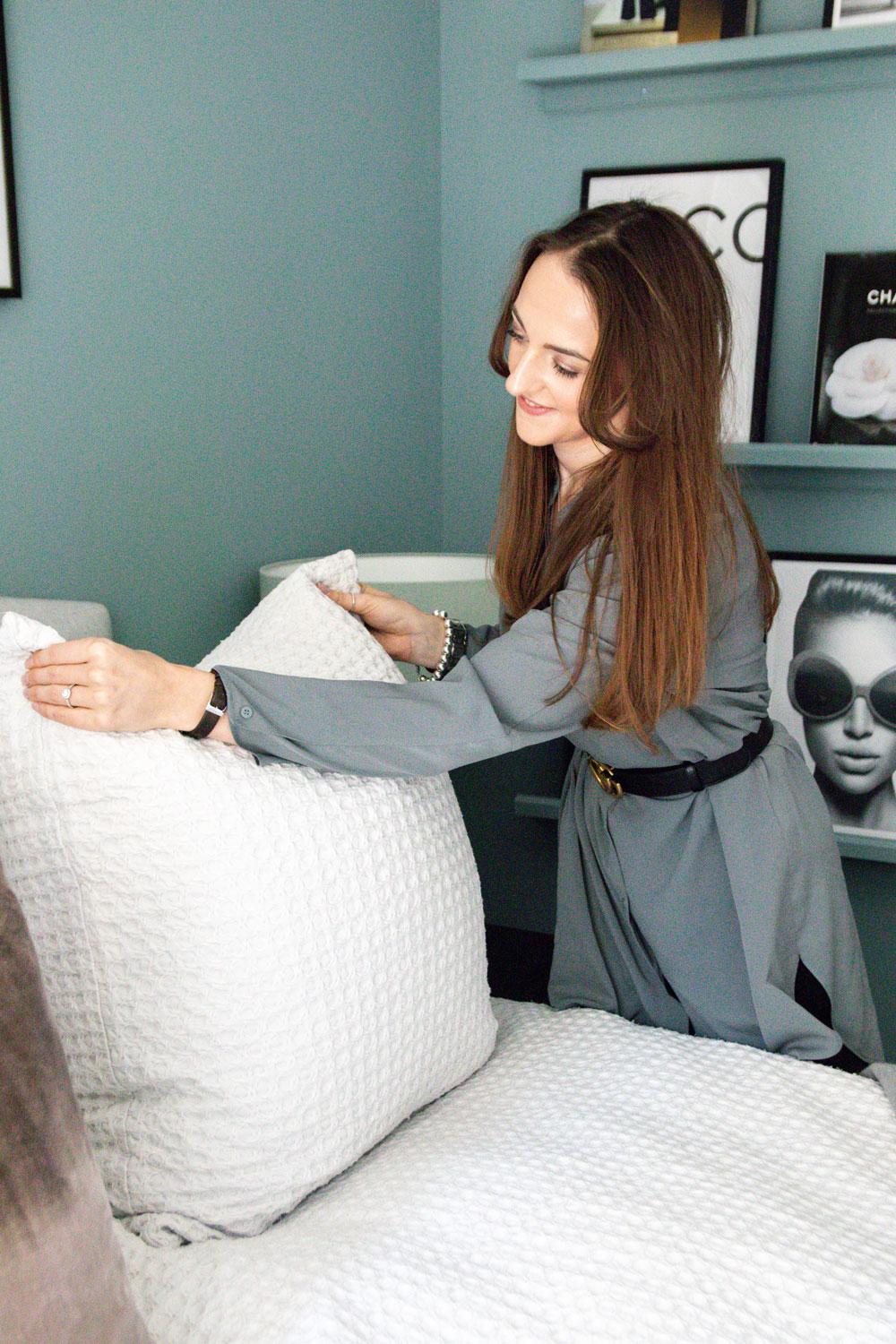 Make up your own cushions
And last, but by no means least is a little bit more of a DIY option. There are two fabrics that I'm absolutely loving right now, and I'd love to introduce them somewhere into my home. Of course, furniture is bulky and expensive. So a cheap way of still being able to have the fabric I love is to have cushions made up in them.
The first fabric I love is the Linwood Omega Velvet in colour Atlantis. It's a beautiful thick piled velvet, that is as soft as it is luxurious. Ideally a love to have a stool made in this, but…wedding!
The second fabric I'm obsessed with right now is a little bit more patterned. I love the random abstract nature of the design, whilst it still maintaining uniformity with the lines. It's called Kai Linnea Glacier, and is worth looking at in a larger piece to see the true pattern.
You could make the cushions yourself or seek the help of a professional. If you are after having cushions made in a particular fabric, then just get in touch with me on styling@houseofthree.co.uk and I can have them made up for you.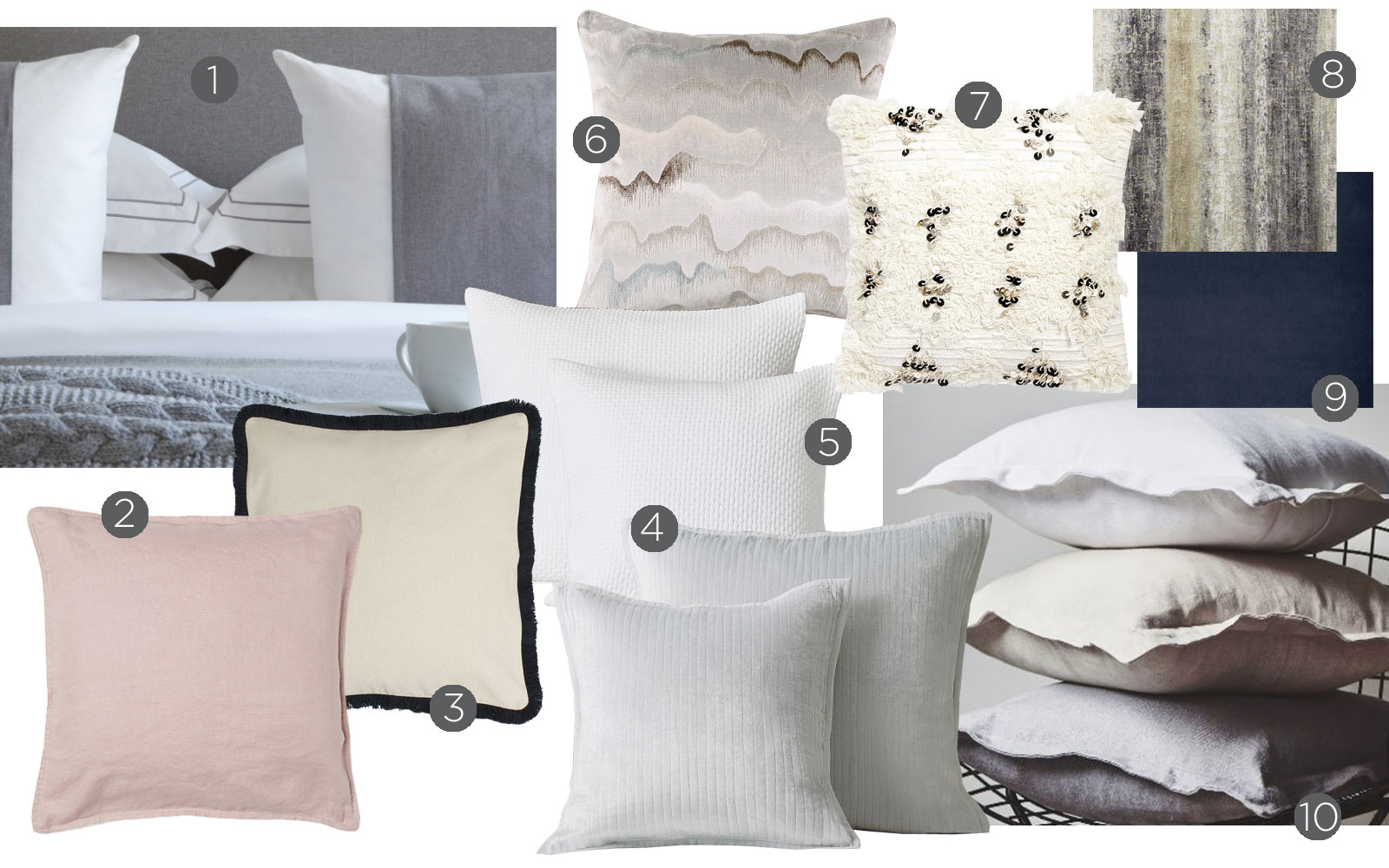 Photography taken by Stories By Chloe for House of Three
Disclaimer – We always endeavour to credit the correct and original source of every image that we use. If you think that this credit may be incorrect, then please contact us at info@houseofthree.co.uk