Incorporating The Botanical Trend Into Your Home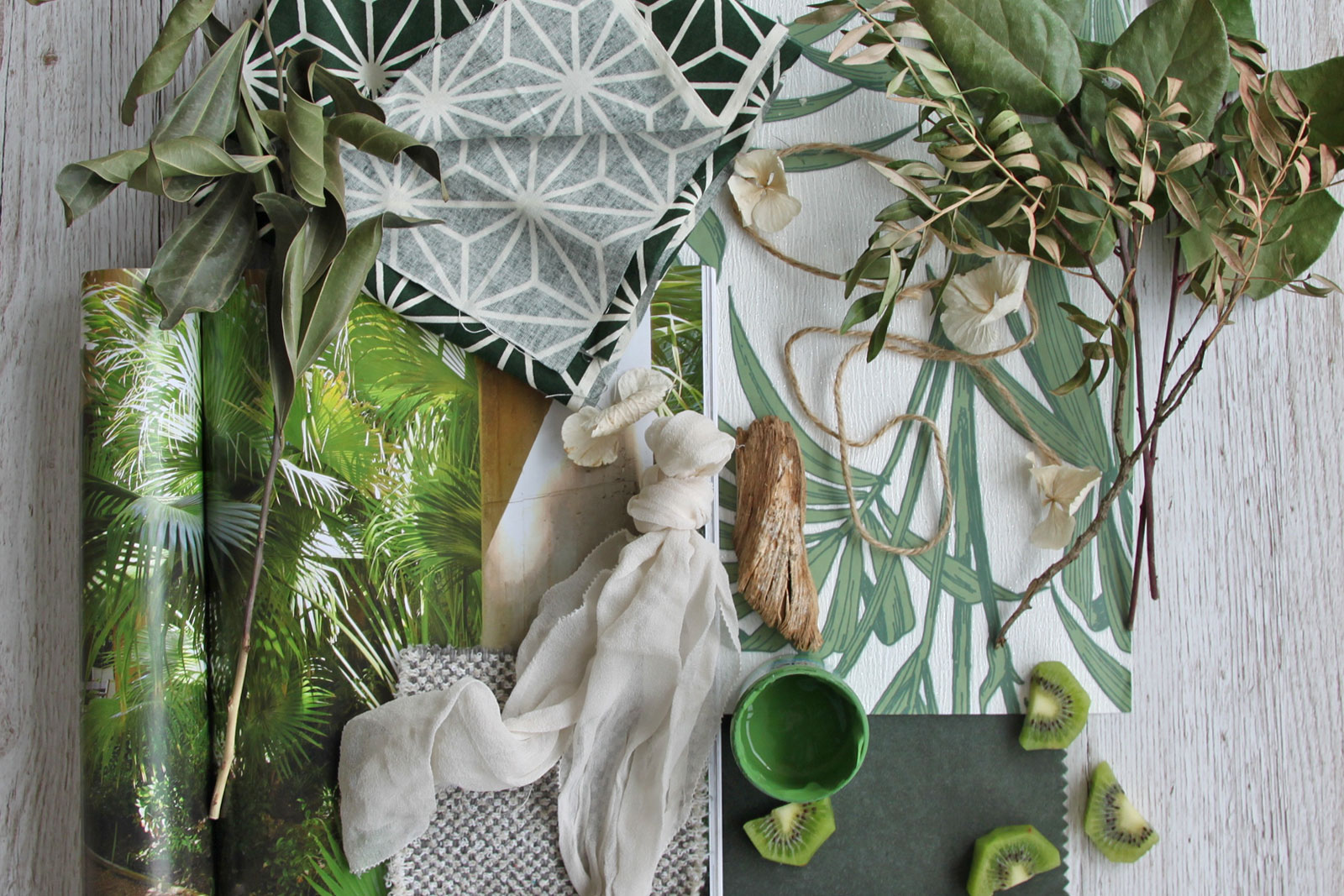 As Spring approaches summer, everyone gets excited about floral patterns in the home! However, this season we can see a shift from flowers to foliage. From lush tropical prints, to English garden inspired décor, interiors are going green in 2019.
What I love about botanical and leaf prints is that they take the 'summer vibe' out of florals, allowing them to look stylish all year round. You can opt for botanical prints in bright tropical colours or stay simple with dark green foliage patterns. Leafy motifs are bold enough to make a statement, yet neutral enough to fit in just about anywhere.
With the botanical trend, you can be as daring as you like. Whether it's just a bowl or a scatter cushion, or whether you decide to accessorise you home with a whole plethora of patterns, tropical prints will still look lush.
Something else I really like about the botanical trend? It goes with pretty much anything and can be incorporated into almost any style.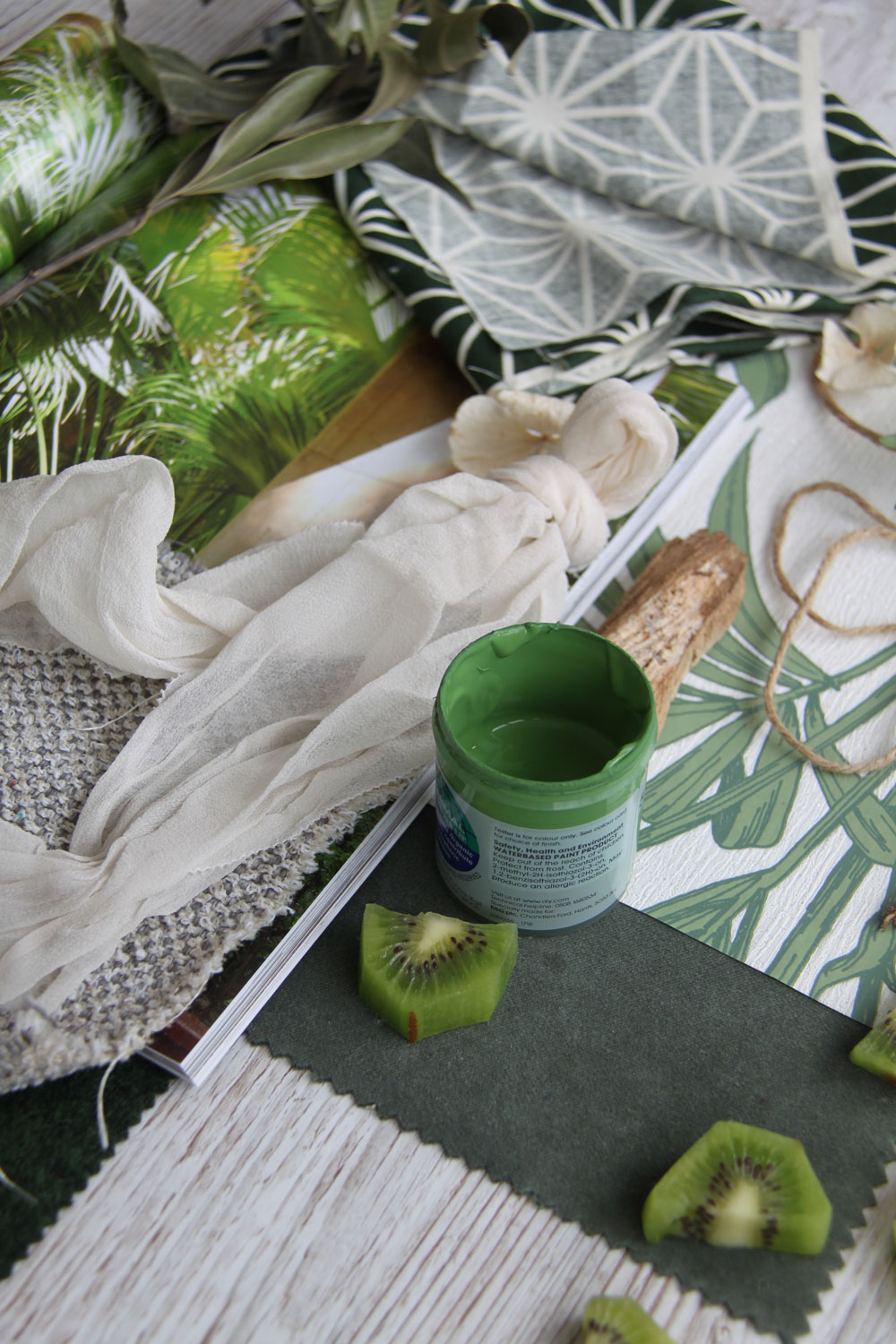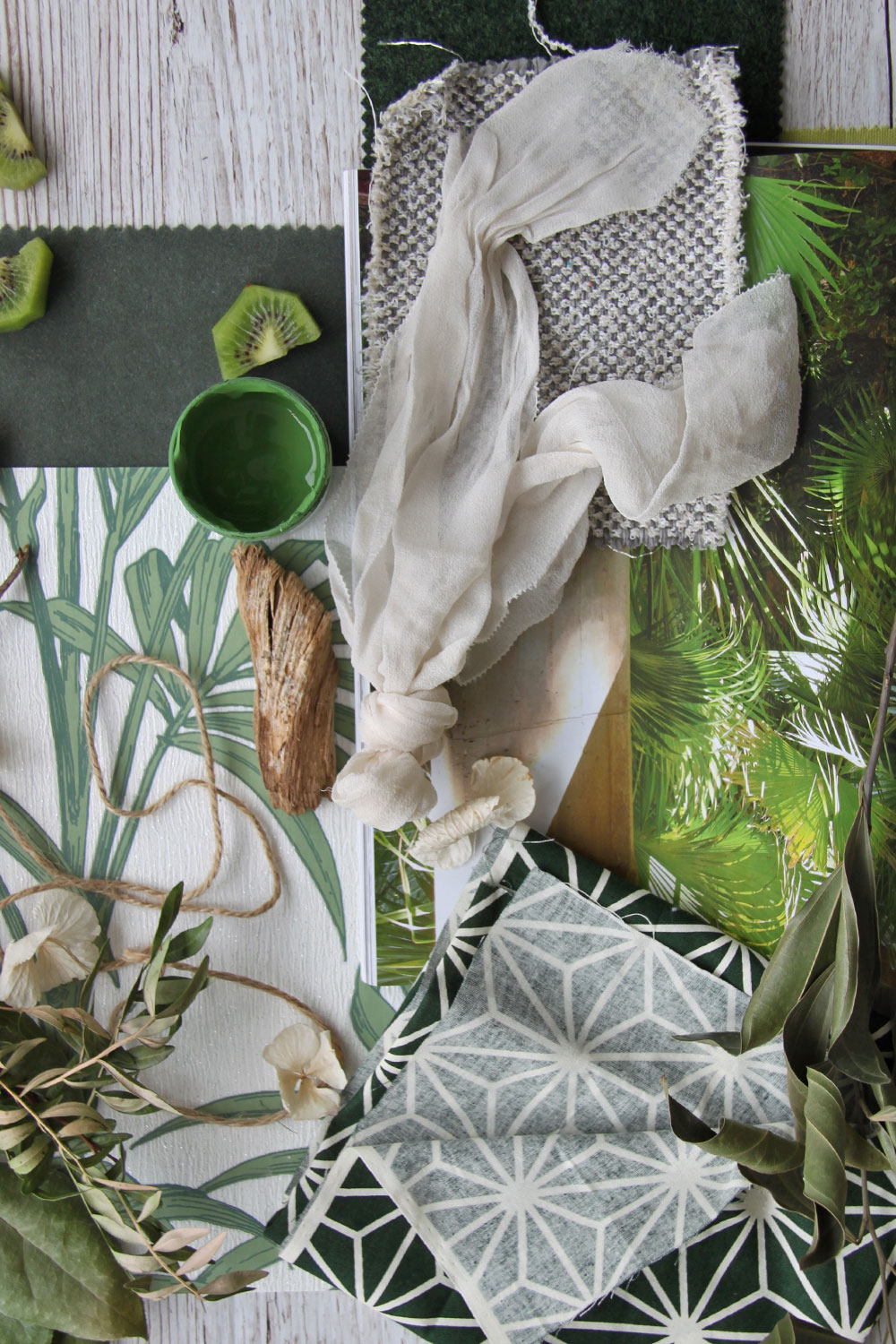 Scandi/Botanical
Another style that that is in trend for this year is Scandi. Fresh, timeless and undeniably elegant, Scandinavian style design works brilliantly in interiors. It's cool and calm, with crisp neutral shades. The combination of Scandi style and the botanical trend works beautifully. The neutral colours will make your tropical prints pop.
This is my favourite application of the botanical trend, and the one I'd opt for if I were decorating my home. Drawing inspiration from Pinterest, I would probably incorporate the trend using tropical print scatter cushions and subtle jungle inspired accessories alongside natural coloured furniture.
Shop some of my favourite Scandi/Botanical items: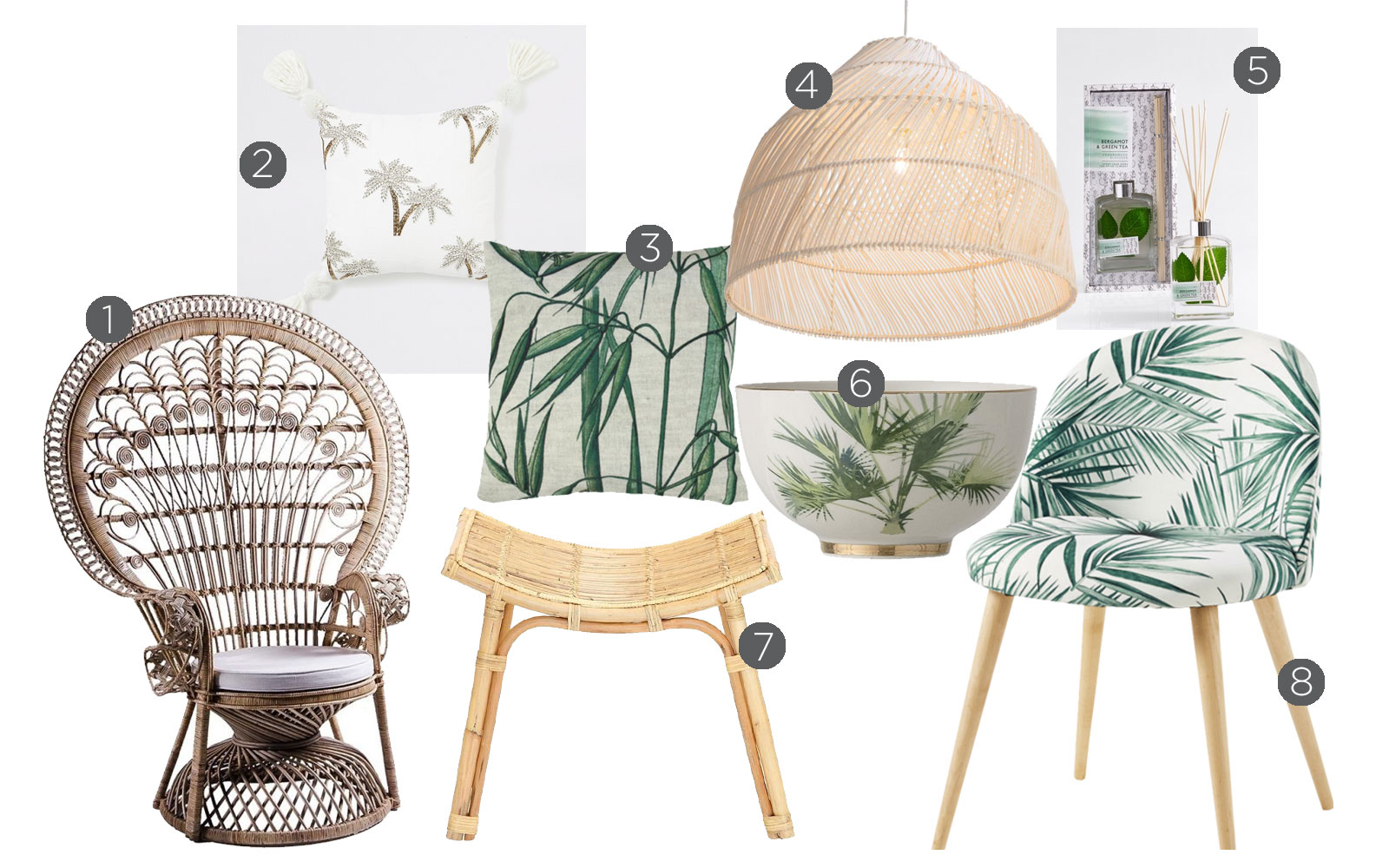 The combination of Scandi style and the botanical trend works beautifully. The neutral colours will make your tropical prints pop.
Blush Pink/Botanical
Blush pink is still very popular in interior design. The pink pairs well with the botanical trend as the (often) green tropical print contrasts with the soft hues of the millennial colour. The combination of bold, botanical prints, with soft pastel hues creates a pretty yet bold space, achieving an upbeat and feminine space.
This look also works with soft yellow hues and other bright colours. I feel that this particular style looks gorgeous, however I feel that, for me, it is too bold. I'm quite safe when it comes to interior trends, so feel like this bright combination of millennial colours and tropical prints would overwhelm me. Yet even so, the scheme still works really well – if you're brave enough to give it a go!
Here are some of my favourite items for the blush pink/botanical trend:
Don't like Green?
If you don't like the colour green, it doesn't matter! You can still incorporate the botanical trend into your interior. Palm leaf motifs and tropical leaves can come in any shade. From dusky shades of pink, to bold blues and mellow yellows.
There are some really gorgeous botanical items in metallic or monochrome prints. Or add to a pretty pastel scheme with a really subtle palm print duvet (like the one shown below).  Rich gold botanicals help to create a more luxurious look and would pair well with velvet furnishing.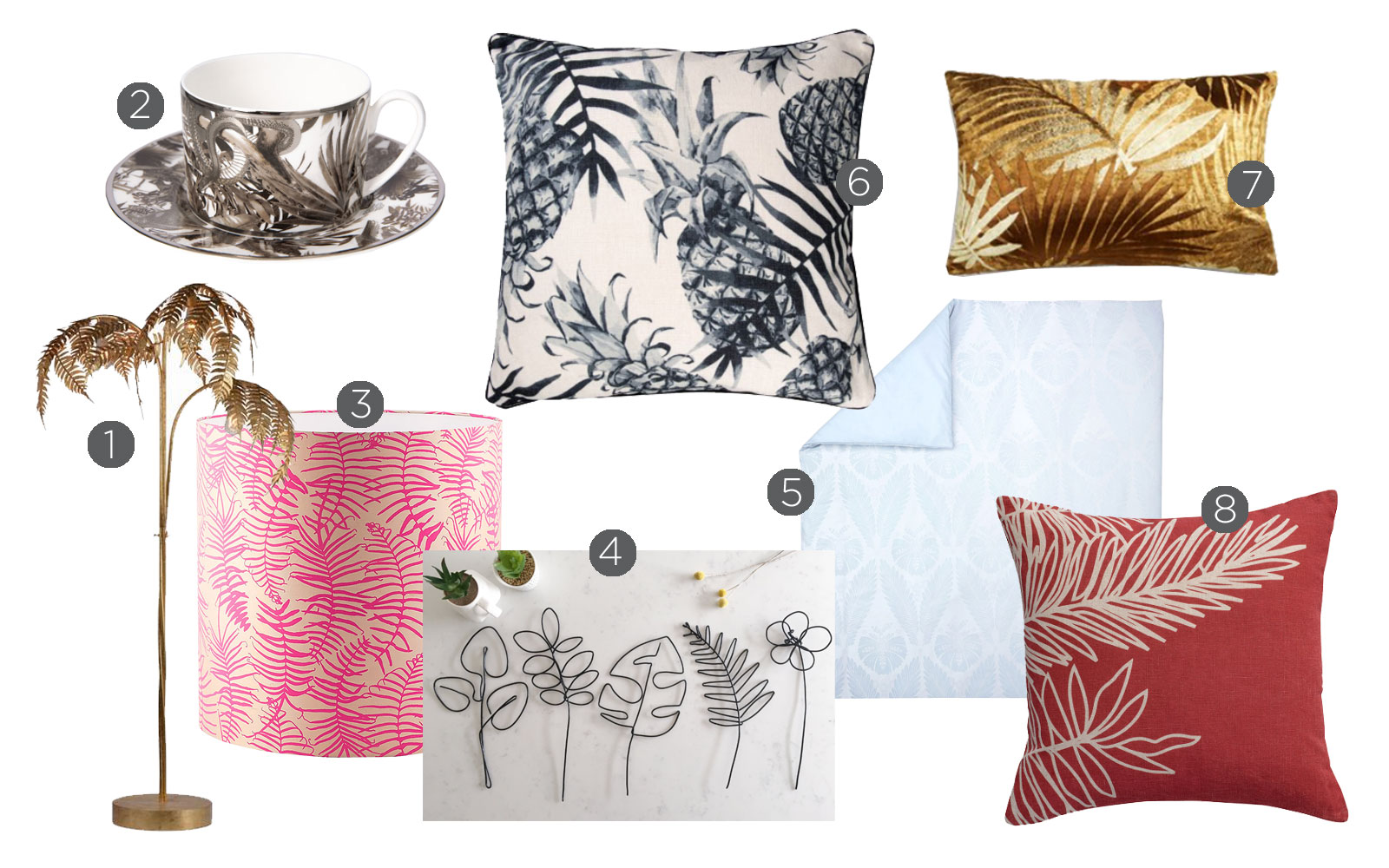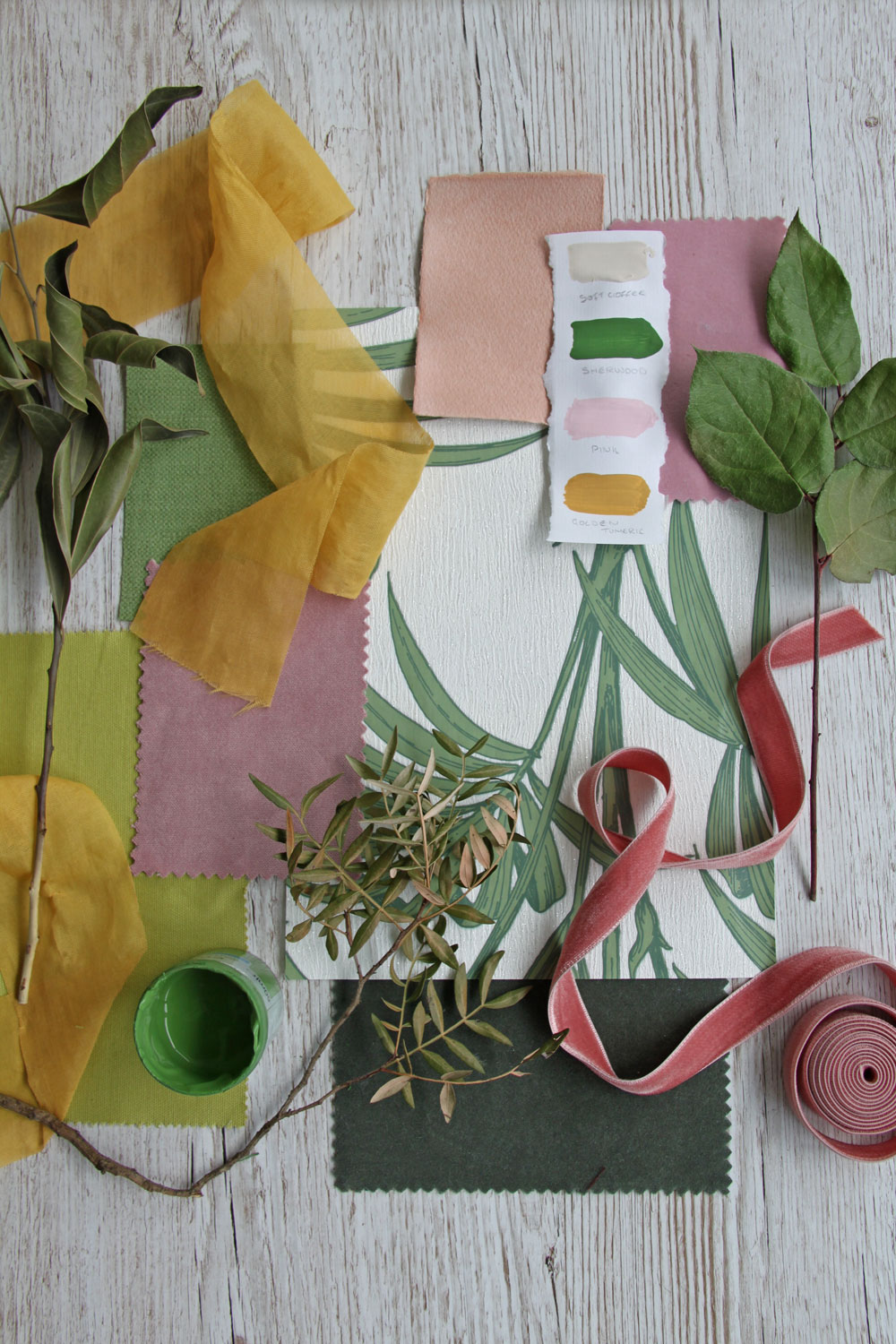 Although there are all of these beautiful botanical items, I don't think this trend will last too much longer. Whilst tropical walls and motifs will always look gorgeous, I think you will struggle to find botanical items after this summer. I feel that this is because the prominent rise of the botanical trend was last year. Whilst it has lasted until this summer, I think it is unlikely to last past this season, in terms of prints on fabrics and wallpapers.
The Addition of House Plants
On the other hand, plants themselves are a big trend right now. The botanical trend actively encourages the addition of plants to your home, whether real or fake. If you do opt for real plants, then they not only look gorgeous, but there are a fair few health benefits attached. Adding a plant will make your space feel more relaxed, as the colour green often has calming and stress-reducing effects. Also, plants help to cleanse the air, making it easier for you to breathe – they remove up to 87% of toxins from the air every 24 hours. Furthermore, Attention Restoration Theory suggests that plants shift the brain into a different processing mode, making people feel more relaxed and more at ease.
Where to buy House Plants
If you are considering house plants, then a great company to look at is Patch Plants. This company specialises in delivering plants to your home – complete with instructions on how to keep them alive! They have plants for indoor, for outdoor, for light and for shade, so the perfect place for you to find some lush plants to complete your botanical trend.
If it's faux flowers you're after to add some foliage, then look at companies such as FoxFlowers. These faux flowers are so intricately made, with beautiful colour and subtle shifts in texture add authenticity to the petals, leaves and stems.  What's great about artificial flowers is that not only do they last, they don't need constant attention or replacement. Plus, if you suffer from hay fever or allergies, you're free to surround yourself with botanical beauty without the constantly streaming nose and stinging eyes.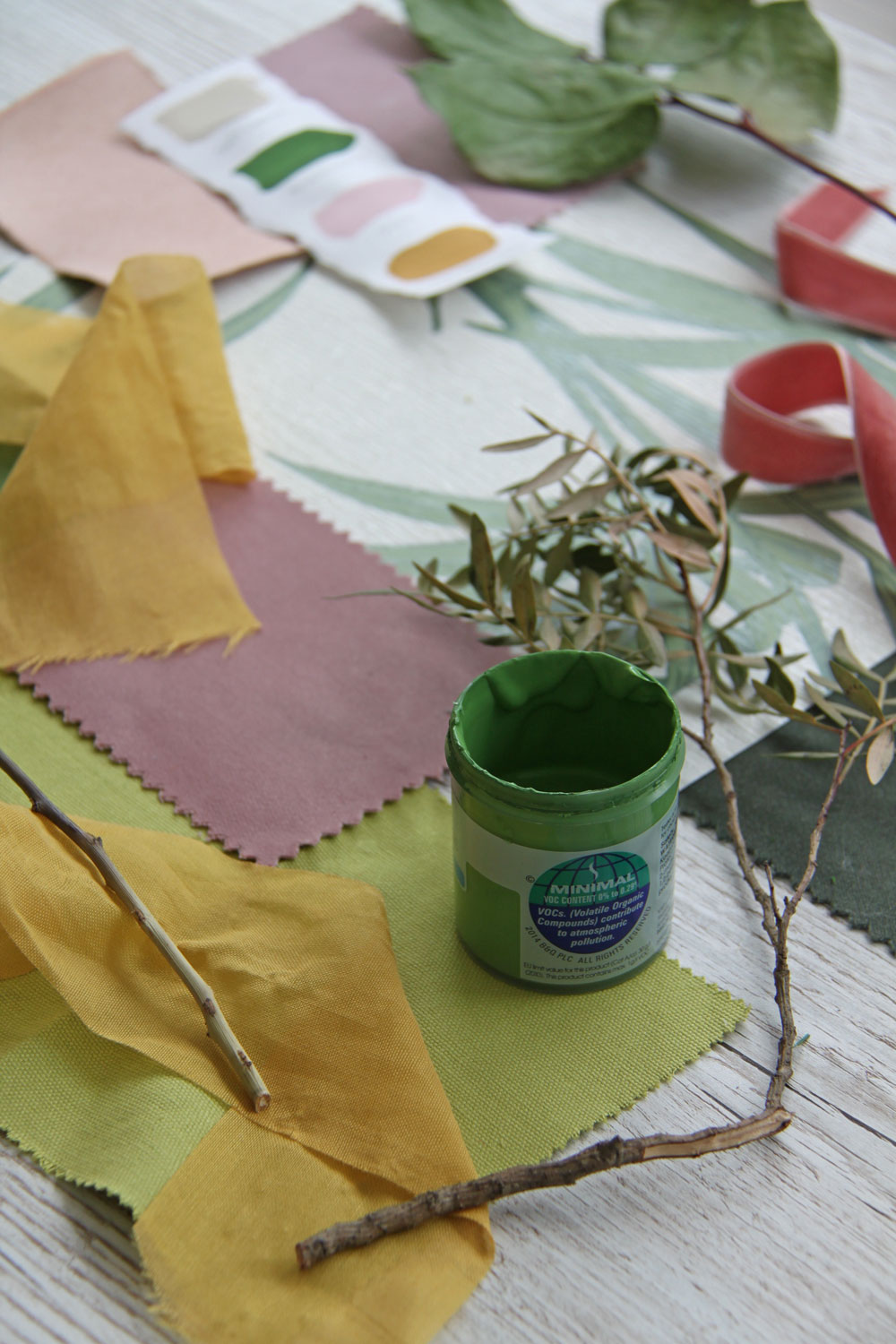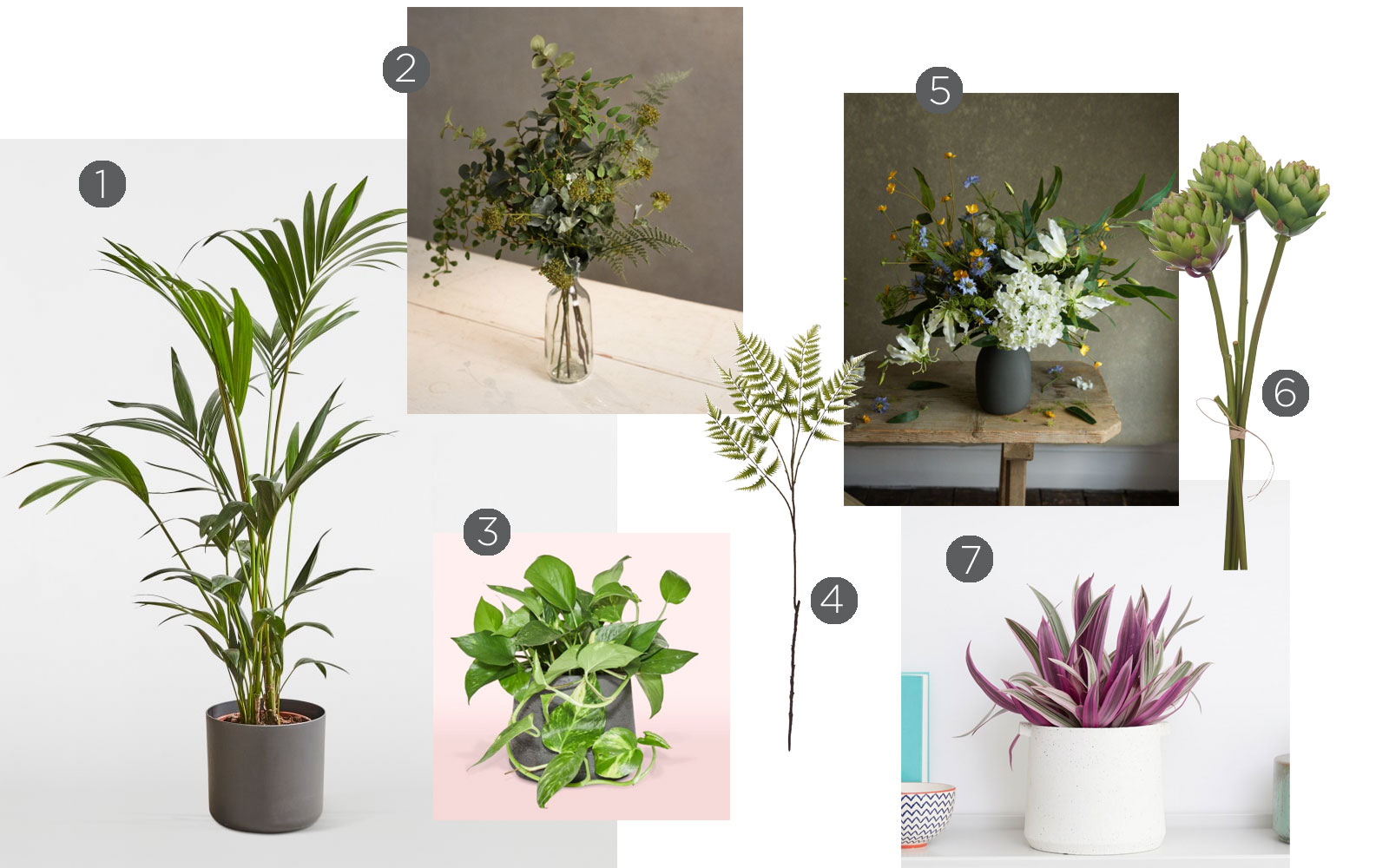 The botanical trend actively encourages the addition of house plants. If you opt for real plants, then there's health benefits attached as well!
Overall, there are lots of beautiful ways you can incorporate the botanical trend into your home. Whether its subtle and small palm leaf print cushions, or bold jungle coloured feathers emblazoned on your wall! Botanical interiors are perfect for bringing the outside in and adding some life into your rooms. So, embrace nature and let your botanical, jungle wild mind run riot!
Disclaimer – We always endeavour to credit the correct and original source of every image that we use. If you think that this credit may be incorrect, then please contact us at info@houseofthree.co.uk