What I learnt whilst searching for Bridesmaids Dresses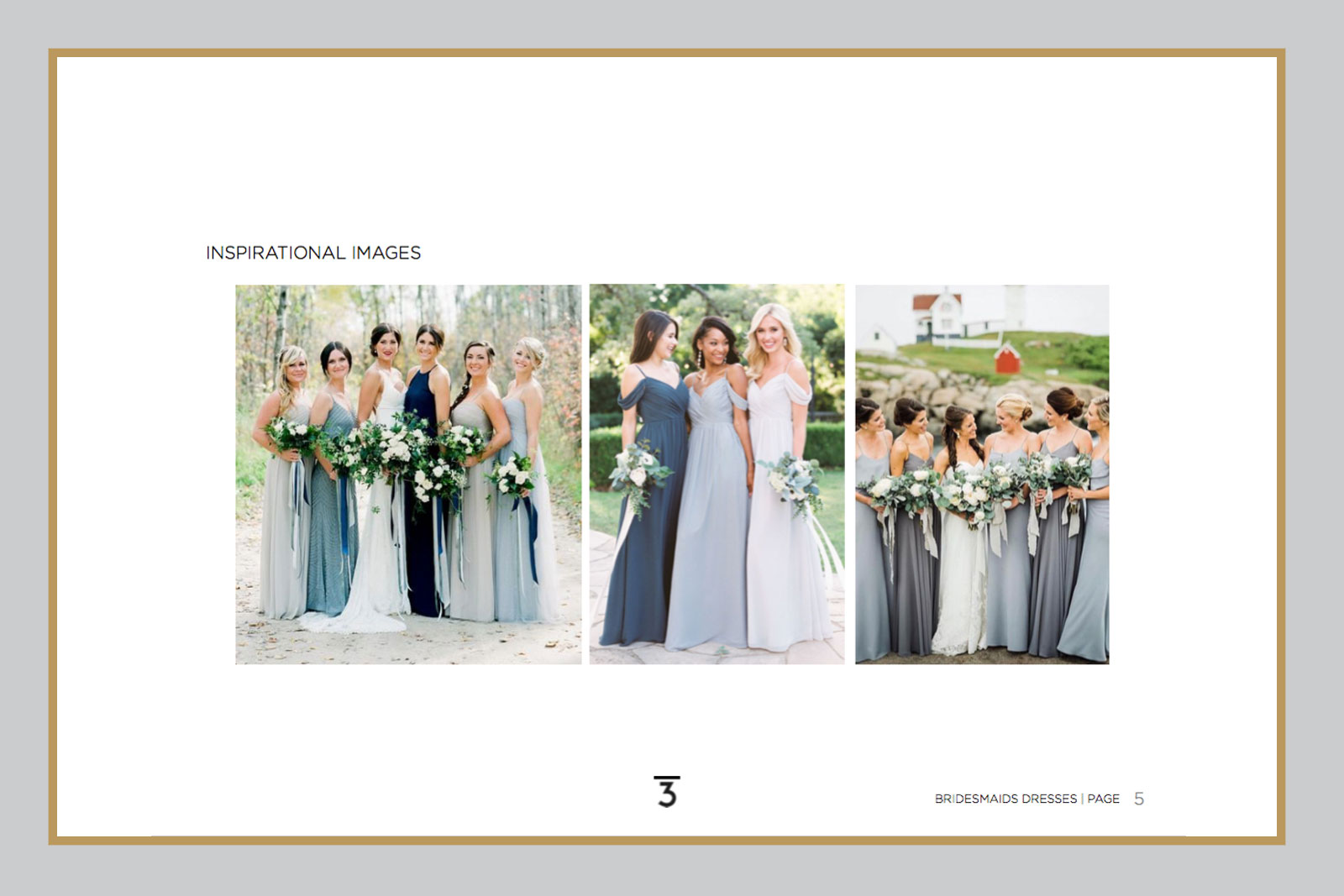 I never knew that I was going to write a blog post on my experience of searching for Bridesmaids Dresses. If I had, I certainly would have thought more about the photos I took along the way. If you are yet to look for yours, then you need to read this before you do. I tell you all about the experiences I had when searching for my bridesmaids dresses. Including costs, places to look and where I bought mine from.
Just like any other Wedding Planning experience, I started off my bridesmaids dress search with a mood board and a good old House of Three document. It wasn't really to send to the girls but just more for me to work out what I really wanted.
I said from day one that I wanted each one of my girls to feel comfortable. I'd actually love for them to each wear a different dress, in a different colour. But ultimately, if two of my girls (or all of my girls) fell in love with the same dress, well it really wouldn't matter. As long as they were happy with them…
But I have to say, the search for dresses wasn't quite as I expected it to be. Don't get me wrong, it's a great experience. It just wasn't all quite as I'd imagined. I suppose it was way more stressful than I ever thought it might be. So I thought maybe I should share my experiences with you, so that you can be better prepared than I was!
Just before I get into it, I want to say that this was my own personal experience. And it may be different from yours. These aren't the only Bridesmaids Dress shops that exist. I'm not here to influence any decisions, I just want your search to be as easy as it can be.
I purchased £555 worth of dresses, but only found one potential for one of my girls. The funniest thing about it, is that although I LOVED it to begin with, now our search has advanced it probably won't work.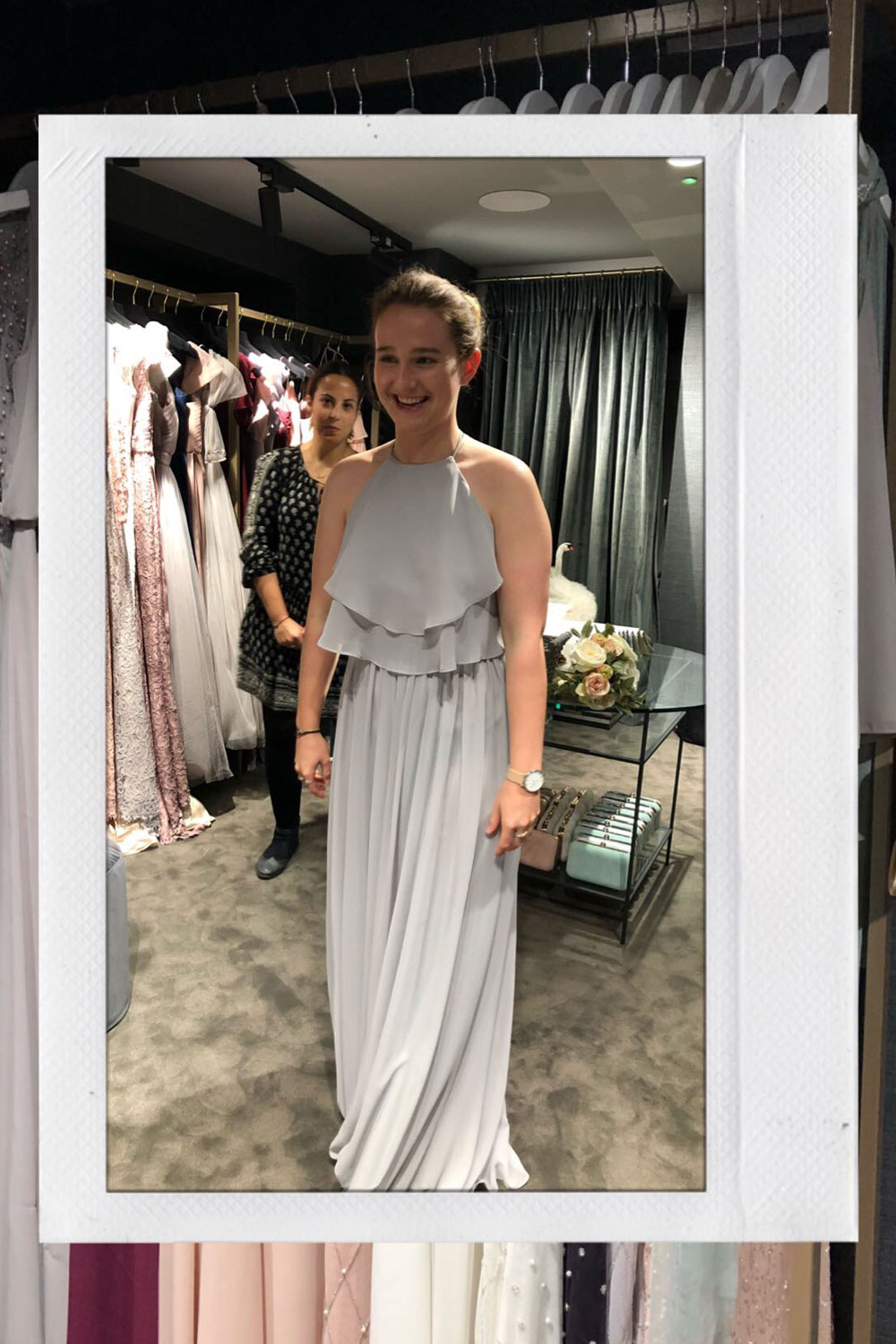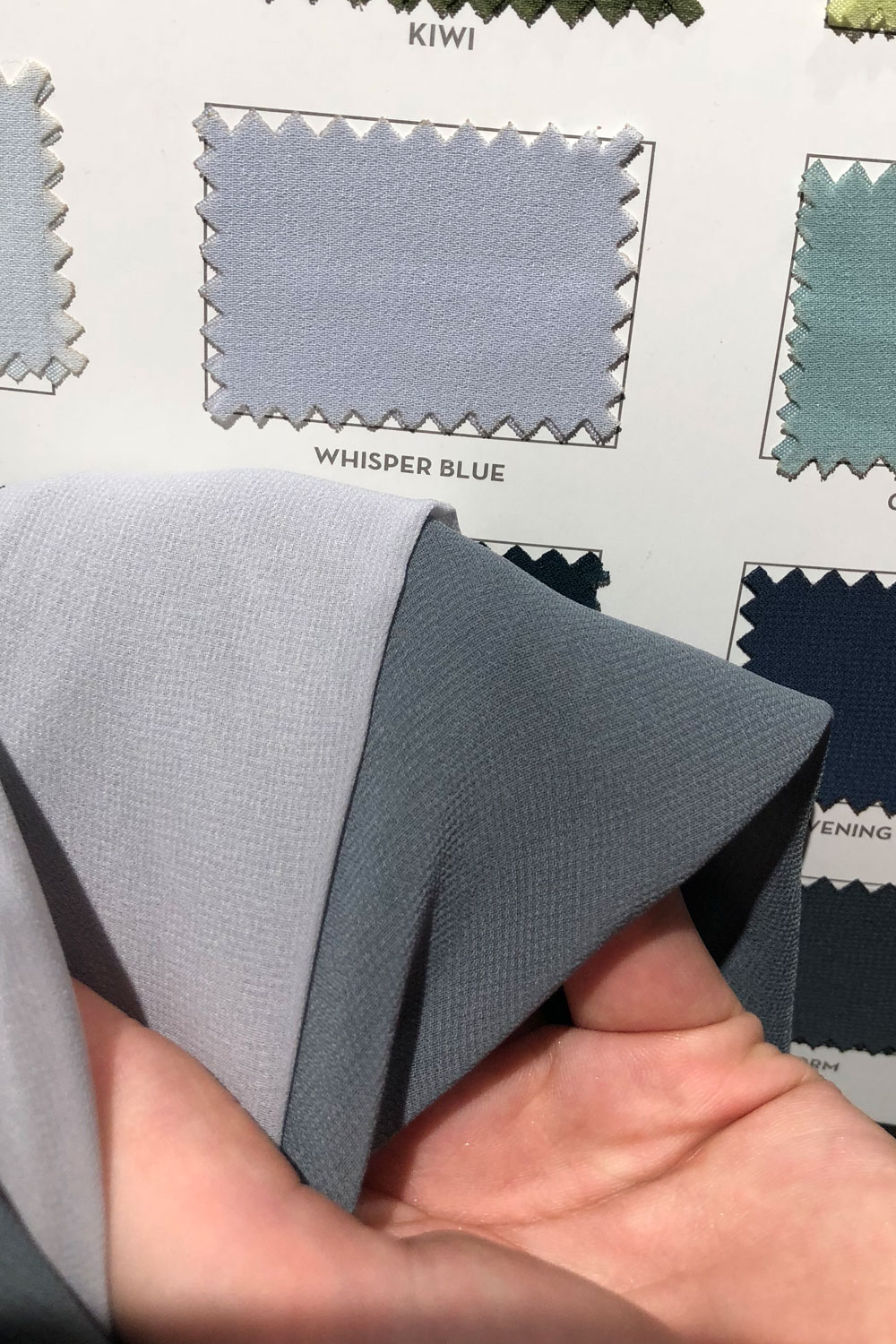 The very first place we visited was The Wedding Gallery. I took my sister to try on a selection of dresses. And although they were beautiful, most of the dresses were a little over budget.
It took a lot of searching online before I found anything that would work. My biggest issue was the money that I wanted to spend. I'm going to be really honest here, and tell you exactly what my budget was. I have three bridesmaids and my maid of honour, and my total budget was £800. Although this was to include any accessories like shoes and hair pieces too.
You would be surprised how few dresses there are that are under £200. Even high street dresses are still up to £150. So the search was much harder than I'd anticipated. I didn't want to spend a fortune, but I also didn't want the dresses to look cheap.
What made it even more difficult was the specific colours I was after too. Dark Grey, Silver Grey, Blue Grey and Blue, but a particular shade of Blue – an inky blue. And the fact that I was desperately trying to claw back budget that we'd overspent too!
I spend around £550 online buying dresses and sending them back before I realised that I just needed to go somewhere and try them on.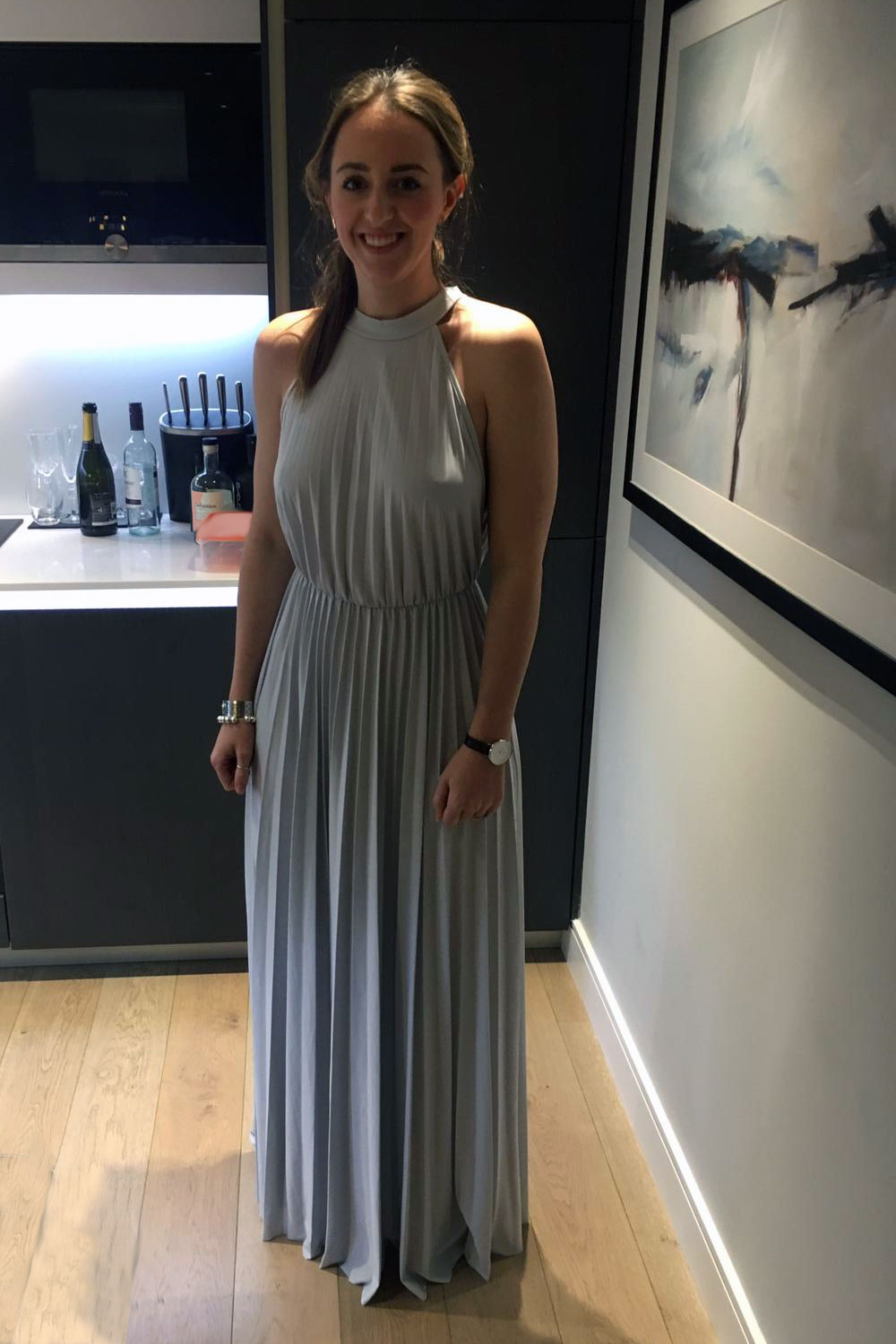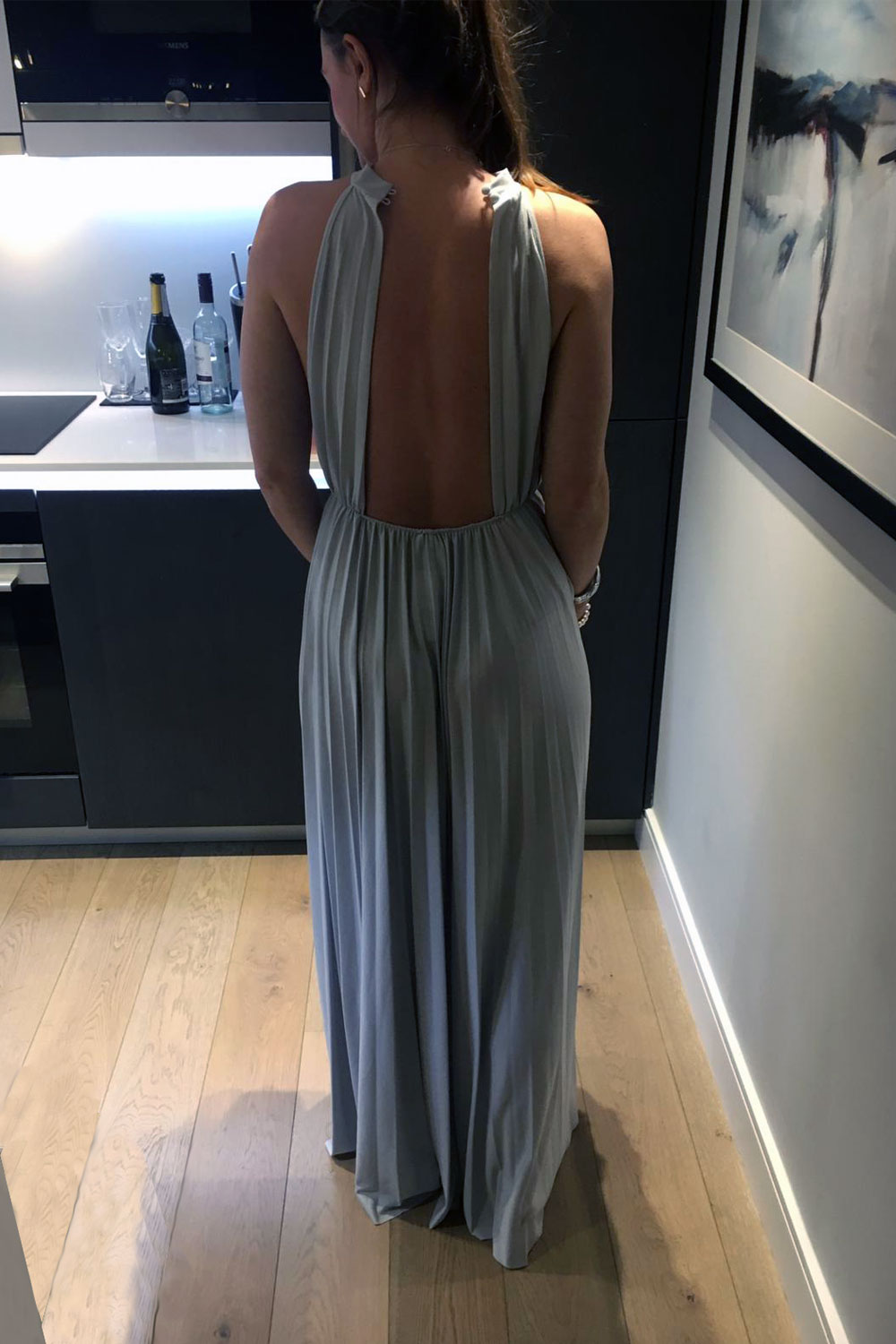 Buying dresses online is a tricky business. As they don't always arrive looking like how they did on the website. Although on some occasions, they arrive and you think they are wonderful. Until you show your girls and your mum and they all hate them! That happened to me with a silver grey Asos Dress. I loved it, but everyone else hated it. So all 6 that I bought went back. (I ordered all the different sizes just in case).
Bridesmaids Dresses Online
If you are looking to purchase online, then look to purchase from stores that allow returns. As I mentioned above, I spent over £550 on dresses to only find one potential dress. In fact we thought it was 'the one' for my girl Alice. Until I tried to search for dresses for my sisters and realised it was more green than inky blue.
This dress is from Asos and cost me just £75. I purchased two, just incase my maid of honour Abi wanted to wear it too. It looked AWFUL on Abi, and she won't mind me saying that because it's true. I've actually still got both of them, just in case my sisters didn't like the ones I've chosen for them. Although I need to be quick as I'm nearly at my 30 days limit.
I then ordered a dress from Oasis. It's a beautiful silver grey number, but would only be a suitable style for Abi. Although we are yet to be in a location where trying on Bridesmaids dresses is suitable. The Oasis Dress was £94.00 with the express delivery I paid for. I only purchased using express so I could take it with me to my appointment at Wed2B the following day.
The Oasis dress needs to be returned within the week too. So I think I better find a time for Abi to try it on soon!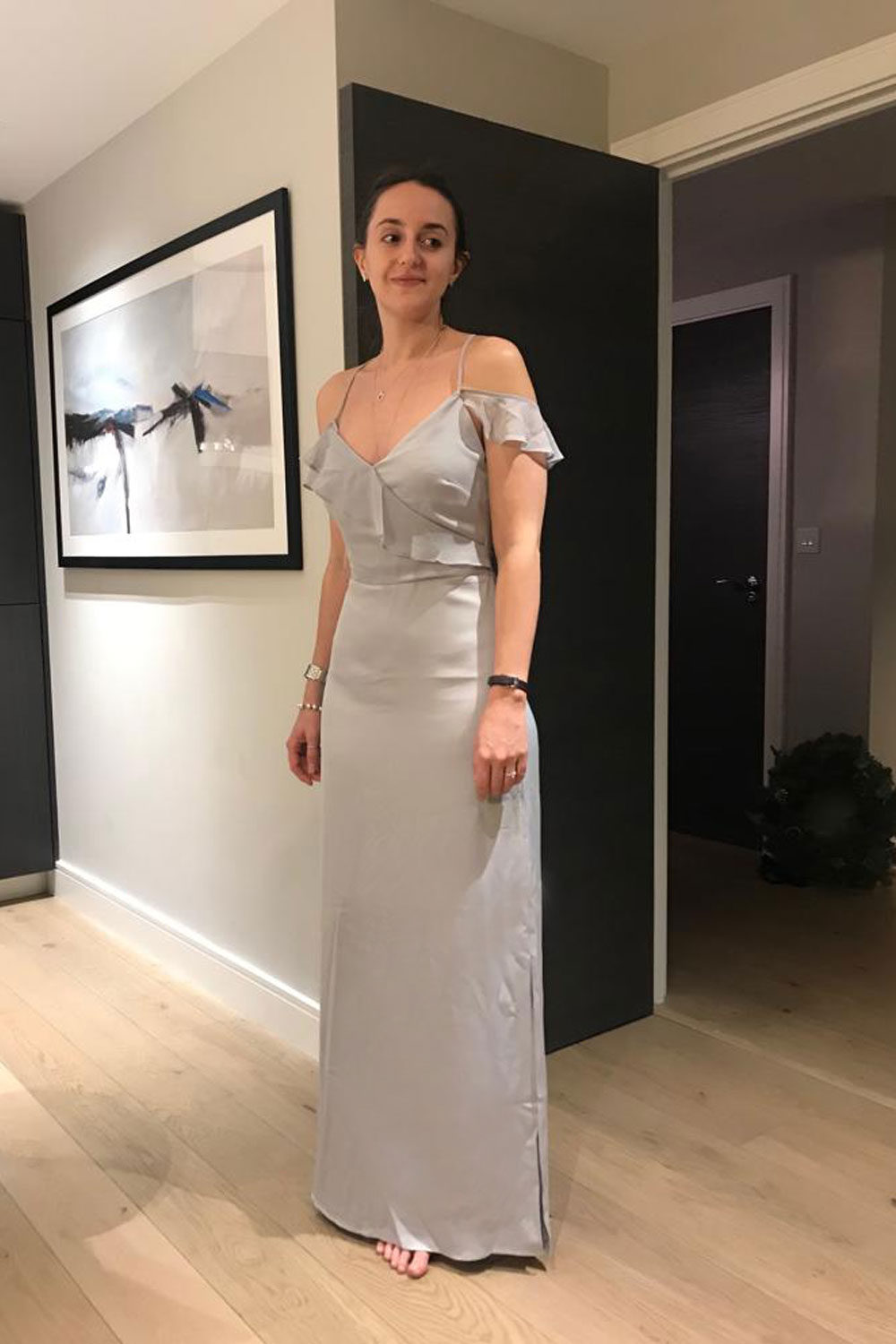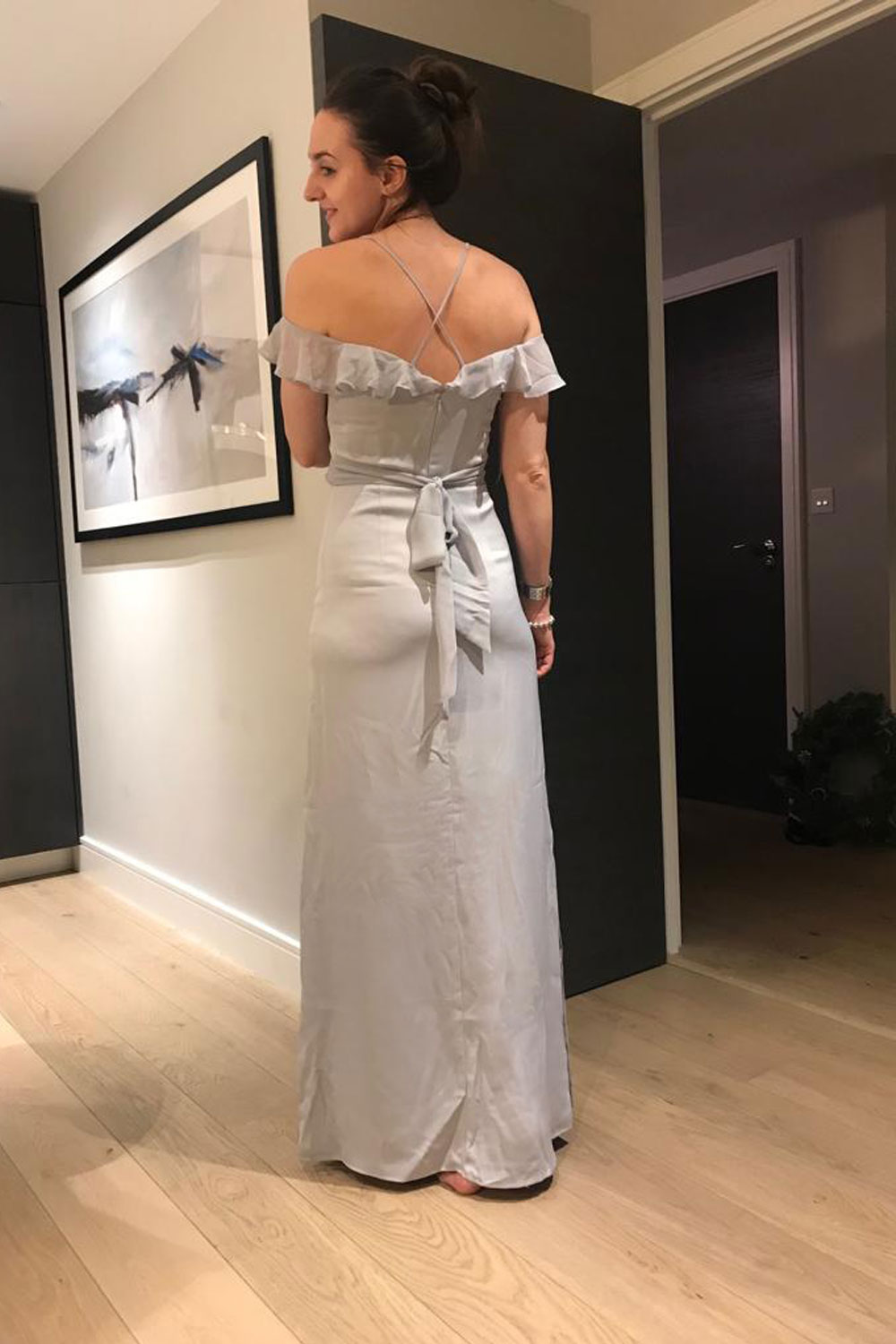 I'd actually purchase all of my bridesmaids dresses from Wed2B if I could. The experience is so easy and the dresses are such good quality for just £70.
I quickly realised that the online bridesmaids dress shopping game might not be for me. And that's when I found Wed2B – where I've actually purchased two of my bridesmaids dresses from.
To be completely honest, I'd actually purchase all of them from there, I just wanted a little more variation of colour. They only have 2 colours that fit our wedding scheme. Although they do also have a navy, so perhaps I could change my scheme to fit their dresses?!
You don't require an appointment for Wed2B – just turn up and try on
Shopping in store for Bridesmaids Dresses
I actually first went to Wed2B with my mum, dad and Josh. This is something that I would actually advise every bride does. It's really nice to view dresses without the opinions of all of your girls. Remember it is your wedding, and although you want them to look their best, you don't want them to all get carried away and choose things that don't work.
Scouting out the store and what they offered was the best thing we could have done. Wed2B have four different bridesmaids dress styles. Each of them comes in all of the colours that they offer. Although during my first visit I worked out that the silver grey and the light blue were the two that work for us.
When I booked a trip to go back with my sisters just a couple of weeks later, I knew that one of them needed the blue and the other needed to wear the grey. We quickly made a decision regarding which colour would suit which sister best. And then they just got to try on all the dress styles and decide which one they liked the most.
Two down, two to go!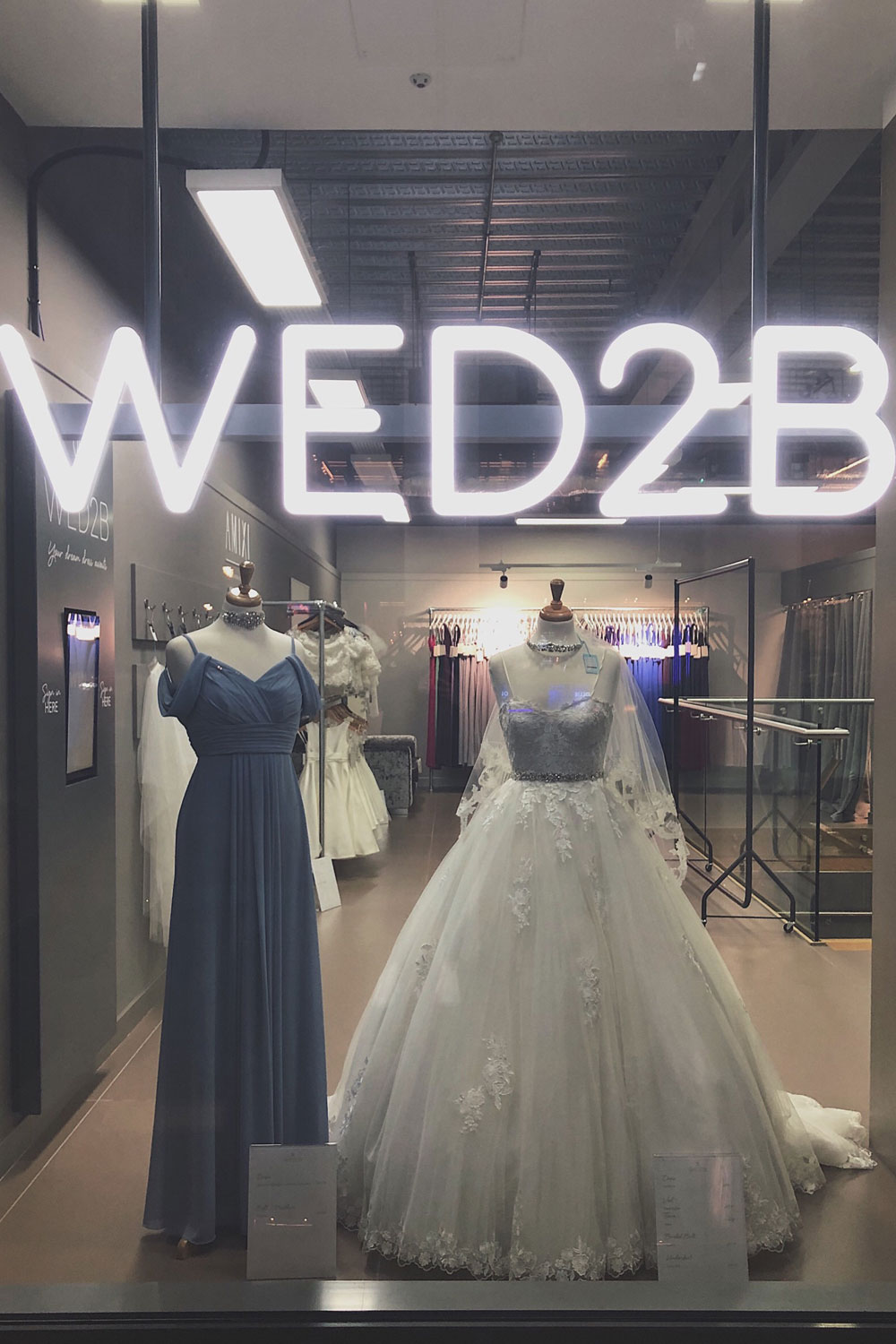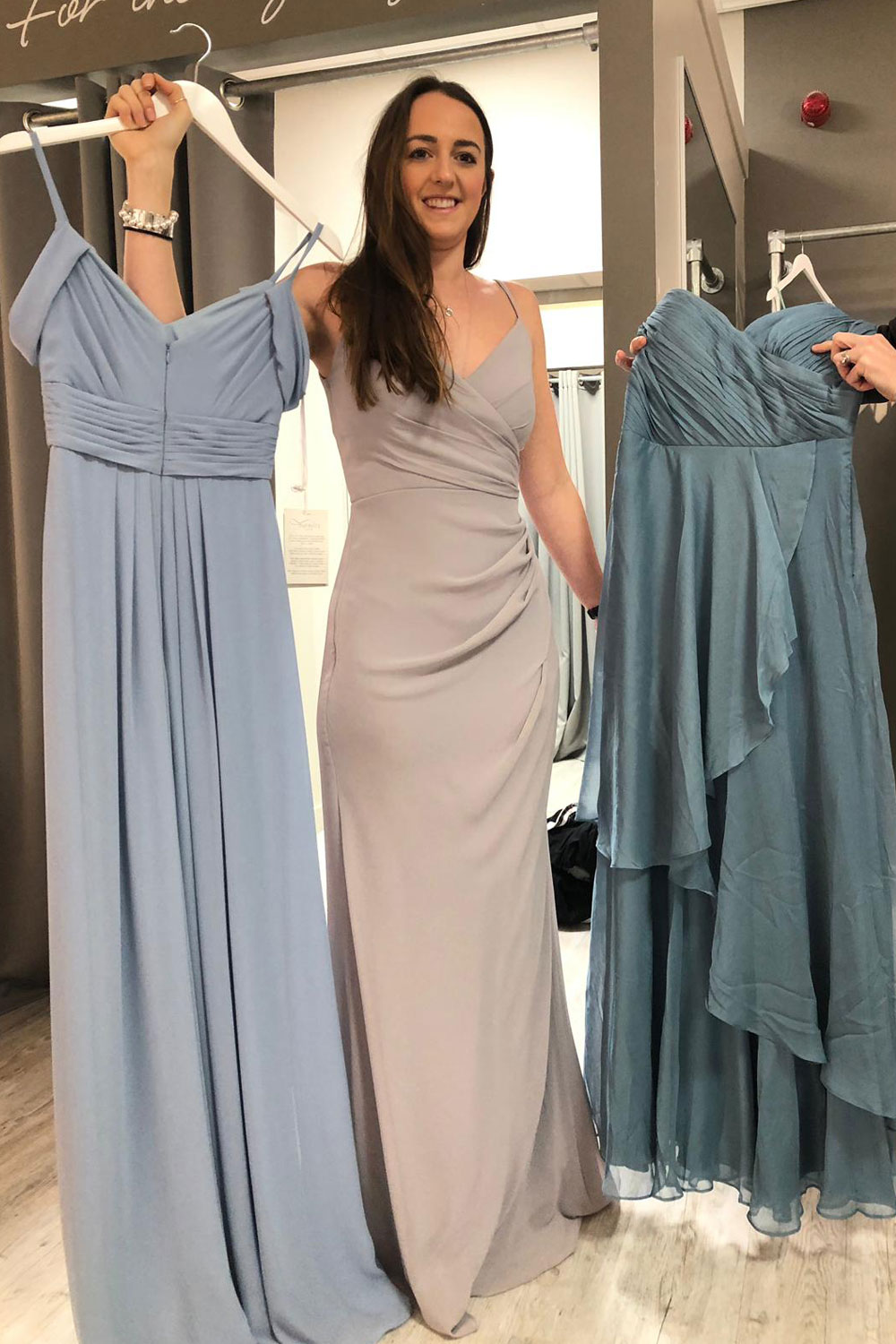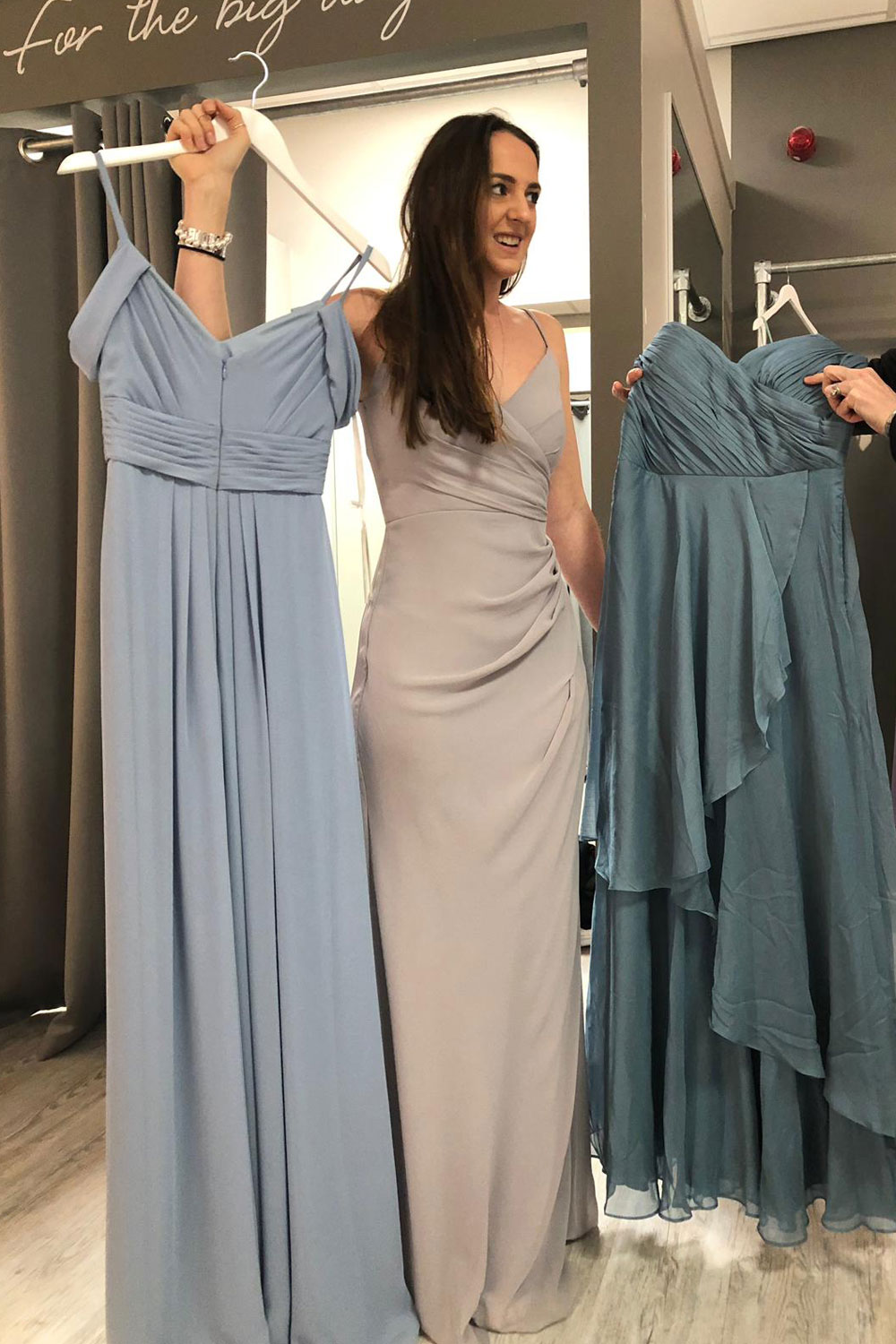 Finding the other two dresses has been the very hardest part. And I will be the first to admit that we aren't actually there yet. I love the Th&Th (To have and to hold) Olympia Dress in Silver Mist. But trying it on isn't that easy. You can try it at The Wedding Gallery in Marylebone but have to pay a £35 appointment fee to do so. Returning an online order isn't quite so simple and would also cost around £30, so I need to make sure that who ever it is ordered for will actually love it.
I've then been looking for Bandeau style long length Dark Grey dress, and that I'm finding almost impossible. All of the samples I have received for darker, charcoal style greys have all arrived looking brown. They do actually look a little brown on the website too. So if anyone has found a real dark grey dress, then please do let me know in the comments below.
Ultimately it is your wedding, and as much as you want your girls to feel comfortable, at some stage you will have to take control.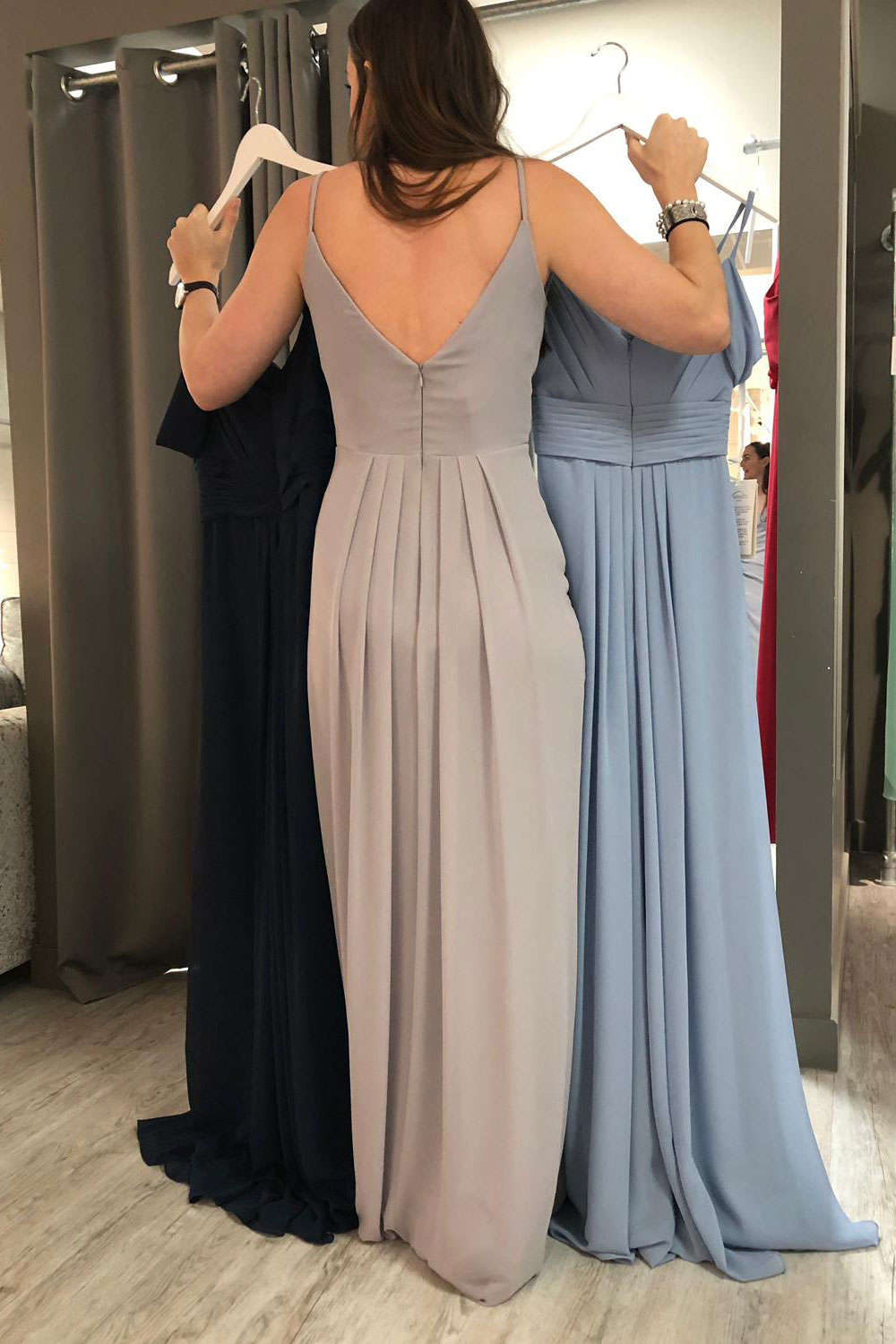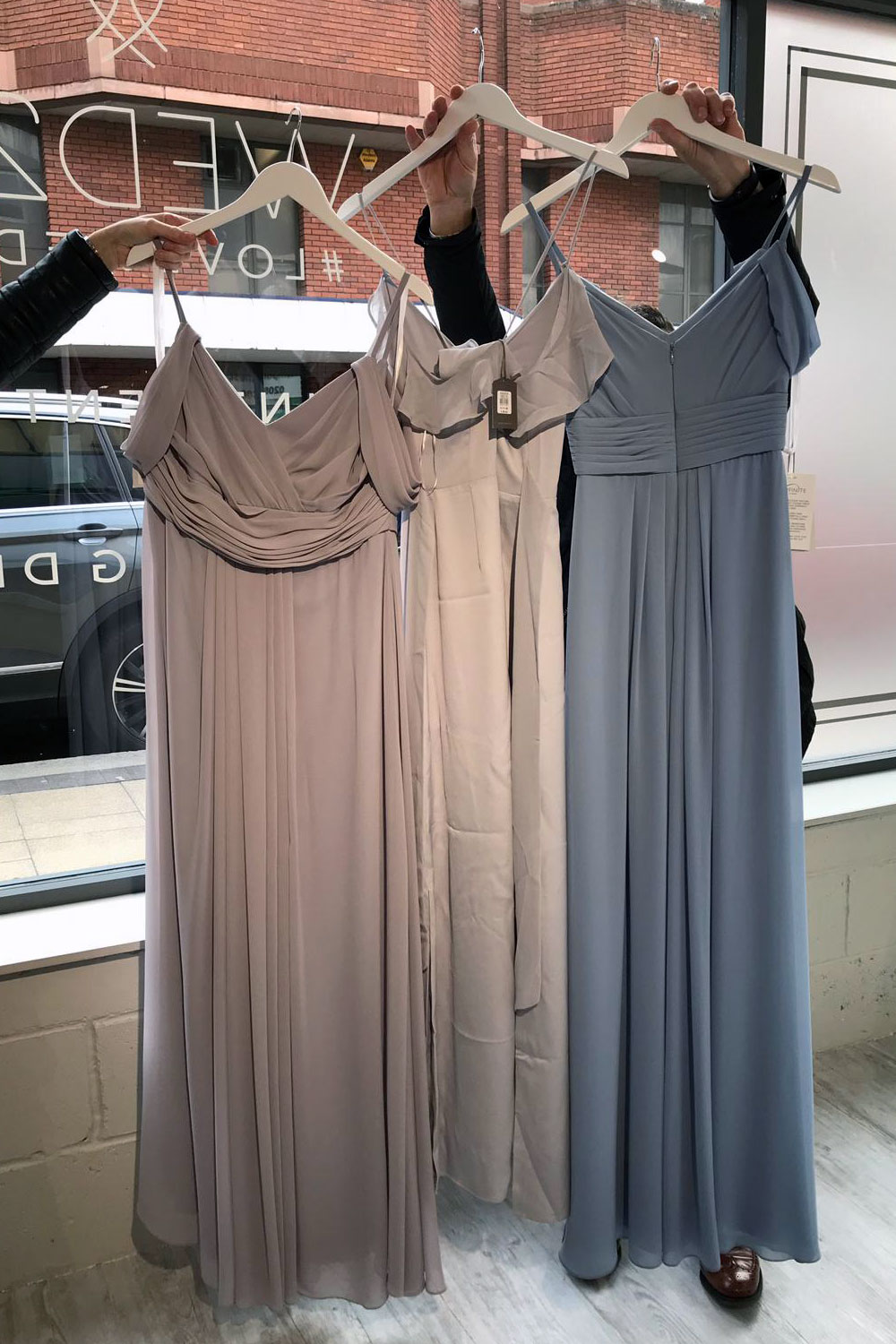 Don't stress about it…
Everyone's experience will be completely unique. Just remember not to stress about it. Although your girls might try on dresses and say they hate them, sometimes they just don't get a choice. Some brides might want their girls to wear a particular dress. If they don't really like it they don't have much choice but to wear it.
So if you are allowing your girls to try lots of different dresses, there will be a time where you just have to take control. Or you could be searching forever! My problem so far has been trying to please everyone too much. I'm really worried about making my girls wear something they don't like. But ultimately we have a budget and a colour scheme to stick to, so it does limit our options.
When I found Wed2B, and tried and loved the dresses, I just knew that I wanted at least two dresses to come for there – and so that's exactly what happened.
Here's a list of where I looked to purchase Bridesmaids Dresses…
Not all of the places listed had dresses within my budget, which is the main reason why I didn't pursue them any further.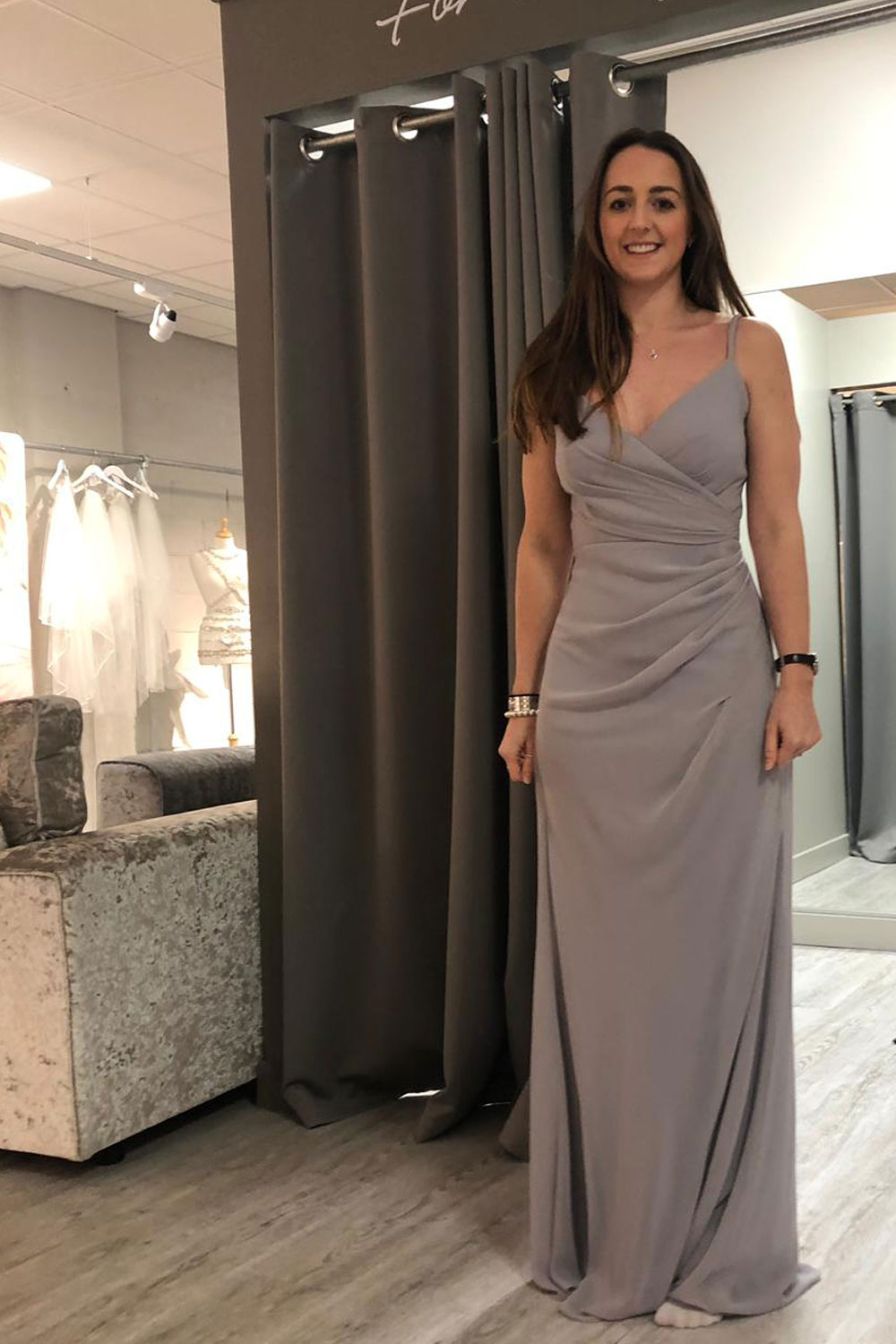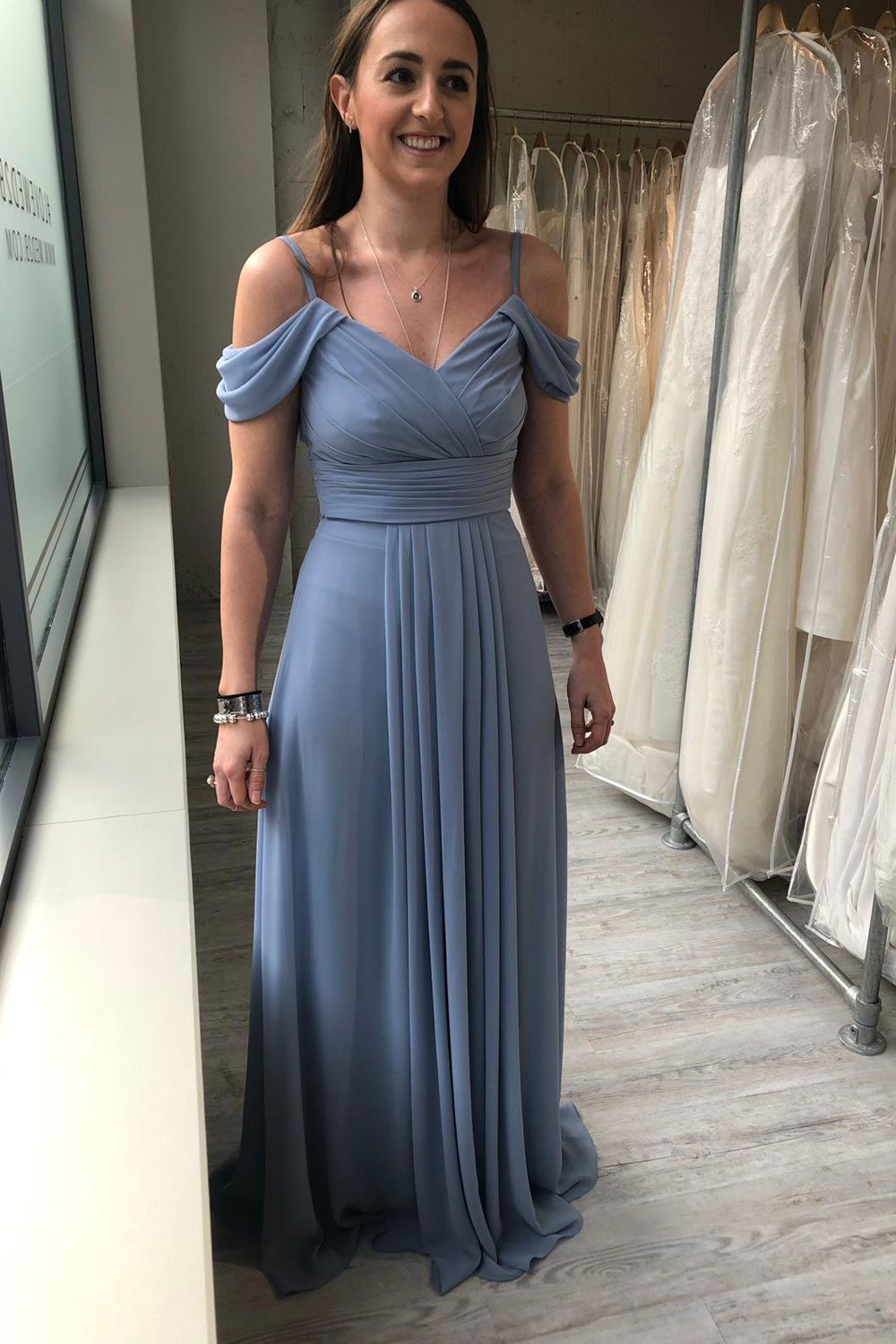 Image Credits – The images seen in the Inspirational Images Document Page are from Pinterest. The Asos Full Length Bandeau Dress Image was taken directly from the Asos purchase page.
Disclaimer – We always endeavour to credit the correct and original source of every image that we use. If you think that this credit may be incorrect, then please contact us at info@houseofthree.co.uk