Beginners Guide To Styling A Dinner Table Setting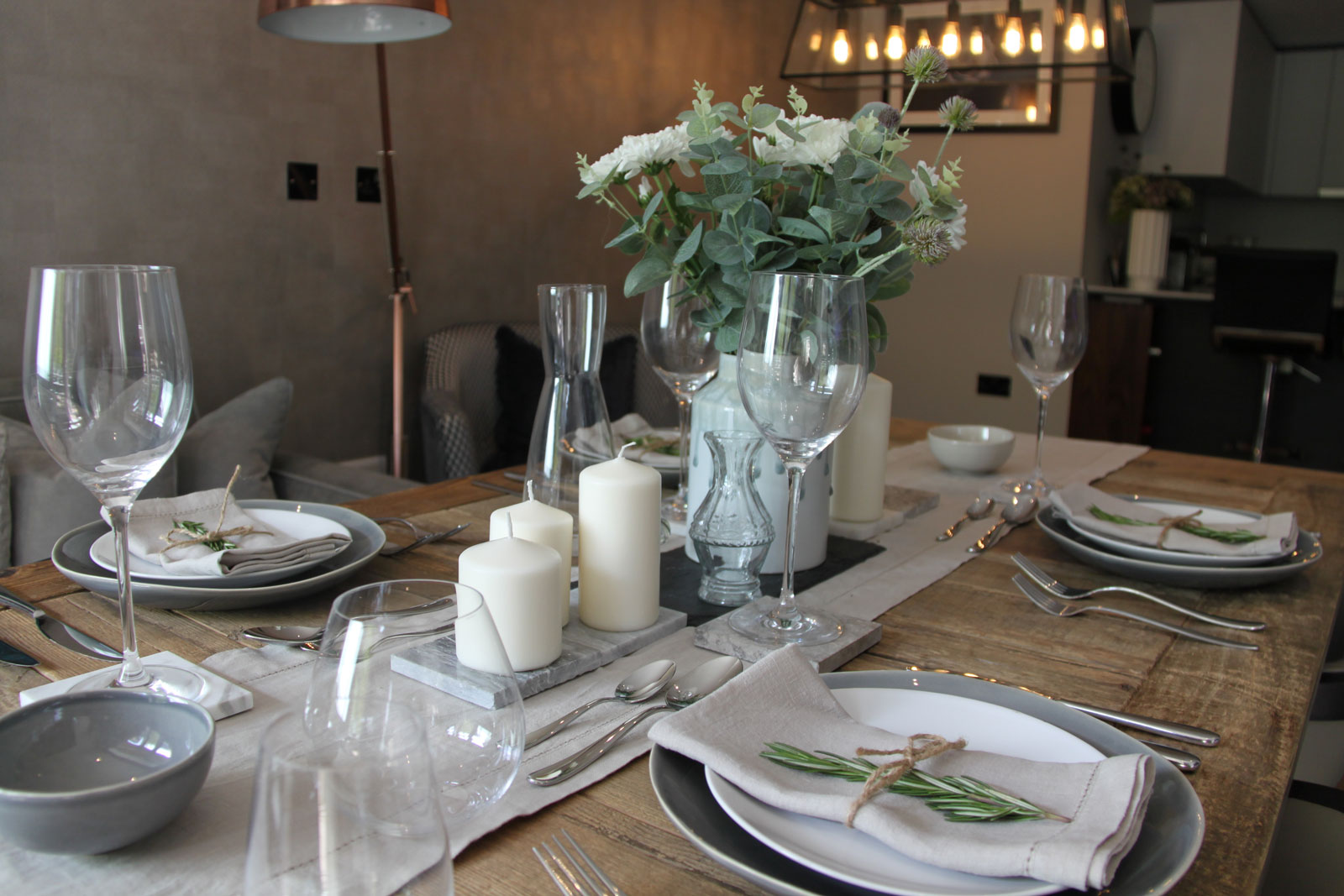 You do not need a stylist and a large budget to be able to style a beautifully, high end dinner table setting. Here's how you can create your own table with items you can find within your own home.
When creating a dinner table setting, I think it's important to make sure that the layout is beautiful and well presented, but still practical as people do need to interact within the space. For example, flowers that are too high can cut people off from whoever is sat opposite. You want the space to complete the atmosphere of your dinner, so dress it accordingly.
You do not need a stylist and a large budget to be able to style a beautifully, high end dinner table setting.
First determine what kind of dinner you are having and what atmosphere you want to create. Do you want platters in the middle? Is it a dinner or a lunch? Is it Romantic? Answering these questions matter. If you want platters in the middle, then you need to accommodate for this by having less centre pieces. If you are having dinner, then you may include a starter plate, which you might not use for lunch. It'll also be darker, so you need to think about candles or lighting. I have put together several dinner table settings to give you some inspiration.
Simple and Elegant Dinner Table Setting:
This feminine table is set for 4 people. The pale, dusty colours set the scene for a more summery dinner. It also has a more relaxed feel as, although there is a centre piece, there's space for dishes to be on the table. I opted to use a runner and no table cloth as it keeps the atmosphere more laid back. The candles here can be purely decorative. Lots of people have candles at home. So you could use any of these to dress up a table setting. If you don't, pick up this pack from Ikea for just £4.25, or from somewhere similar.
The flowers add a soft touch of elegance. You could choose to invest in faux flowers, saving money if you are hosting regularly, or just buying a bouquet as and when you need them. I choose to use a smaller, squatter vase, meaning the flowers sit lower so they don't obstruct people.  You can tie the scheme together by adding greenery to your plates, using a similar shade to that of your bouquet. Here, I opted to use rosemary as it also smells really nice and also fits the rustic vibe I've created. This can be substituted for other herbs you may have in your fridge or garden, keeping the price to a minimum.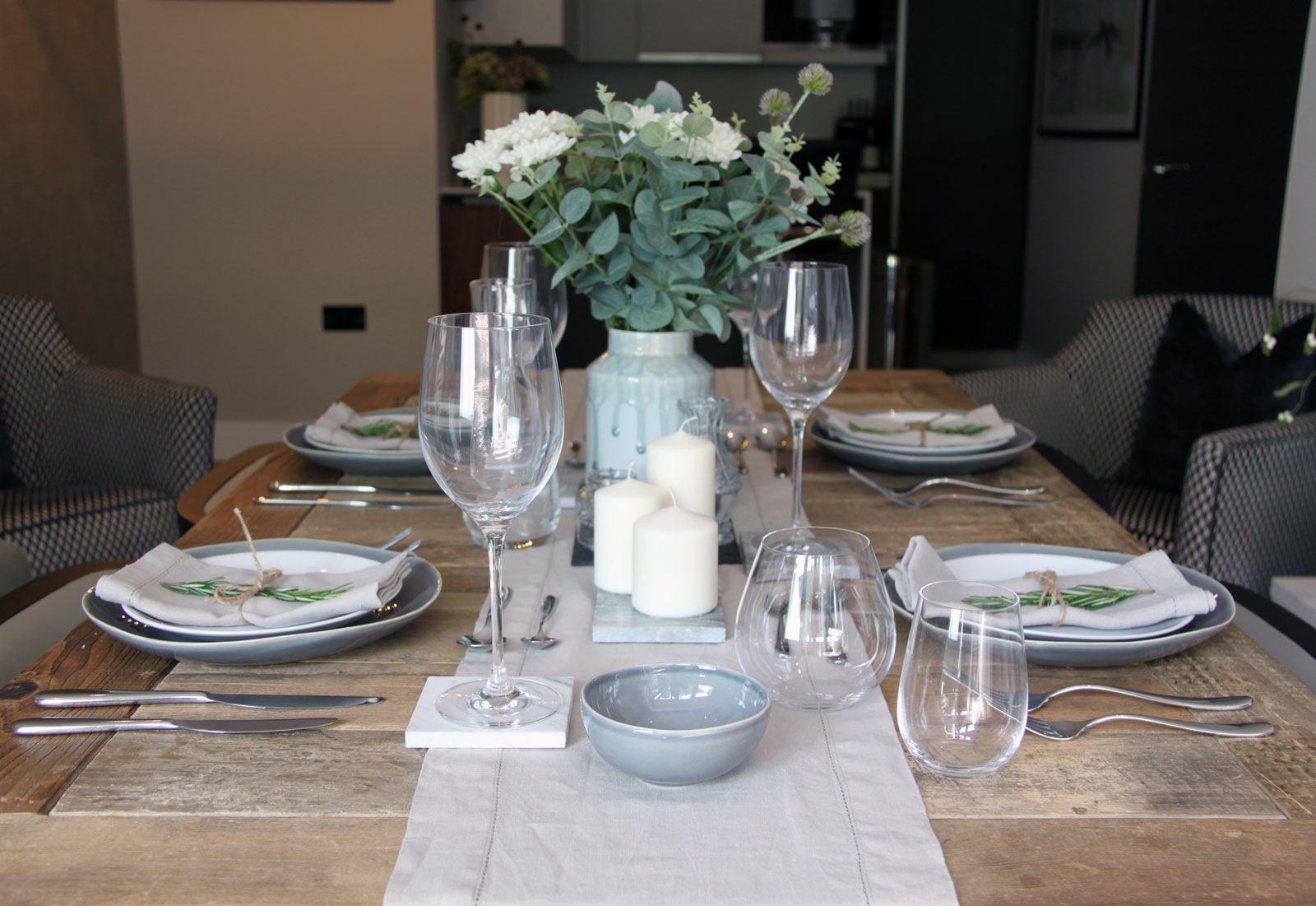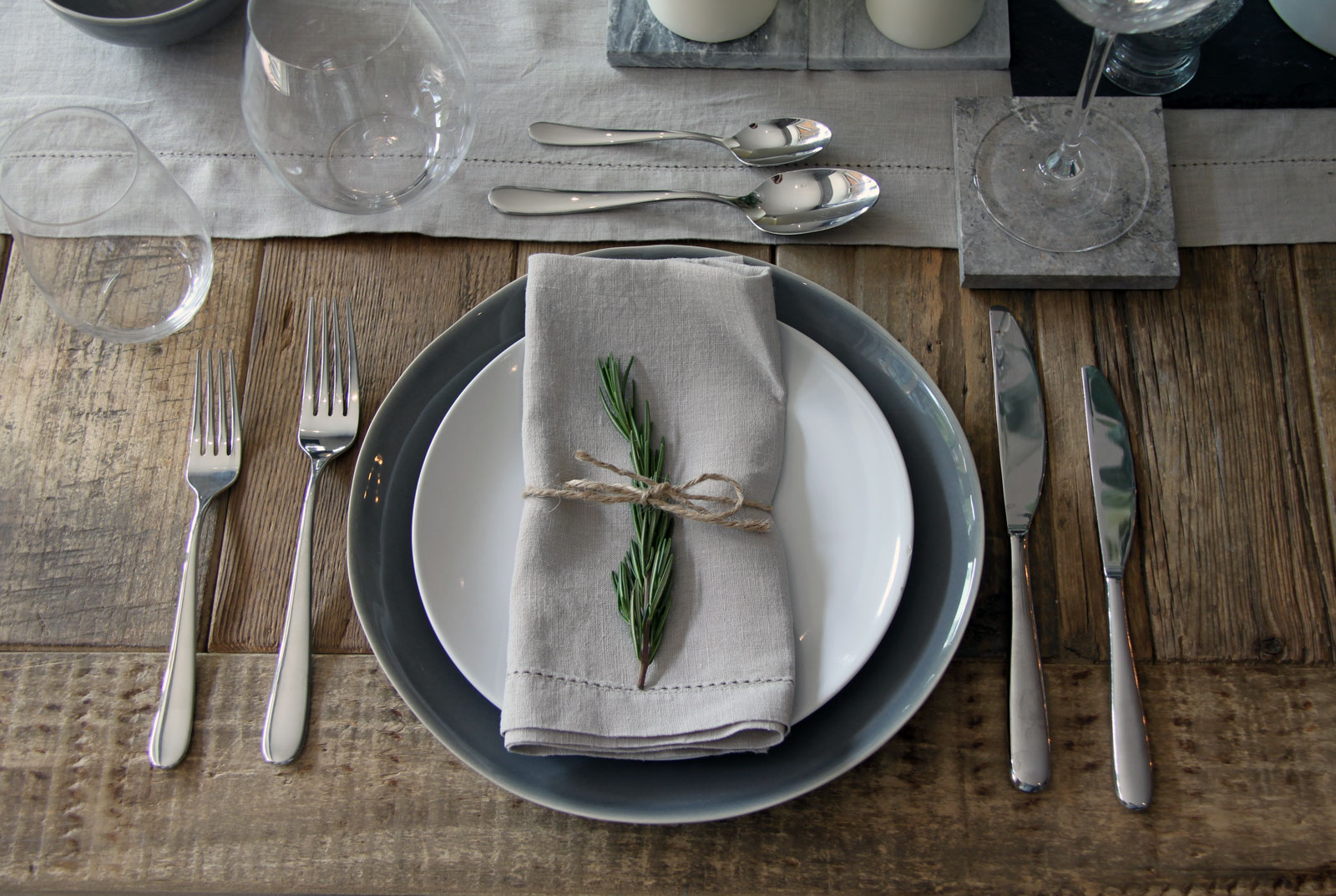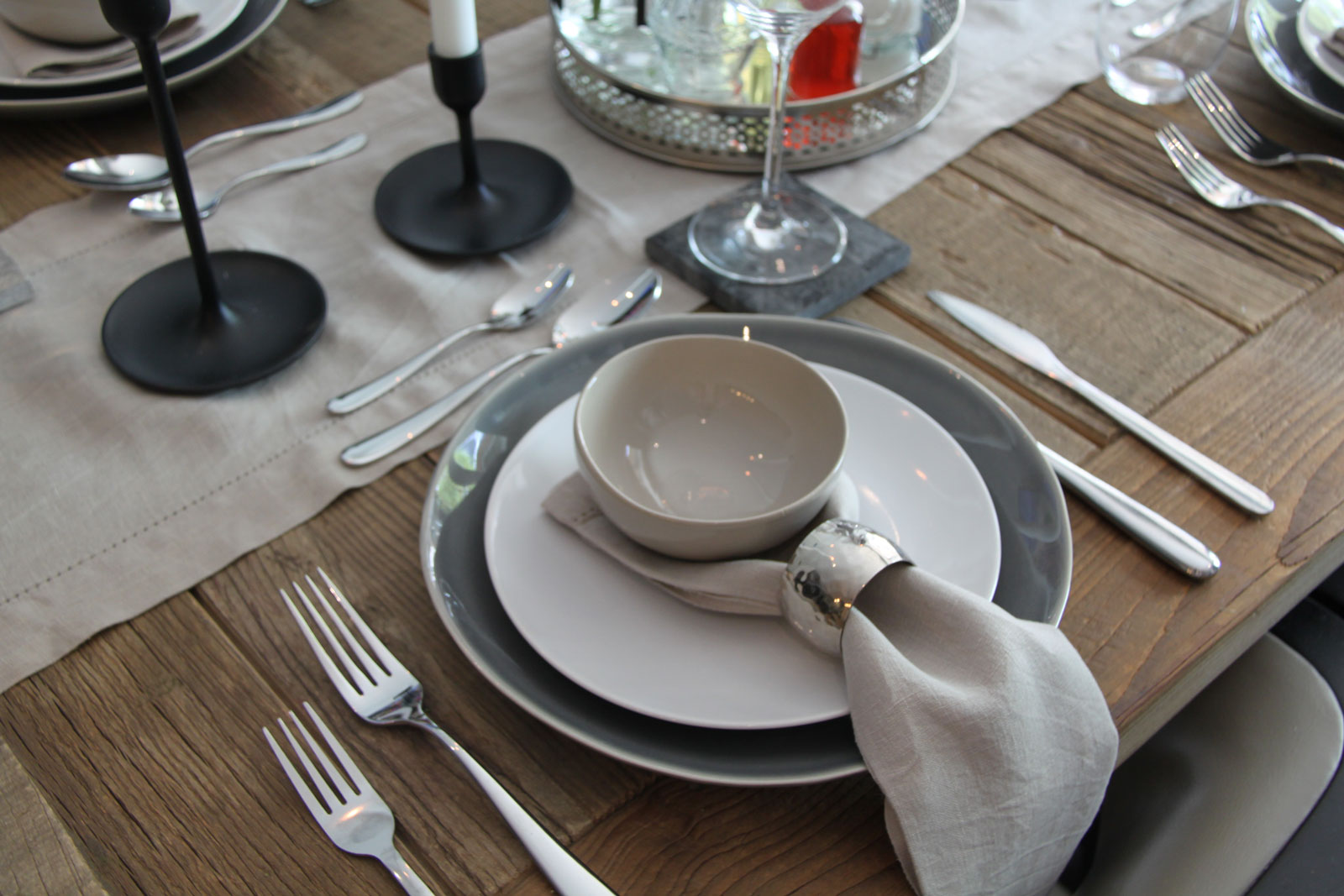 Determine what kind of dinner you are having and what atmosphere you want to create.
Black and Mirrored Dinner Table Setting:
A simple yet elegant day to night scheme. Another item you can find in your home to dress your table is empty bottles. A singular round bottle, like the gin bottle pictured, works well in place of a vase. I also dressed the centre with a classy mirrored tray picked up from Tesco for £12, only available in store. Adding a few simple condiments really brings the scheme together and the sleek black candle holders tie in nicely with the dark bottle label.
The napkins also create a beautiful sophisticated feel. By being folded, then ironed, they become neat and sharp and hang elegantly off the table. The metallic napkin rings look great paired with the tray, so everything works at complimenting the other objects.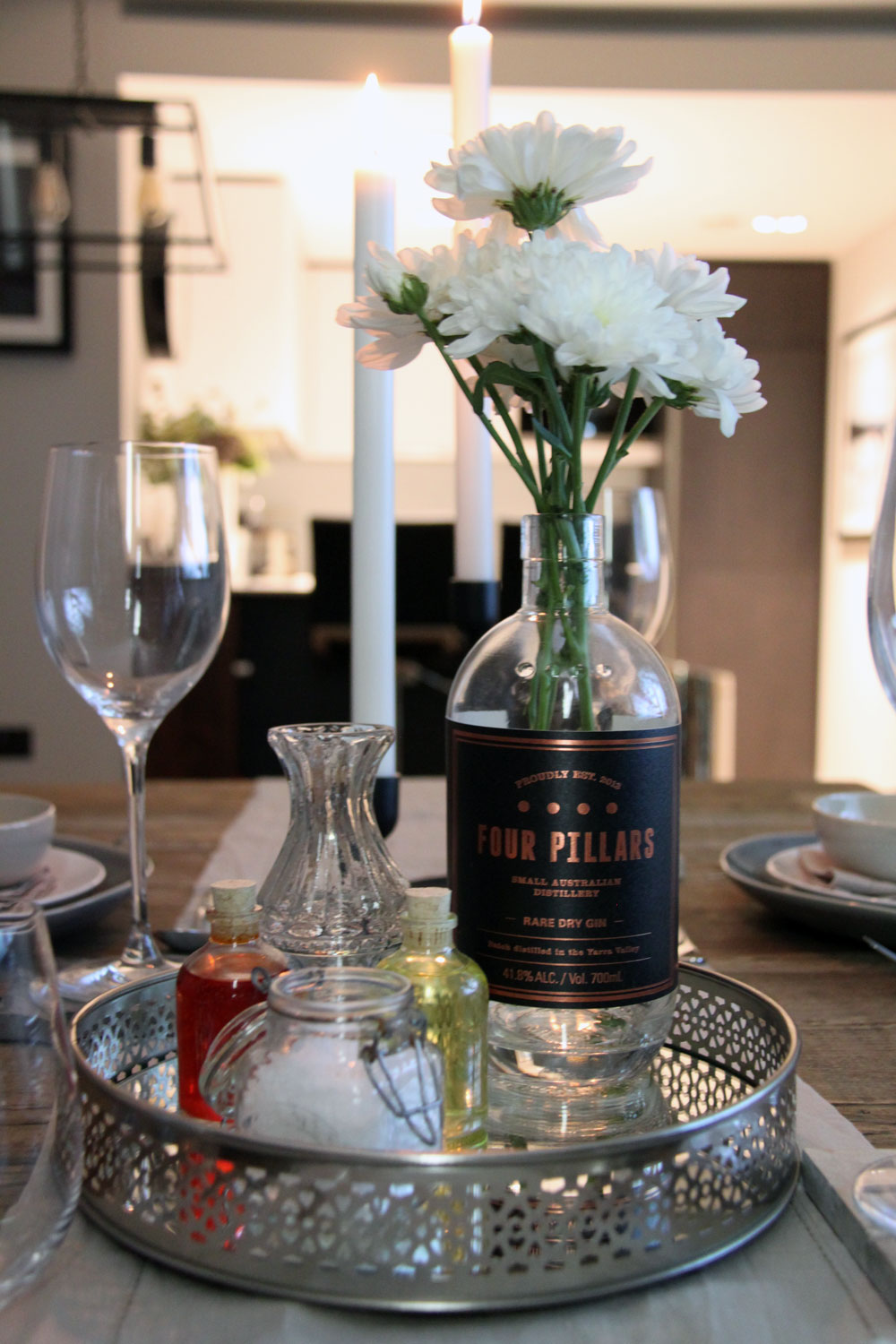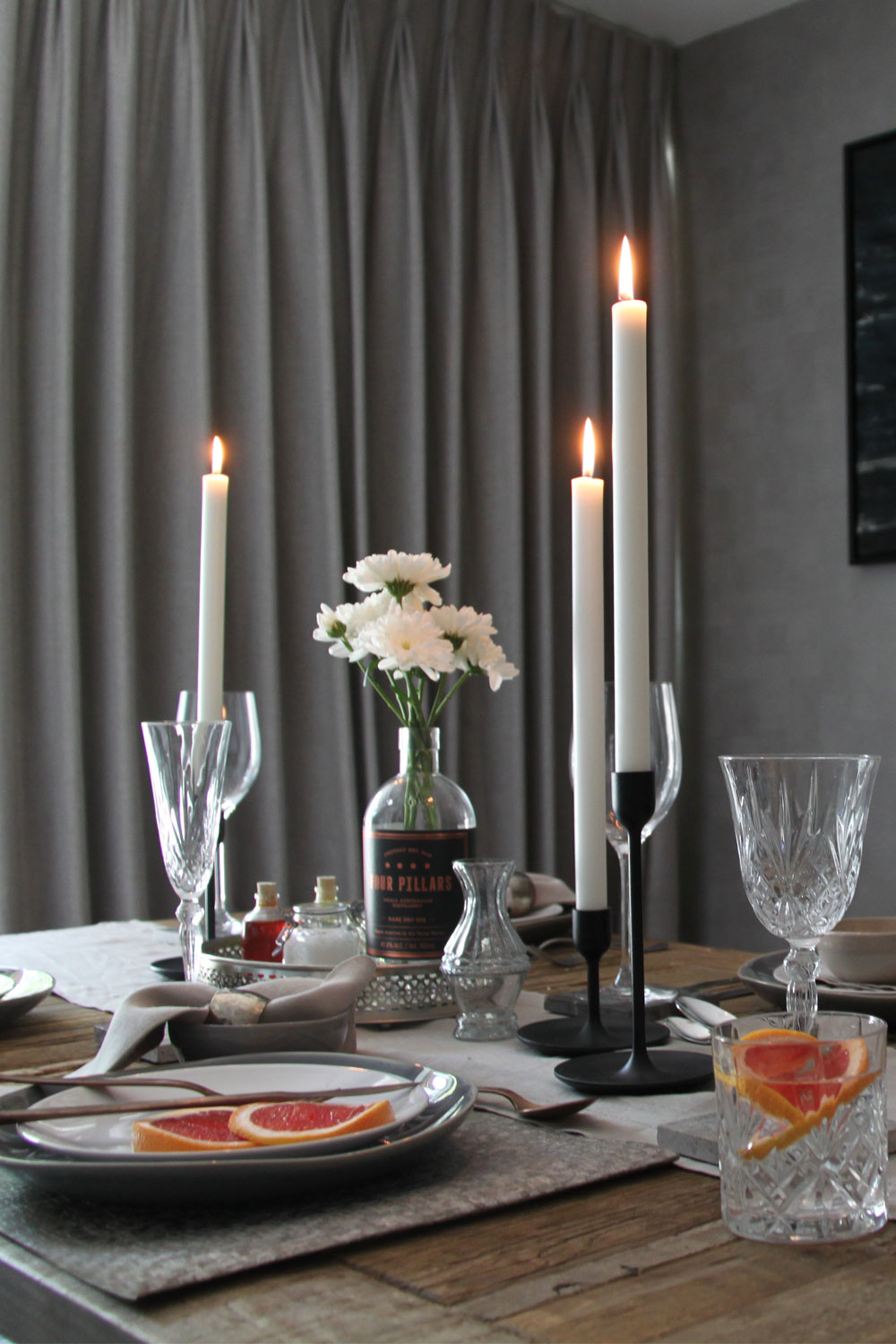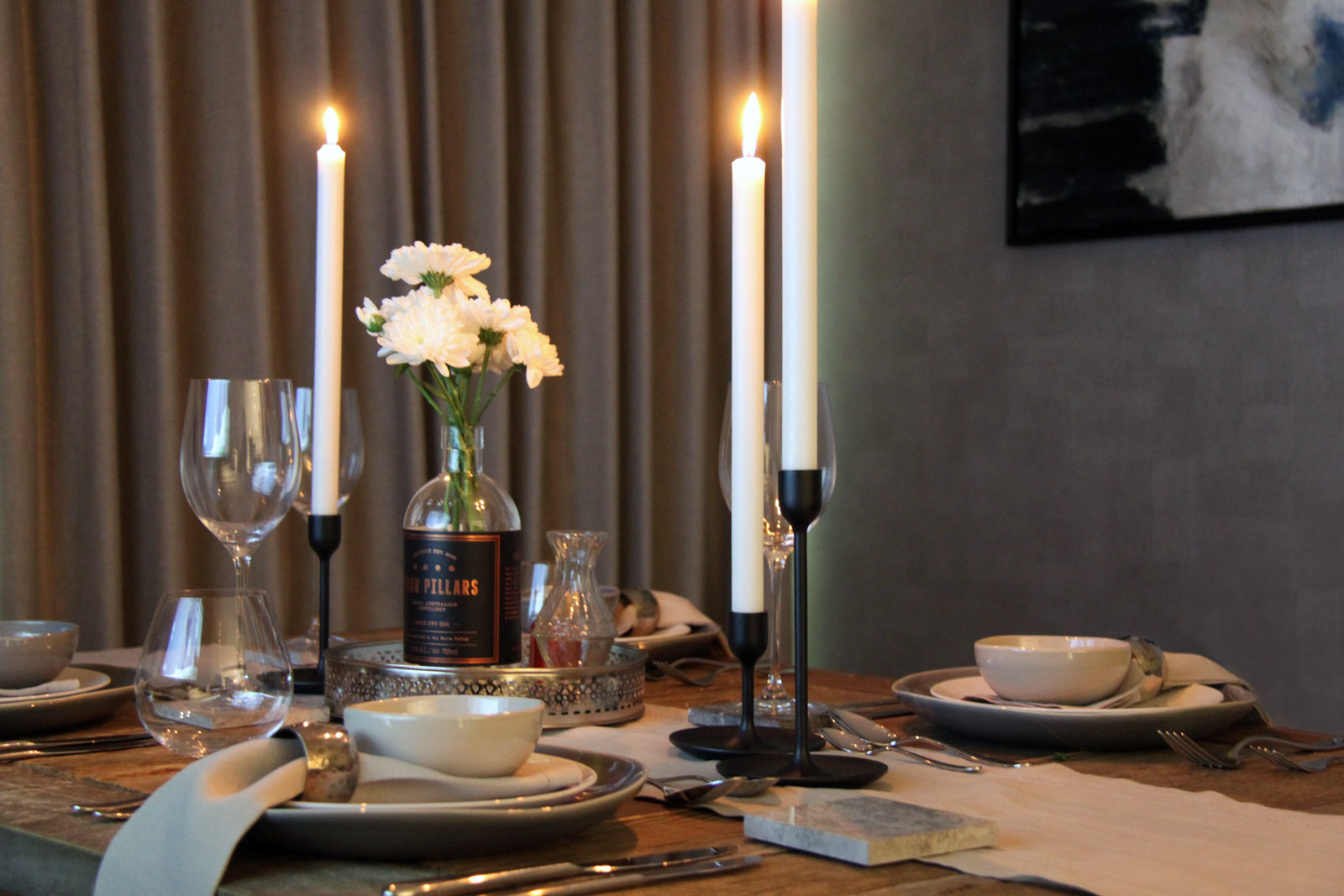 Romantic Dinner Table Setting for Two:
The mirrored tray can be used again in multiple schemes. Here I've created a romantic dinner table setting which feels very coastal. The soft, silky drape of the fabric off of the table creates a very organic feel, especially paired with the natural wood table. The subtle shades of blue and purple compliment the grey and tie the whole scheme together to create this elegant table setting.
A really simple touch you can add for a luxurious feeling is floating flowers. Simply fill a small dish with water and place a flower head in it. It looks elegant and high-end and takes barely any effort or money. This means it is both a cheap and effective tip.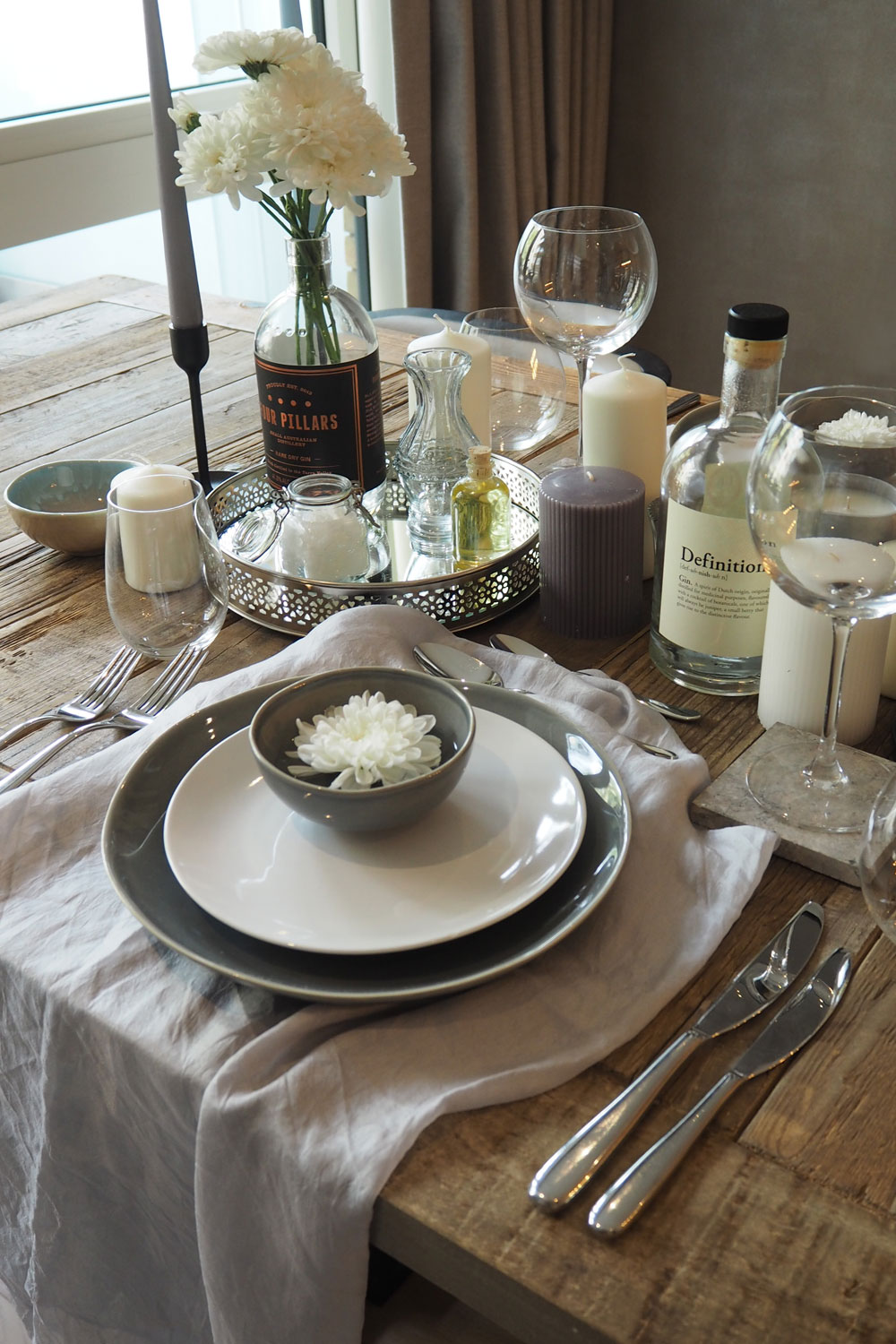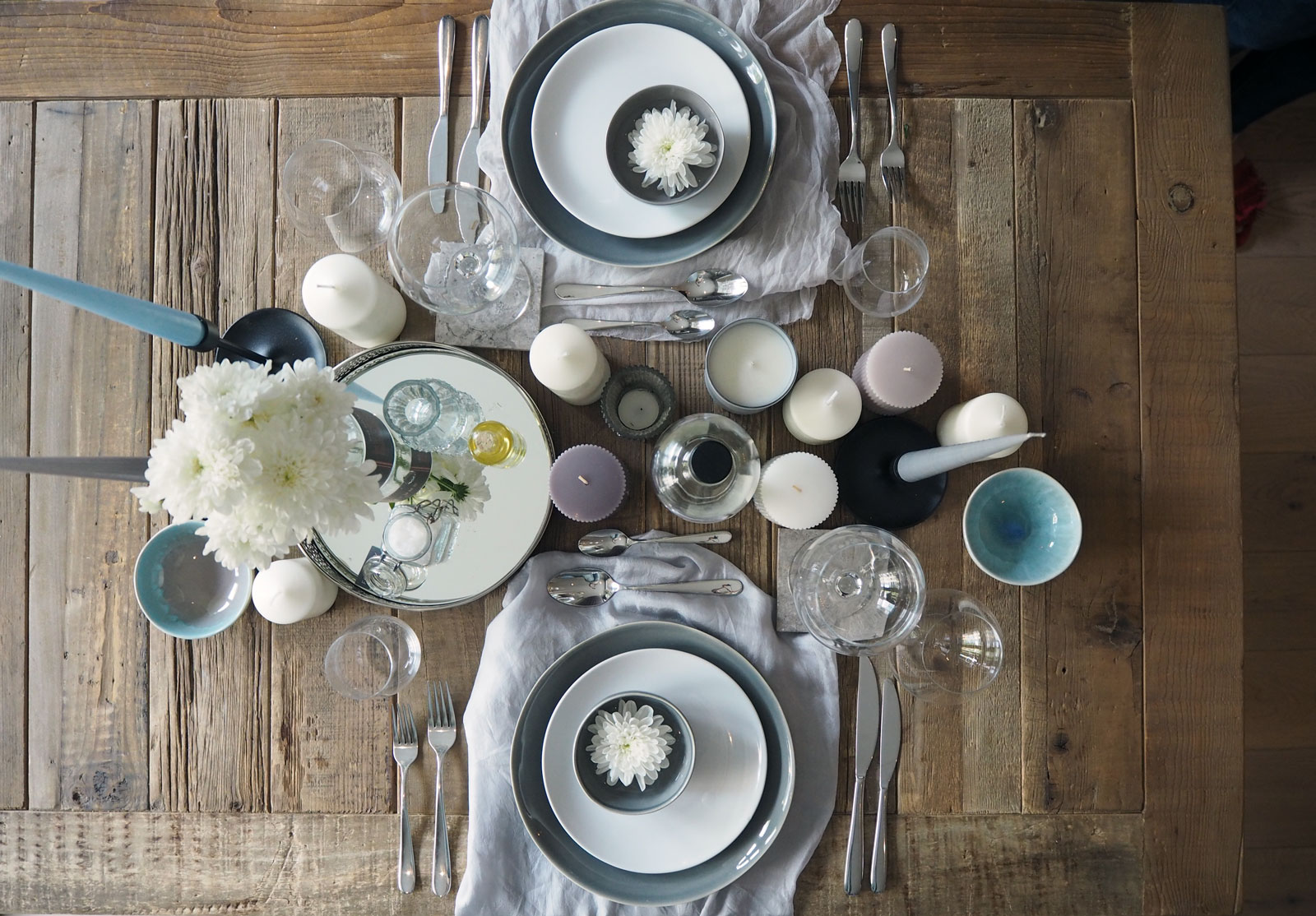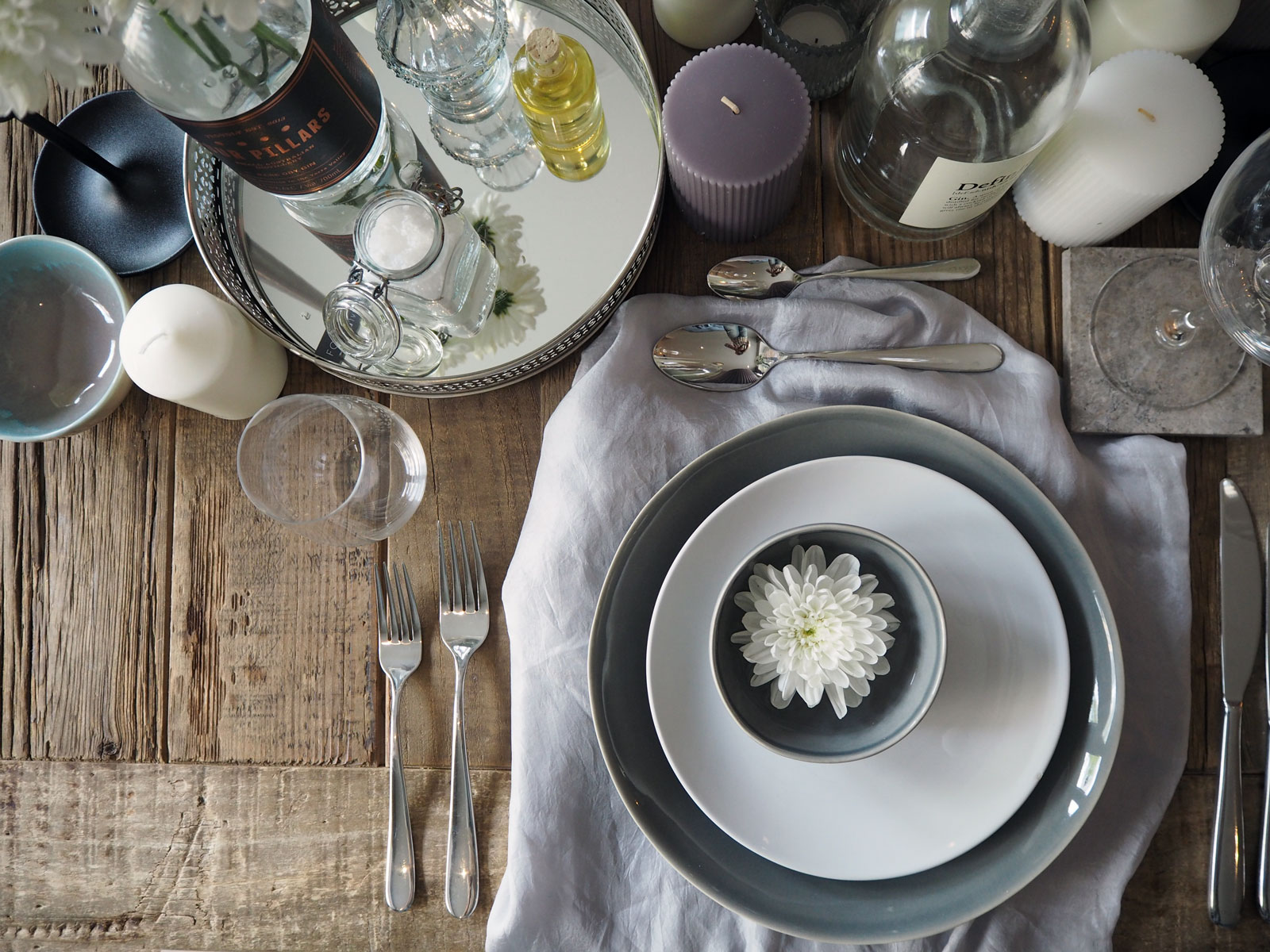 Formal Dinner Table Setting:
What separates this scheme from the others is that I've included a table cloth. This automatically creates a more formal dinner table setting. Combined with the much larger floral arrangement and an incredibly elegant, ruched runner, it creates a delicate and serene setting. There is no shared space for platters or food, but with an atmosphere like this, you would probably opt not to have self-serve. Like the previous setting, it uses the beautiful floating flowers to help add a really simple yet sophisticated detail which is easy to recreate.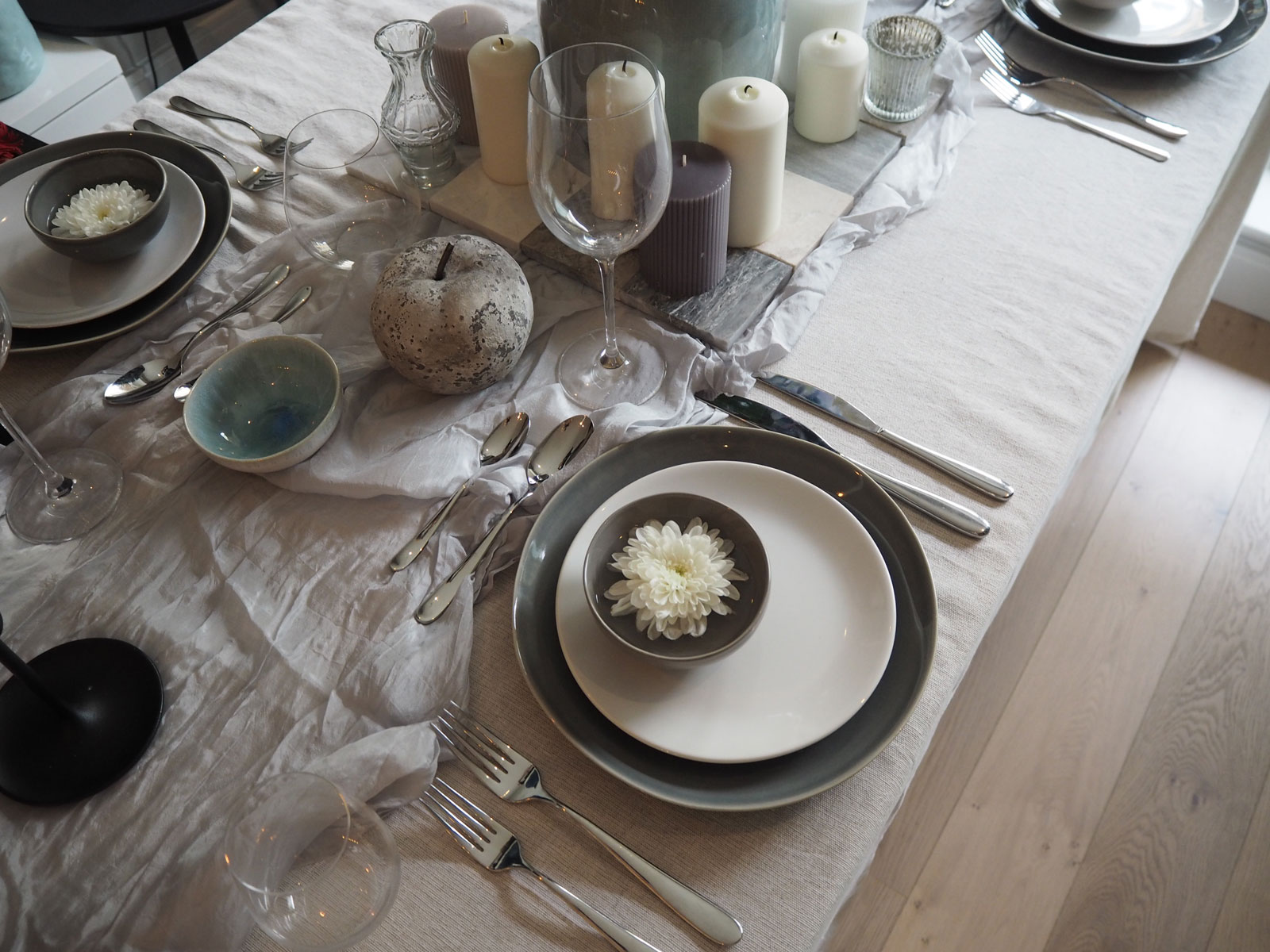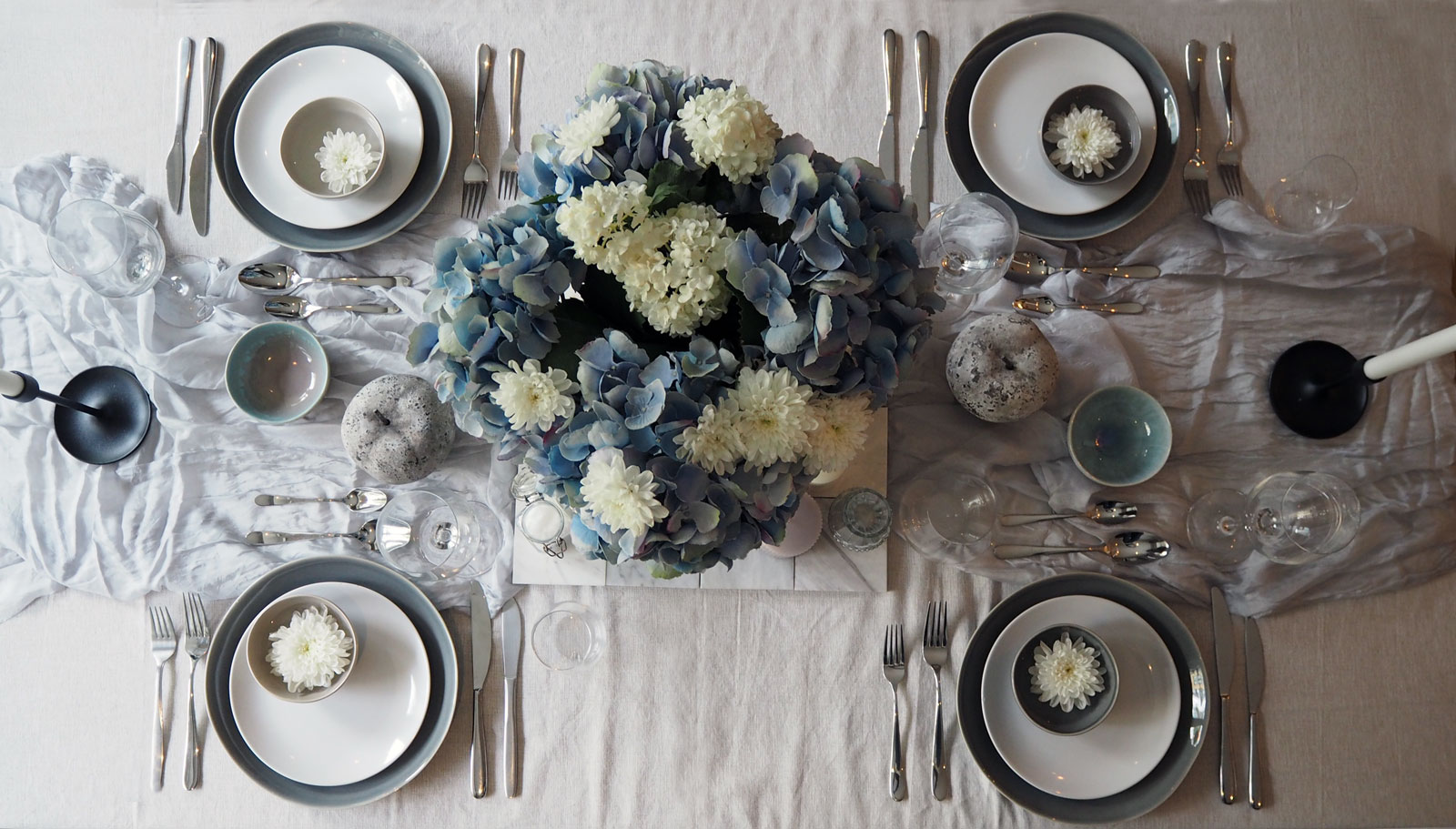 Space Allocation:
When hosting a dinner party, you need to consider how many people you can fit around your table. This also varies depending on the shape of the table. Circular tables are better for smaller parties as, too large, and it can become difficult to talk to people. When you are working out space allocation, you need to think of two areas – an individual place for each person and a shared space for serving dishes, condiments or candles etc.
The minimum width for a place setting is 61cm. This is calculated using the average shoulder width of a person. The minimum depth for a setting is 38cm. For the shared area (which would be doubled in a table scenario that two people are sat opposite) the minimum depth is 13cm.
However, there is also an ideal space allocation for dinner table settings. This works for a more formal table with extra plates, cutlery and glasses. The ideal width would be 76cm and the ideal depth would be 46cm. The ideal shared area becomes 23cm. This means there's plenty of room for serving dishes, candles and centre pieces which give the dining experience more of a luxurious feeling.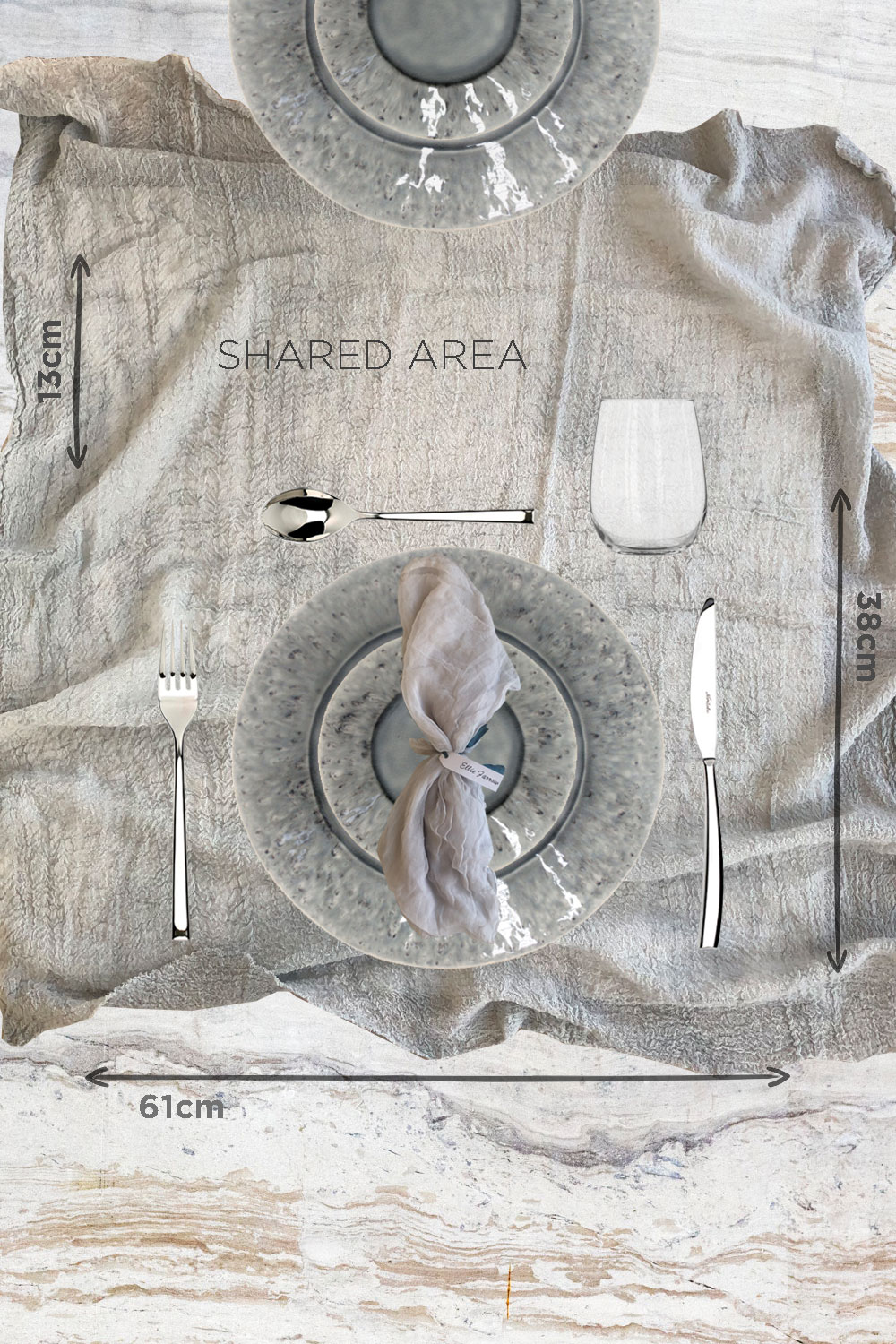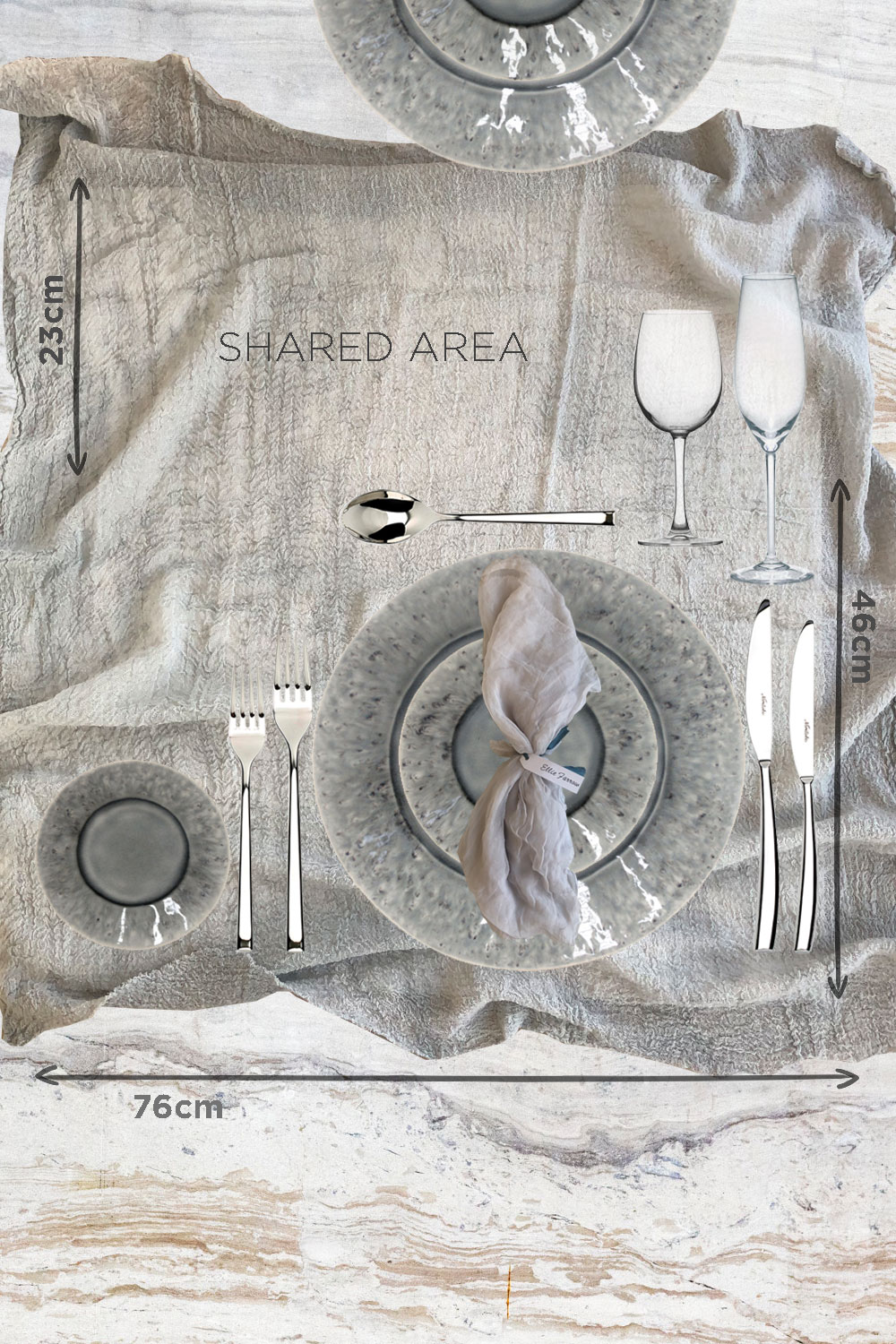 So, for a party of 6 sat at a rectangular table, the suggested minimum table dimensions would be 1.02m x 1.98m. I know this is larger than lots of peoples dining tables, which are around 90cm x 1.6m. For this dimension, you could fit 4 people comfortably, or 6 at a push – just try your best! The ideal table dimensions for a party of 6 would be 1.37m x 2.44m.
Style a high-end table setting with items from your own home.
I hope this has given you some information and inspiration on how to style your dinner table setting. More importantly, on how you can style a high-end setting with items from your own home. Experiment with your table until you find something you love. Or try them all, as you can never host too many dinners!
Disclaimer – We always endeavour to credit the correct and original source of every image that we use. If you think that this credit may be incorrect, then please contact us at info@houseofthree.co.uk