Incorporating The Velvet Trend Into Your Home
The velvet trend can be worked into almost any scheme. Whether it's subtle accents like a lampshade or a throw pillow, or a statement piece such as a sofa. How bold you decide to go depends on your own style. Even a single item of velvet can lift your scheme – bringing that sense of luxurious comfort.
When it comes to the velvet trend, there are many different ways that you can incorporate it into your scheme. Velvet is an incredibly versatile fabric, making it easy to apply. It's soft to touch, exudes comfort and style, whilst being durable. It's perfect for both stand out furniture pieces and accessories.
Velvet will create visual comfort and soften the look of a room. This makes velvet ideal for bedroom or living room spaces.
The velvet trend has only really come back into fashion within the last few years, yet now it can be found everywhere. There are many different types of velvet. If you want to read more on the properties of each fabric then check out Becca's 'Easy To Read Beginners Guide To Fabrics.' Velvet it one of the most popular fabrics at the moment, coming in so many different colours and applications, from pillows, to sofas, to walls, there are few places that this texture doesn't fit. Since the beginning of 2018, searches for velvet have increased by 400% and it's one of the most searched for fabrics.
Velvet Furniture –
Incorporating velvet feature furniture is a bold and luxurious way of using this trend. Bedrooms are ideal spaces to introduce the velvet trend as the fabric creates visual comfort and softens the whole look. You could opt for a velvet headboard for the perfect statement piece. Similarly, another feature piece you could incorporate is a velvet sofa. Having a velvet sofa can instantly add glamour to any living space.
If you are slightly wary of jumping straight in with a sofa, then you can opt for a velvet accent chair. This will create a cosy place to relax, bringing the same opulence as the sofa or headboard without being overbearing. When looking at purchasing furniture upholstered in velvet, try and choose one that has been specially treated for spills and durability.
Shape & Colour –
If you're afraid of your room looking too heavy or wintry, choose to use velvet in a pretty blush shade, light grey or even a jewel tone. Whilst the textile works with most silhouettes, different shapes can help you achieve different looks. It works well with a traditional shape or tufting, whilst gives a modern vibe when applied to a more streamlined frame.
My personal favourite, a particularly popular trend, is when velvet is paired with scalloped edges. Inspired by the ocean, similar to Pantones 'Living Coral' colour of the year, many furniture pieces have curved, wavy and ocean-inspired shapes, giving the pieces an organic look.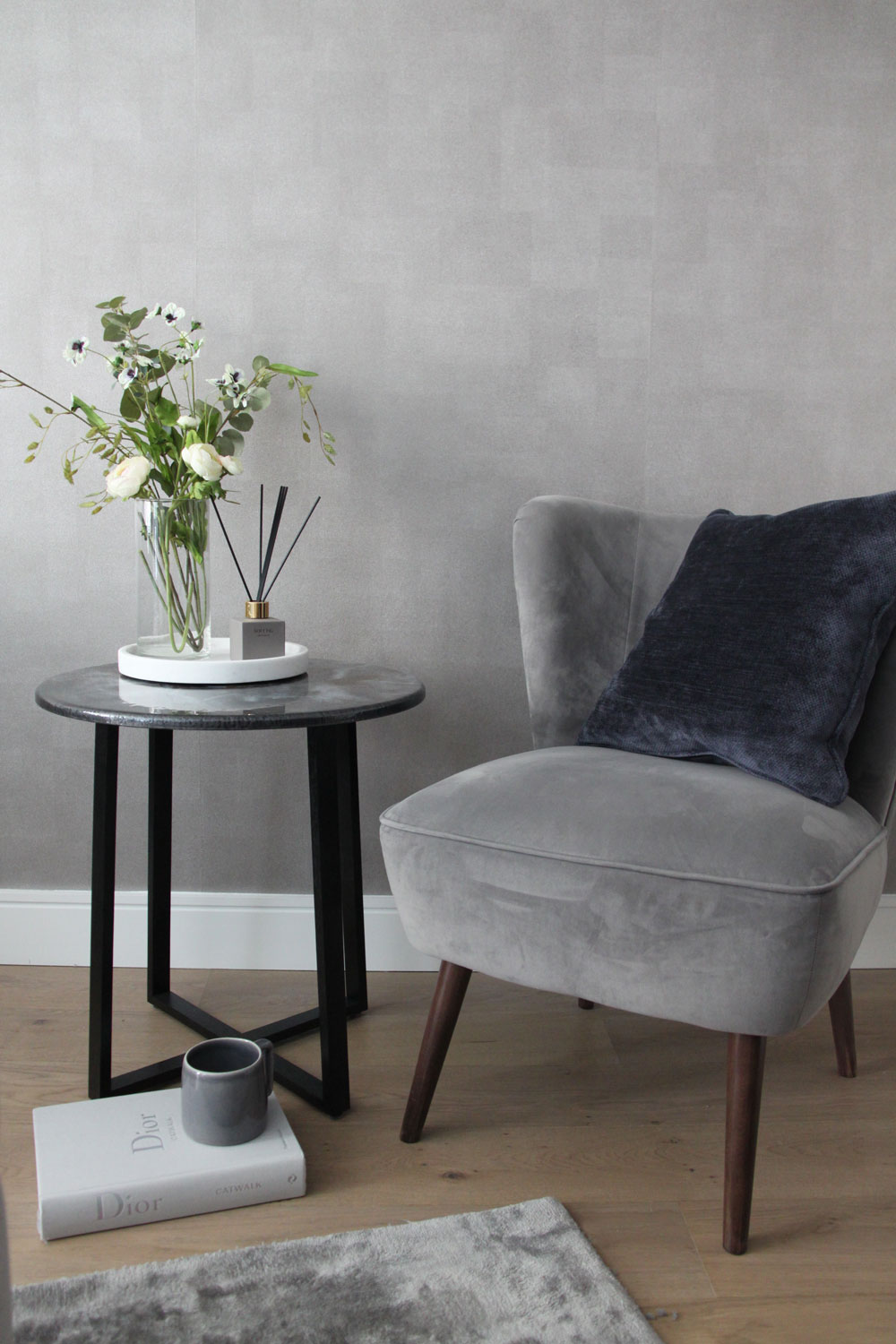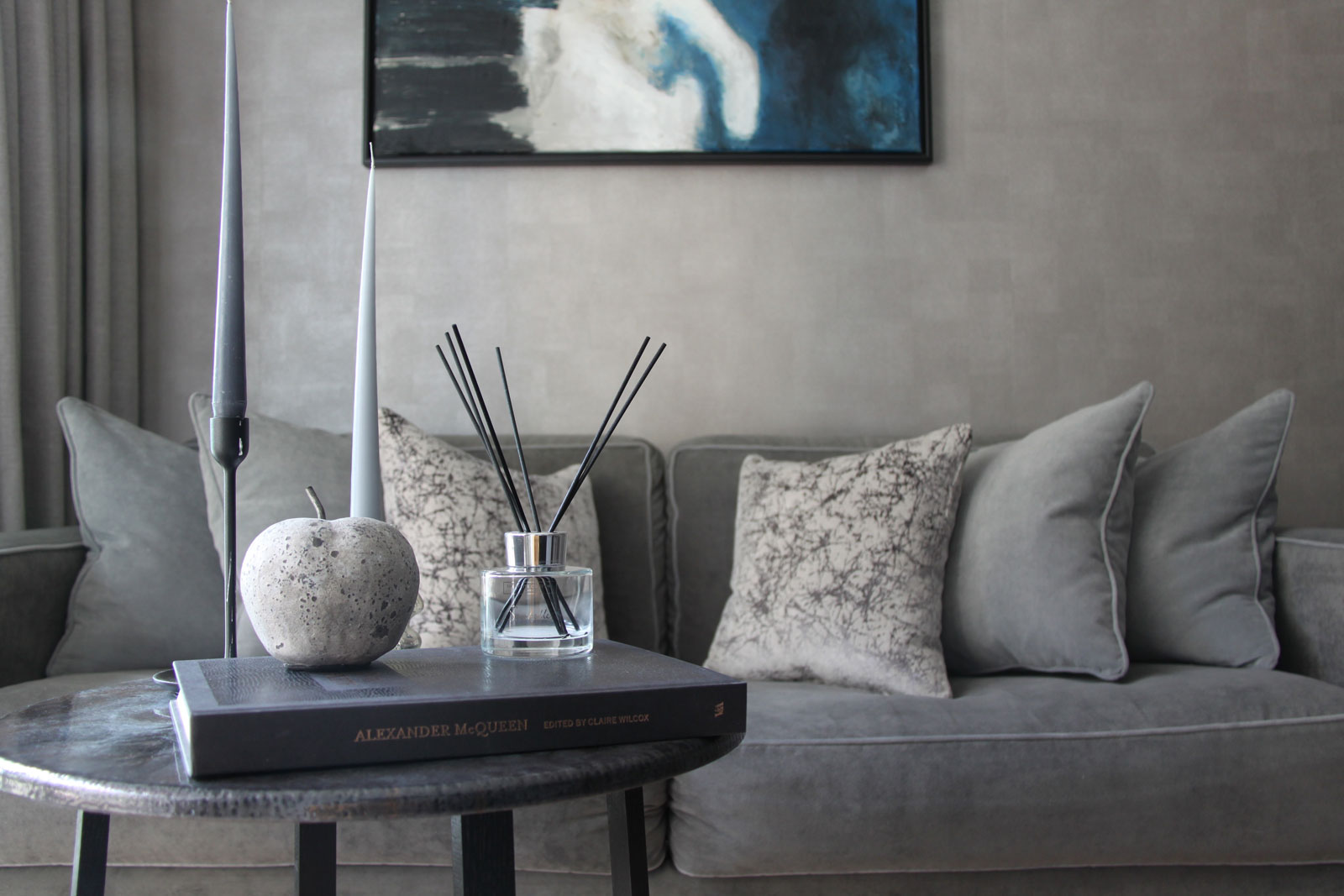 For a unique way to incorporate the velvet trend you could choose to use either velvet wallpaper or curtains. The 3D quality of flocked wallpaper adds interest to a room, giving it another dimension. Adding velvety texture to your walls can create a bold statement of indulgence in your home. Flocked wallpaper is also great at helping to absorb sound in a room. Alternatively, by dressing your windows in velvet, you will soften the lines around the area and create a focal point to a room. To keep them from looking dated, choose something that is simple in design. Velvet also has brilliant insulating qualities which make it perfect for keeping those wintery drafts out!
Velvet is an incredibly versatile fabric, making it easy to apply. It's soft to touch and exudes comfort and style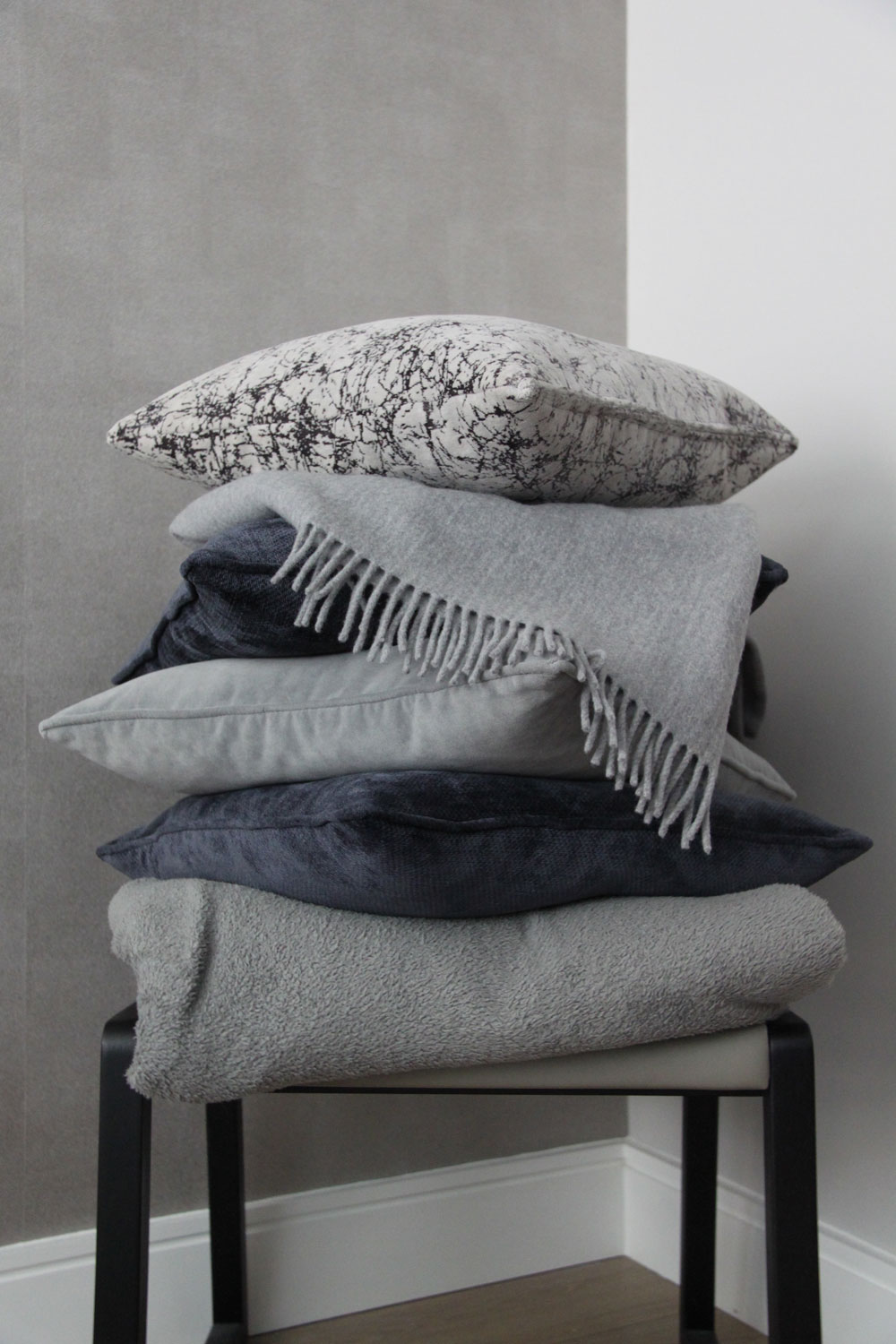 Accessories –
If you don't want to incorporate the velvet trend with a statement piece, then there are also some really effective ways to accessorize with the fabric. Stools are a great way of introducing velvet into a bedroom. They are on the smaller side so less imposing then an armchair. A velvet stool would be great for a dressing table, as a footstool or an additional seat for guests.
Velvet cushions are another great way to subtly introduce the texture. Throw pillows on your sofa or bed create a cosy and soft look, whilst not compromising on the glamorous quality of the material. Similarly, velvet throws are perfect for adding warmth and a luxury to your bedroom spaces.
You don't need to go overboard introducing the velvet trend, so consider small elements such as a velvety lampshade. This will instantly lift any space no matter your décor or style.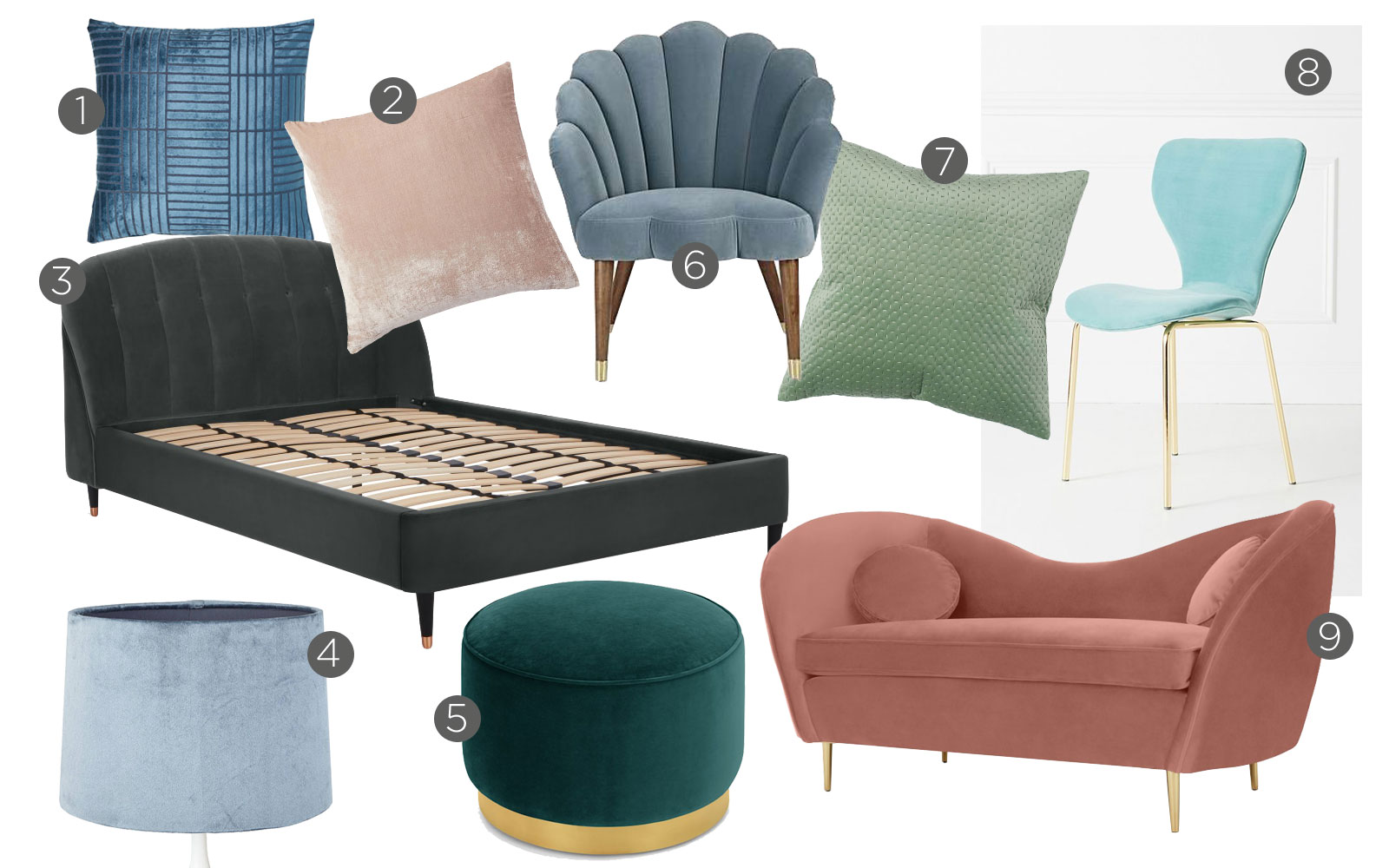 Velvet pretty much goes with anything, providing the colour is a match for the other materials you're using. If you love the velvet trend, you don't have to go dramatic and dark. Some of the most effective applications of velvet incorporate softer colour palettes. These contrast beautifully with other fabrics such as wool and linen. Jewel toned velvet can effectively lift a space when paired with other light reflecting textures.
Velvet works particularly well with brass. Whilst velvet creates a soft lustre, brushed brass does the opposite. These two materials juxtapose each other, giving a luxurious vibe whilst remaining contemporary. With this in mind, pair soft shades of velvet, such as blush or powder blue, with brushed metals and pale woods for a contemporary scheme. Or pair more rich or darker shades of velvet, such as emerald green, with metals and dark wood for a more luxurious look.  For a slightly softer informal look, pair velvet features with linens and lighter weathered woods.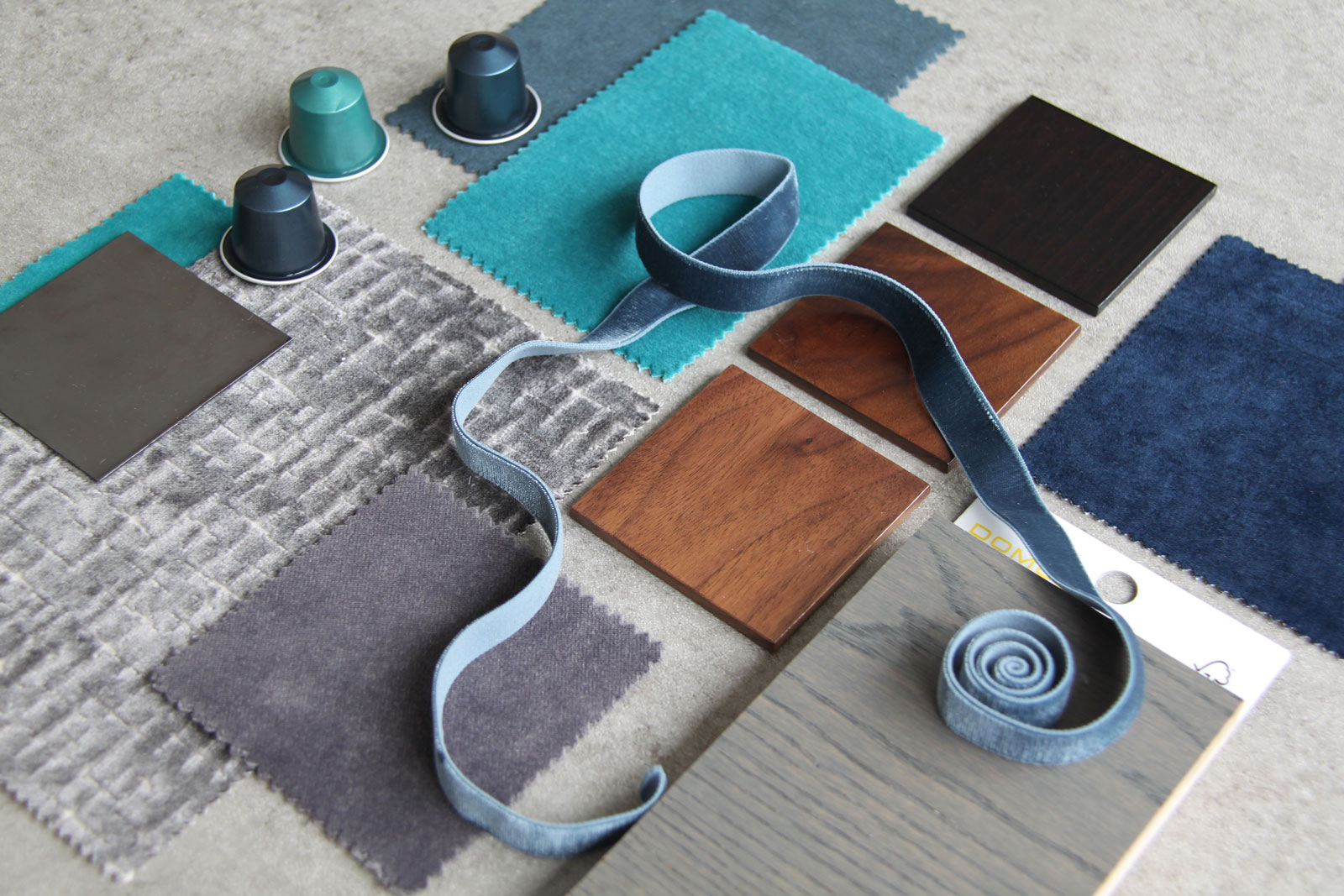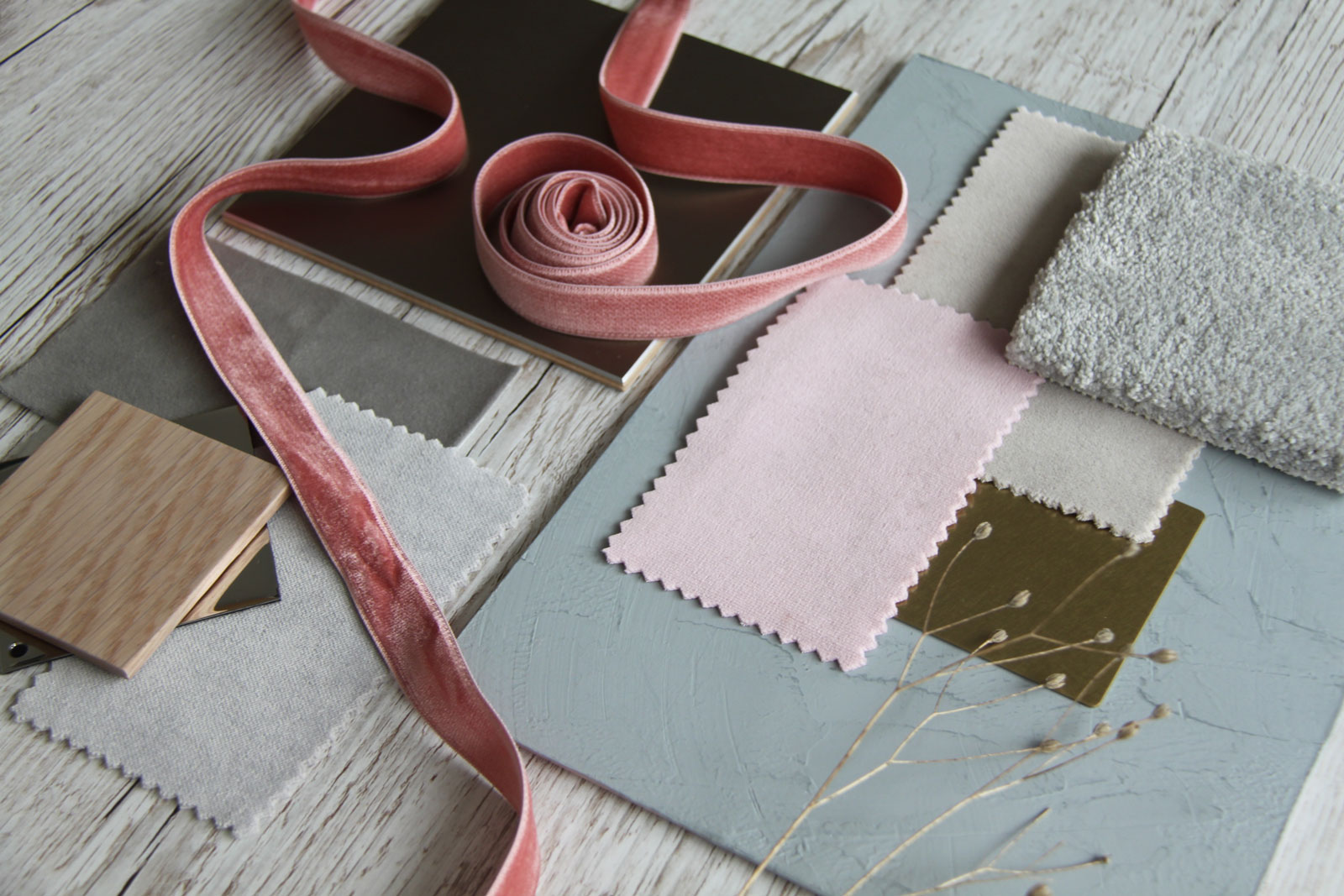 Pair softer shades of velvet with brushed metals and pale woods for a contemporary scheme. Alternatively pair darker, more rich velvet with metals and dark woods for a luxurious look.
Whatever form of velvet you choose to incorporate into your scheme, it will already add texture, softening the overall look. With its tactile qualities and opulent finish, velvet will guarantee to bring elegance to your home. Less is sometimes more when it comes to velvet – you don't want to go overboard. Too much velvet and you risk making your scheme look dated. Opt instead for one feature piece, with maybe a few accessories. Either way, you are going to want a little bit of velvet in your home this year!
Disclaimer – We always endeavour to credit the correct and original source of every image that we use. If you think that this credit may be incorrect, then please contact us at info@houseofthree.co.uk