Interior Design Styling Items I'm Loving Right Now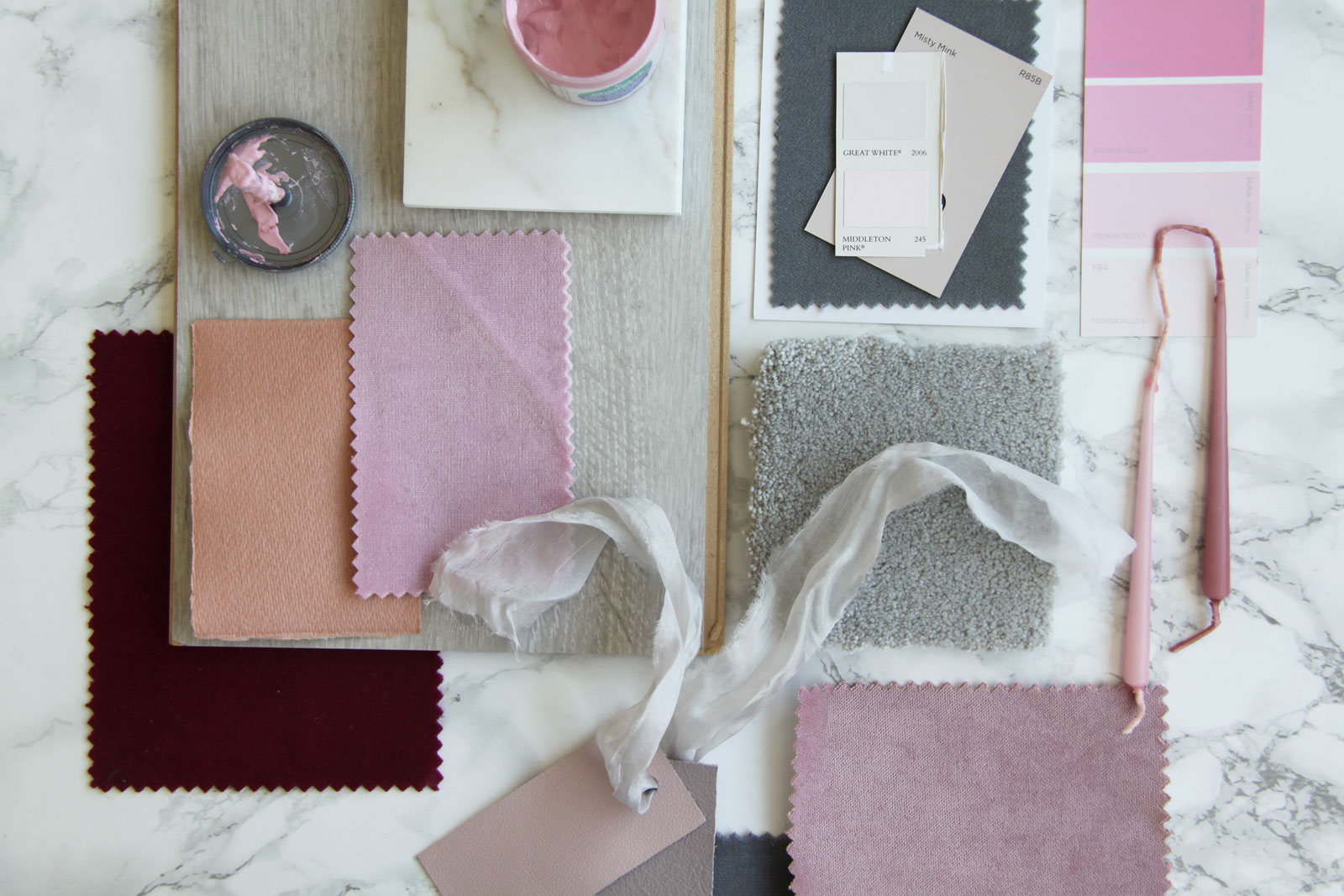 As a new homeowner, this feature was right up my street! Honestly, I had SO much fun browsing through the internet for my must haves. So take a peek at what's on my home styling wish list…
I'm back on the blog with my home styling wish list! As a new homeowner, this feature was right up my street as I'm currently kitting out a blank canvas so a lot of these items, I have actually purchased.
I live in a new build and although everything is sparkling and ready for you to move straight into without having to make any renovations, I find that new builds often lack character, warmth and interest.
I wanted to create a vibe that was cosy and homely, yet still very on-trend...
However, with a few additional items it's easy to transform the space into something that completely reflects my individual style and personality. With these items, I wanted the combination of on-trend decor but to be able to achieve a cosy, homely vibe. And I think I did just that! I opted for a muted colour palette featuring pale pinks, soft grey and simple white. Feminine and modern, with plenty of texture to ensure the feel of the house was welcoming.
So, keep reading to discover the items that I'm loving at the moment…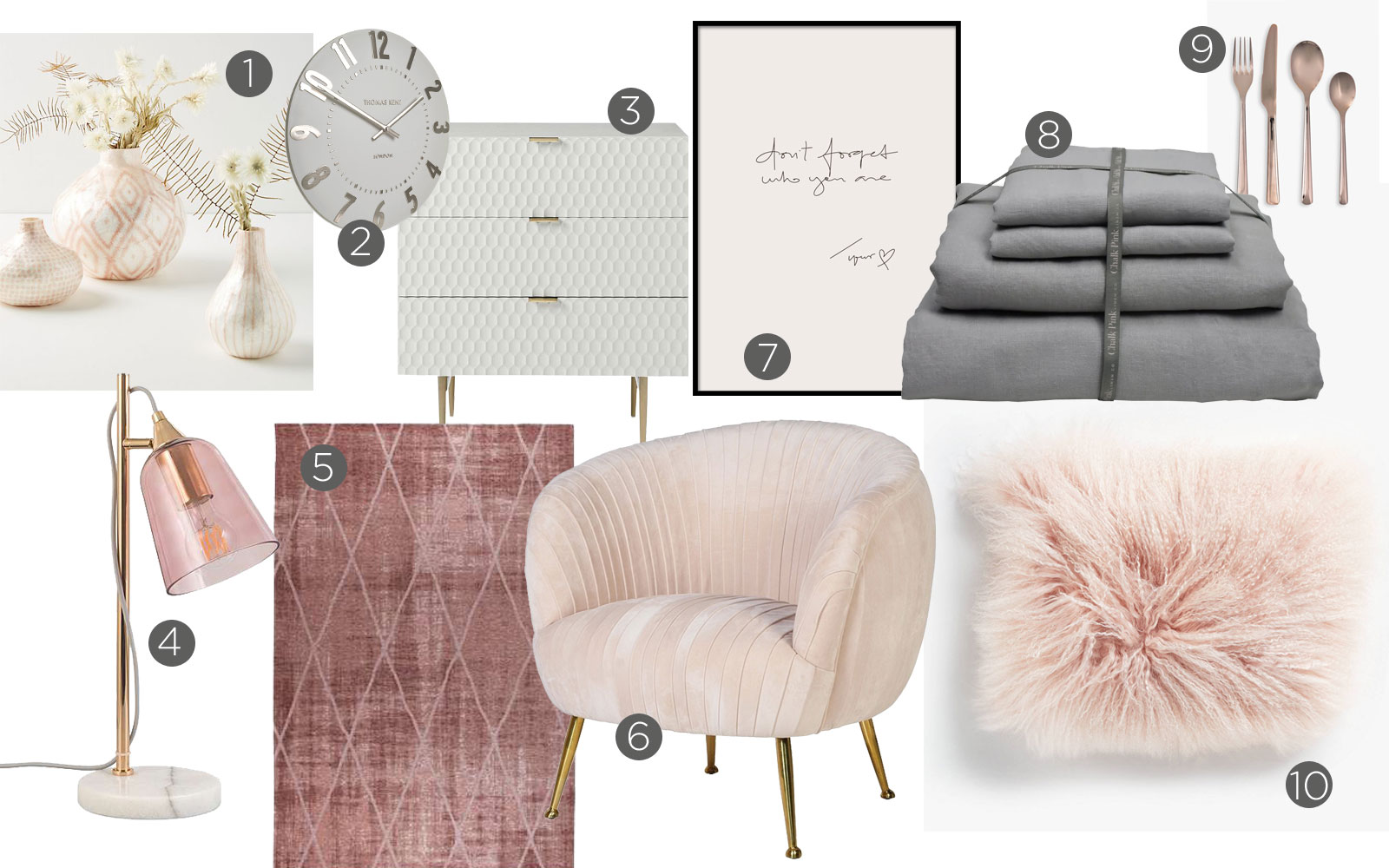 Interior Design Styling Items I'm Loving Right Now
1.  When it comes to kitting out my new home, Anthropologie has always been at the top of my home décor list and the 'Thada Vase' instantly caught my eye. Handcrafted from capiz and windowpane oystershell, this versatile item can be used in any room in the house. I think it would be the perfect fit for a coffee table or sideboard, and would love to fill it with dried flowers or some faux greenery. It's subtly luxurious and it makes a statement without being overpowering. Smitten? Me too!
2. I LOVE a clock, especially one by Thomas Kent. Often overlooked, clocks can have a huge impact when it comes to house styling. When creating my wish list, I couldn't resist buying this clock for my kitchen, but it would also work really well in the living room. The 'Silver Cloud' design is ultra-elegant, yet contemporary enough to fit in with a new build house. John Lewis describe it as having a 'sophisticated Scandinavian' vibe and they've nailed it. I want to buy a clock in every colour for each room in the house
When it comes to styling your home, I think there are items you can save on and items you can splurge on. Bedding is one item that I ALWAYS invest in!
3. Can we talk about how adorable the Audrey chest of drawers by West Elm are?! Featuring an understated geometric pattern, the drawers are finished with antique brass-effect hardware. With three drawers, they are useful as well as stylish. While they are designed to be used as a bedside table, I think they would also look gorgeous as a side table in the living room. I might have to take them off my wish list and pop them in my basket…
4. I'm a BIG Oliver Bonas fan so I just knew I had to add at least one home décor item to my wish list and this adorable glass table lamp made the cut. It features a modern marble base and a metallic stem, while the shade has a delicate rose-tinted hue. SO romantic! It's the perfect fusion of industrial vibes and femininity, don't you think?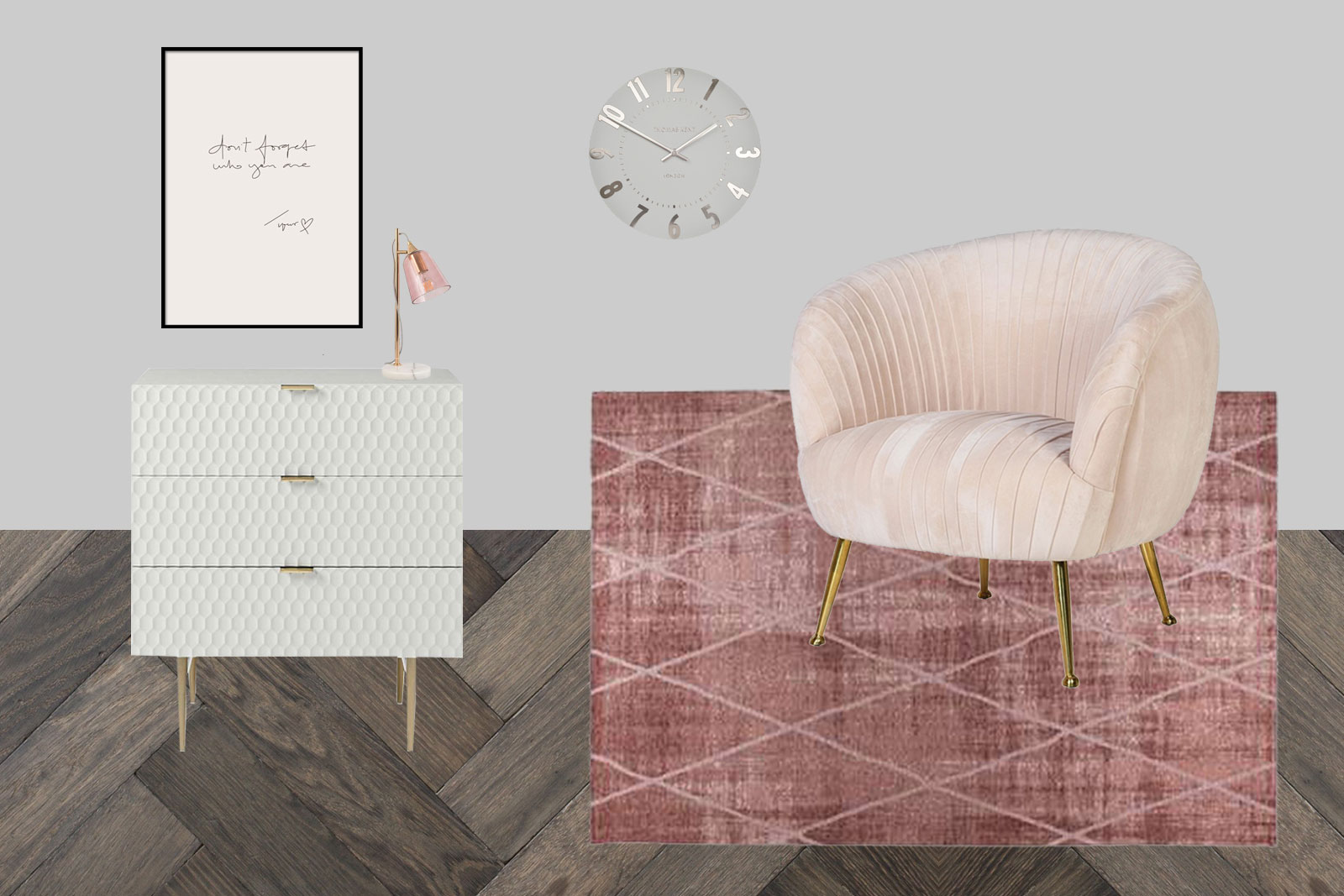 Even more lovely styling items…
5. I think rugs are a must-have if you want to add a pop of colour to a space and also contribute to the cosy feel, and when it comes to buying rugs I always head straight to Dunelm. A deep blush pink, I bought this to brighten up a blank white space, without taking over the room.
6. This Sweetpea & Willow Hepburn Armchair is giving me ALL the heart eyes and I really do need it in my life. This ultra-lavish chair is a beautiful beige hue, with luxurious velvet material. It would look exquisite in a dressing room, or quite simply in a pink-themed living room. Style and comfort work in harmony to create this gorgeous home décor item but with its hefty price tag it will be remaining firmly on my wish list!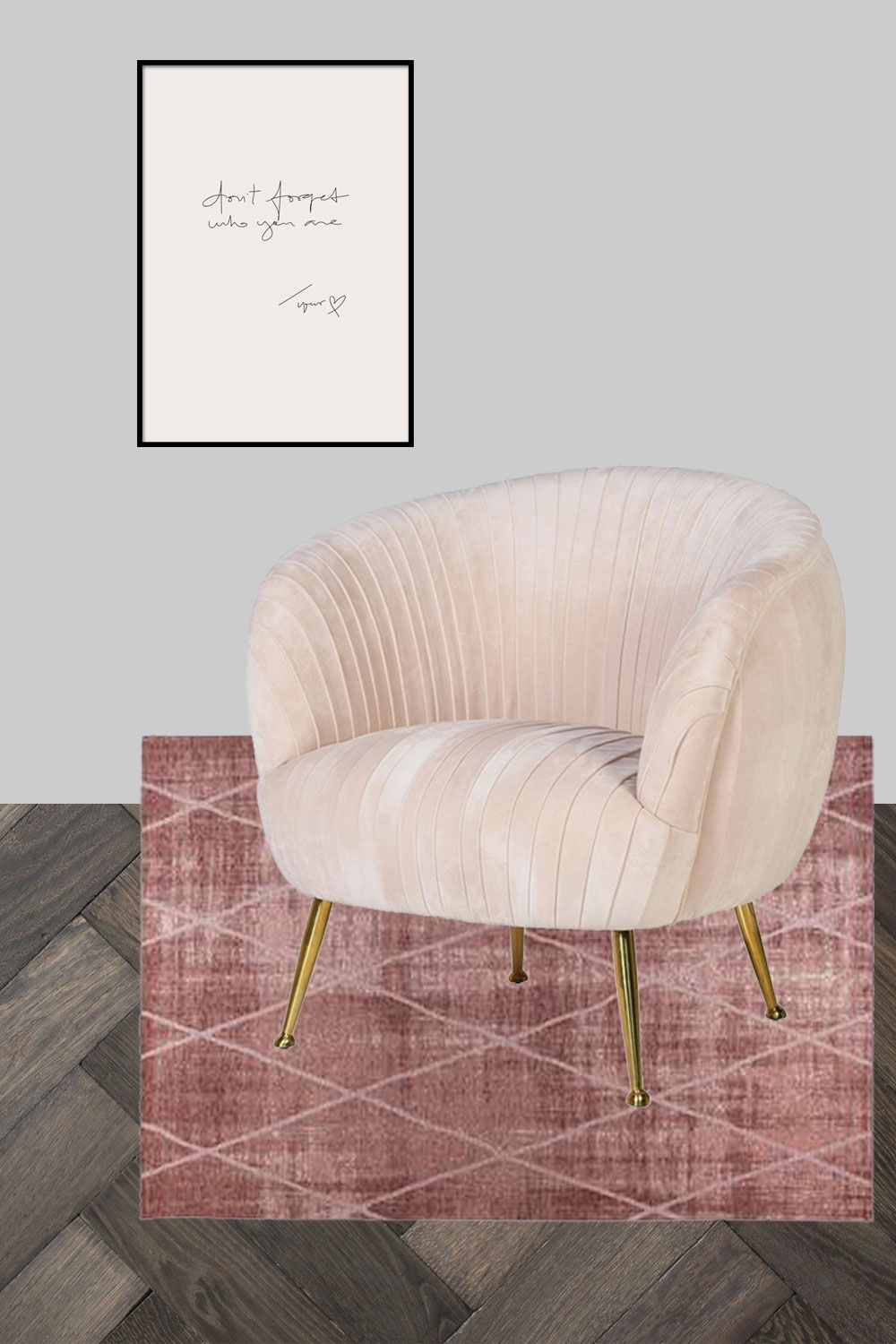 Last Few Items On My Wish List….
7. Desenio is my go-to-website when I need a new print! They're affordable, efficient and have hundreds of different prints and artwork to choose from. I ordered around 10 – 15 prints when I first moved into my home for different rooms. They actually have themed prints that work in the kitchen, bathroom and even nurseries. Once you start browsing, you can't stop! I'll definitely be adding a few more to my wish list…
8. When it comes to styling your home, I think there are items you can save on and items you can splurge on. Bedding is one item that I ALWAYS invest in and I instantly knew that Wolf & Badger had to feature on my wish list. There is nothing better than diving into high-quality bed sheets, and they will last for ages too!
9. Cutlery doesn't have to be boring, especially when it's rose gold. The Hune cutlery range from Broste Copenhagen is just ridiculously pretty. In fact, I think it's too nice to be sat in the drawer waiting to be used! It's certainly a collection I'd spoil my friends and family with if I was hosting a dinner party.
10. I have a huge amount of scatter cushions, but there's always room for more which is why I have added this statement piece straight onto my wish list. A purse-friendly purchase, the Mongolian Blush Cushion by John Lewis has given my bedroom the splash of pink that I didn't even know it needed. It's soft, fluffy and oh-so-pretty…
Disclaimer – We always endeavour to credit the correct and original source of every image that we use. If you think that this credit may be incorrect, then please contact us at info@houseofthree.co.uk