My Wedding Flowers – Mood Boards and Inspiration
Seeing as it's officially the year of my wedding, I thought it might be wise to start upping the planning speed. Everything is actually 'booked'. It's now just to look at and design the finer details – like my wedding flowers. So I thought I'd show you everything that I am going to show my florist when I meet them for our first meeting in February.
If you are anything like me, and obsessed with weddings or a bride to be, then I thought you might like to see a little bit more of our wedding planning process. Seeing as we now have everything officially booked, it's now time to look at the fun stuff. Like the finite details on the tables, the food selections and my wedding flowers!
Anyone that knows me well, will know that I have an unhealthy obsession with flowers. Having flowers around me makes me feel happy. And if I could have a fresh bunch of flowers every week I would do. People sometimes comment on my home looking like a florists…but it's just the way I like it.
So our wedding flowers are a really important part of our wedding day for me. I always said that if we had any extra or spare budget (HA HA) then I would use it on the flowers. However, the hardest part of our wedding planning so far has been coming to terms with what we won't be able to afford when it comes to flowers.
Our wedding colour scheme is a mixture of grey shades with hints of blue. It's important that my wedding flowers tie in with this scheme too, which is why I'd like to use a mixture of foliage and white flowers.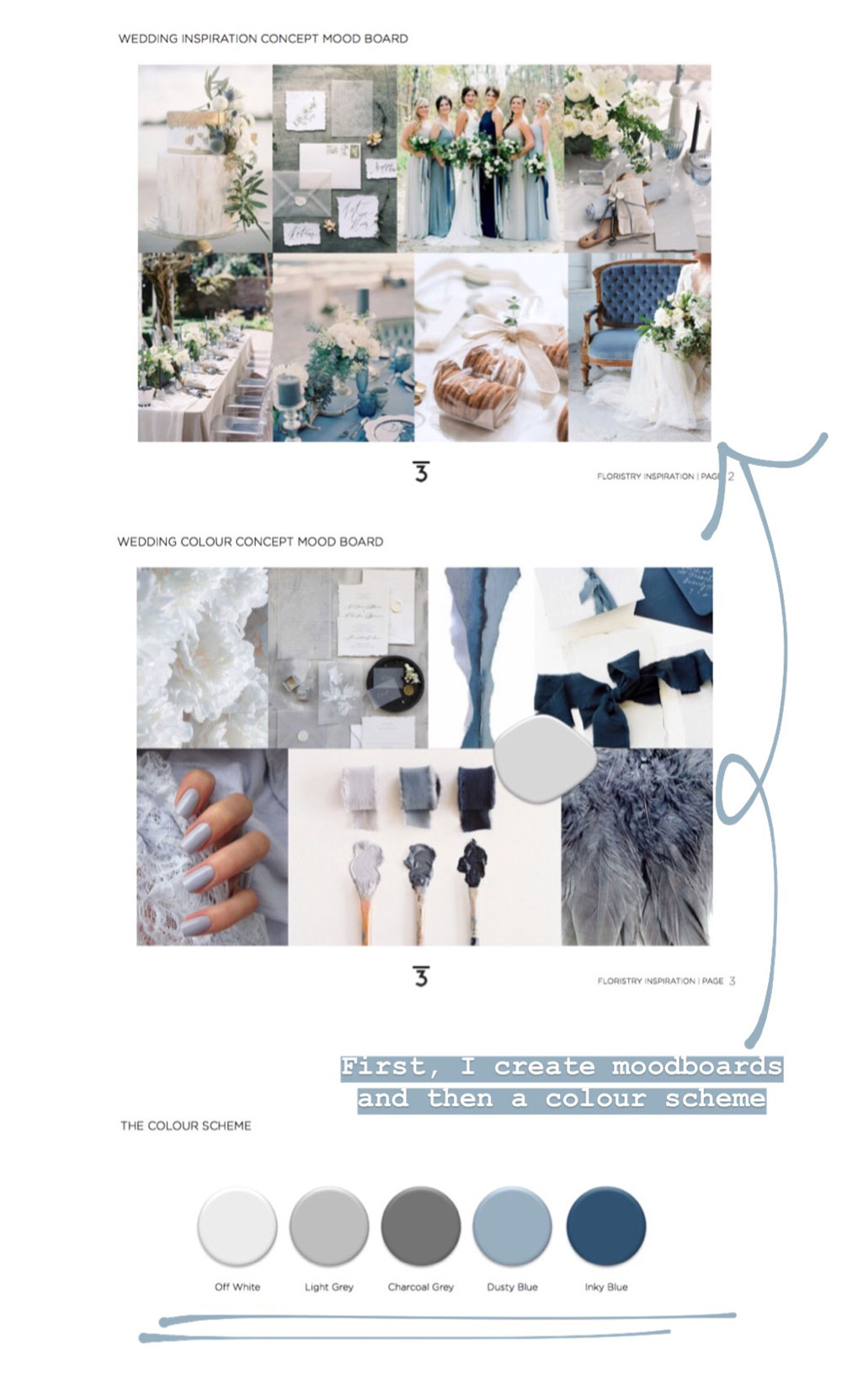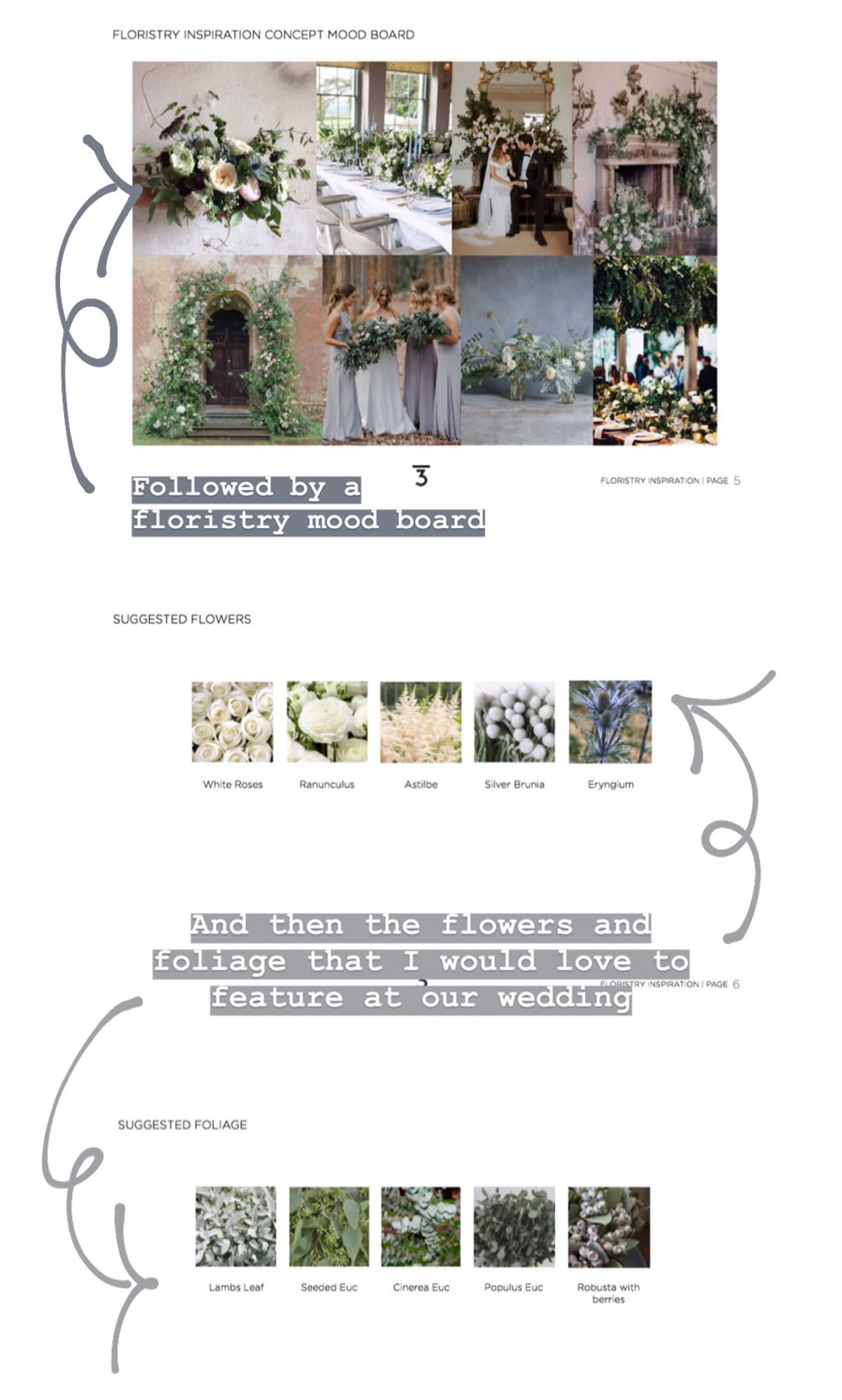 I've seen and been a part of so many weddings with a huge floristry budget. I've helped design some breath taking displays too. So unsurprisingly I know what works and also what I'd like to have.
I wanted a meadow walkway up to the chapel. An arch surrounding the chapel. A huge mantlepiece arrangement. A garland around the staircase handrail. Hanging flowers filling the ceiling over the reception tables. Flowers cascading off the tables on to the floor and then odd bits dotted around the rest of the venue. As well as the bridal bouquet, bridesmaids bouquets and groom and groomsmens buttonholes. Not much hey?!
All of which would be around £15,000. We DO NOT HAVE anywhere near that to spend. Our wedding venue booking comes as part of a package. When you book the venue, part of what you pay is allocated to their in house florist. So you either use or loose the money.
Flowers by Passion are a florist I have actually worked with before and so I know them really well. Their work is incredible and it makes it so much easier for me. Because if I had actually had to choose a florist, I would have really struggled as I know so many amazing florists. Fortunately for me, Passion were actually already on that list.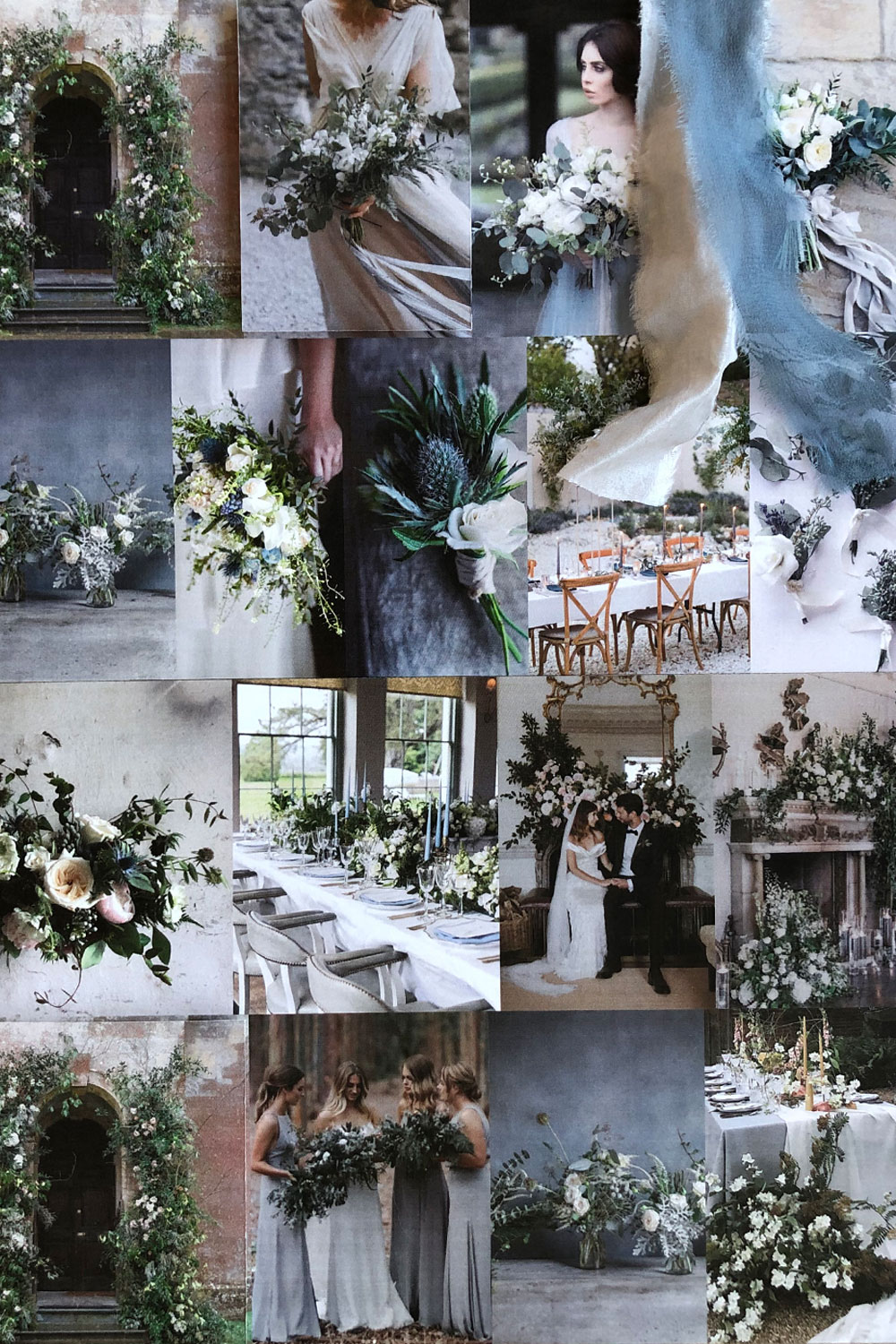 I'm probably going into far too much detail here, but our allocated budget to spend on flowers is £2,500. Now that might seem like loads to some people, but to me it really isn't a lot. And it certainly isn't going to get us anywhere near what I wanted to have.
My Wedding Flowers
So, rather than just feel sad about what I couldn't have, I started looking into what I might actually be able to afford. That way, my expectations were realistic and I could start to get excited by my new floristry ideas.
As I would for any of my couples, I started by making two mood boards. These were physical mood boards that can be picked up and carried anywhere. Which I made at A4 size so they were easier to transport. The first shows the colour concept – in our case is lots of foliage and white flowers. The second shows the style concept – showing the format of the flowers and the style, like arches.
I really like romantic and loose arrangements, so every image on the concept inspiration mood board shows loose meadow like arrangements. Loose arrangements also cost less than fuller ones, as of course less flowers and foliage need to be used.
By having looser arrangements, I might actually be able to achieve slightly more than if I didn't have them. What is great for me, is that I actually love how they look anyway, and it's the style I always would have chosen. So that's a little bit of a win win.
Some images feature on both the style and colour concept mood boards. And this is neither right or wrong. Sometimes if you love an image that you have found, it's good to use it twice. That way, the florist knows that is it an arrangement that you really love.
Remember that flowers are seasonal. So when you are looking for inspirational flowers online, try and make sure that they are from the right season.
Once I've finished the physical mood boards, I then create a digital document. Just as I would do for my couples, I created one for us too. This shows the flowers alongside our overall wedding concept mood board.
It also breaks down the arrangements into the actual wedding flowers I would like. In order to keep costs down, I've decided to ask for very foliage heavy arrangements. Foliage is considerably cheaper than flowers, and so a great trick if you are on a budget too.
Here is the list of flowers that I would like to have in my wedding flowers:
Ranunculus (my favourites)
White Roses
White Astilbe
Silver Brunia
Eryngium
Here is the list of foliage that I would like to have in my wedding flowers:
Lambs Leaf
Seeded Eucalyptus
Cinerea Eucalyptus
Populus Eucalyptus
Robusta with Berries
Everything in these lists are in season, apart from Ranunculus. Although I do know somewhere that we can get hold of them from, they will cost us more. Remember that the date of your wedding will determine what flowers you can and cannot have. So bear this in mind if you are reading this and are yet to pick your wedding date.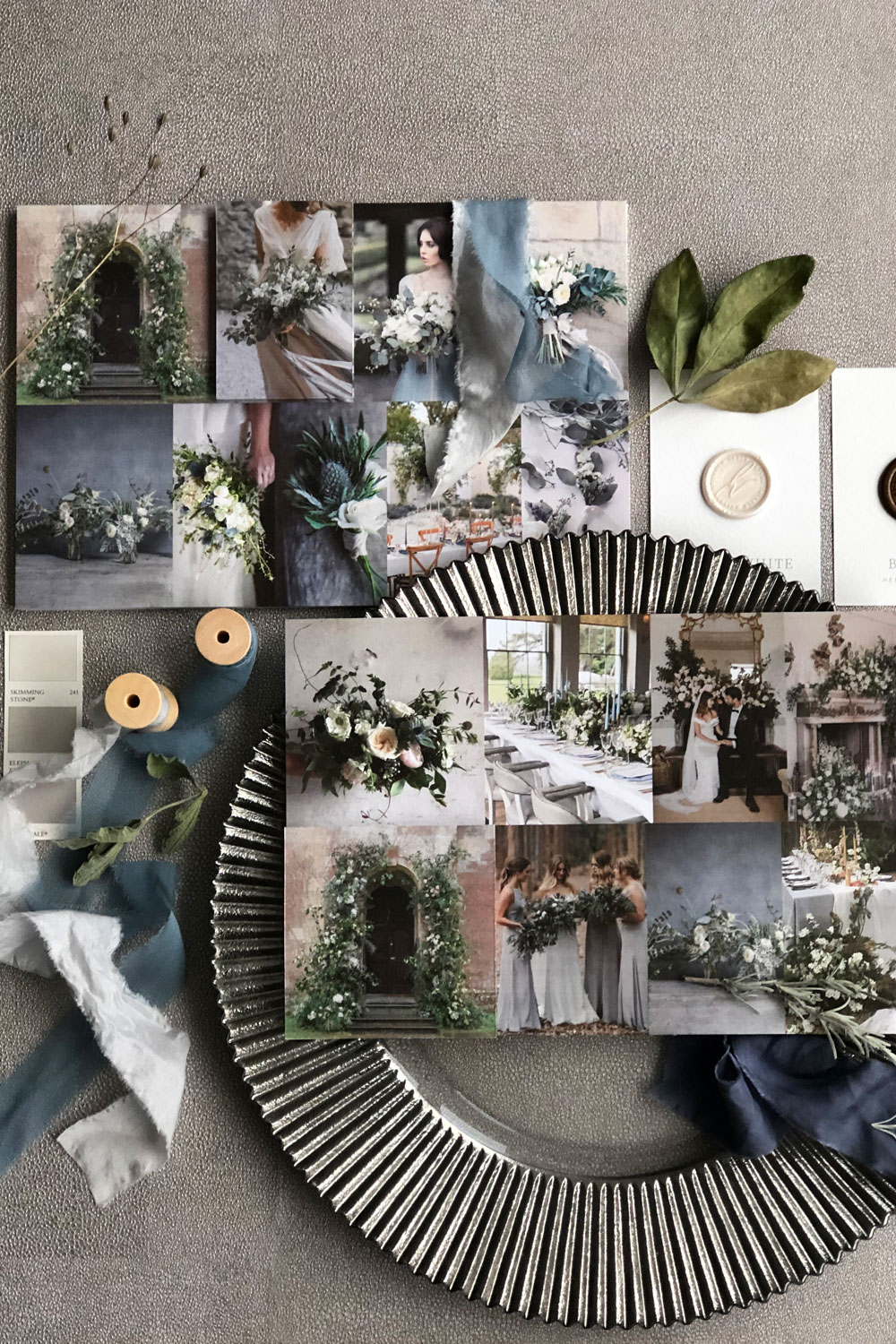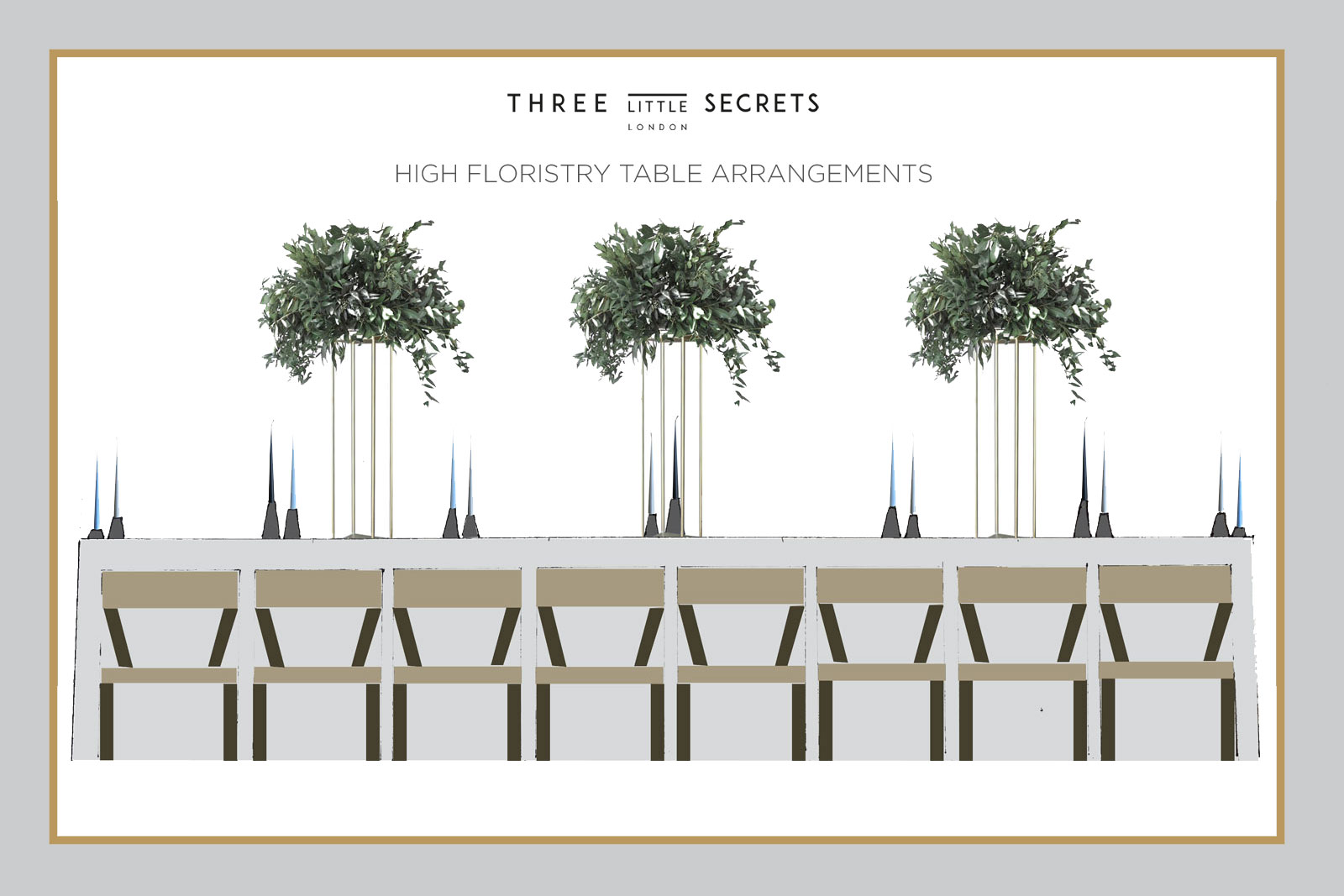 For the reception, I wanted to have a hanging floral ceiling so that it felt a little bit like you were outside in a meadow and just surrounded by flowers. Of course, this was really just all a dream. I was never going to be able to afford it, well not unless I won the lottery anyway!
So I started to think of ways that I might be able to still create a similar feeling. I realised that I would need some tall arrangements on the tables. As we have 5 long tables in a line, I thought we could put the tall arrangements onto tables 2 and 4.
By keeping these foliage only, we could have much bigger arrangements giving that sense of being surrounded by flowers. For tables 1,3 and 5, I have the idea to keep the arrangements really low in a meadow like style along the tables. These would be foliage with a scattering of white flowers and cascade slightly over the table edges. Then puddling on the floor with a real meadow like arrangement.
I came up with alternative designs that would create the same meadow like feeling, but that wouldn't cost me anywhere near as much as my original ideas.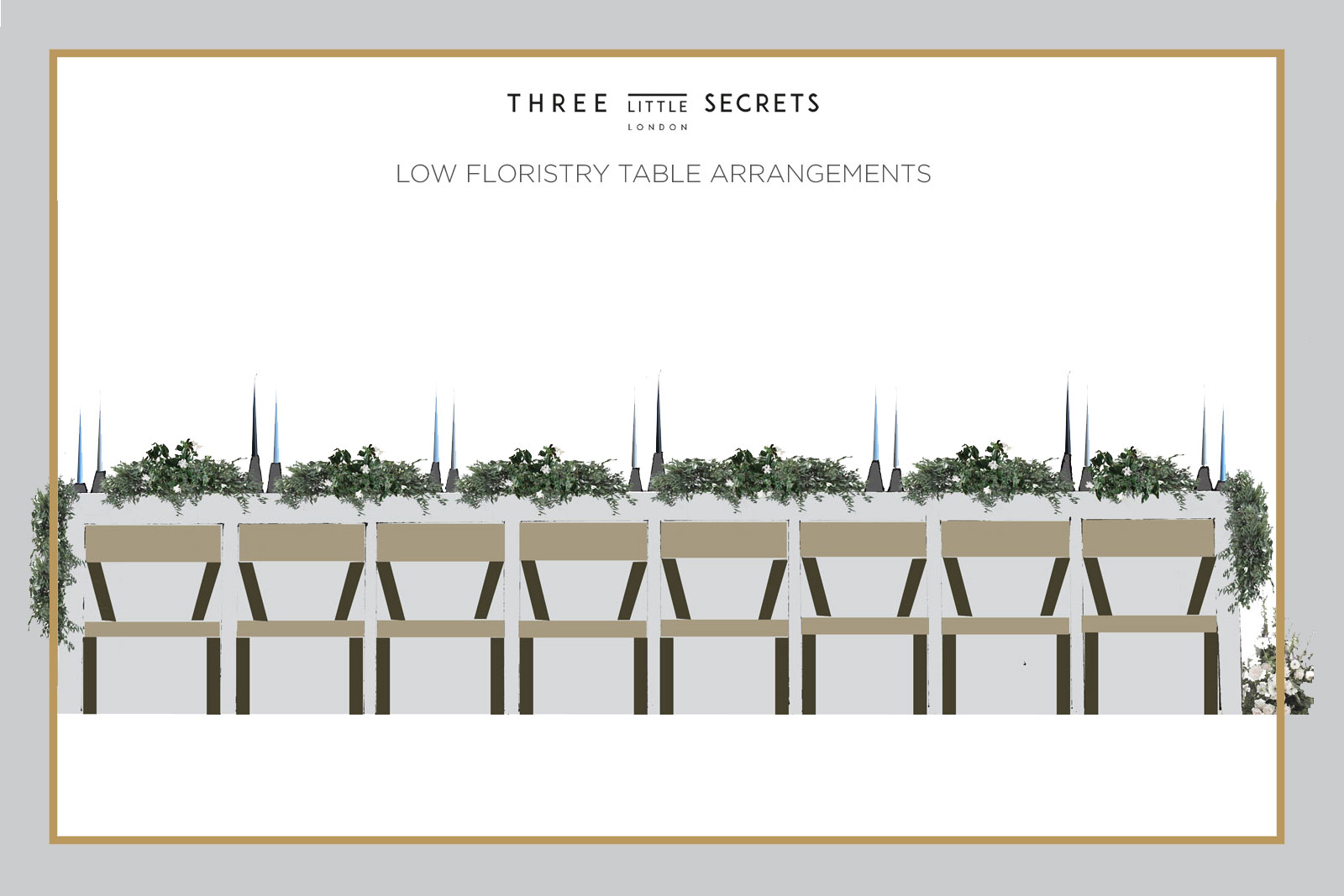 Meadow-like wedding flowers
If you are considering a meadow like runner along the middle of the tables, remember to consider the height. Average dining table height is 76cm for the floor. Average seated eye-line height is 120cm from the floor. This means that anything 40cm or higher will impact sight light. Which for any guests trying to chat to each other would be really annoying.
As a wedding planner, this is always something that I would check with the florist. The floral arrangements need to look beautiful but they also need to be practical too. You don't want them interfering with the guests experience, you want the guests to just absolutely love them.
Although I am yet to chat with my florist, or even begin to talk prices, I feel much more confident now with my designs that we are going to be able to get something that I both love and can afford. Our meeting isn't until February, but I will be sure to keep you updated with how it goes. Keep your fingers crossed for me!
Image Credits – Images used on both physical and digital mood boards are a collection of images from various sources on Pinterest.
Disclaimer – We always endeavour to credit the correct and original source of every image that we use. If you think that this credit may be incorrect, then please contact us at info@houseofthree.co.uk