Real Interior – A look into our founders home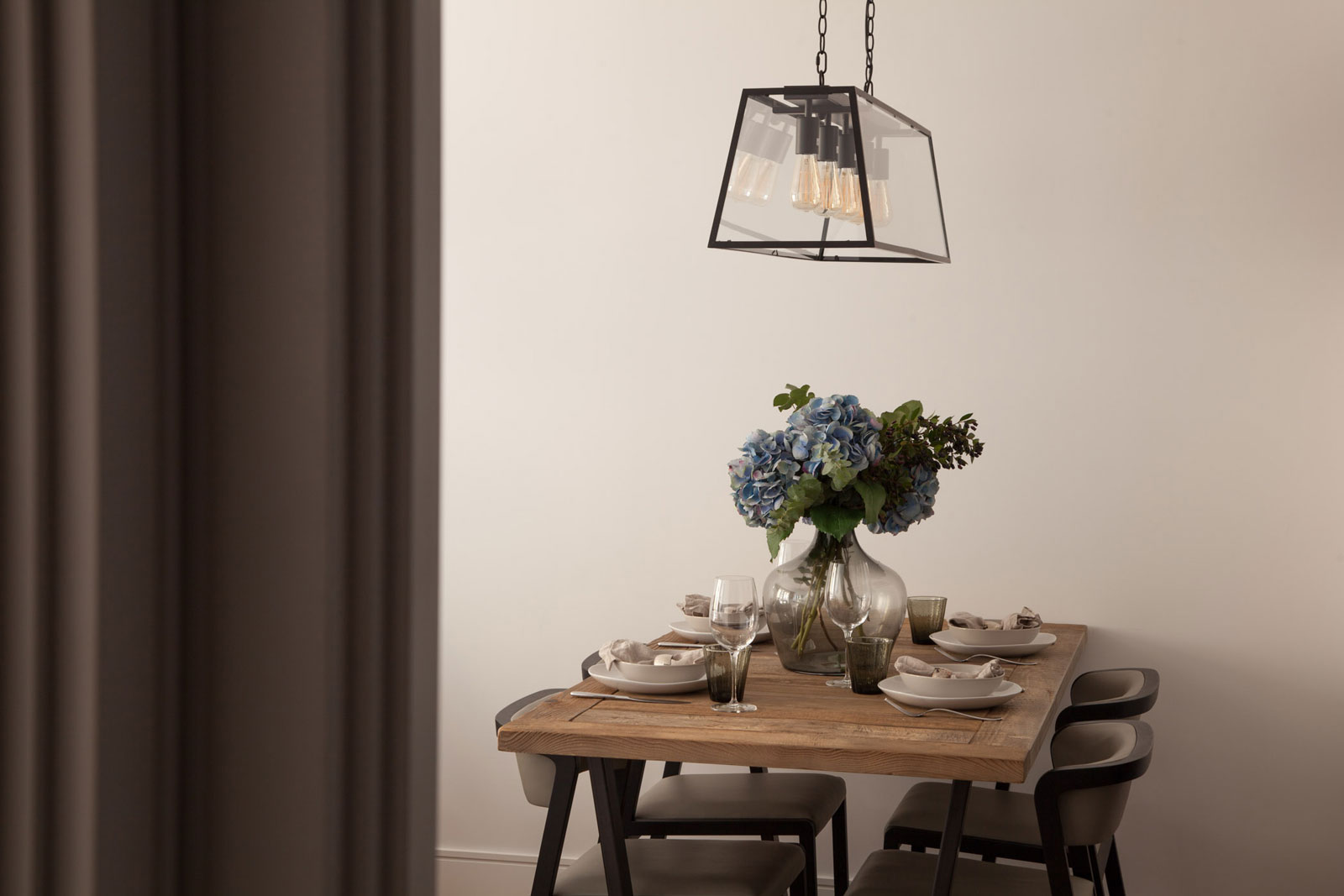 I thought that you might want a sneaky peak look into my home? Home for us is a two bed apartment in West London. Where I live with my fiancé Josh. It's by no means 'finished' but we have done lots to it already that I thought you might like to see.
So here is a look into Becca, our founders home, that's me by the way. We bought our flat in West London almost two and a half years ago now. Disclaimer – 'we' means 'My Family' not 'Josh and I'. It's a family place, we just happen to be the part of the family that lives in it. And I know I'm very lucky for it too.
Although we've lived here for a while now, I'm still totally in love with the place. It is by no means finished at all. But we have managed to do a lot to it since living there. As a new place it needed everything buying for it.
Unfortunately for me, our budget is not quite as generous as some of my clients budgets. So we have had to do a lot of waiting to get what we really want. Although I've actually quite enjoyed the wait as it has made it feel new over and over again.
I knew I wanted the apartment to be styled in a London Lux way. This is a real dose of homely style, mixed with absolute luxury.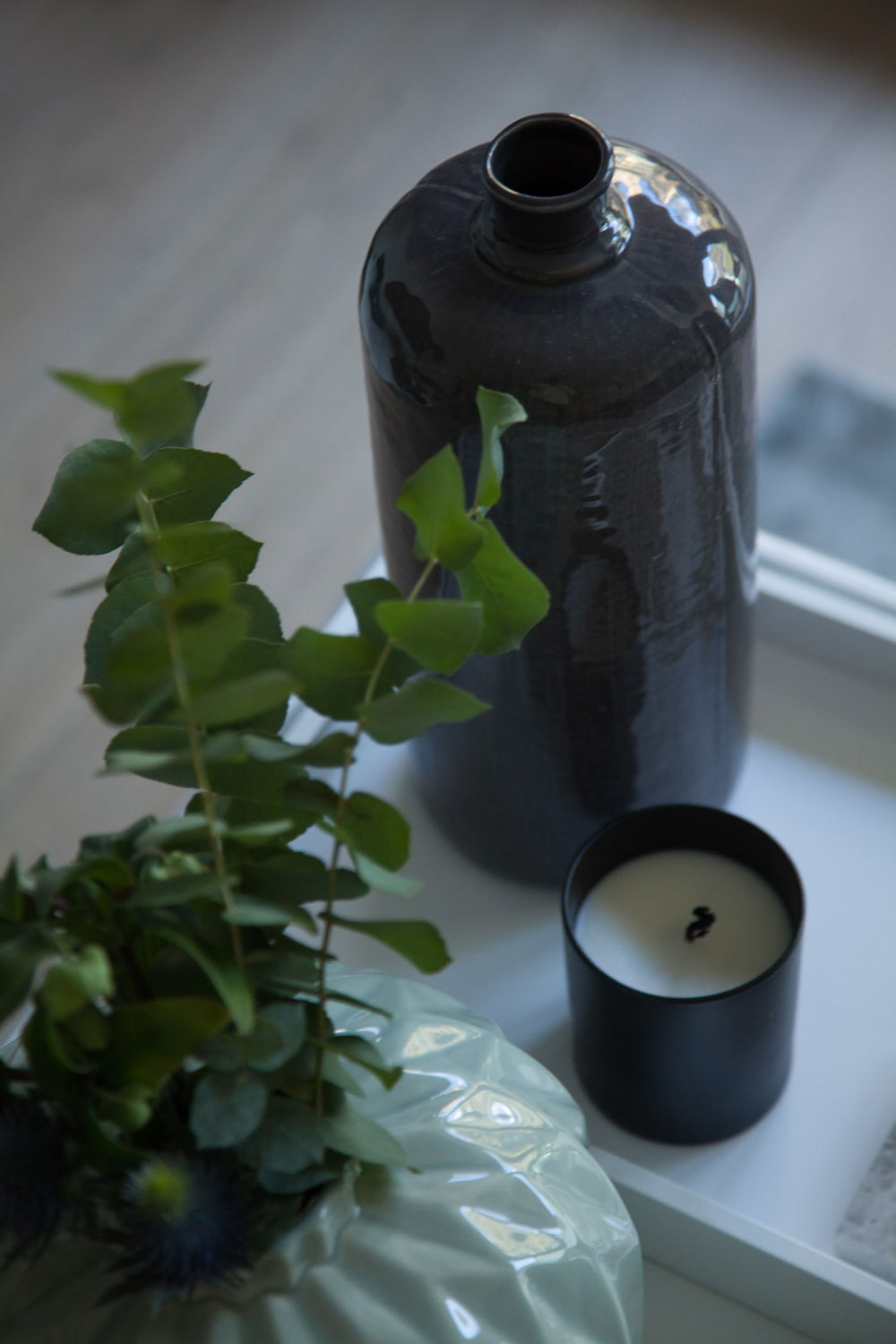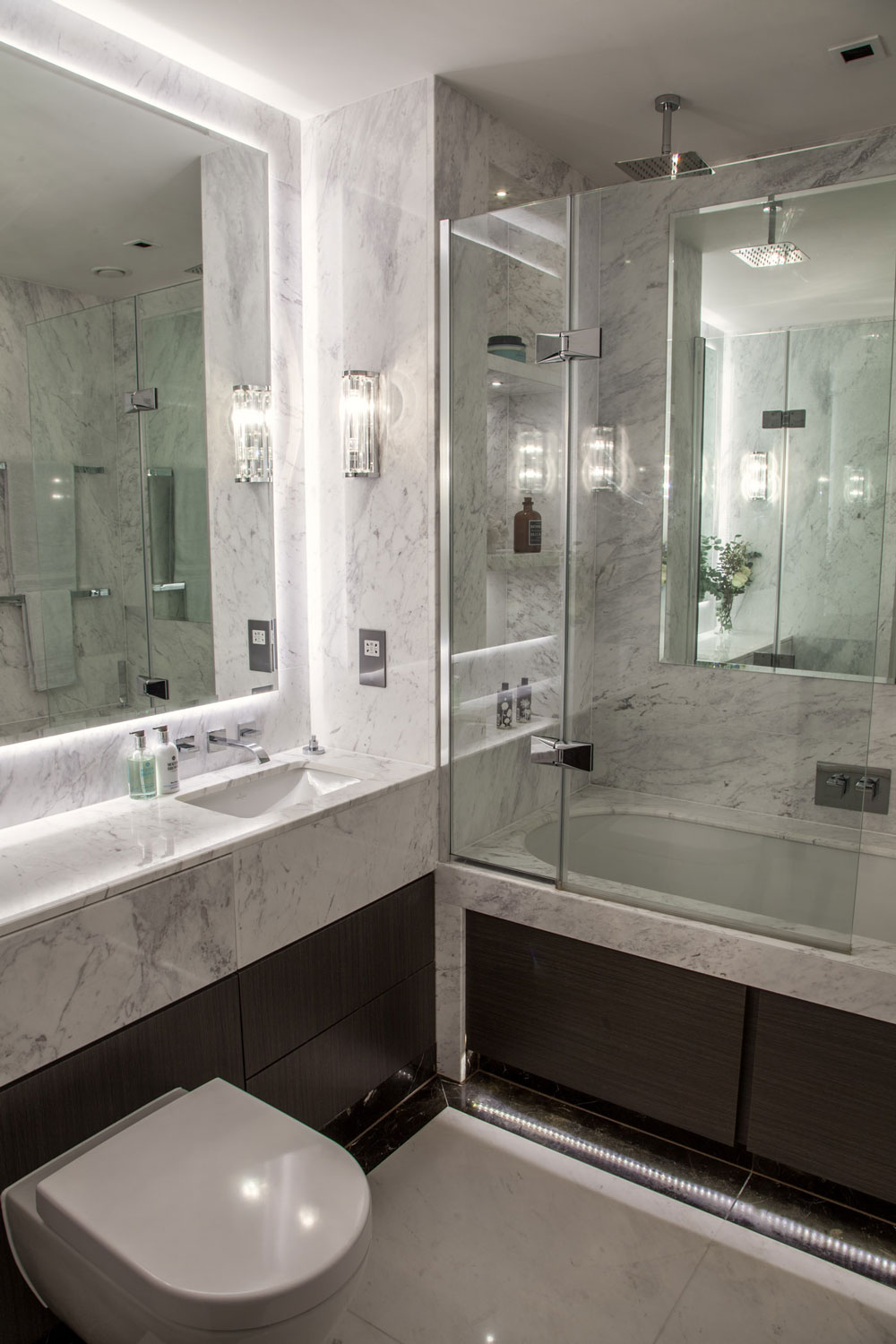 As a new build apartment, there was a lot that we chose before we even saw the place. The colour of the marble for the bathrooms. The carpet style and colour, the flooring and it's colour too. We also moved a wall to give the spare bedroom a built in wardrobe. And moved a few sockets to ensure they fitted our layout too.
It's hard designing a space completely off plan. But is so important to make those changes early on. It saves you a lot of money and time down the line.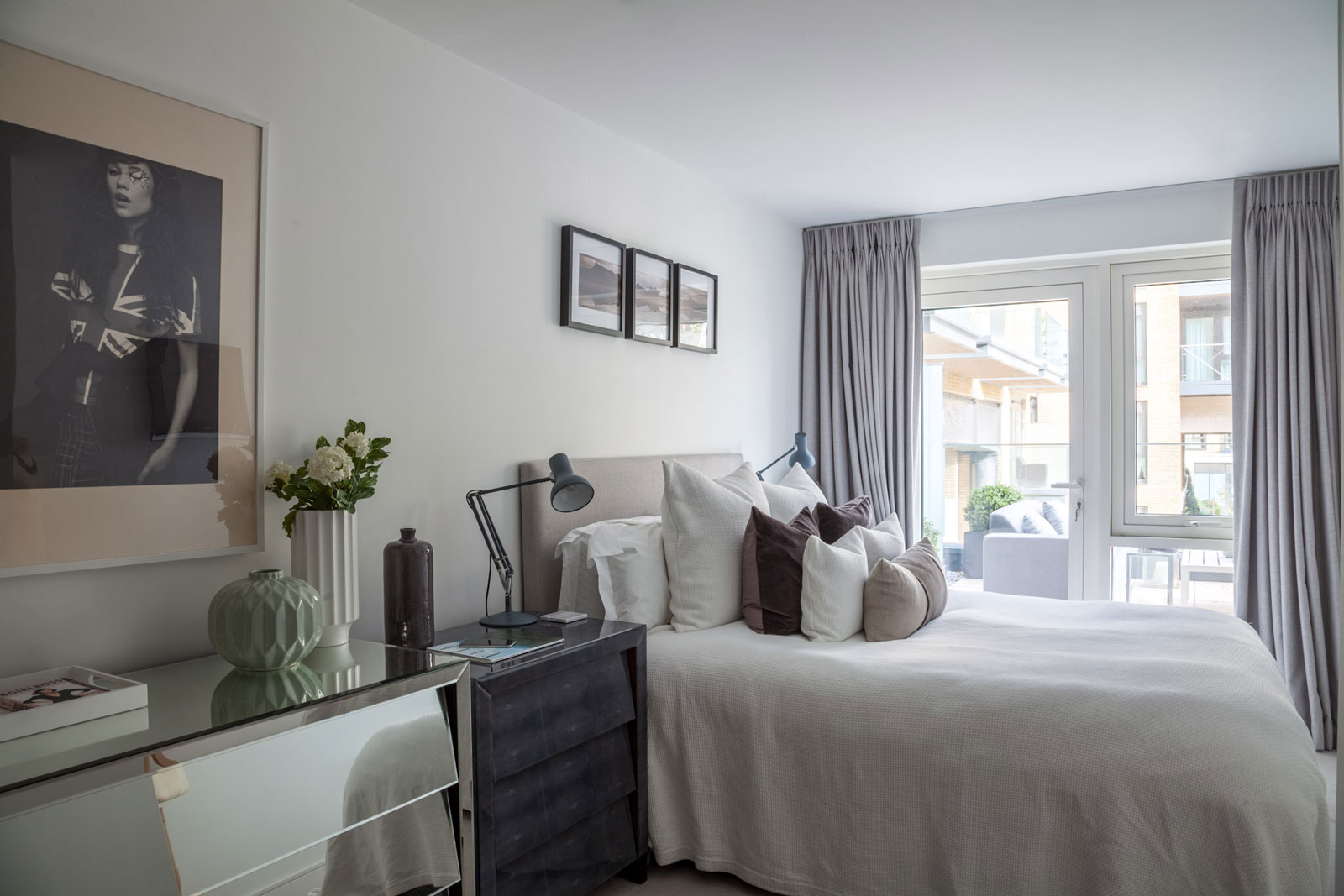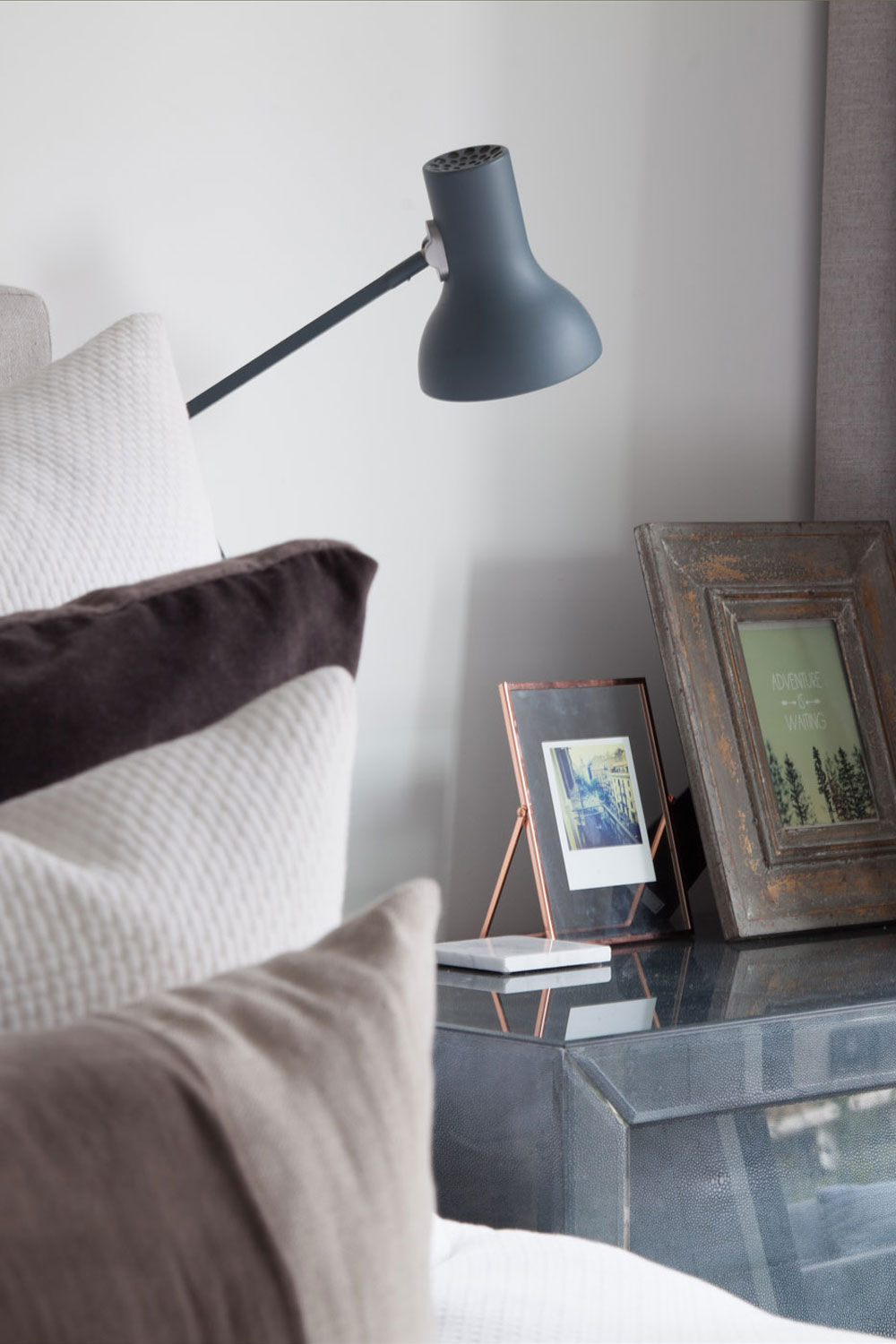 Although we've got lots done, there is one room that has really lacked a little TLC.
The unfinished room in our founders home – My Bedroom
The furniture for our bedroom arrived pretty quickly. As we bought off plan, we had almost a year to plan our bedroom layout. And having a bed is pretty important right? So we made sure our bed and mattress were there for the day we moved in.
A focus on storage was needed for this room. So we got chest of drawers from Sweetpea and Willow to use as our bedside tables. We were quite fortunate to have a really wide room. This meant space for an actual chest of drawers too. And then we maximised the space with a storage bed from Furl.
What we didn't do though is actually 'design' the space. I've selected the wallpaper for this room, we just haven't purchased it yet. I would also really like ceiling pendant lights to go next to the bed rather than our anglepoise lamps. So watch this space.
The Storage Bed | Furl
The Bedside Tables | Sweetpea and Willow
The Bedding & Cushions | The White Company
The Mirrored Chest of Drawers | Nicky Cornell
Our founders home acts as a showcase for our work and so we keep it looking like a show home always! That's sadly totally true, everything has a place. If it doesn't it goes.
The room that has changed the most throughout our time in the apartment is the large living, kitchen and dining room. Perhaps as it is used the most, and so I like to keep it updated.
Our Living Room
When we first moved in, it wasn't just the two of us. My sister was actually working in London at the time and so she moved in with us too. This meant that we needed two actual sofas. So that we had space for the three of us to sit in the evening and watch the TV. Her sofa, which now actually lives at my office was the Flopster style from Loaf. I say her sofa, because she picked the style she wanted.
We had it upholstered in the same fabric as the other sofa, so although they were different styles, they still matched. But when she left, decided this was the first piece of furniture that needed to change. As it really was too big for the space. So we introduced two smaller armchairs instead. Along with a new piece of artwork too!
Although I'd picked the wallpaper that I wanted to put on the walls before we even moved in, we waited before hanging it. As a new build property, the walls really need time to dry out, and crack if they might. If you paper the walls too soon, the paper might peel, or crack with the walls. So it's best to wait as long as you can!
I was so glad when we finally did wallpaper the wall – as you can see just what a difference it really makes.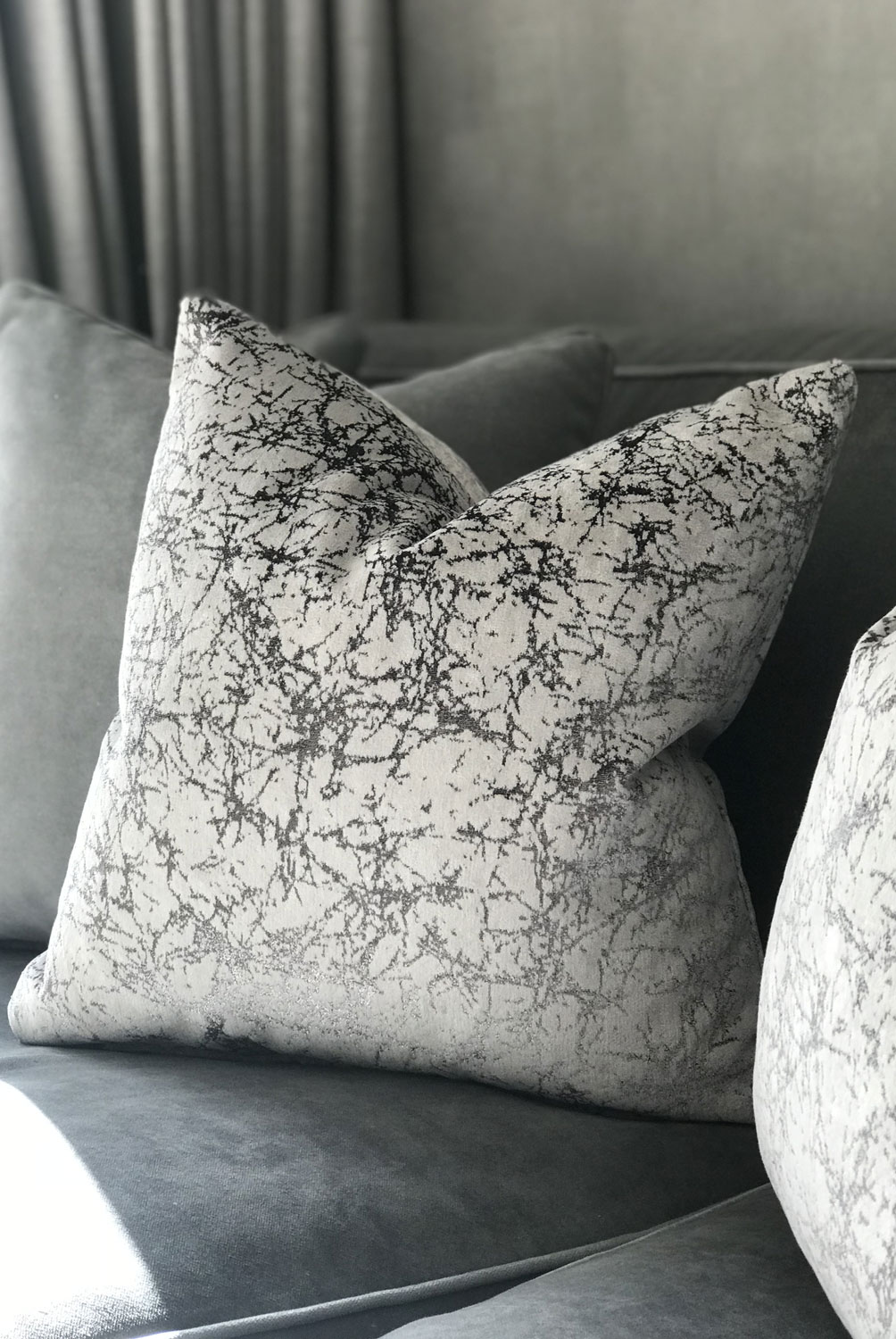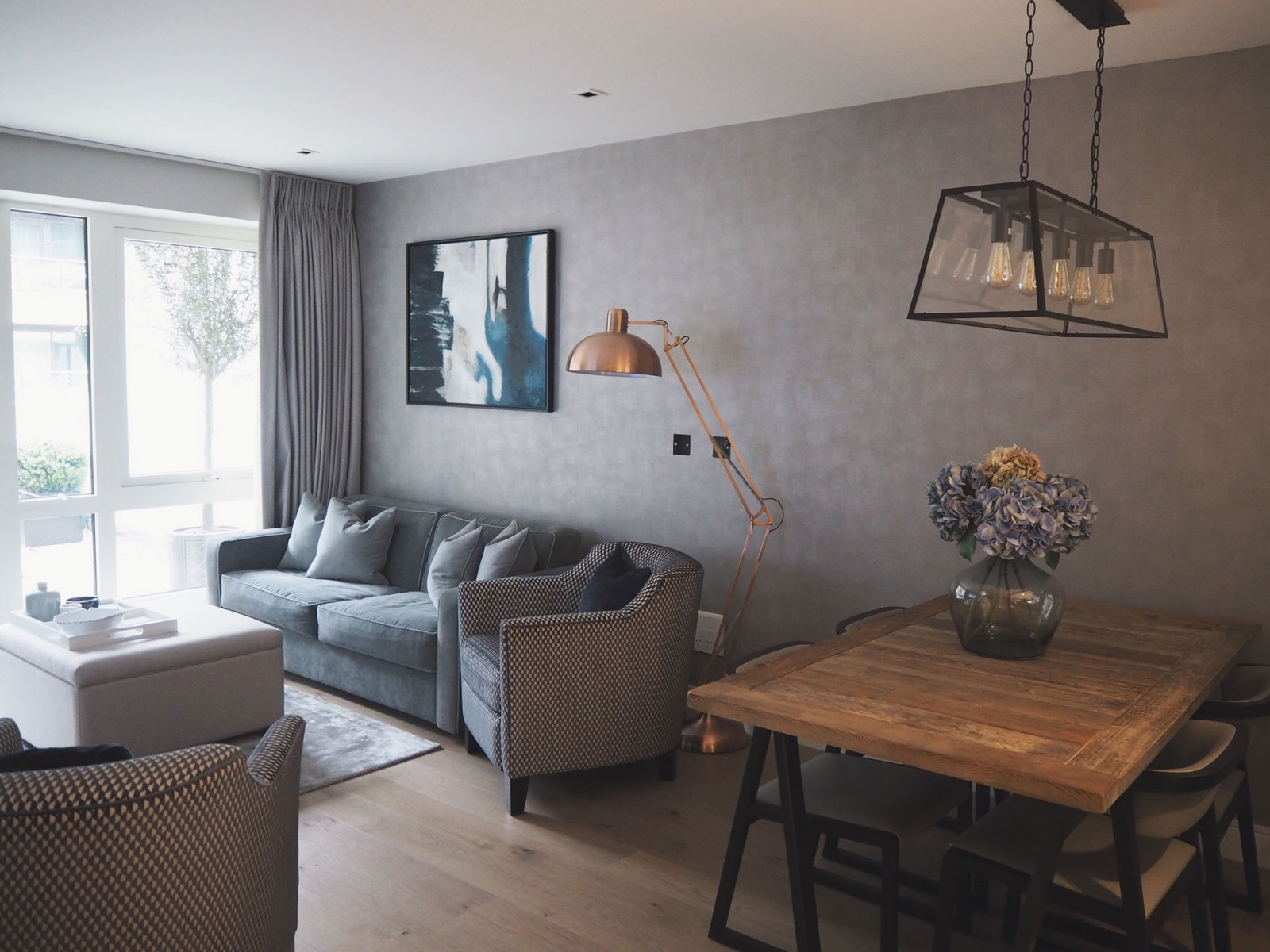 Despite our master bedroom not being completed, my favourite item in the house are our bed throws. We have one in our room and one in the spare room too. They immediately change the look of a bedroom, making them very hotel-esque. It also means you don't have to worry about ironing any bedding!
The throws were both purchased from The White Company. Although neither of the throws seen in our founders home are now available, they have some really similar styles.
My favourite room in our home is our living, kitchen and dining room. As a big open plan space, we spend most of our time in here.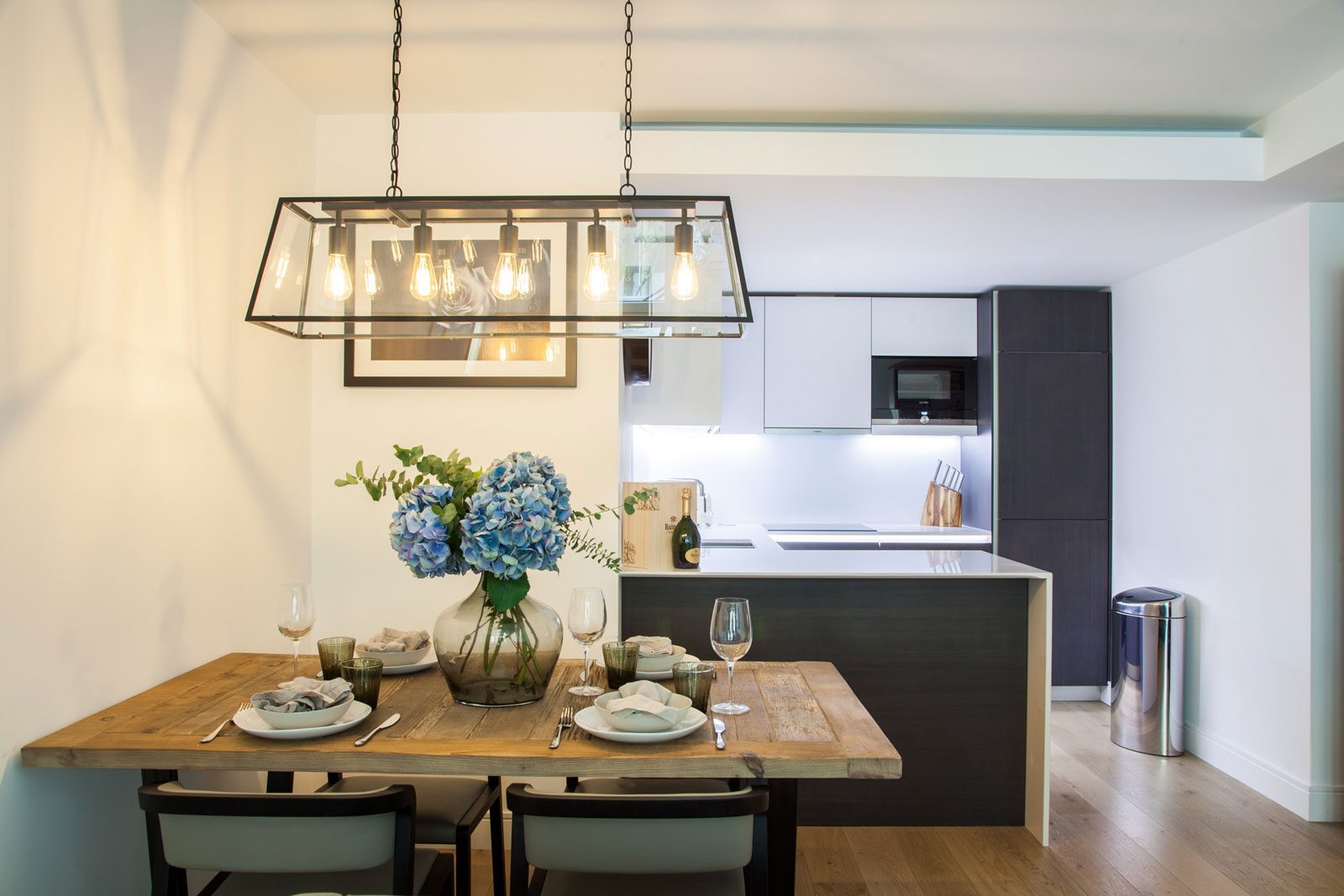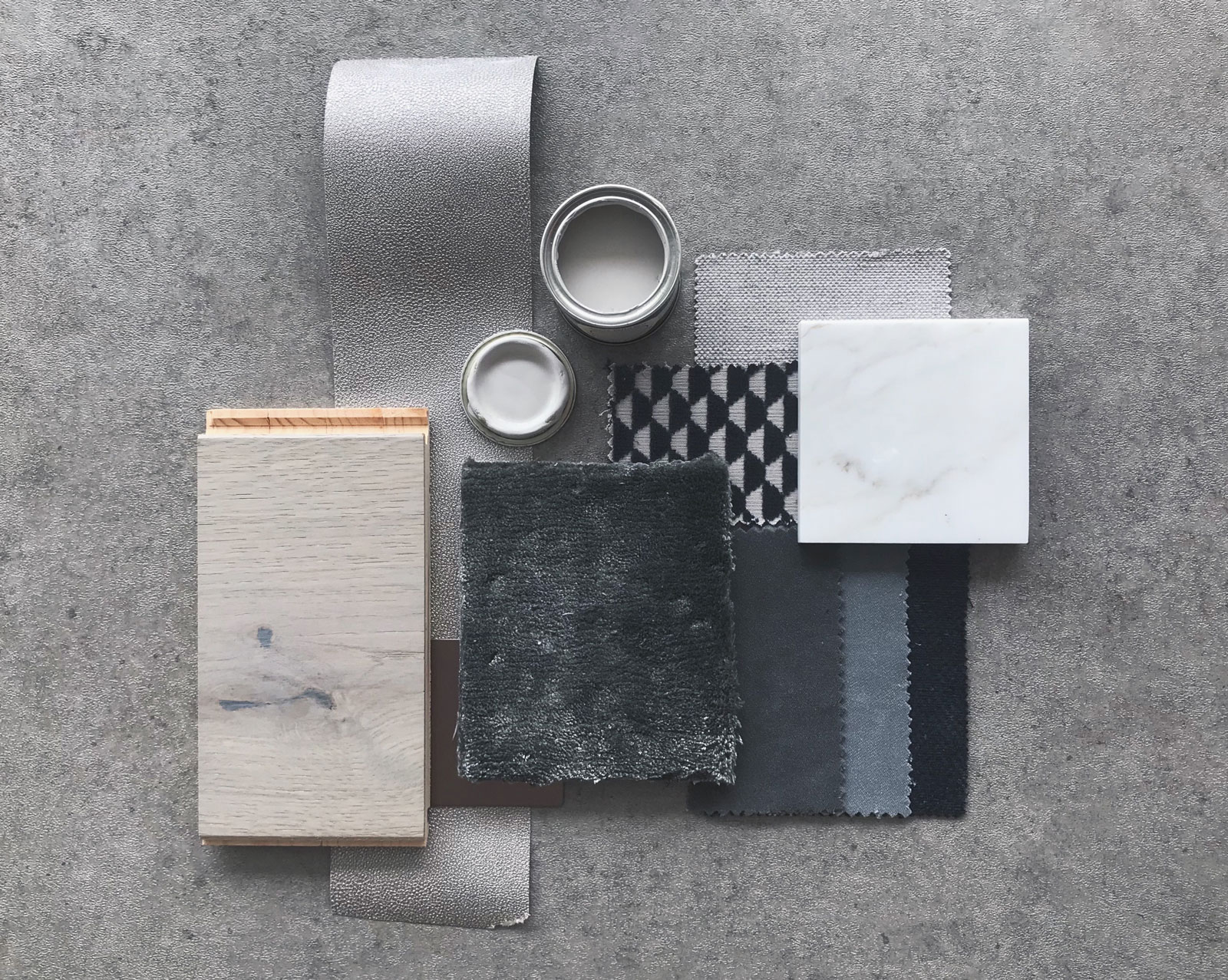 Here's a look at the mood board that was created for our founders home. I've always wanted my home to be predominantly grey, but with luxurious textures and a hint of pattern.
This is the scheme for our living room, my favourite room in the house. It's so open plan, and so we spend most of our time in here. Particularly when we are entertaining guests.
The paint is Farrow and Ball estate emulsion, Cornforth White. The wallpaper is Osborne and Little Zingrina, shade W6582-04 Metallic Shell. Our sofa was made from Kirkby Smooth in Slate, with contrast piping in Kirky Smooth in Ash. The armchairs adding a pop of pattern in Romo Pepino Gunmetal, and the curtains made out of Warwick Husk in colour Dust. House of Three then had the rug custom made.
I hope you've enjoyed spying around my home. If you would like to see anything in more detail from our founders home, just let us know. If you would like to know more about our founder, about me, just let us know too.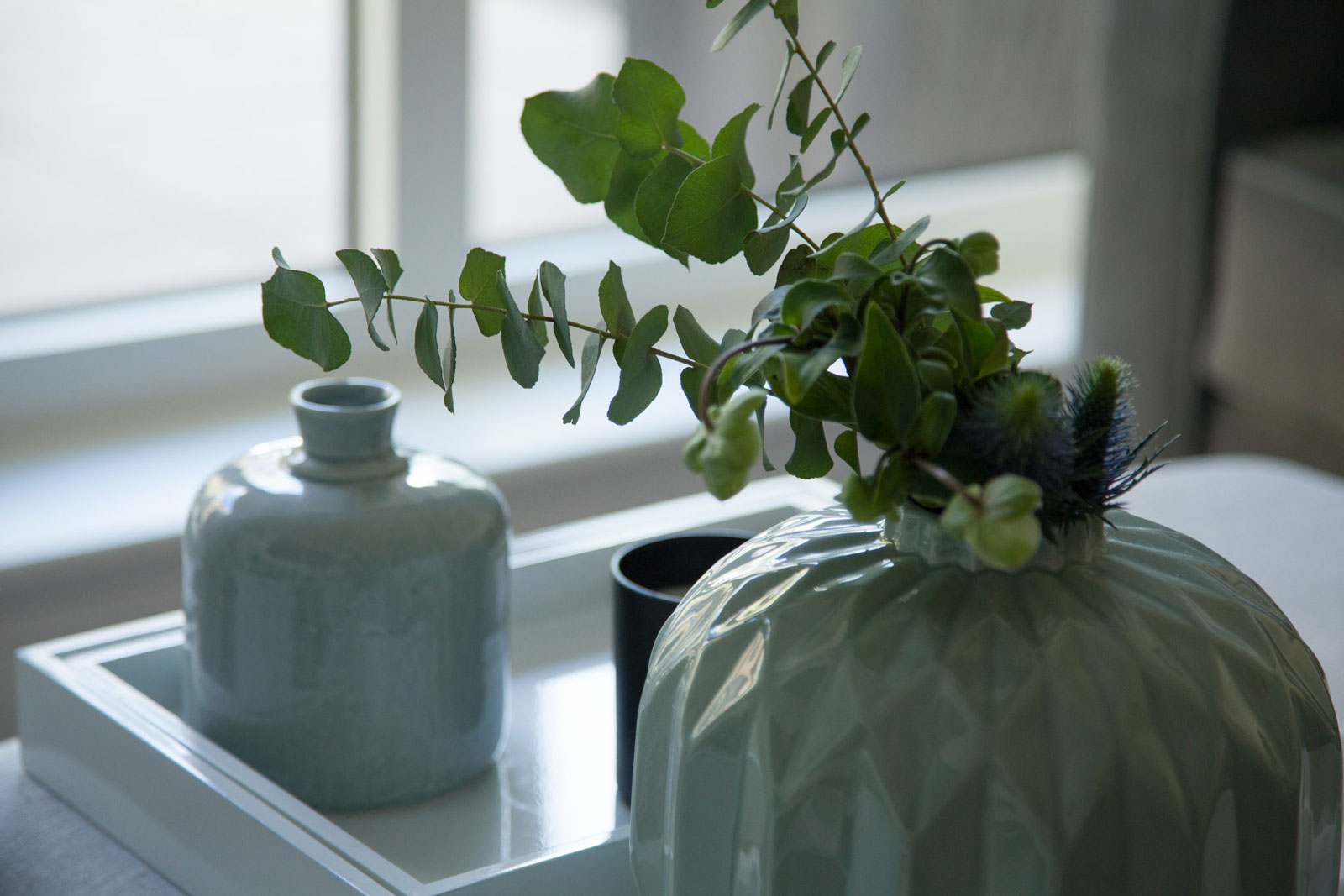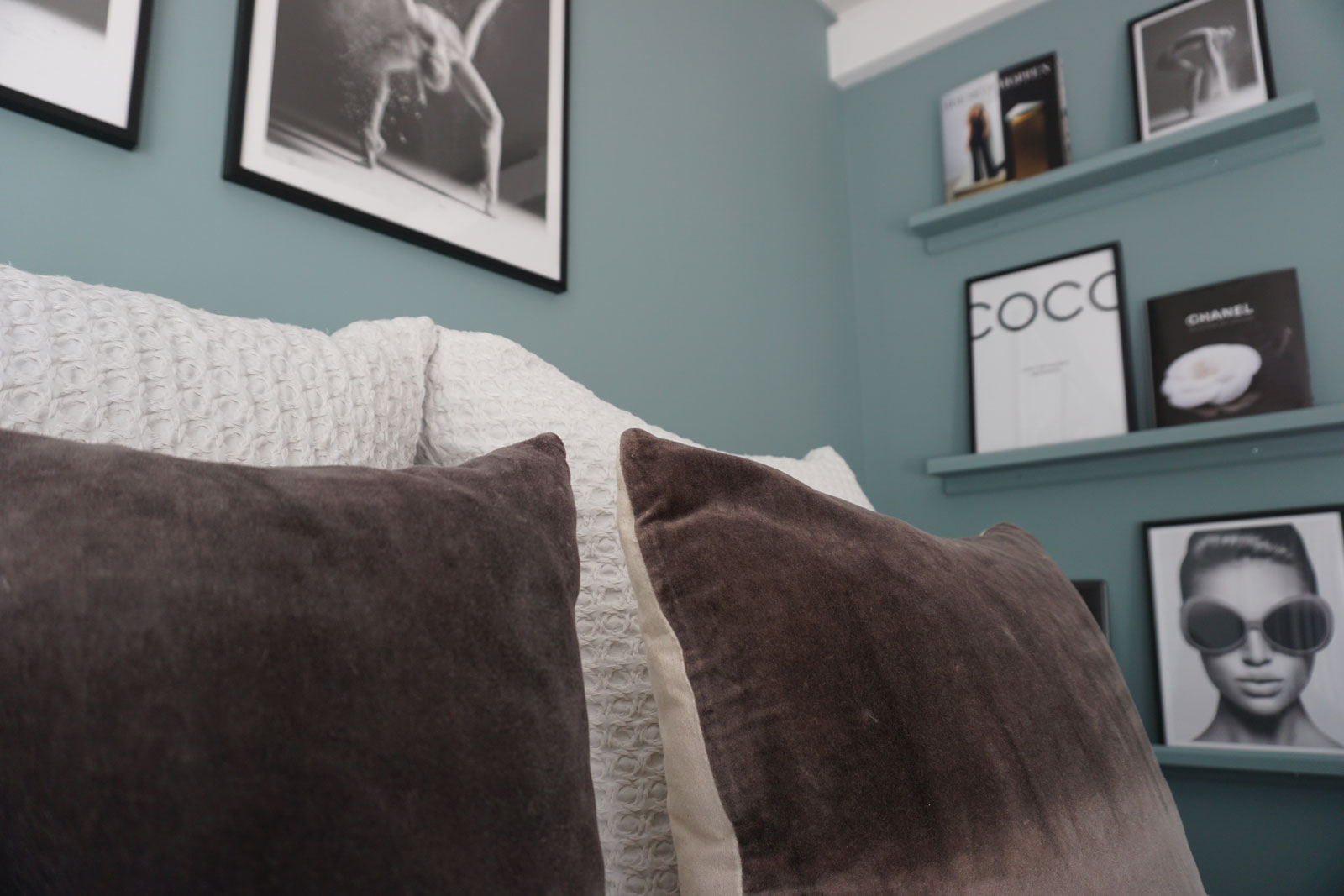 Disclaimer – We always endeavour to credit the correct and original source of every image that we use. If you think that this credit may be incorrect, then please contact us at info@houseofthree.co.uk