Master class on how to style a shelf or console table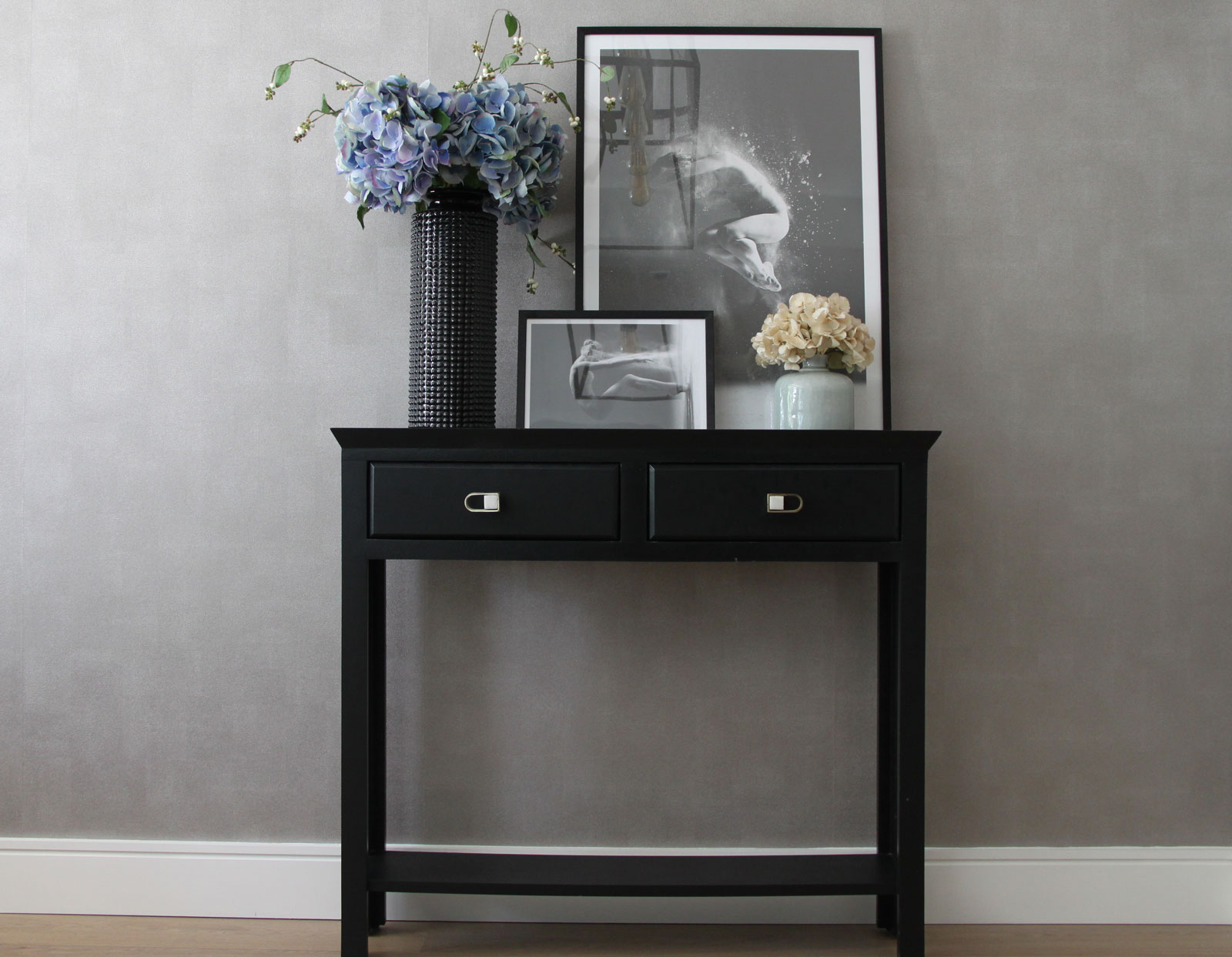 I don't know about you, but I am an absolute fan of 'how to' interior design videos on YouTube. As well as loving blog posts that guide you step-by step on how to recreate and achieve a specific aesthetic. Well, imagine my excitement when Becca told me that that is exactly what we are about to do! Not quite creating a YouTube video, but documenting the process of styling a shelf. Those countless hours spend watching videos online will finally pay off!
Starting off, Becca wanted me to learn how to style a shelf through trial and error – which is what this post is about! We tried out different styles by combining different elements we found around her house. We moved items around, took loads of pictures, moved them again, and changed the accent colours until we were both satisfied with how it looked. Did I forget to mention that we took loads of pictures?  It was a very interesting process for me, which I absolutely loved. So, for all the 'how to' fans out there, this post is for you. I hope you enjoy reading it as much as I did while experimenting with different items.
We started off with a plain console table and the idea of the console table being differently styled in different spaces. Which meant that from the start we knew we would like to do different 'looks' by placing the console in different spaces. The idea behind moving the furniture around the house was to learn how to use the existing styling props, without having to purchase new ones. As most of our clients already have a lot of items, it was important to learn how to work with what we already have.
The idea behind using the existing items we found around the house in order to style a shelf included not having to purchase new styling items. The aim was to learn how to use the items our clients already have in their collections.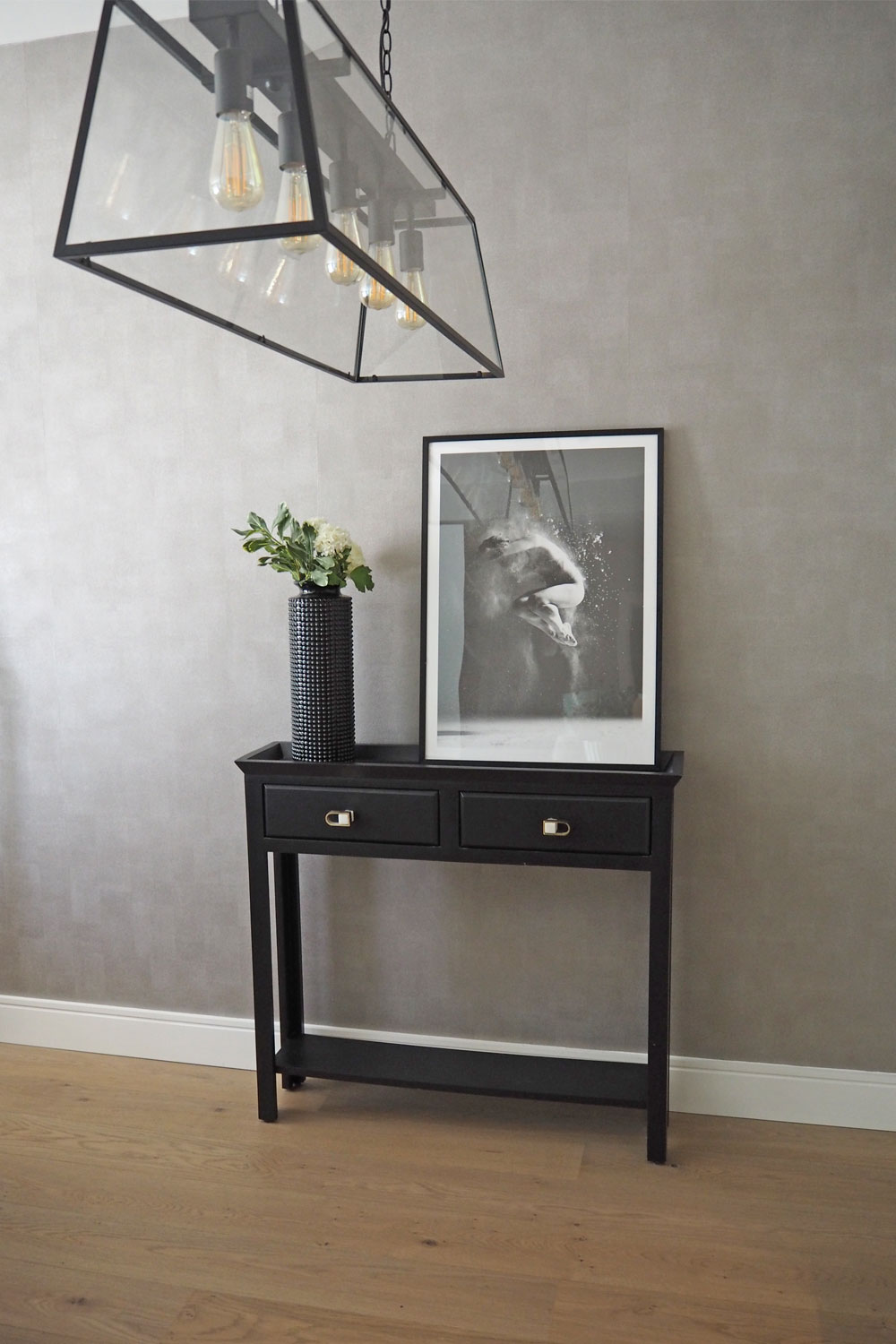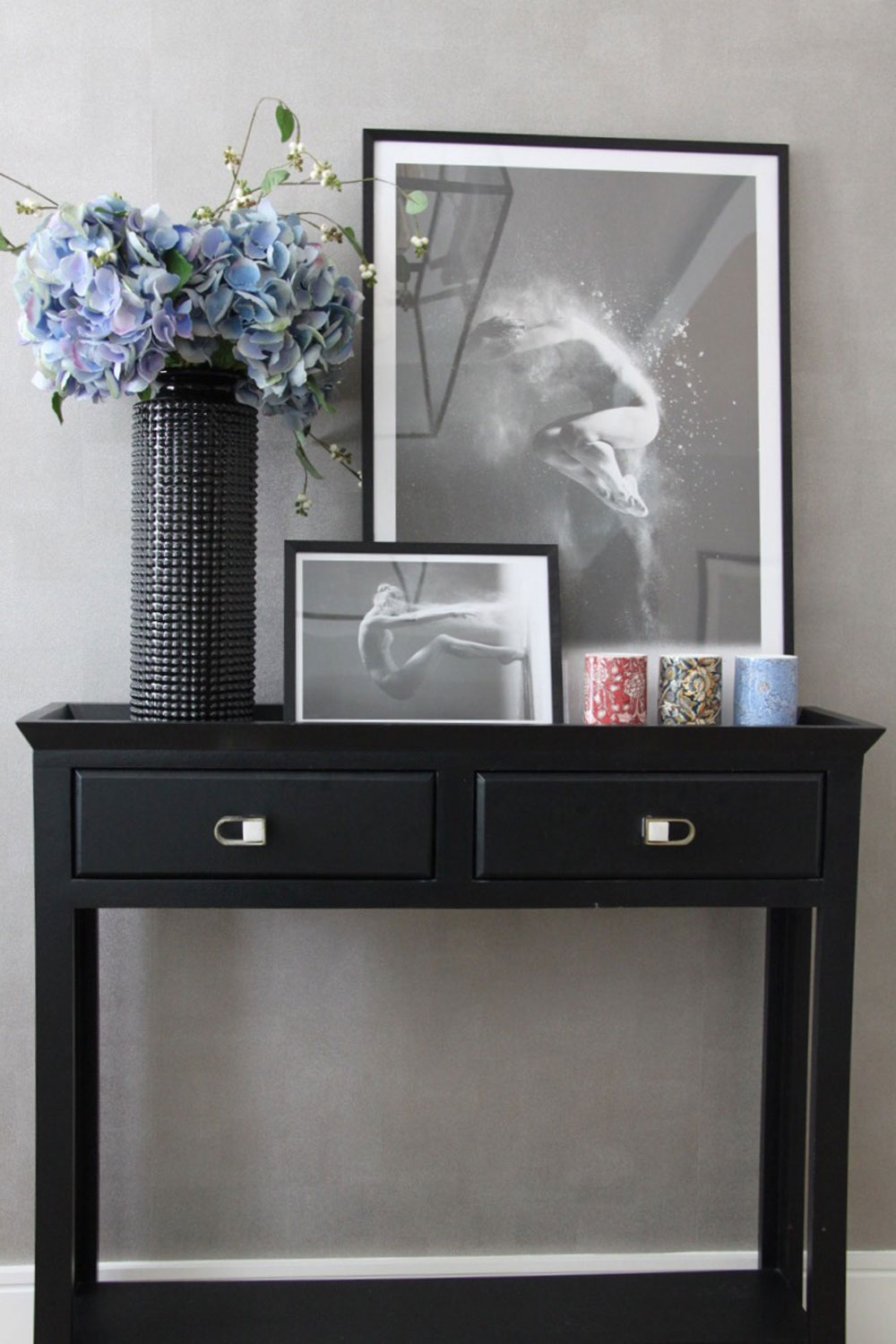 The first try was not as successful as the rest of them, although we begin the styling process in the same way by placing the larger items- the vase and the bigger picture- first.  Things were just not quite right and seemed a bit out of balance. When styling a shelf, creating different levels with your items works the best. Additionally, creating variations between the levels creates a debt in the space and makes it interesting.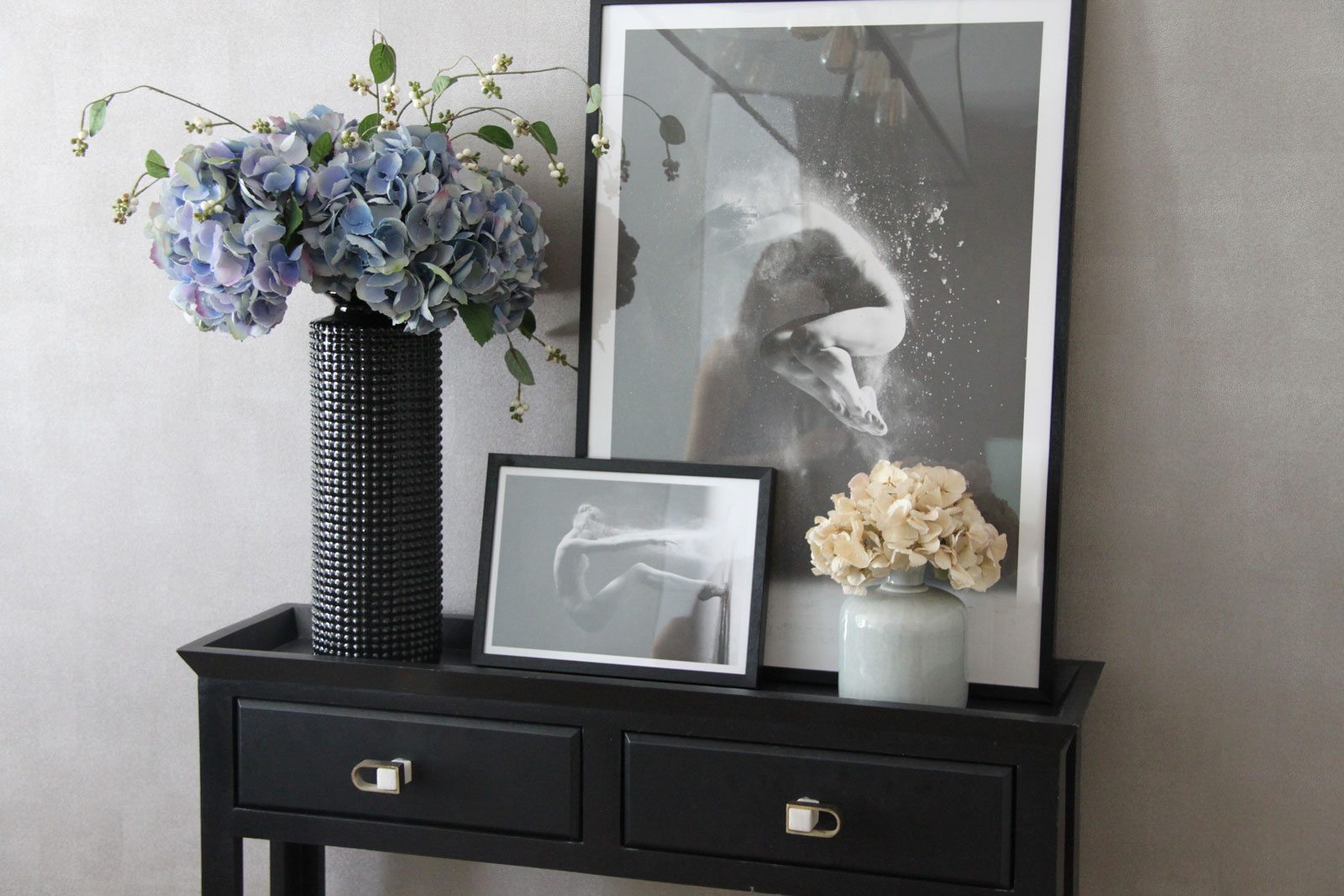 By removing the three mugs we had used as 'pots' we created our first successful look. Adding the smaller vase on the top shelf, as well as a vase on the bottom shelf, we created a repetition of colours. This visually brought it all together nicely.
Adding the pop of brass coloured candle holders that matched with the knobs created the same effect. On the bottom shelf, we placed the books as a decorative item. They are a great styling props as they can easily be found in every household. No need for them to be fancy coffee-table books. If they don't match the rest of the styling items in their colour, you could easily recover them. Or even turn the title so it faces the wall! As our three books matched the vases in colour there was no need for that. When using a cluster of items to style a shelf, always try to create groupings of odd numbers as it works better than evens.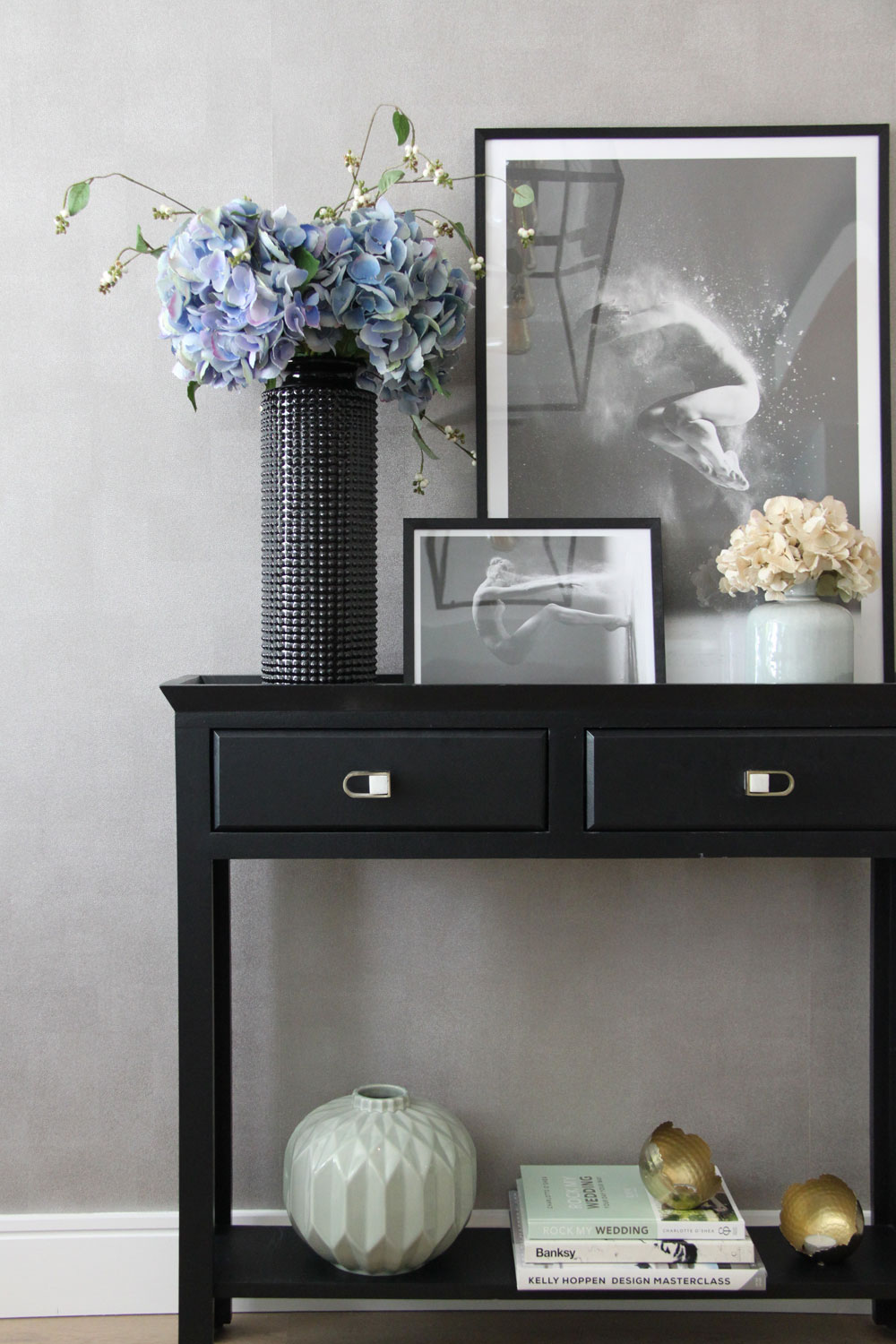 Books are a great decorative item, as most of us already have them laying around the house. If they don't match your colour scheme, you can easily recover them!
The second look we had in mind was created to showcase how a console table can be used to separate two different spaces. By placing it in front of the two identical arm-chairs, it separates the living area from the kitchen area.
 This way of using a styled shelf works especially well for the open-plan spaces. Or for rooms that are smaller in size.
The trick here is to visually divide the two spaces but not totally close them up with the use of the curtains or doors. You can do this by using items such as glass vases that you can see through. Large decorative corals will also give you that effect when styling a shelf.
As you can see, we went with the large glass candleholders on the top shelf. And a large, darker in colour glass vase on the bottom shelf. By placing only few items on shelves we created a simple design. In a busy traffic area like this, placing a lot of items would not be very practical.
Over cluttering such area could easily result into someone knocking the items off! So, you really have to have in mind what space are you decorating, as well as the colour scheme that would work the best. Here we used only two candles. As placing three looked too crowded. There is a lot of matching and moving of items around until it looks right rather than odd and off-balanced.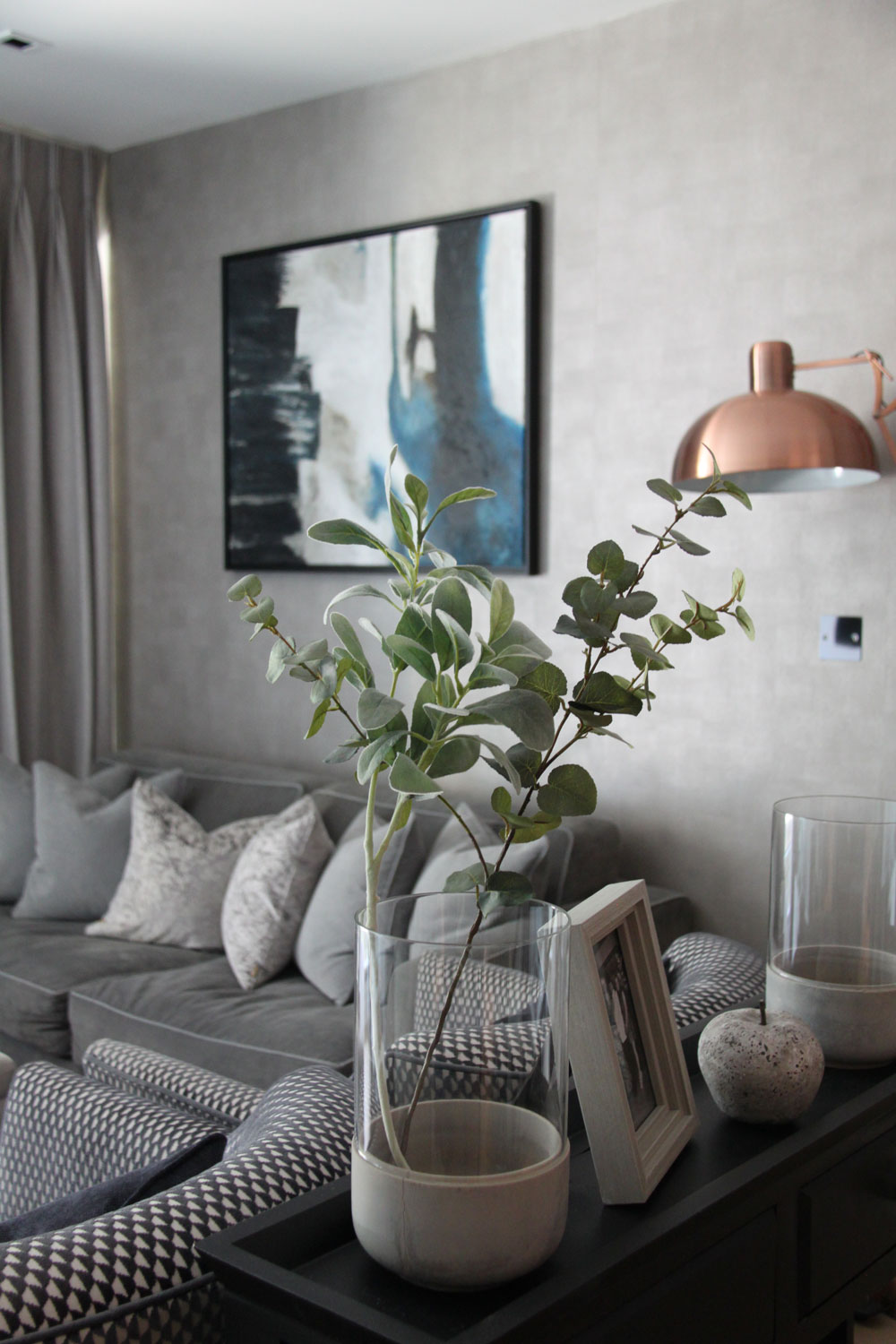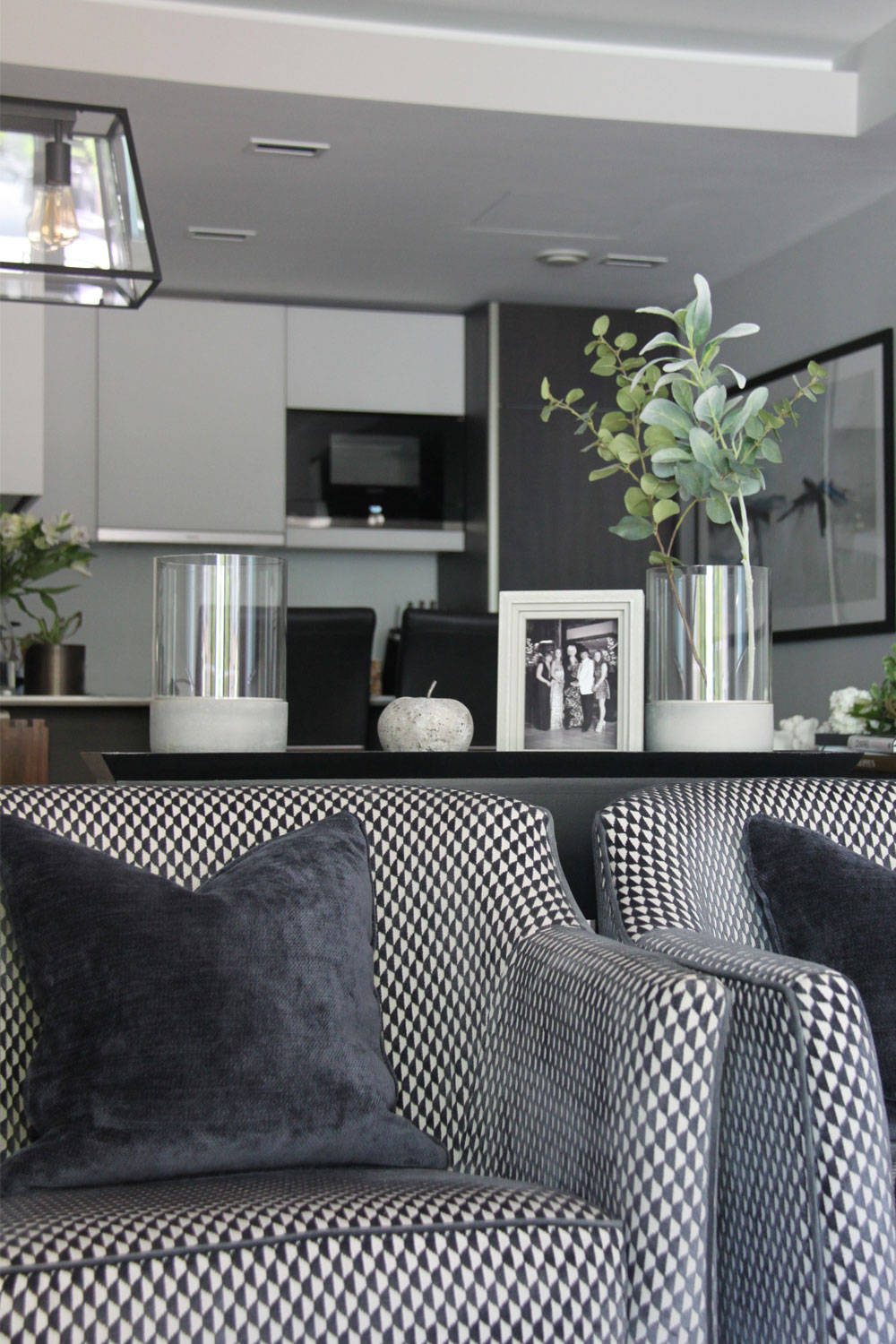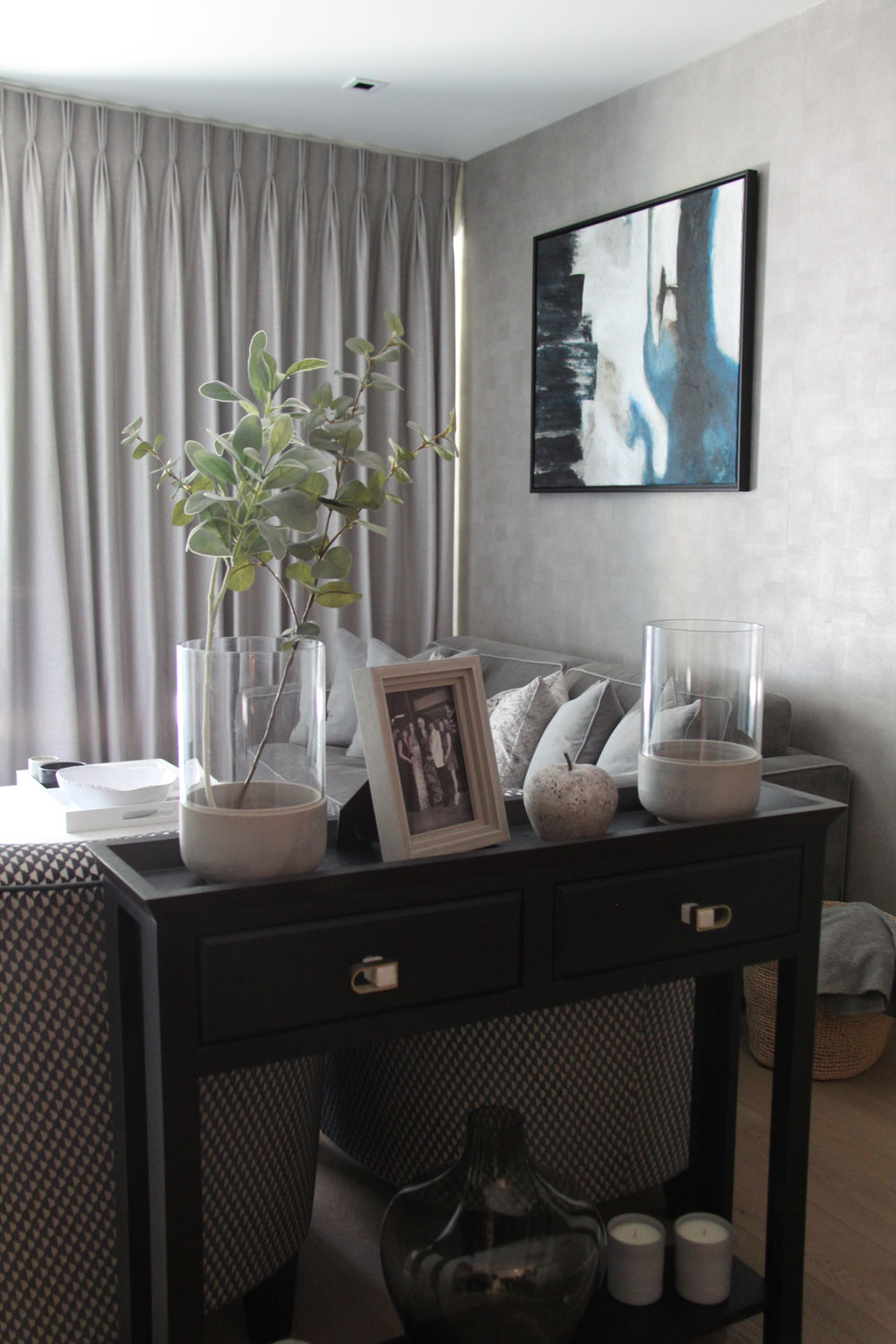 Styling a shelf is a trial and error process. There is a lot of mix and matching until it looks right as opposed to odd and off-balanced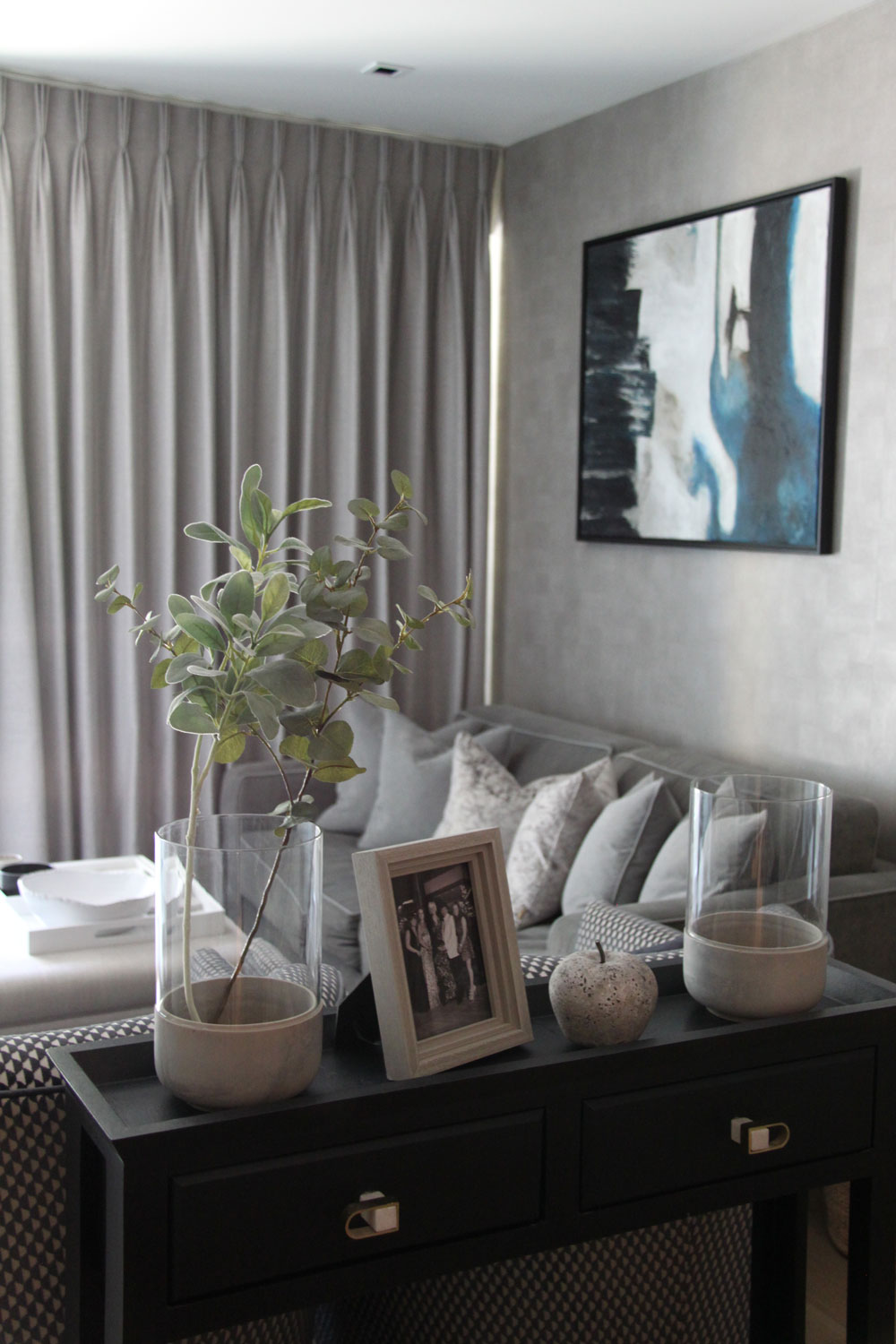 Predominantly using the darker colours for the first two looks, for the final one we decided to go for something a bit more natural and organic. This is also my favourite combination which I have realised that I seem to gravitate towards. The accent here is on the wall with two big pictures placed. The second picture is leaning slightly, creating more of a dimension within the layers. The dancing ballerina is levelled out with the vase. While different levels are created by placing the diffuser, coral and the basket.
This last look was created in Becca's bedroom, and in my opinion is a perfect colour scheme for such space. As the colours are very neutral and soft, it makes the room very bright and peaceful. This is what you ultimately want your bedroom to be. Or at least I do.  Having in mind how messy bedrooms sometimes get (for me especially in the morning while getting ready). Adding baskets as additional storage is very practical way of keeping things in place. Alternatively, a tray for jewellery or miscellaneous items comes in handy!
Obviously, you can recreate this look, as well as any previous one for any room of your choice. Don't be afraid to experiment with different looks and colour schemes that might not necessarily work within that setting. You might find that it does actually work for you. Remember that styling is a trial and error process. When you are style a shelf, if something doesn't seem balanced or quite perfect, just change it and try again!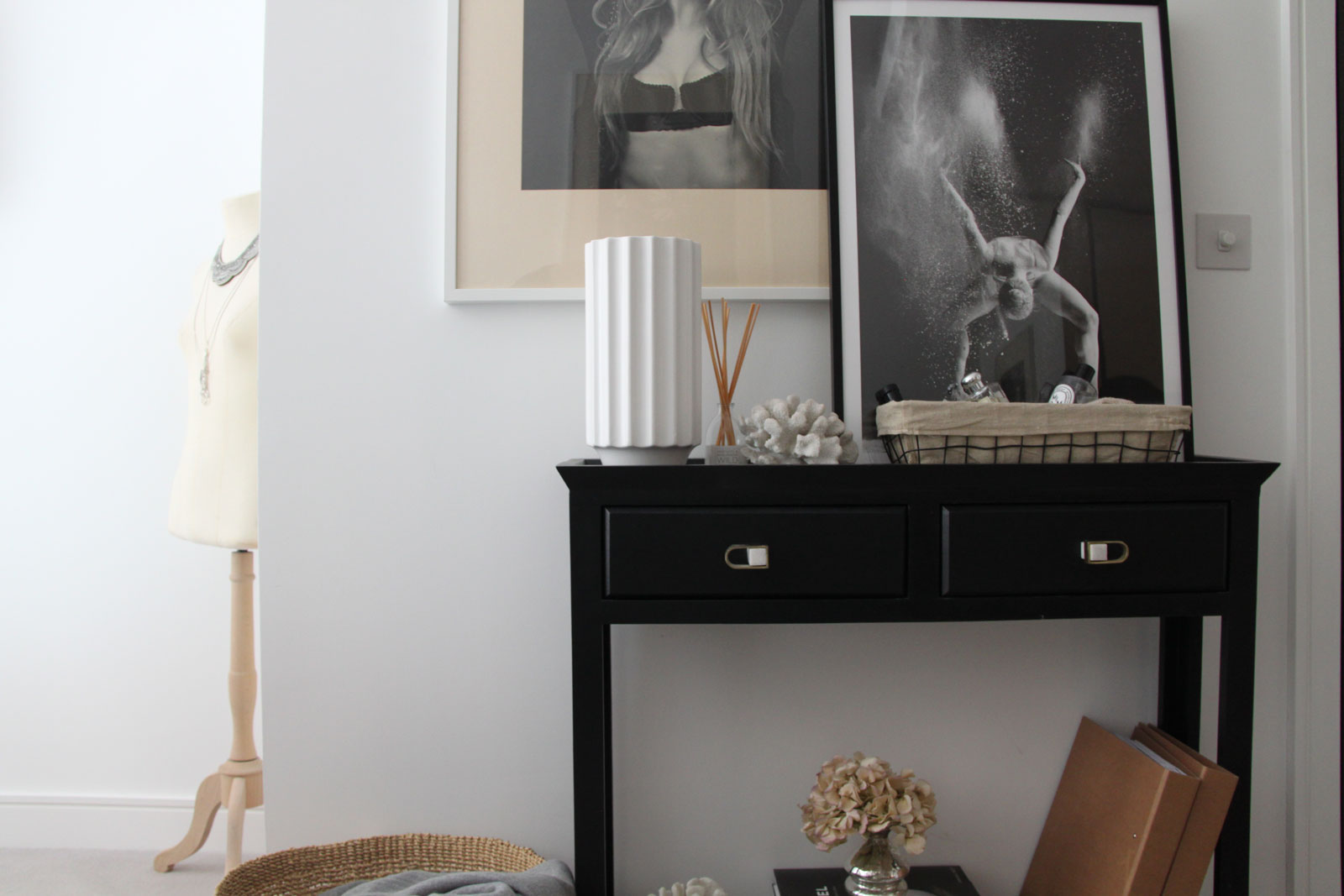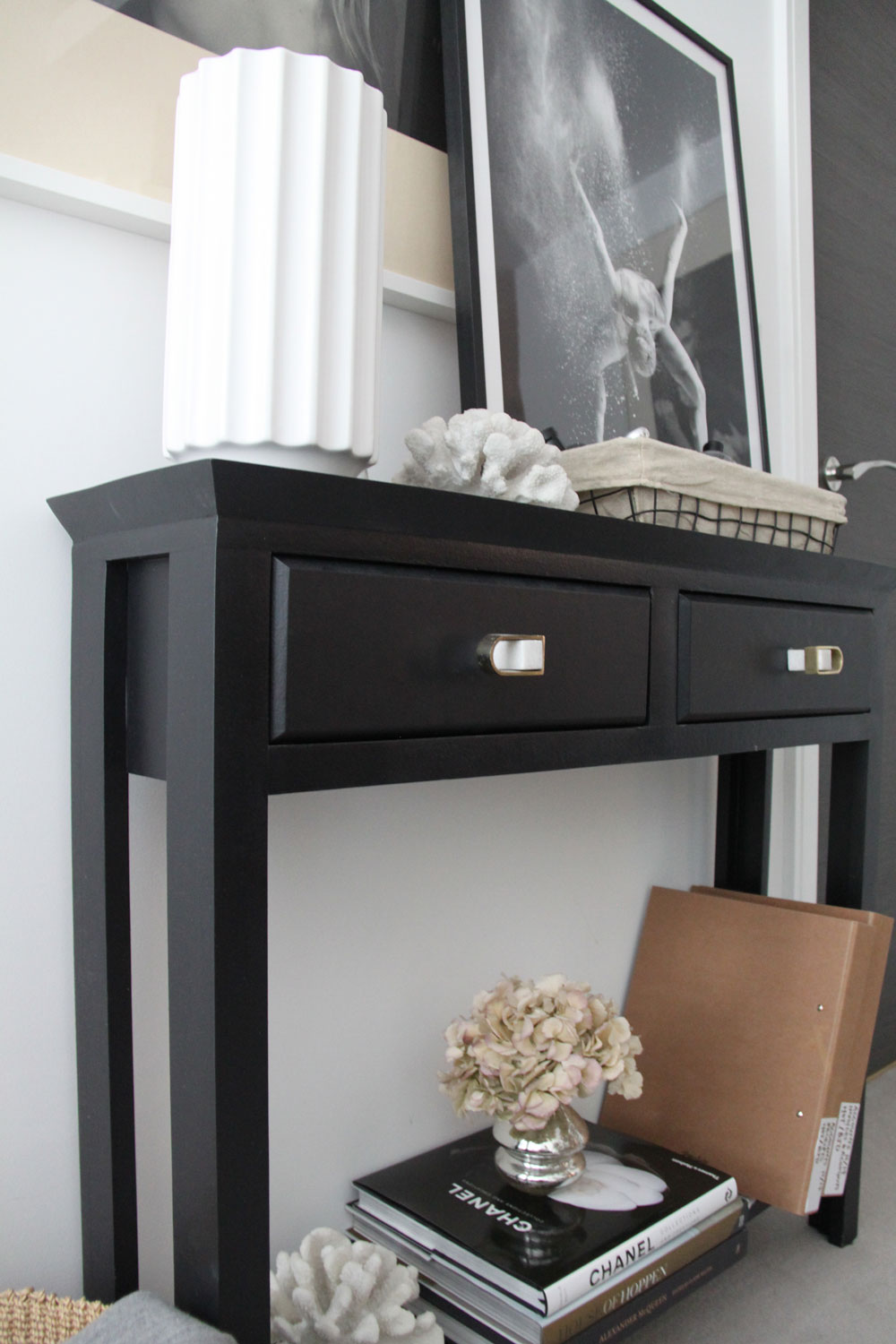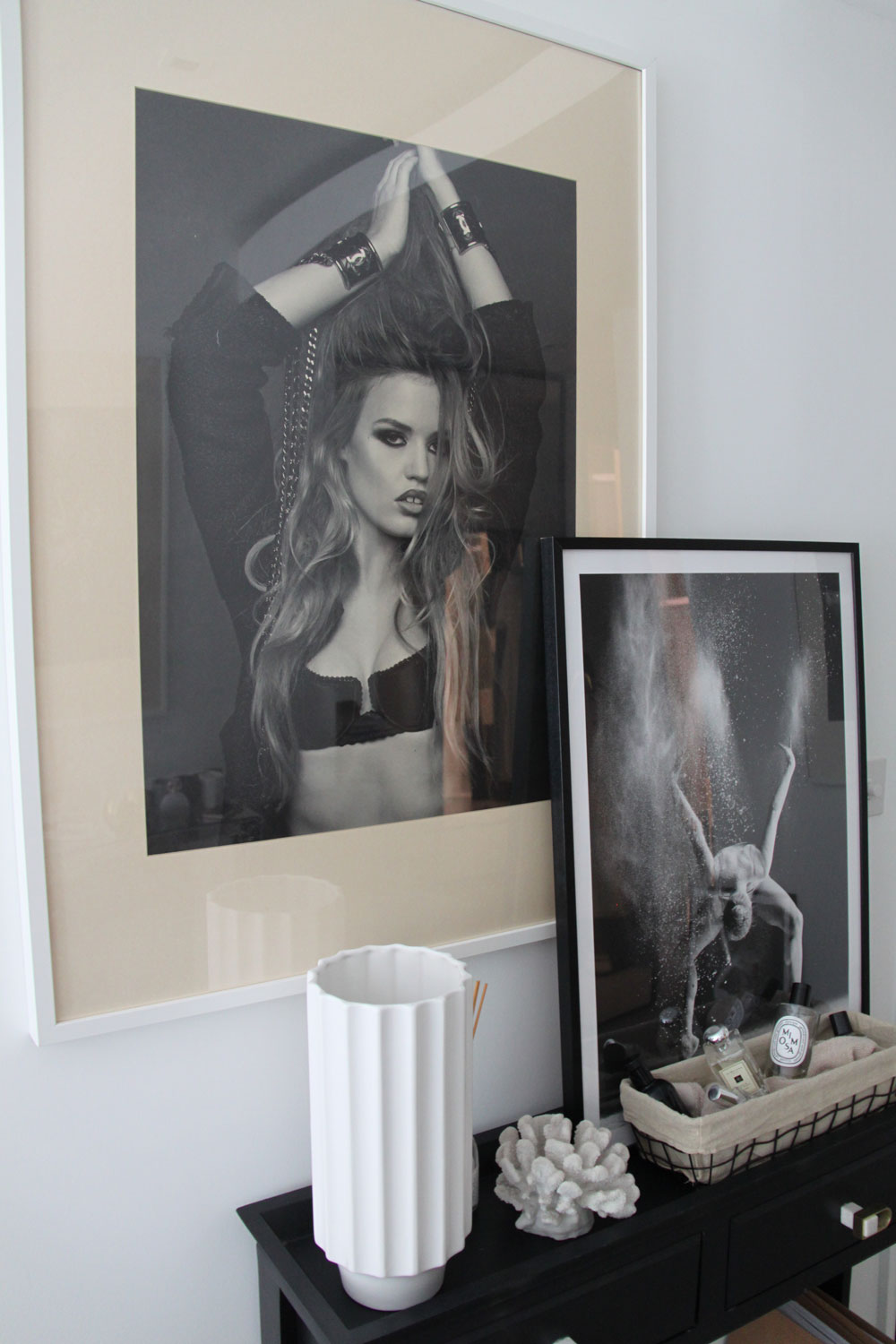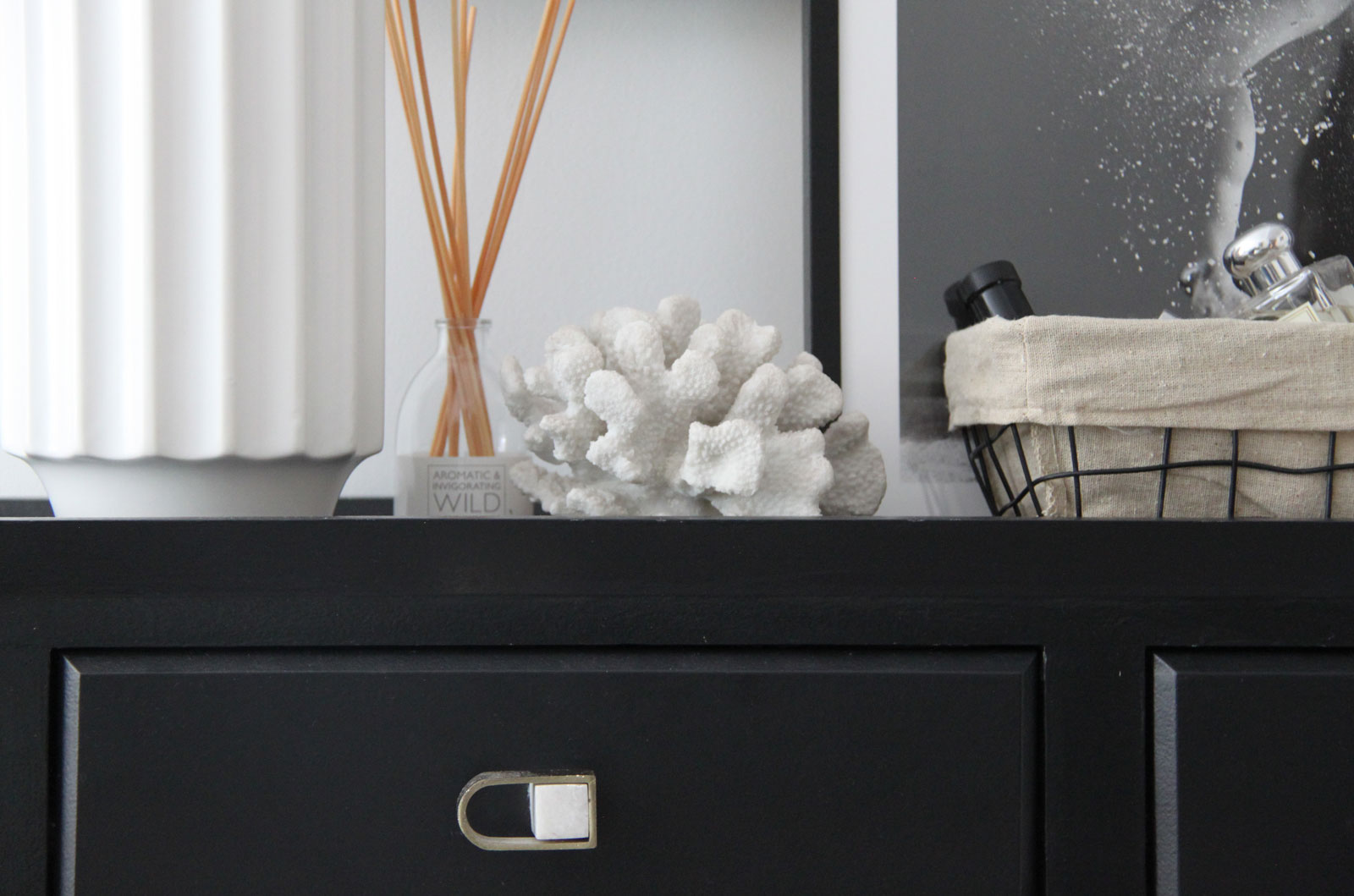 I have browsed some of my favourite shops in order to find items you could use to style a shelf when recreating these looks. There are some really interesting props you can shop here:
Style a shelf – Look One
1 – Ballerina Artwork, 2 – Blue Succulent Artwork, 3 – Dusky Blue Glass vase, 4 – Textured vase, 5 – White textured vase, 6 – Floral Artwork, 7 – Textured Metallic Vase, 8 – Shagreen Photo Frame, 9 – Black Ceramic Bowl, 10 – Tissue Box, 11 – Medicine Bottle vase, 12 – Brass Nested Bowls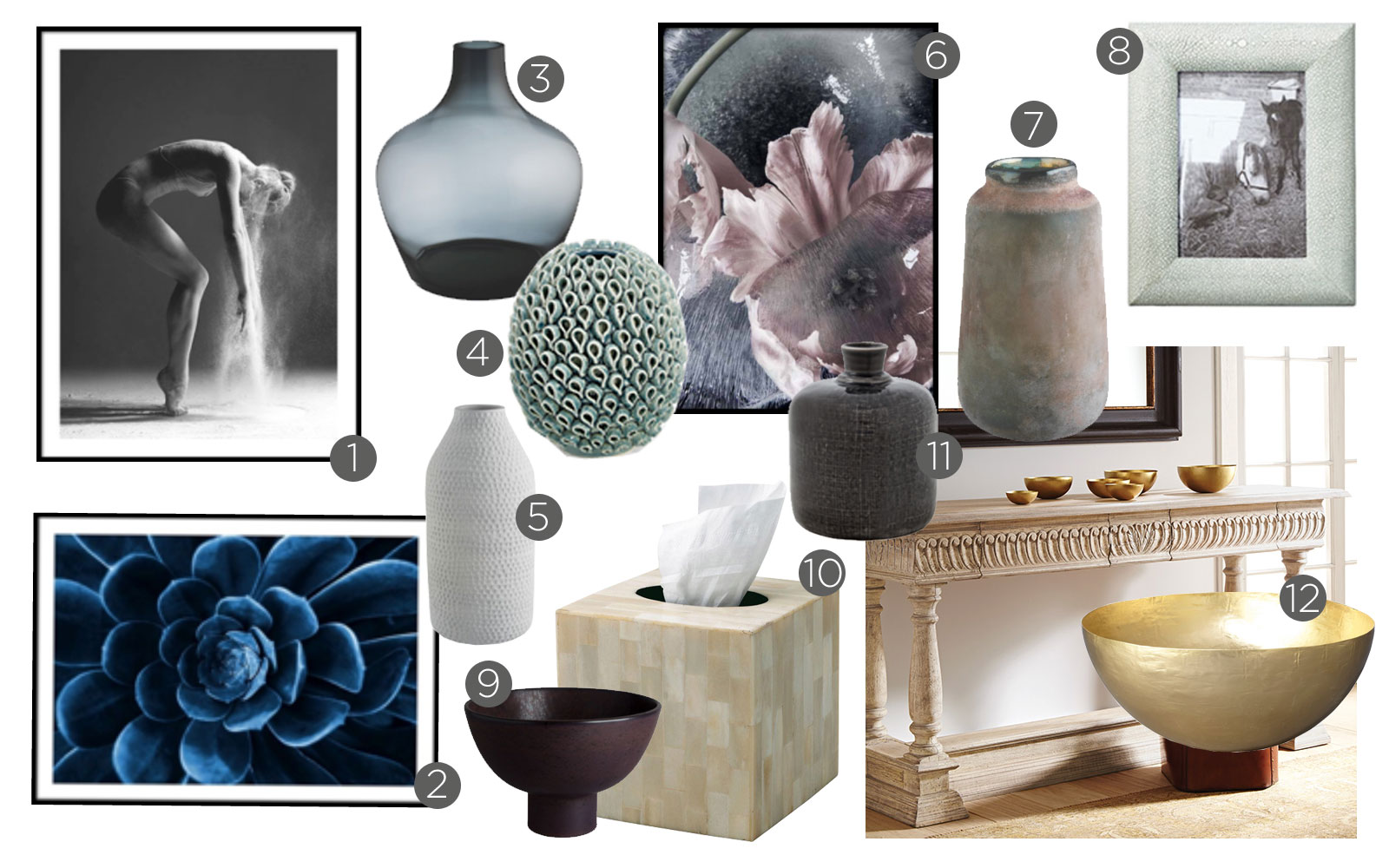 Style a shelf – Look Two
1 – Tall Chrome Lantern, 2 – Short Chrome Lantern, 3 – Black wooden bowl, 4 – Bobbled glass vase, 5 – Photo Frame, 6 – Ceramic Apples, 7 – Concrete vase, 8 – Dusky Blue glass vase, 9 – Shell pot, 10 – Faux Greenery, 11 – Brushed silver vase, 12 – Faux Magnolia, 13 – Medicine Bottle vase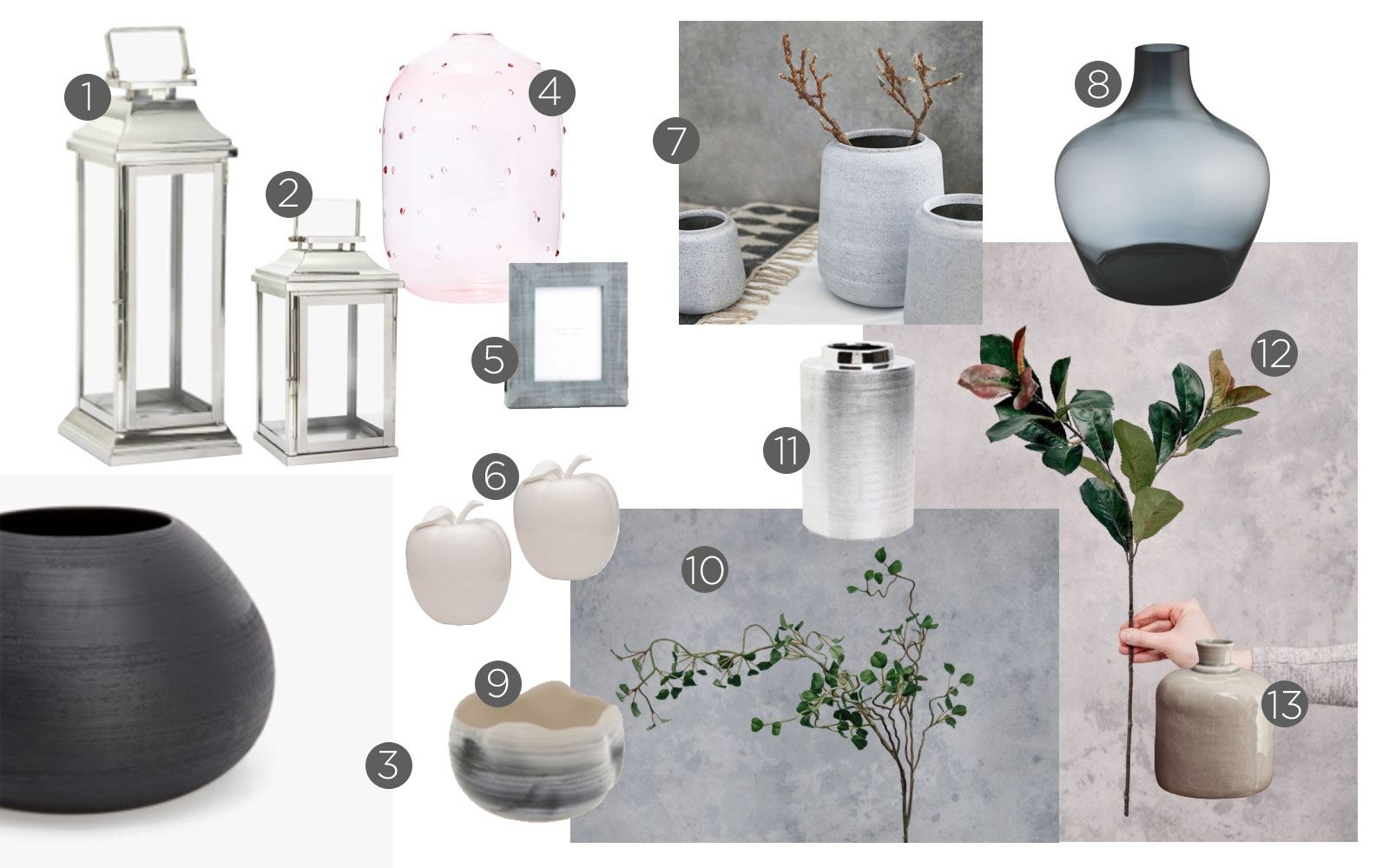 Style a shelf – Look Three
1 – Ballerina Artwork, 2 – Tall Ridged vase, 3 – Rope Glass bottle, 4 – Wicker Bin, 5 – Ballerina Artwork, 6 – Flower Candle, 7 – Leaf vase, 8 – Cut Bone box, 9 – Female Artwork, 10 – Wicker Tray, 11 – Hessian Box, 12 – Table Lamp, 13 – Diffuser, 14 – Coral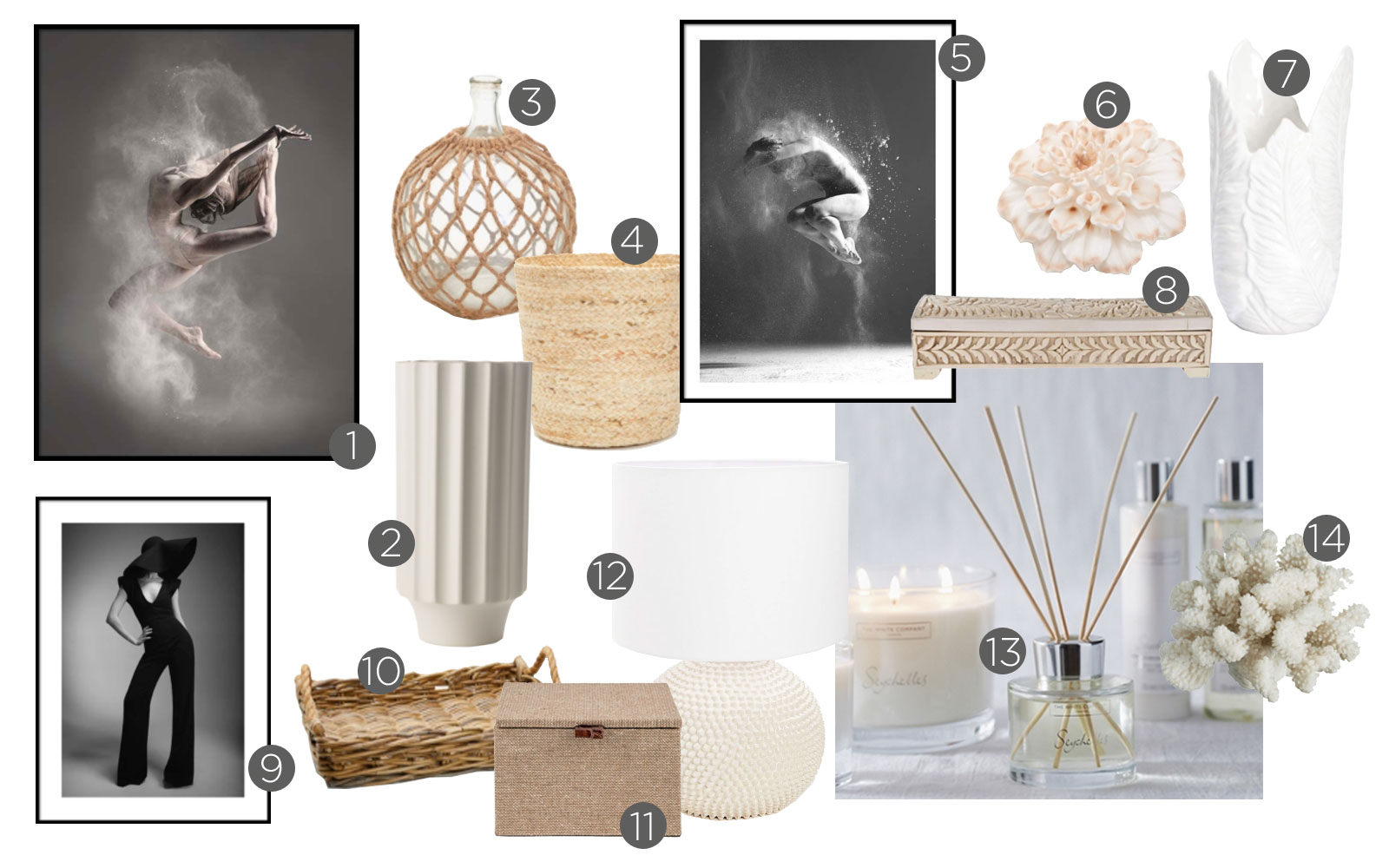 Disclaimer – We always endeavour to credit the correct and original source of every image that we use. If you think that this credit may be incorrect, then please contact us at info@houseofthree.co.uk