Who are the best suppliers for Wax Seals?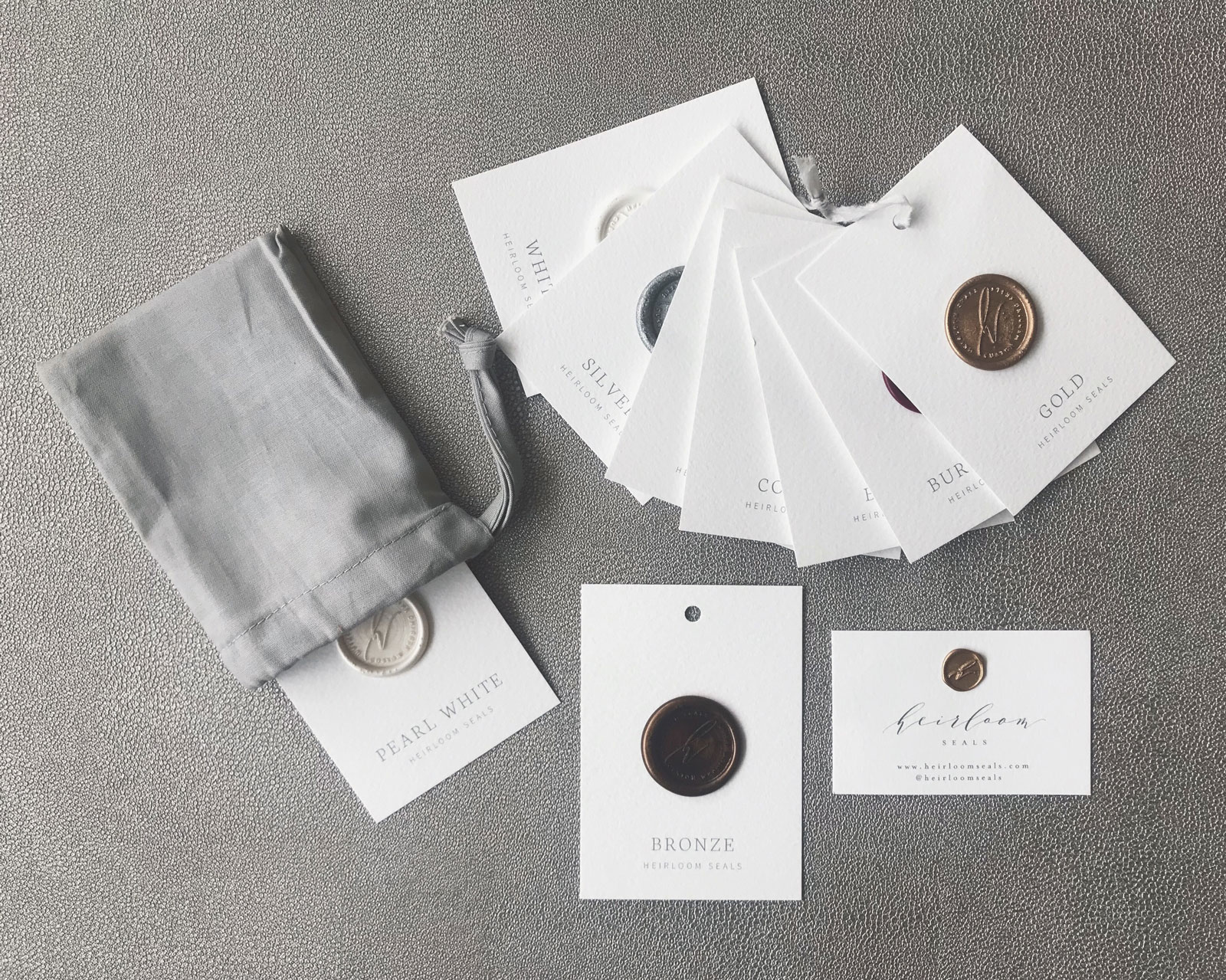 Wax seals are incredibly popular wedding stationery additions. But have you been struggling with finding decent or customisable wax seals? Well here are our favourite wax seal stamp suppliers, to make buying them for your wedding stationery that little bit easier.
So many wax seals are from American companies, with costly shipping fees. Not knowing which is the best supplier to choose makes it daunting. So this is exactly why we are going to list our favourites…
Now the first question, before telling you any of our favourite suppliers, is are you looking for wax seals or a wax stamp?
Wax seals
Wax seals are a pre-made seal, that arrives to you with a sticker on the back of it. This means that they are all perfectly uniformed. And also really easy to apply. So much faster if you are wanting to apply wax seals to 250 invitations!
Wax Stamps
Wax stamps are what you would want to purchase if you fancied applying your own wax seals. The stamp is what actually creates the stamp shape and desired imprint. Of course, unless you are an expert, no two wax seals are the same. So they create a real personal touch to any wedding invite.
Wax seals are a really popular sealing method for Wedding Invitations but notoriously difficult to source in the UK.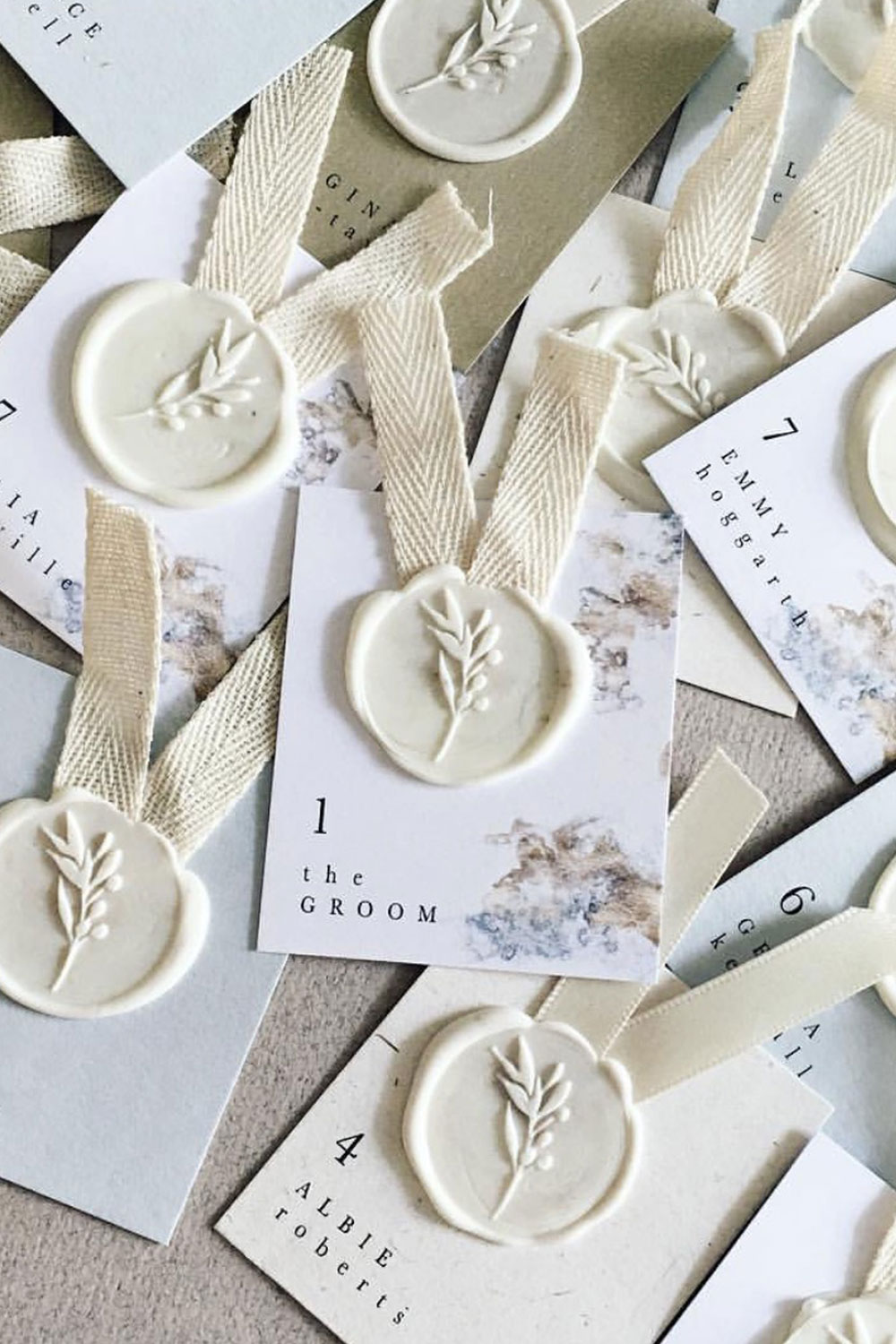 Although wax stamps are a little more personal, and give you the opportunity to try 'wax sealing' out, they do take up a lot more time. So just bear this in mind if you are having a large wedding.
Each stamp will take approximately 30 seconds including drying time. So if you have 250 invitations, that's a whopping 125 minutes just to seal. But of course that's no pausing, mistakes or taking a break! So it's likely to take you a whole lot longer that that!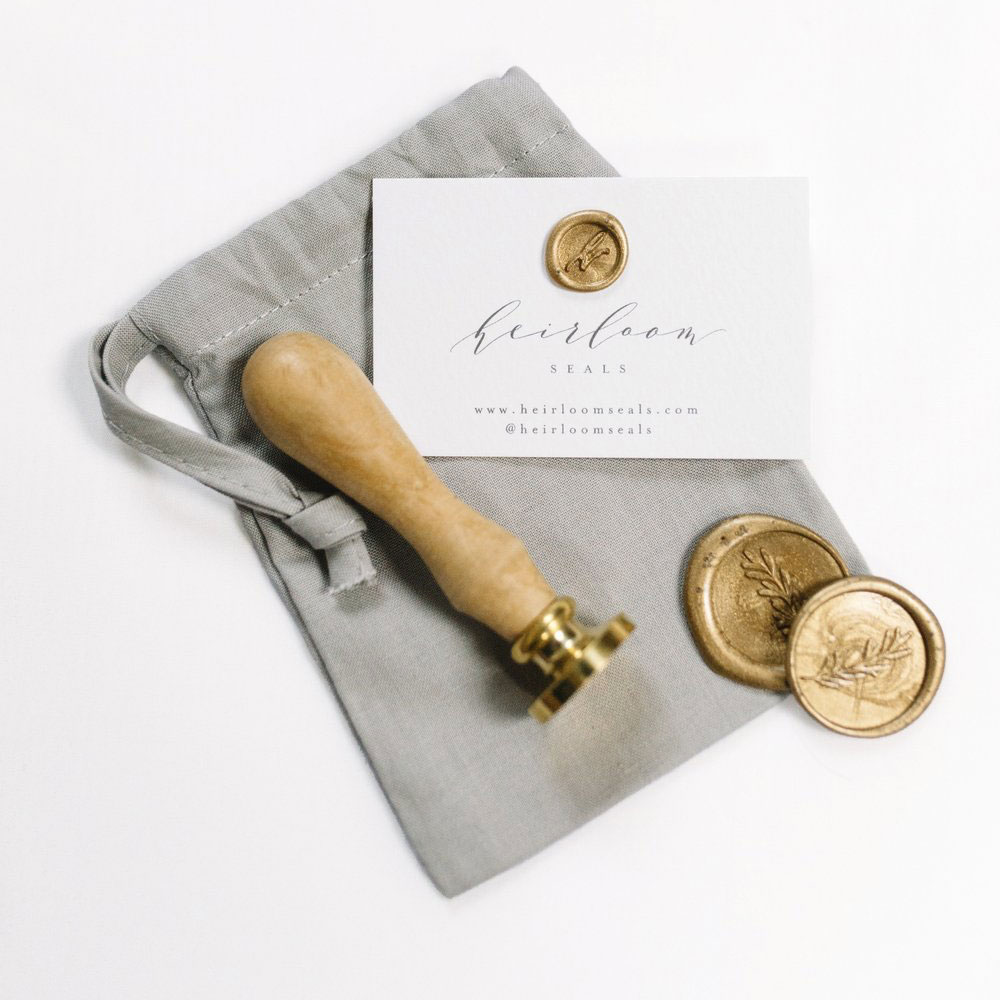 So now we are clear on the difference between a wax seal and a wax stamps, here are our favourite suppliers.
Heirloom Seals
Heirloom seals sell both self-adhesive wax seals and wax stamps. They have a variety of pre-designed text and botanical designs. As well as the option to customise stamps and seals, or even send in your own artwork for a completely bespoke design.
The colour options available are White, Pearl White, Silver, Gold, Copper, Bronze, Blush, Burgundy and Black. If you do decide that you'd rather have the wax stamp and create the seals yourself, then you can actually order the wax from Heirloom Seals too.
An Irish based company, shipping to the UK is estimated within 3-5 business days. Although they do also ship to the rest of world too. This just takes a little longer and is estimated at 5-10 business days.
Heirloom Seals is also on Instagram @heirloomseals
Wax seals can be purchased in a plethora of different colours, so you can find something to match your wedding colour scheme.
From Ireland to America, another one of our favourite wax seal companies is a very well known one on Instagram.
Artisaire – 'Wax Seals'
Wax Seals are a company that has over 25 years experience in the wax seal industry. And they predominantly retail through the well known Artisaire. Again you can purchase wax seals and stamps in a plethora of different colours. (Around 29 to be precise).
Production times on stock orders are usually between 1-3 business days from ordering. Any Bespoke orders would be 1-3 business days from the Proof Approval date. International delivery is of course only estimated, but standard delivery is approximately 7-10 business days. Where as express is 4-9 business days.
Although do bear in mind that shipping is from America and so it is fairly expensive. If you are going to order a few bits from here, like a wax stamp, sealing wax gun and glue gun sealing wax then it's worth it. But if you are only after a sample set ($15) be prepared to spend $35 on standard shipping.
Follow @artisaire and @waxseals on Instagram for all of the wedding stationery inspiration you might need.
Quill London
The name might give away that this company is in fact UK based. Although they only retail wax seal stamps. There are 7 designs to choose from each at £32, or for £130 you can have a bespoke wax seal stamp created. They are actually handcrafted by Stamptitude based in Hong Kong.
Quill also retails sealing wax, sealing wax with wicks, wax pebbles and wax sticks for a wax gun. (See if you could fit any more 'wax's into that sentence!) They are better known for their Calligraphy and Calligraphy workshops though. So if you are thinking Calligraphy on your wedding invitations too then they might just be a perfect match.
Stamptitude
Stamptitude are where Quill's supplies are actually from. But you can buy directly from them including self-adhesive wax seals, which are available in 20 different colours. Of course the wax seal stamps are still available, with the option to bespoke the design.
If you are happy to upload the artwork yourself, then you can order a bespoke wax stamp with a single stick of wax for just £27.00. Standard International delivery could then add as little as $5 to the total bill.
The Little Blue Brush company hand make all of their wax seals in their London studios. They can come in a range of different colours and they also make wax seal stamps too.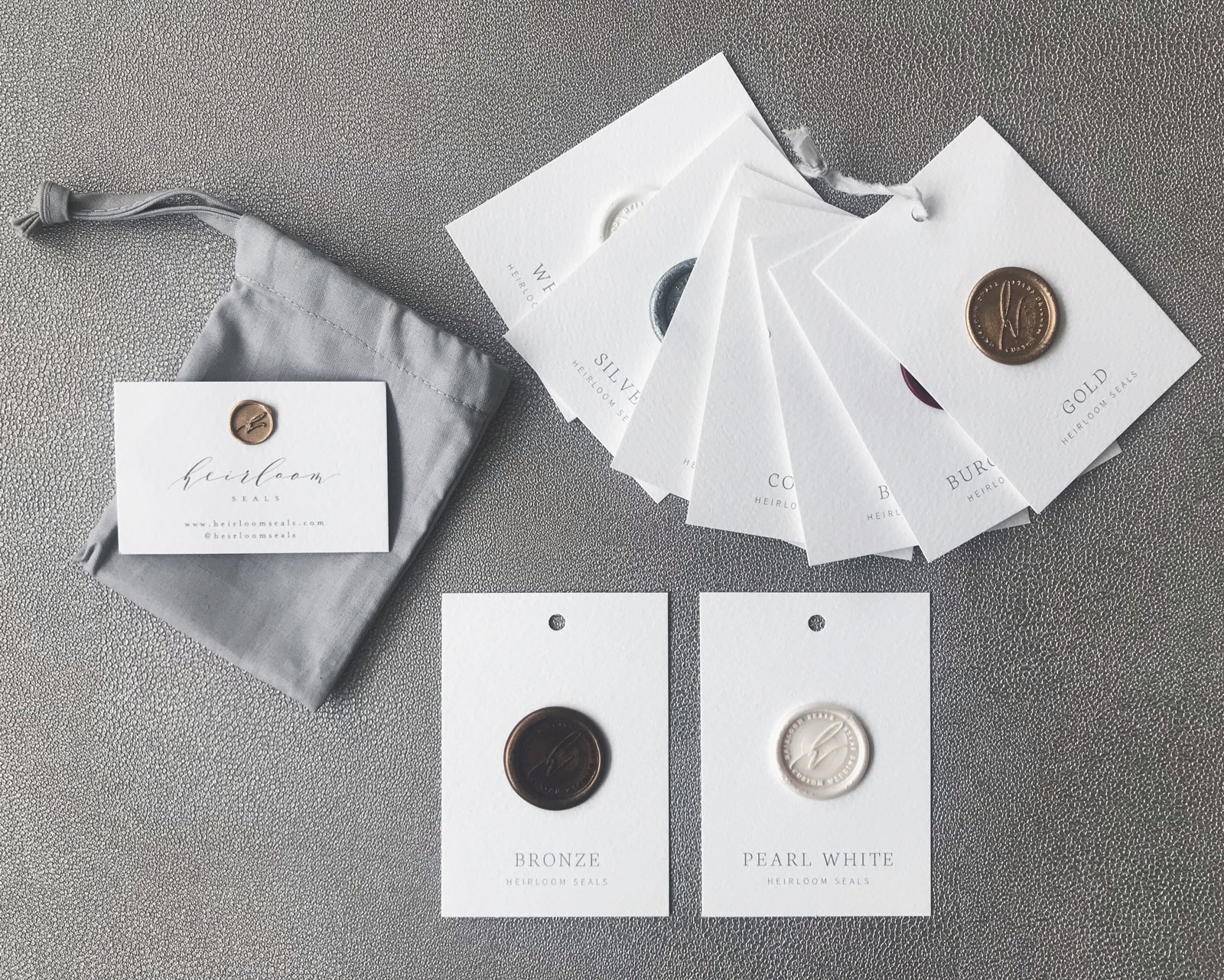 Then last but by no means least, a slightly smaller London company…
The Little Blue Brush
Based in London, The Little Blue Brush hand makes every seal in their studio. They can be ordered as self-adhesive wax seals or you can order the wax stamps to do it yourself at home. Pre designed wax seals start from 60p each with a bespoke wax stamp just £45.
I absolutely love the elegance that a simple wax seal can add to wedding stationery. And I shall be using wax seals on my own wedding stationery too – although that has yet to be designed! So watch this space…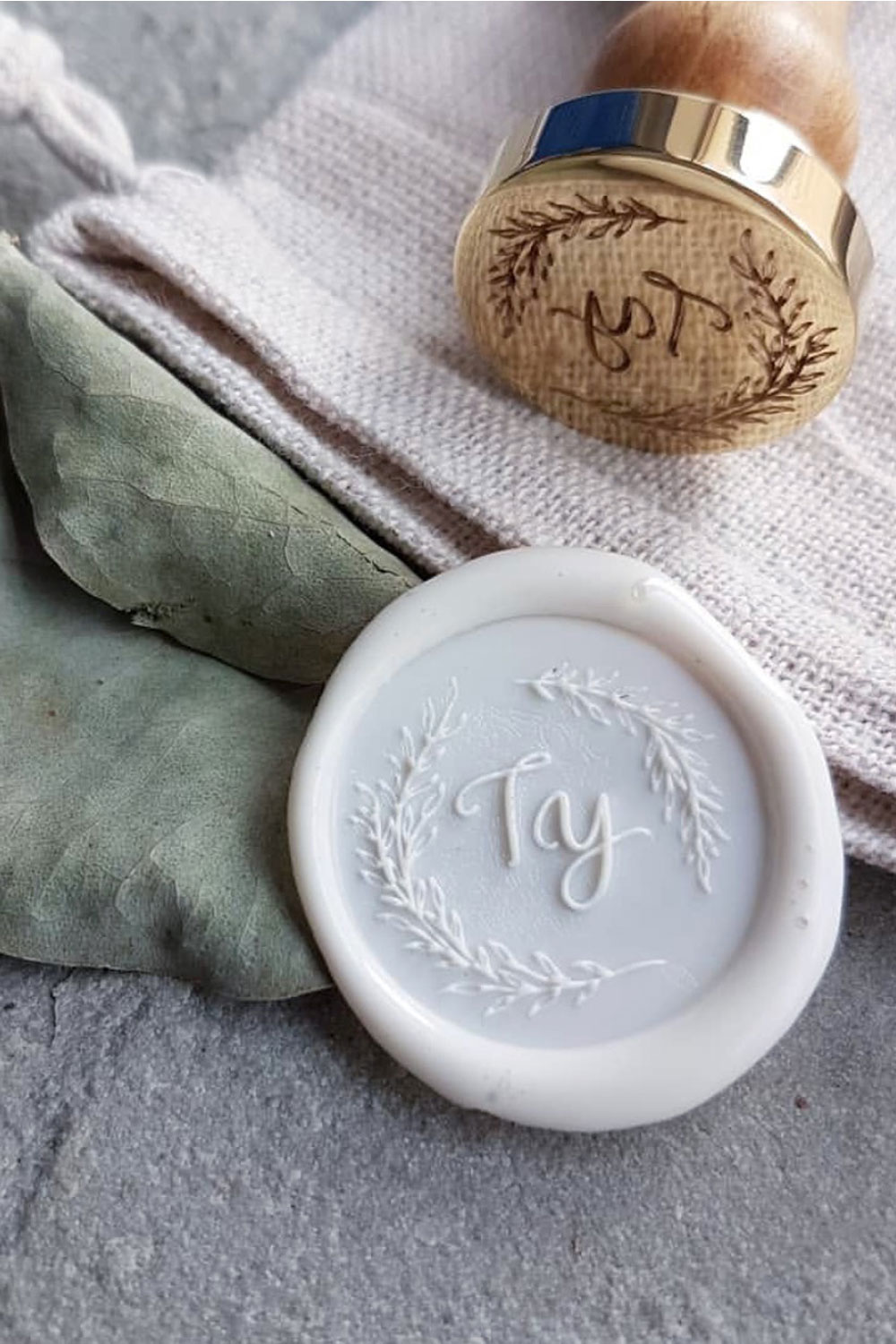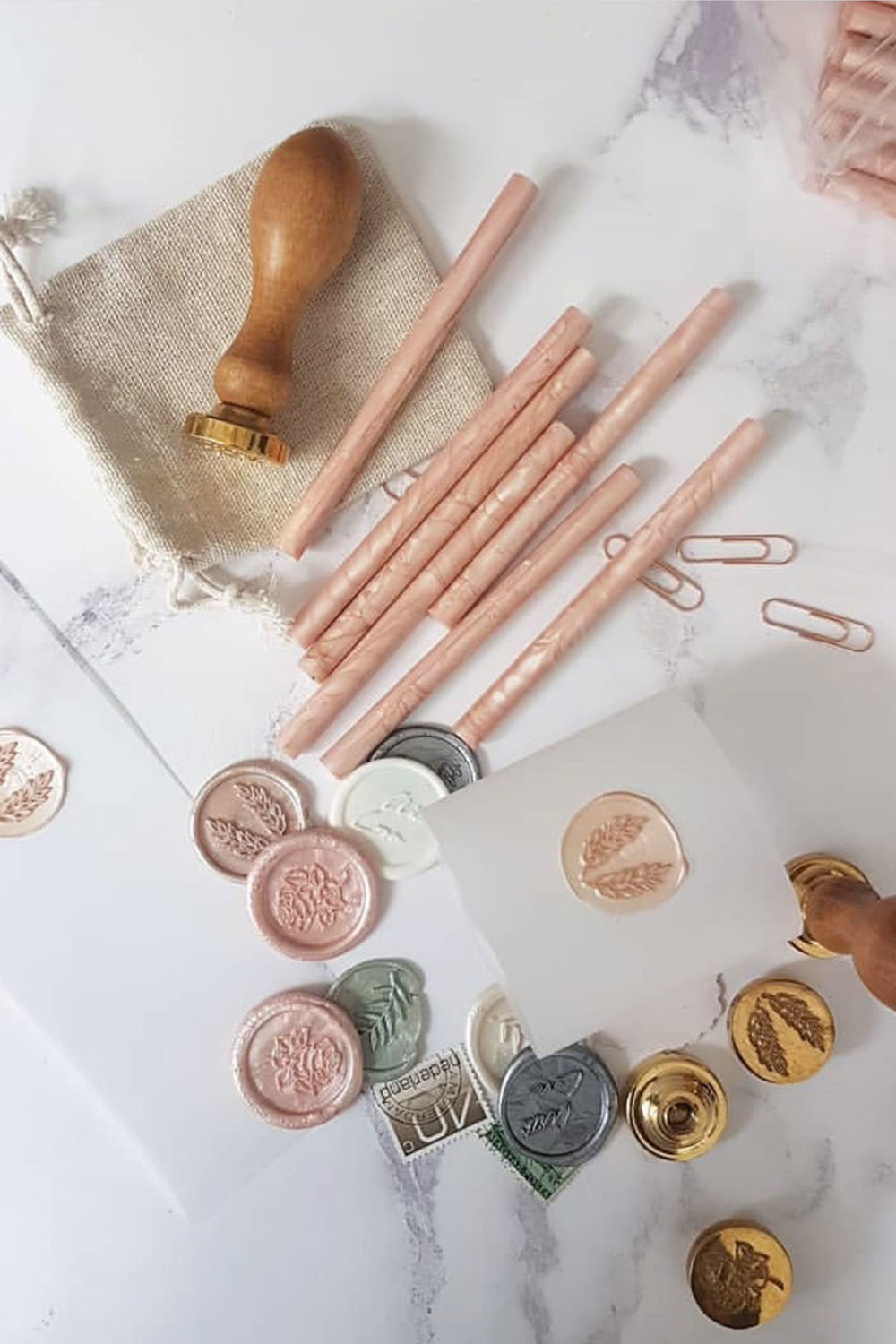 Disclaimer – We always endeavour to credit the correct and original source of every image that we use. If you think that this credit may be incorrect, then please contact us at info@houseofthree.co.uk