All of my wedding creative details and ideas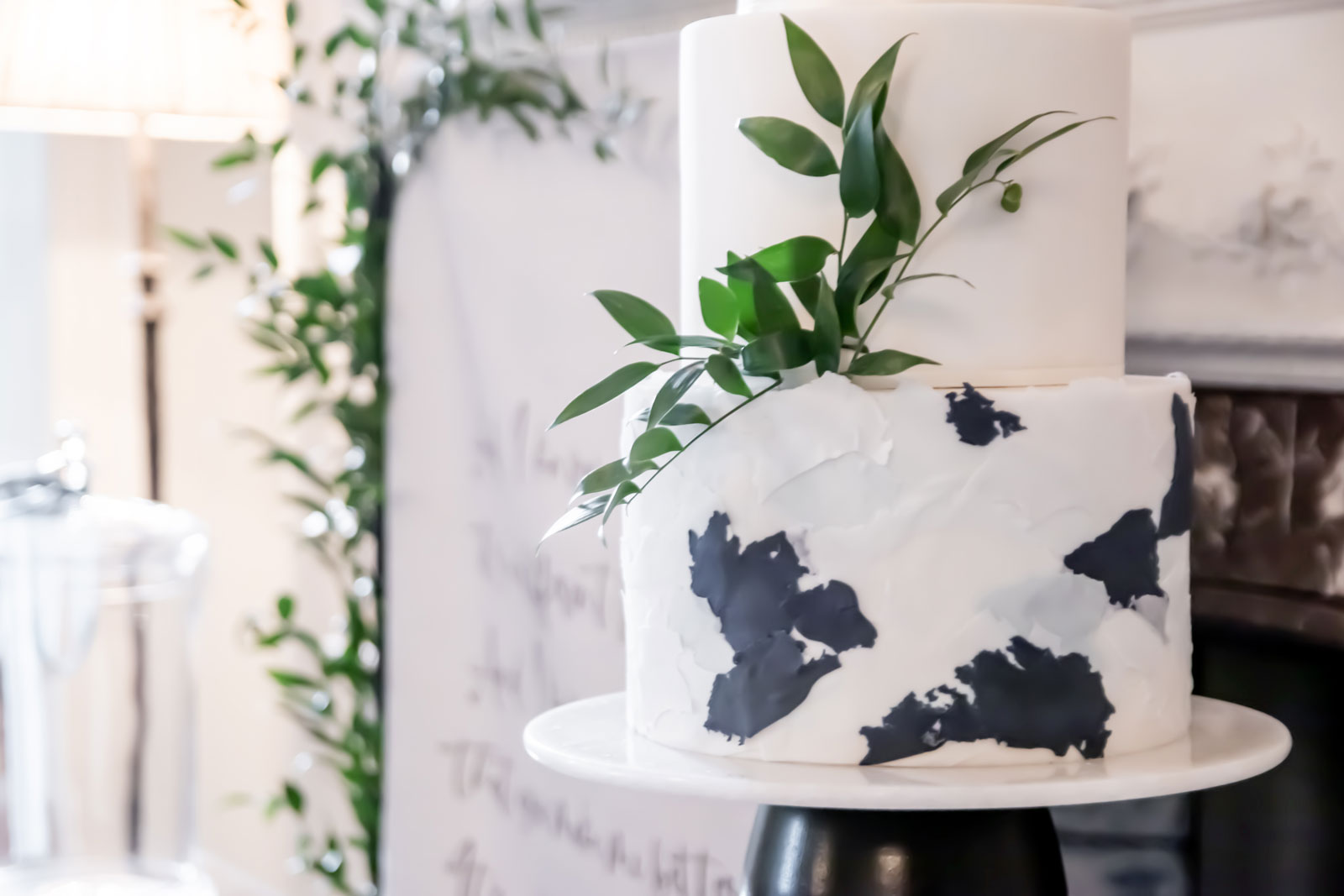 Well I always knew that this was going to be one of my favourite wedding posts to write. Of course my wedding creative details were the part of our wedding planning process that I had the most fun with. You know, wedding designer and all. So here they are. And I really hope you love them as much as me!
What are wedding creative details? I think I actually made up the word for it. But as someone that specialises in wedding designing, I had to come up with a term for the creative bits. And that's when wedding creative details was born. What does it include? Pretty much everything that requires some sort of designing.
So perhaps a cake table. A table plan. A photo station. Or the bar set up. Every single one of these elements would need to have been designed. And that's why I call them the creative details. Of course, this would usually include the tablescapes too. But seeing as I've already posted about my wedding tables, I will leave those out of this post.
I always had a dream to get married at Babington House. And just two months after getting engaged, we made that dream happen and put a deposit down for the venue. As you can't really start designing the wedding creative details until you have the venue secured, this is when I started designing all of our creative details.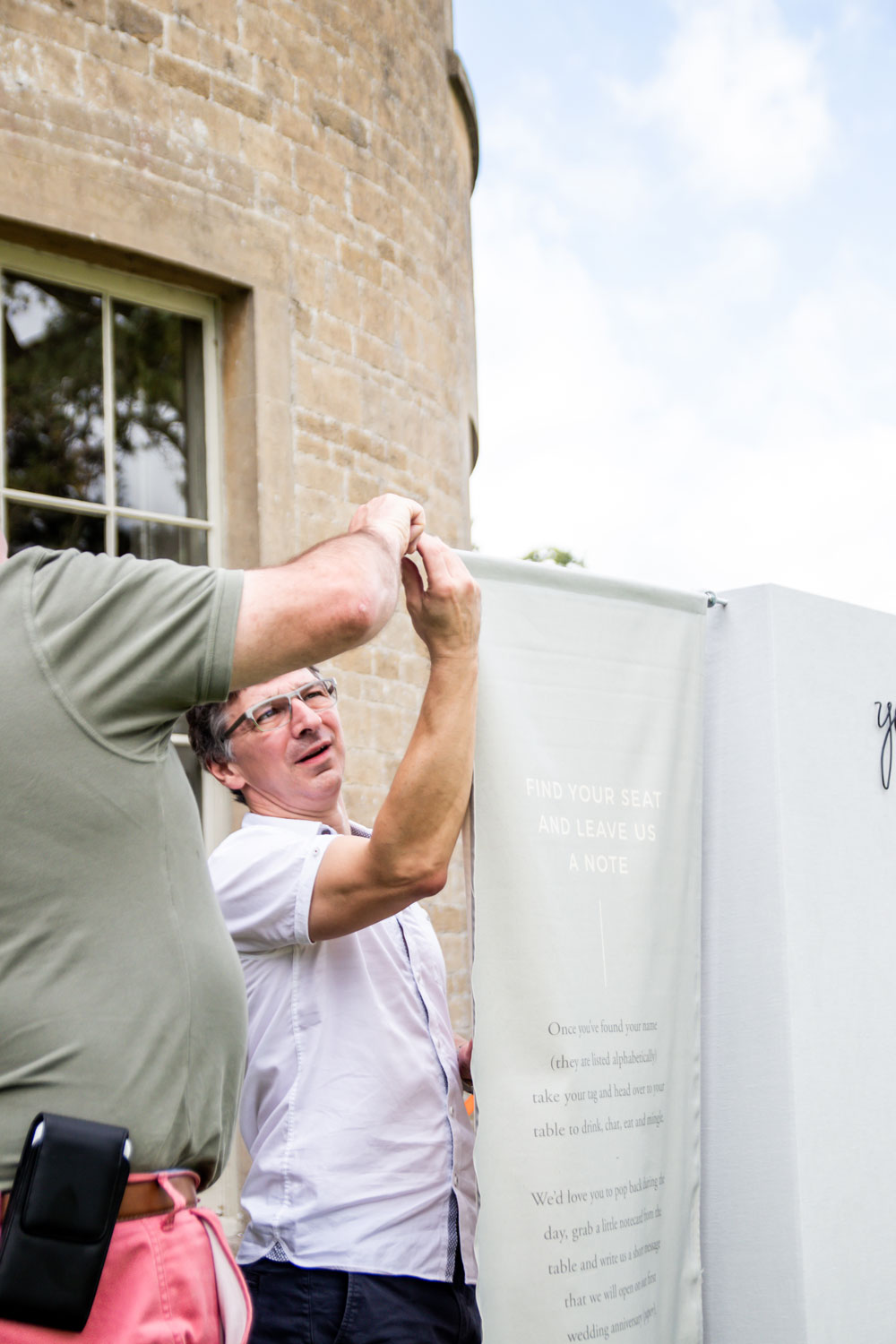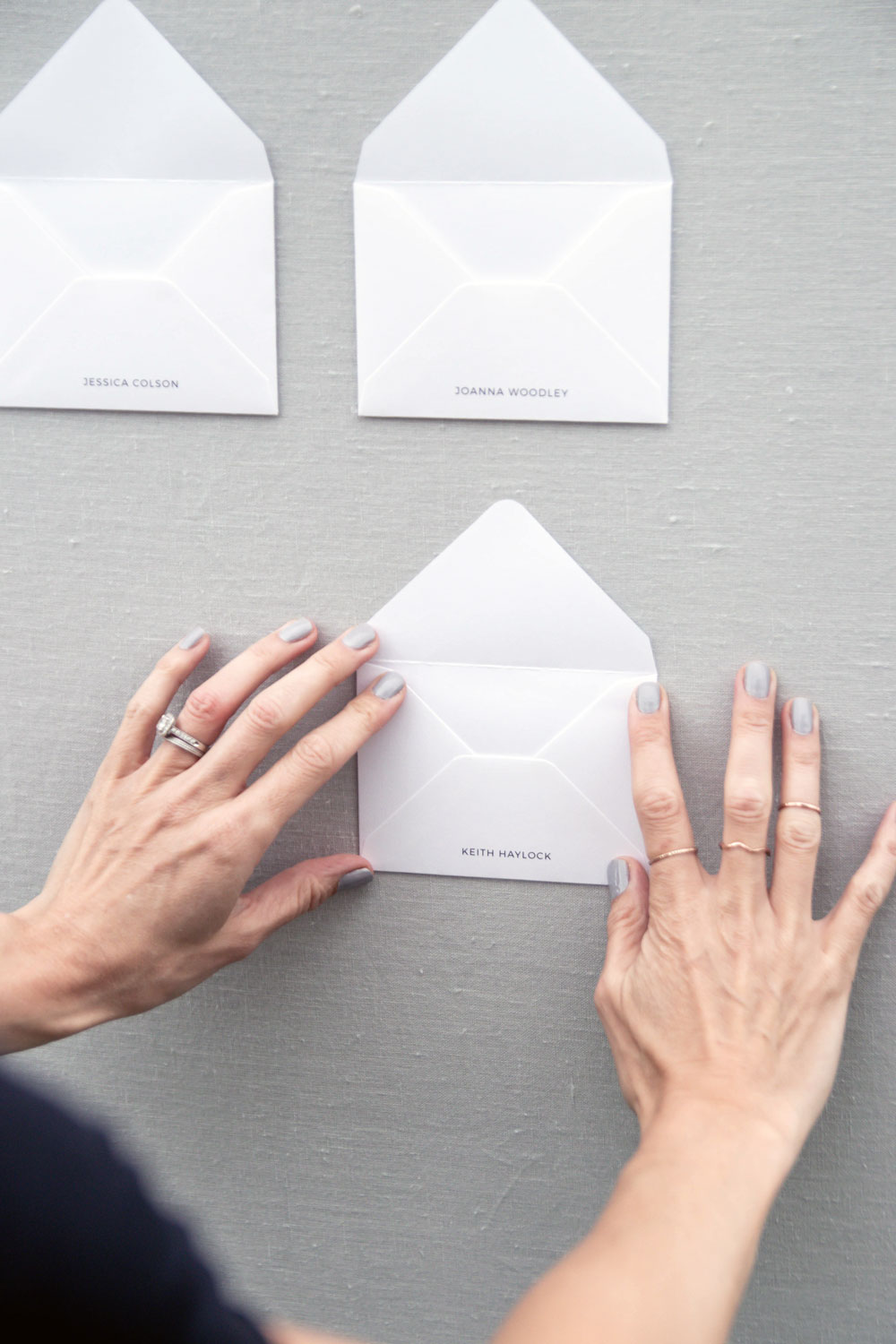 Getting married at Babington House really was a dream come true.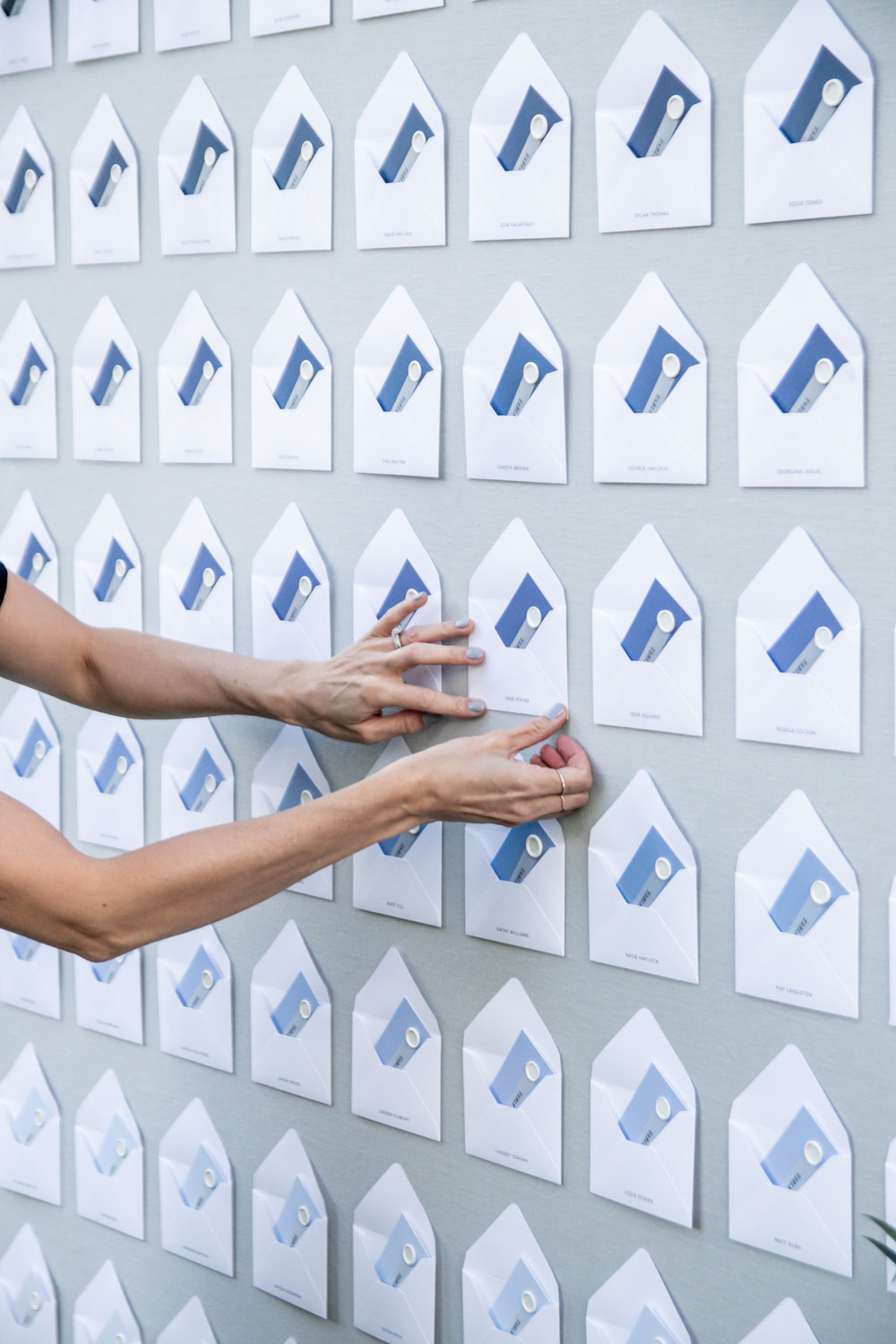 Starting with the table plan. I always had this idea to have a huge, really impressive table plan. The only problem is that most huge table plans come due to the huge number of guests! I'm talking 300-500 guests. And we had just 80! So Lisa and I got brainstorming on what might work for the number of guests that we had, yet still gave me the impressive table plan I so desperately wanted.
Lisa at Paperknots first designed what we went with. We didn't make any changes, we both just absolutely loved it, and so went with the first idea. It did however require a lot of making. Fortunately though, when my dad retired he took up woodworking. Which came in handy for a lot of wedding creative details actually! So we had to check he could actually make it before we went any further.
Lisa came up with this idea of the table plan being dual purpose. So it would act as our guest book as well as our seating plan. The guest would take their card from the envelope, which would tell them which table they were seated at. And then later in the day/evening, they would come back to the plan. Write us a note, and tuck it back into the envelope for us to read a year later on our paper anniversary.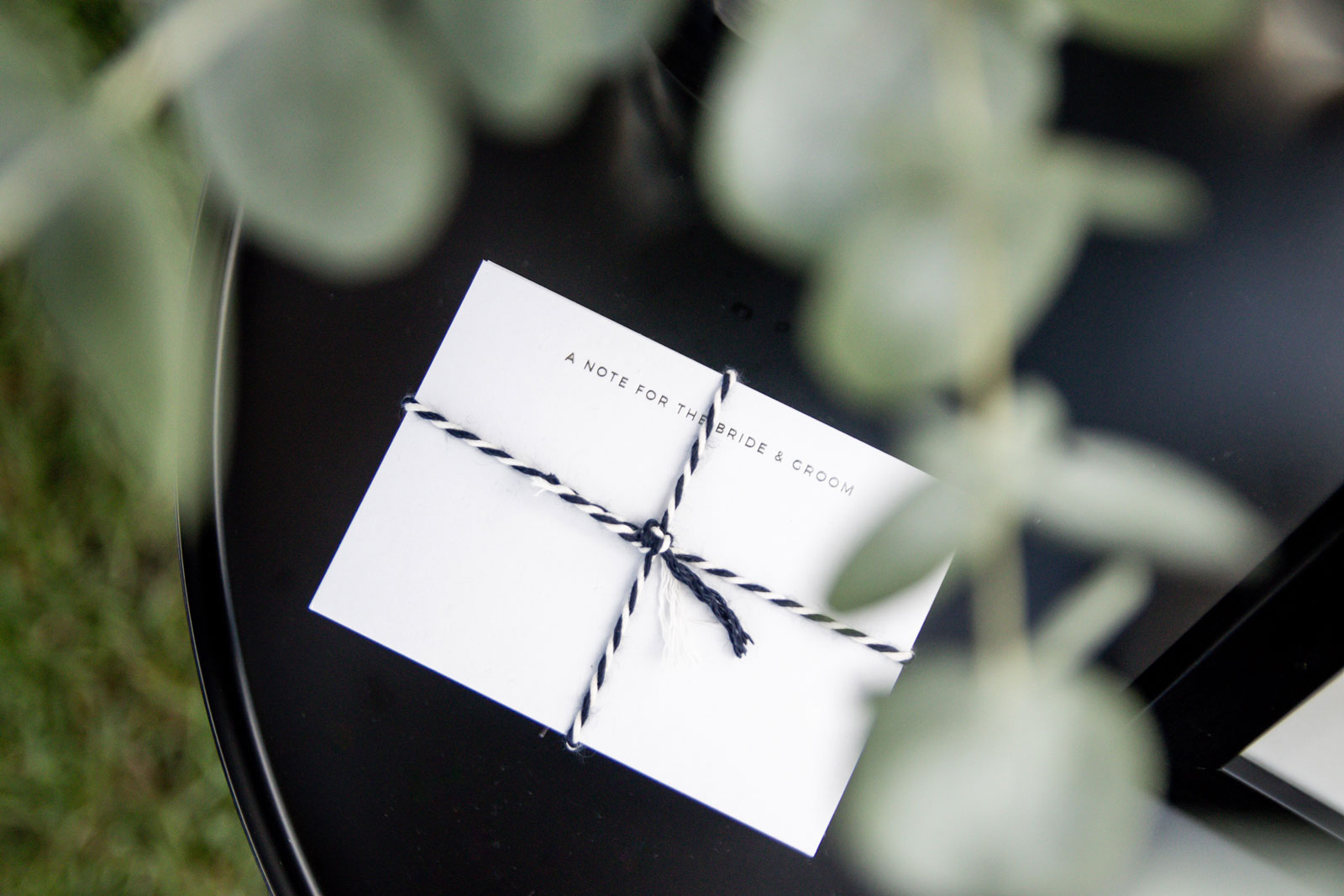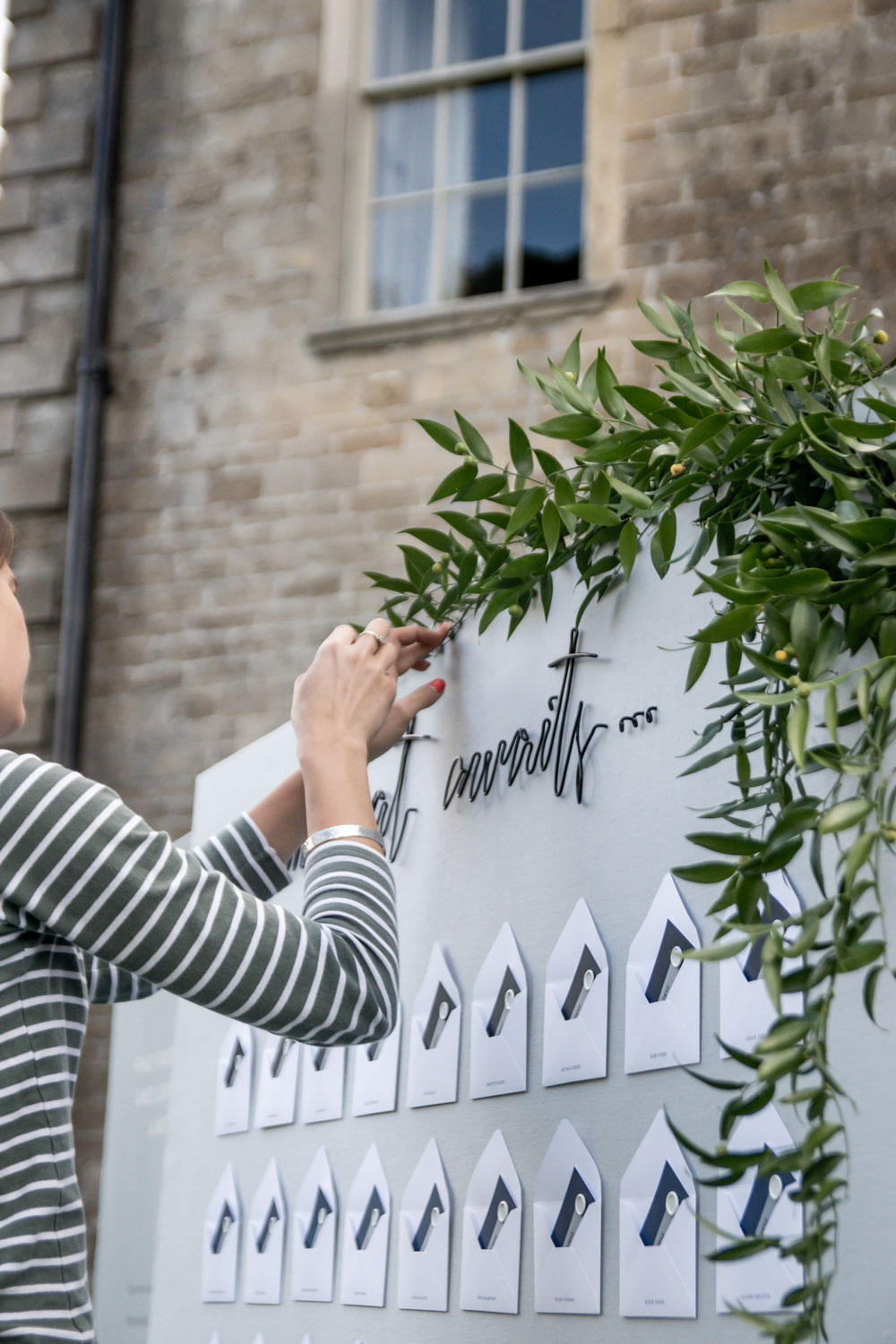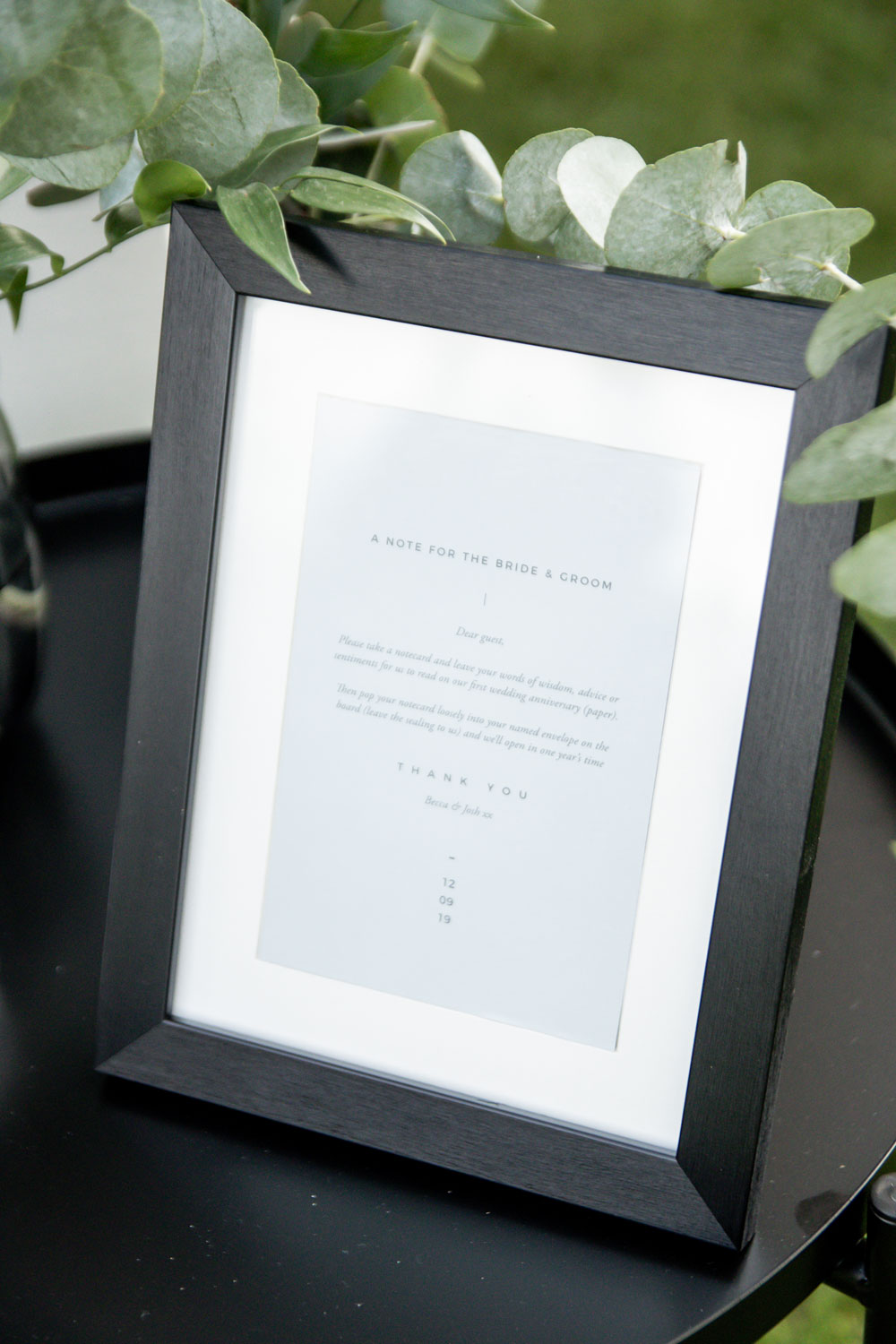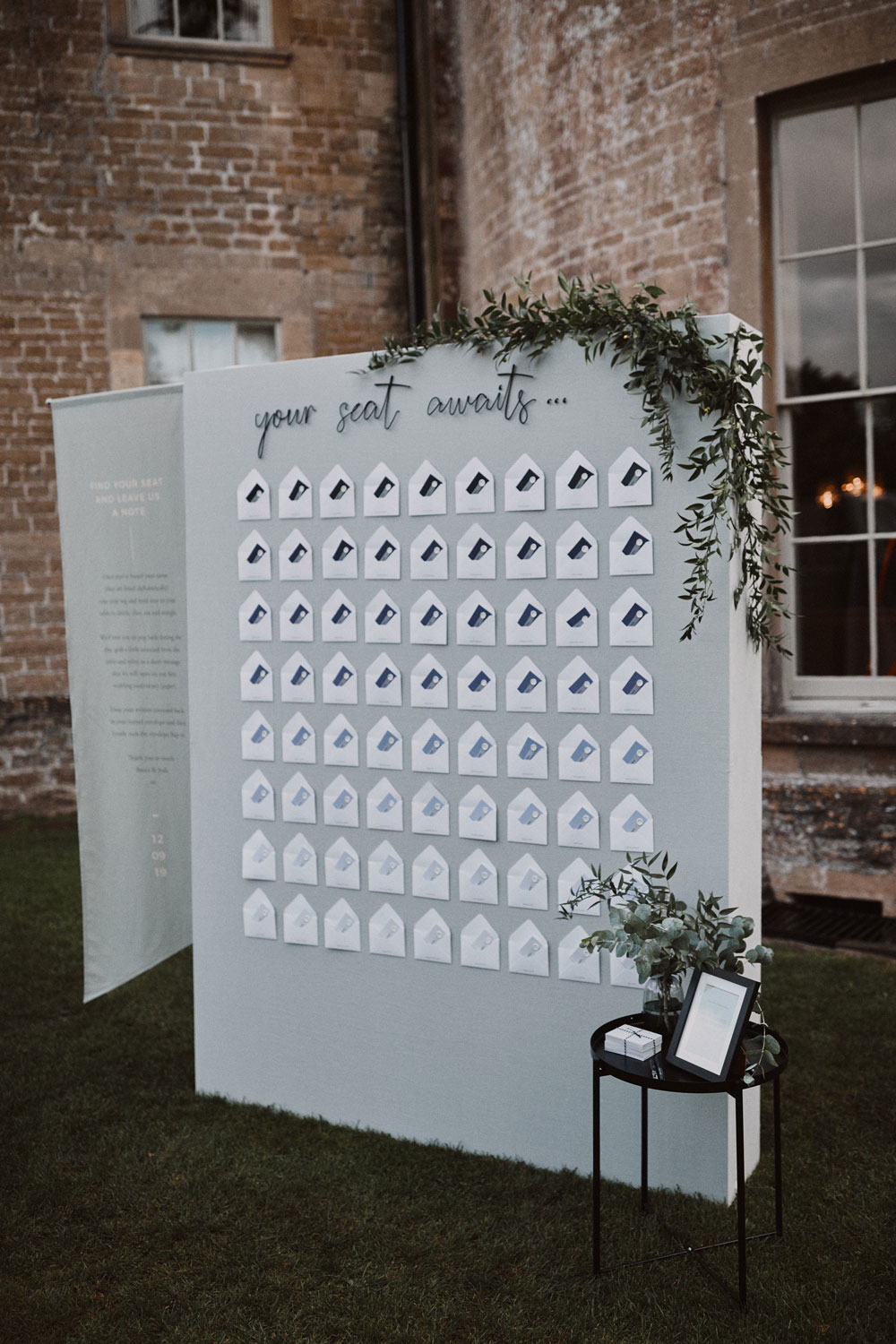 Lots of people wrote notes off their own accord. But my sisters took the leftover cards round to everyone during dinner. So there were only actually a select number of people that didn't write them. I'm so excited to read what all of our guests had to say next September, and think it will be really lovely to read their comments one year on, rather than straight after the day.
The Table Plan Details
Each envelope on the board had our guests names printed onto it. This was so that they could easily find their place setting. But also so that in a years time, we know who the note is from. As we had the names printed, the envelopes were made from scratch. So there were tiny differences like no seal. This actually worked in our favour though, as it made the envelopes so much more attractive when open on the board.
The cards that slotted into them were in an ombre effect. Starting with a deep blue and fanning down to a light grey. Our guests names and table numbers were sealed to the card on vellum with a wax seal from Heirloom Seals. Wax seals were littered over my wedding pinterest boards, and so this is how we got them in to the wedding creative details.
The board itself was made out of MDF, and then we covered it with this linen fabric from Romo. When looking at it from a distance, it almost created a painted effect. But when up close you can see the texture of the linen. We then hung a fabric flag to the left, printed with all of the details of how to actually use the seating plan.
The 'Your Seat Awaits' wire words are from Grey Fox Designs.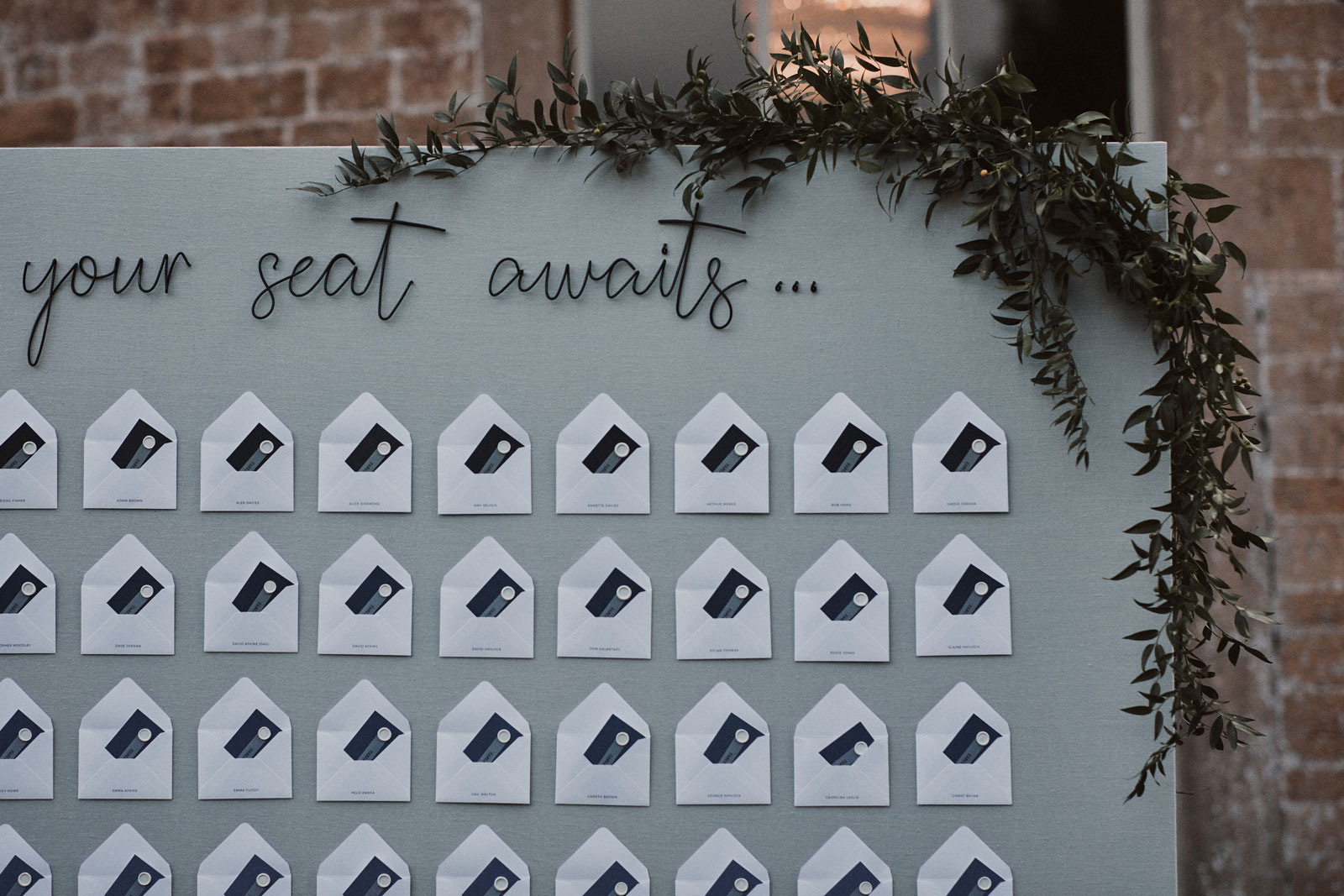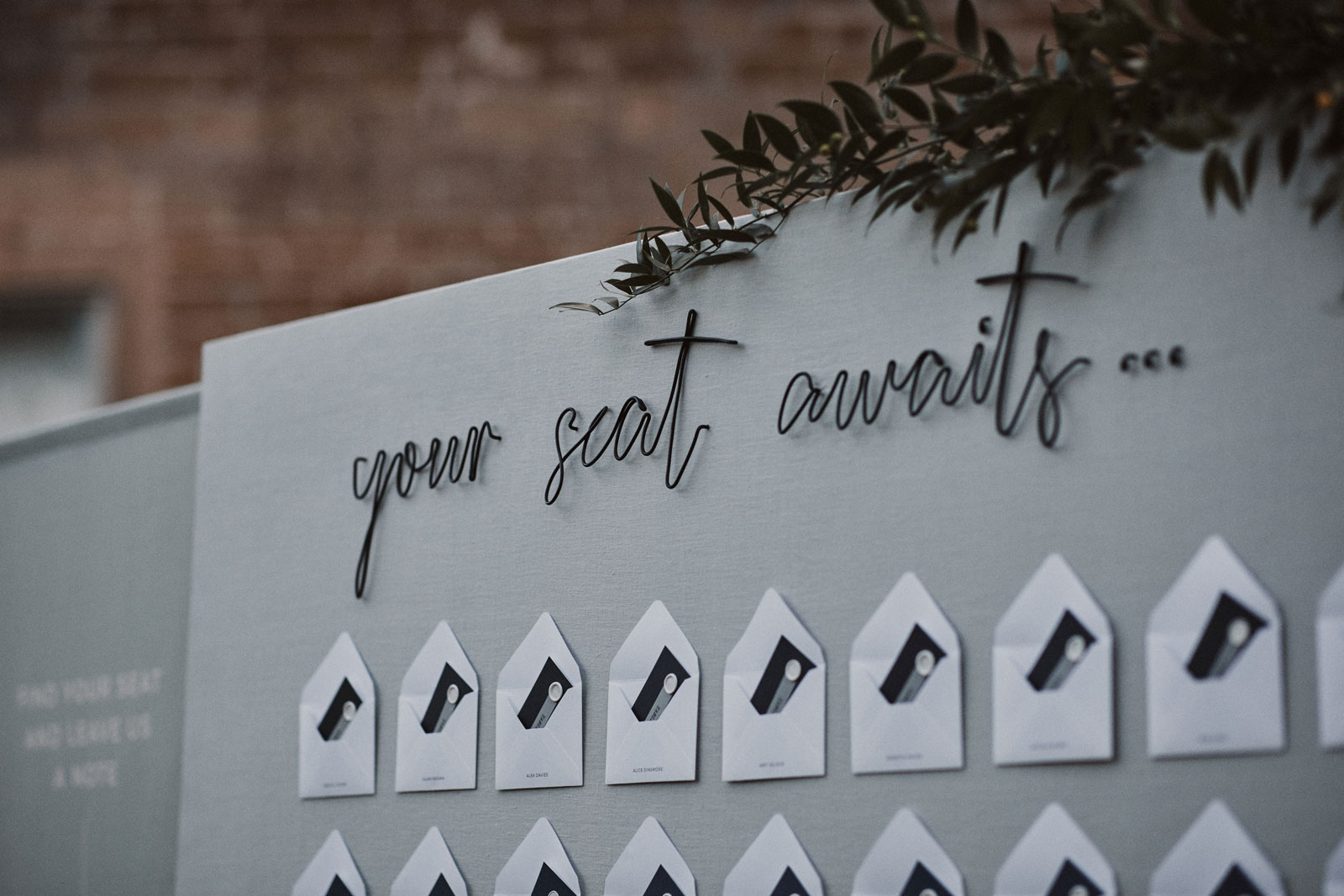 With such a beautiful venue, I didn't want to do too much and take away from the venue.
As Babington House is such a beautiful (an also very expensive!!!) venue, we didn't have a huge budget for all of the wedding creative details. Nor did we really need to do that much to make it look pretty. So I decided to concentrate on two big areas. The table plan being one. The cake area being the second.
Our Sweet Treats
There is a lovely big fireplace in the reception area. And you have the sweeping staircase coming into the reception too. So I always saw this area as the place to have our wedding cake. But of course, I knew I didn't just want any old display. So went about designing how the whole area would look, rather than just how the cake would look.
I came up with the idea of having two clear acrylic plinths, both with floral arrangements growing up the outside of them. On one plinth would stand the cake, and on the other would stand our wedding favours – welsh cakes made by Josh's mum. For those of you that don't know, Josh is Welsh! So we wanted to have an element of Welsh at the wedding too.
We needed something to tie the two plinths together though, so I got in touch with Jacquie from White Olive Designs (one of the loveliest in the industry) and she had the fabric sign made for us. I'd bought the calligraphy font, and used it for other areas of the wedding too, so it all tied together. The words are actually the chorus of our first dance song.
My dad made the stand for the cake, and the jar for the welsh cakes was this one from Neptune.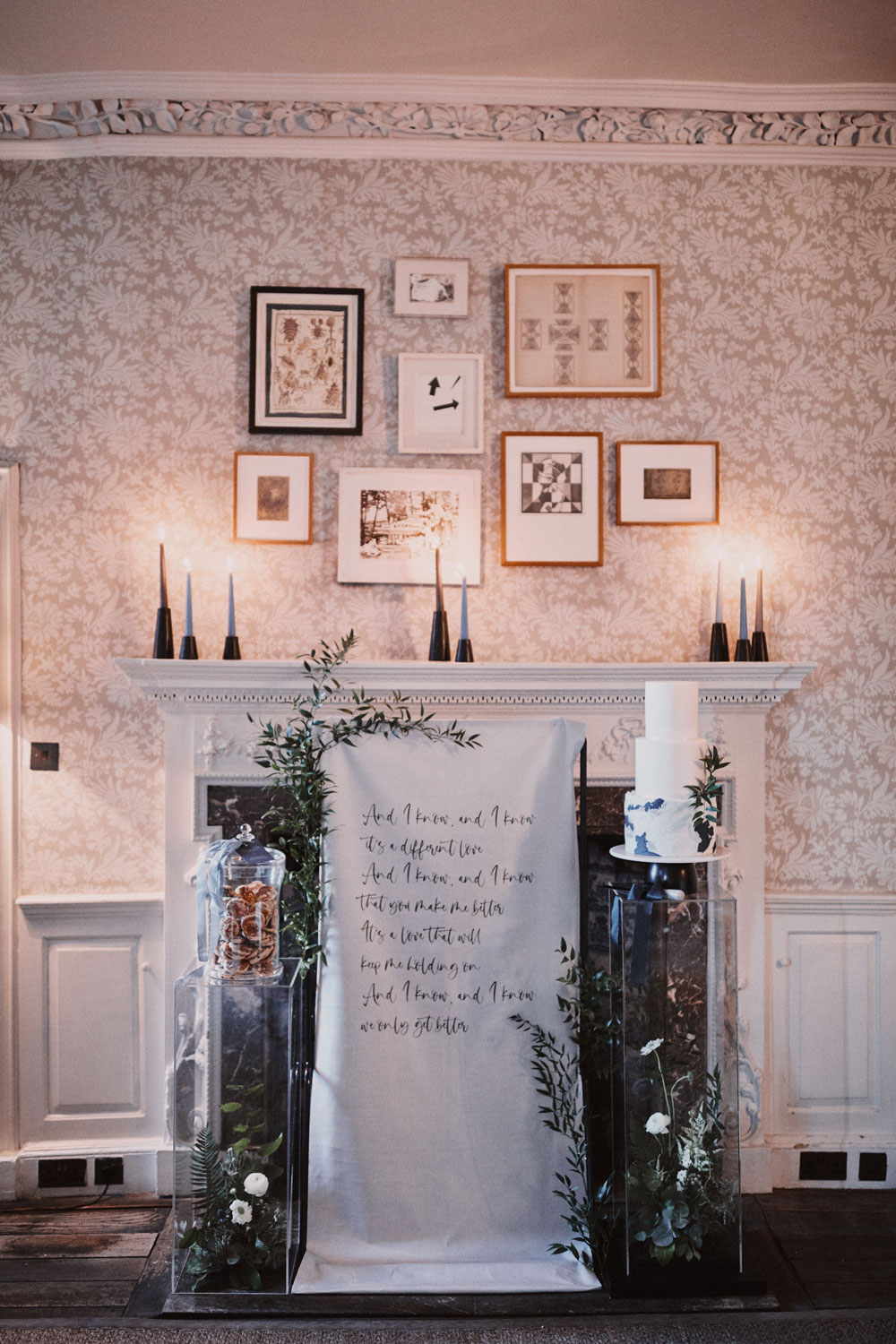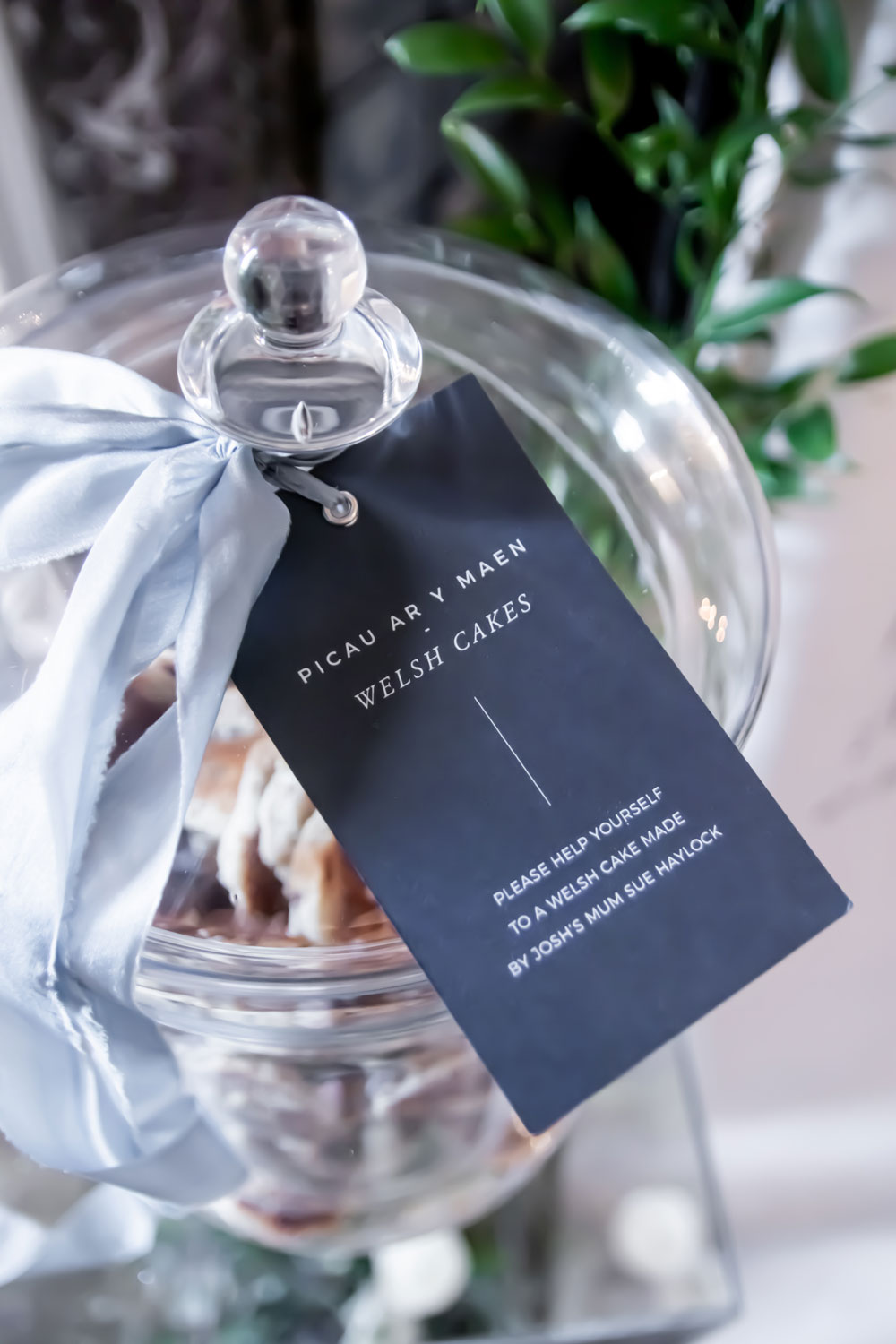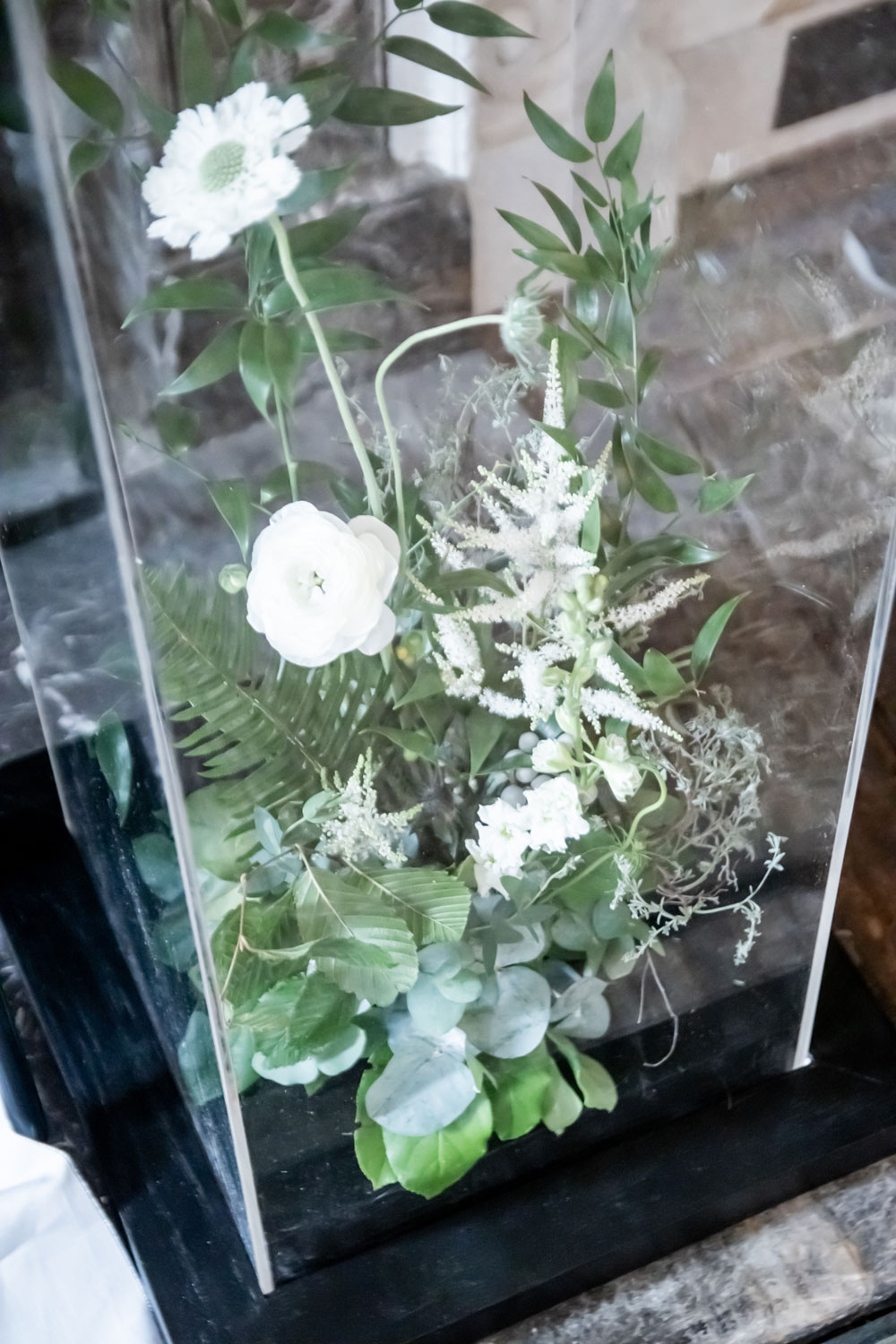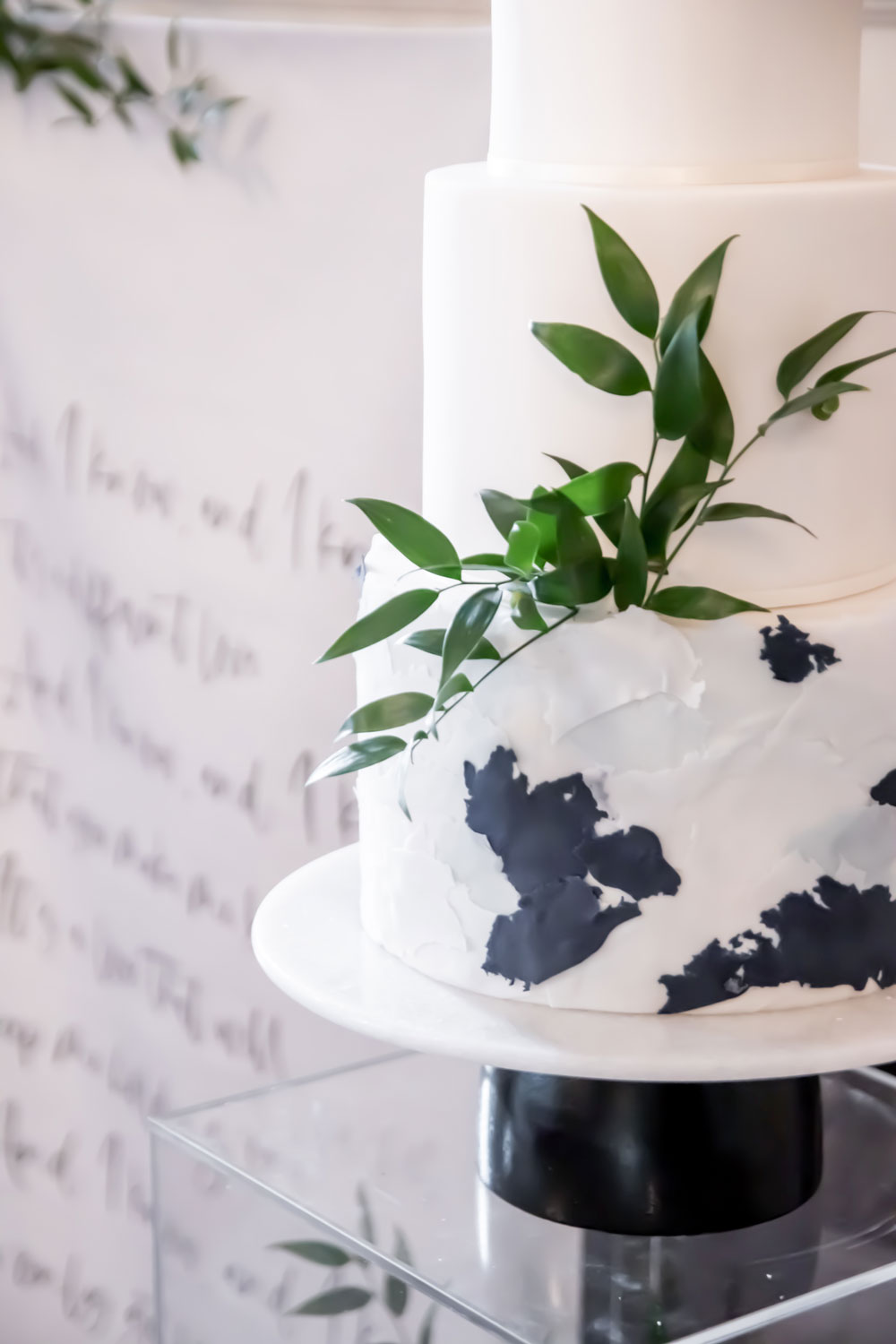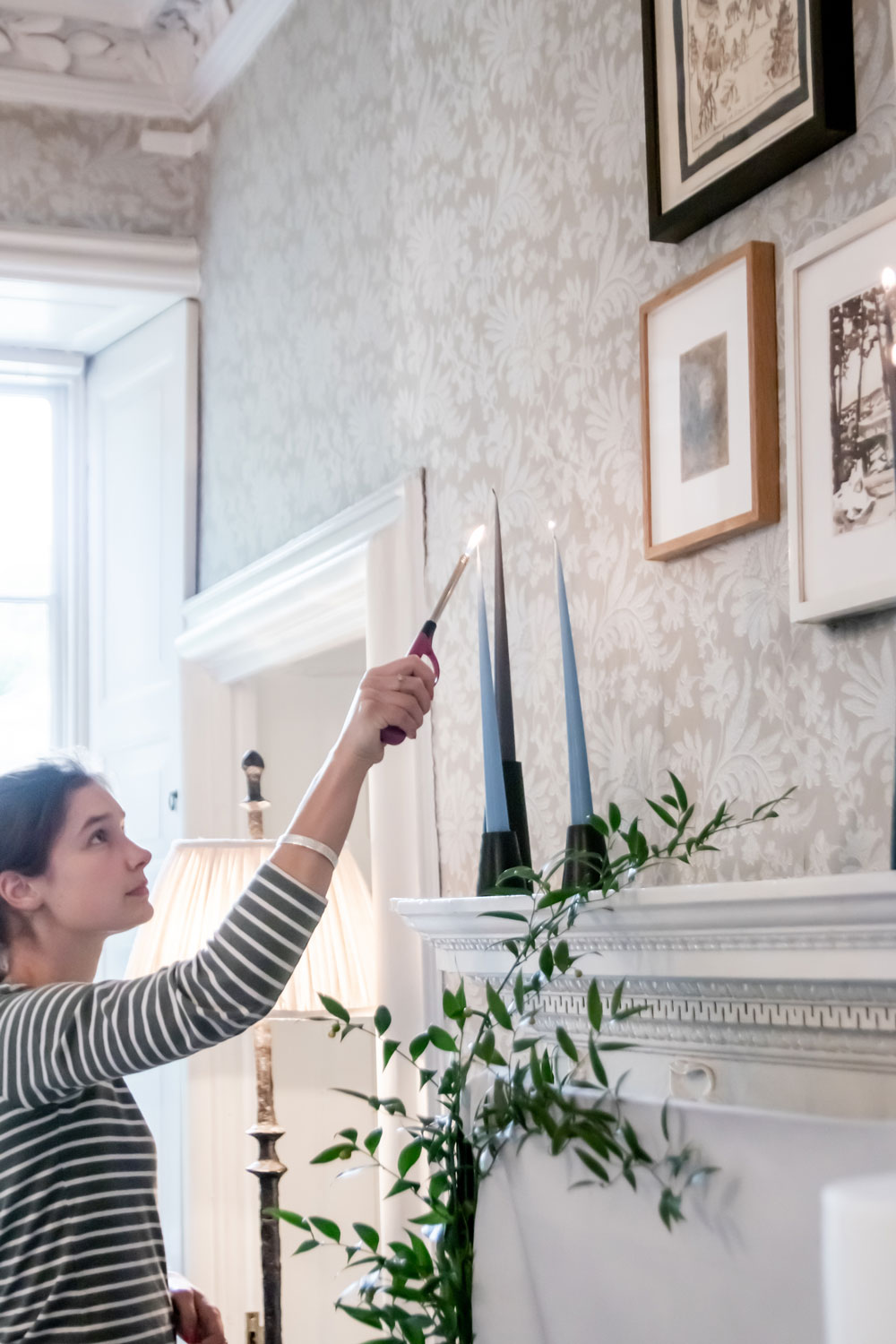 Our wedding cake was made by Zaza Marcelle, and although it wasn't quite what I had in my head, it worked really well with the setup. As you know, I'm not really a fan of cake, so I didn't have any. But our guests all commented on how tasty it was.
The candles were a selection of blues and greys from Ester and Erik and we had them dotted around our whole wedding venue. My dad made all of the candlesticks out of wood, and then stained them in Ebony. They adorned almost every possible surface. And as a venue with so many rooms, really helped to tie the whole wedding together.
It's also lovely to now have so many candlesticks to use at home. And every time I light a candle, it reminds me of the wedding. They are also great for me to use for other events or weddings, so although Dad hated making them by the end, I really am incredibly grateful!
I just wanted guests to walk in and think wow, and I think we managed to achieve just that.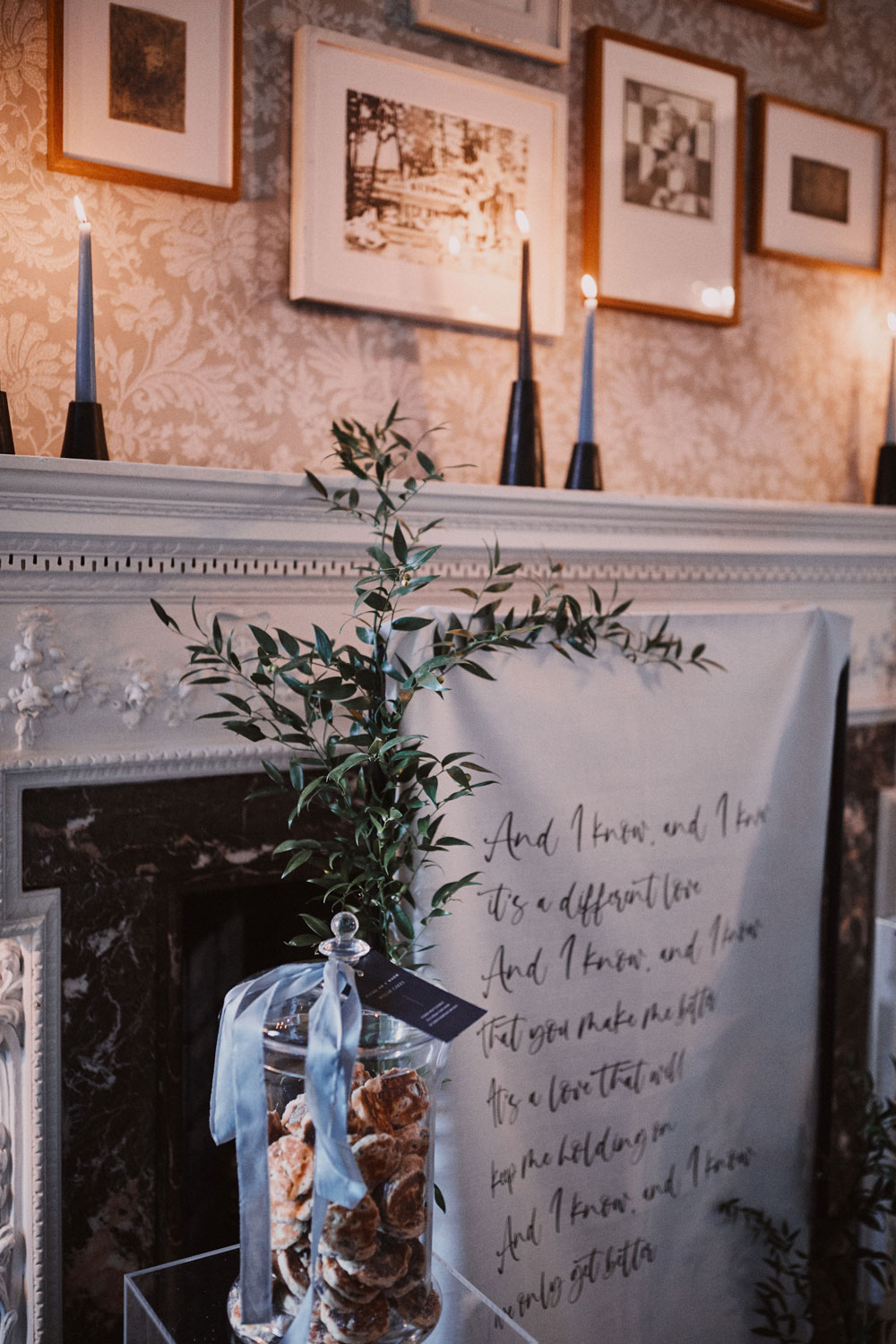 Of course, the wedding creative details extend into the party too. And for us, it was just something really simple. I'd always had this idea of having a neon sign. But I didn't just want one for the sake of it. We did however decide to join our names together for our married life, and so it felt like the perfect 'phrase' for a neon sign.
I always wanted something that we might use again, and so again the name felt perfect. As I knew it would work in our future downstairs cloakroom as a little something fun. We bought ours from AOOS and used their font nine. I love the way my dress sparkled under the neon light too.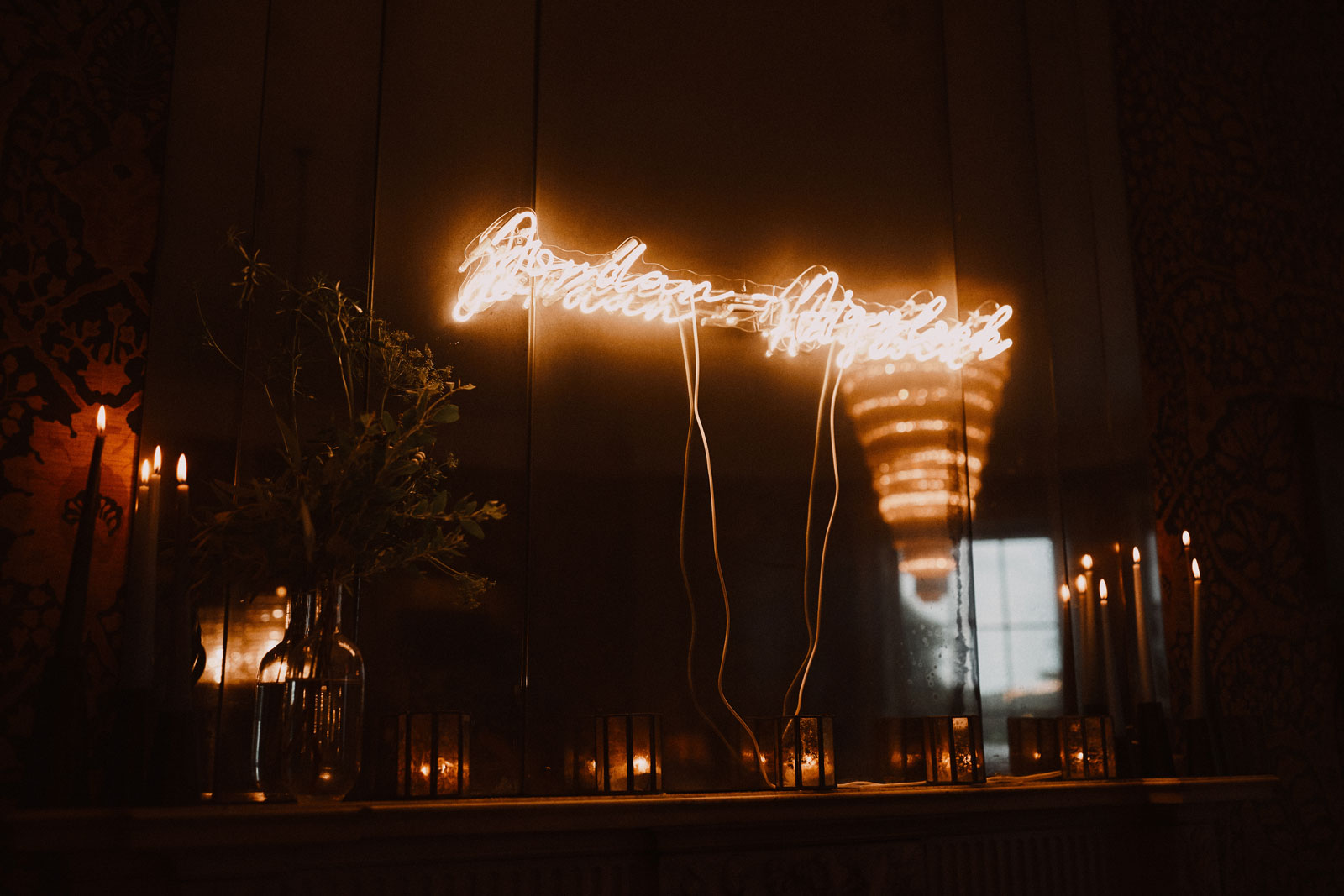 I think we kept the creative details fairly simple. Just focusing on two areas and turning them into real wow factors. I wanted people to walk in to the reception area, see the sweet treats area and just think wow. And I think that we achieved exactly that reaction from our guests.
I also wanted a table plan that would stand out from others. That would pop amongst a sea of other table plans on Pinterest. Something that was really different, handmade and ours. And just like the sweet treats area, we achieved just that too.
I'd love to know what you think to our creative details, and which parts were your favourite. If you have any more questions about any creative parts of our day, or need help with yours, then please just ask in the comments.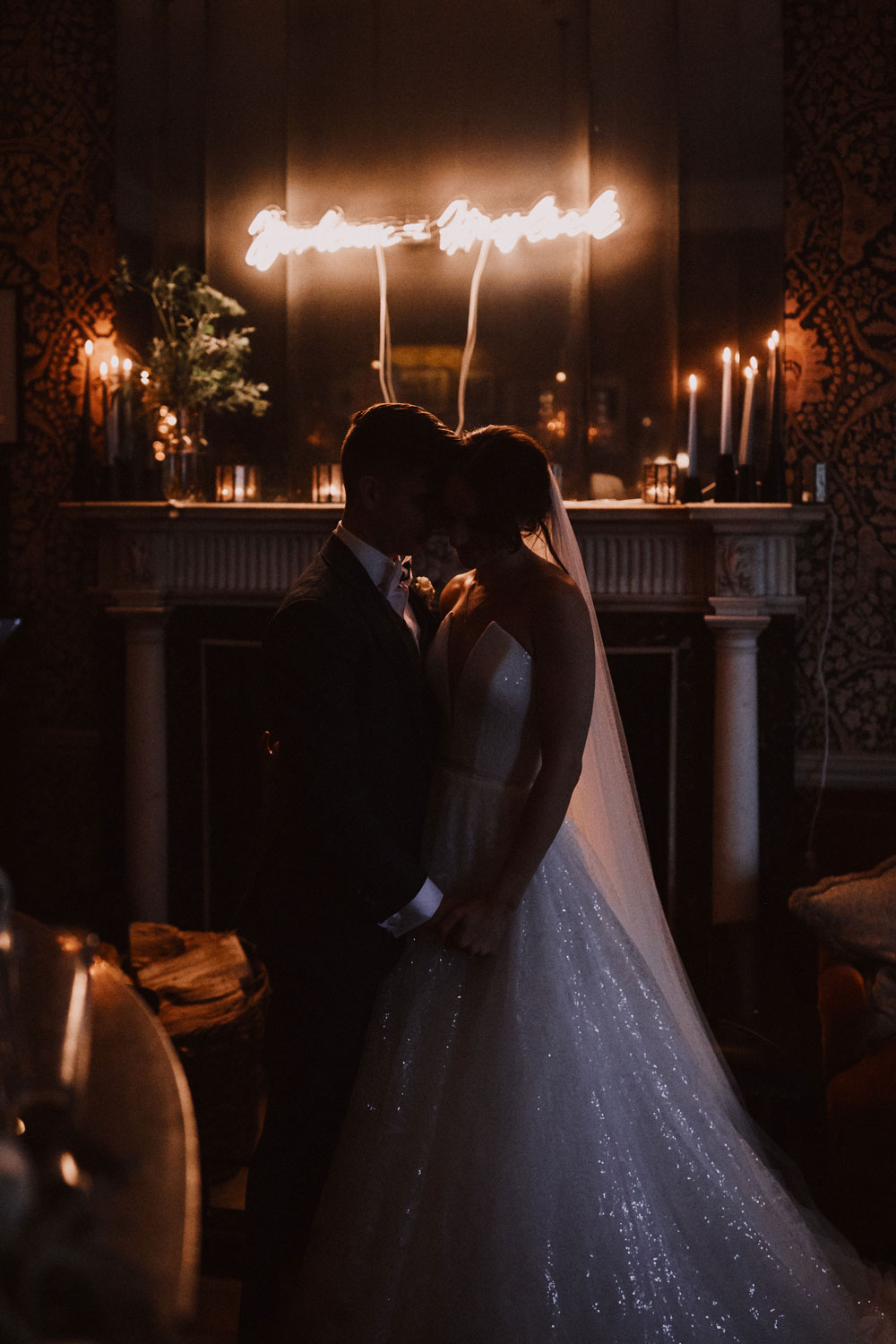 Images – All Photographs throughout this post were taken by Benjamin Wheeler or Stories by Chloe. Ben was our wedding photographer. And Chloe shot all of our behind the scenes photos. To me the set up is just as important as everything set. So to ensure we captured everything, I hired two photographers to capture very different things.
Disclaimer – We always endeavour to credit the correct and original source of every image that we use. If you think that this credit may be incorrect, then please contact us at info@houseofthree.co.uk