These are my favourite wedding ribbon suppliers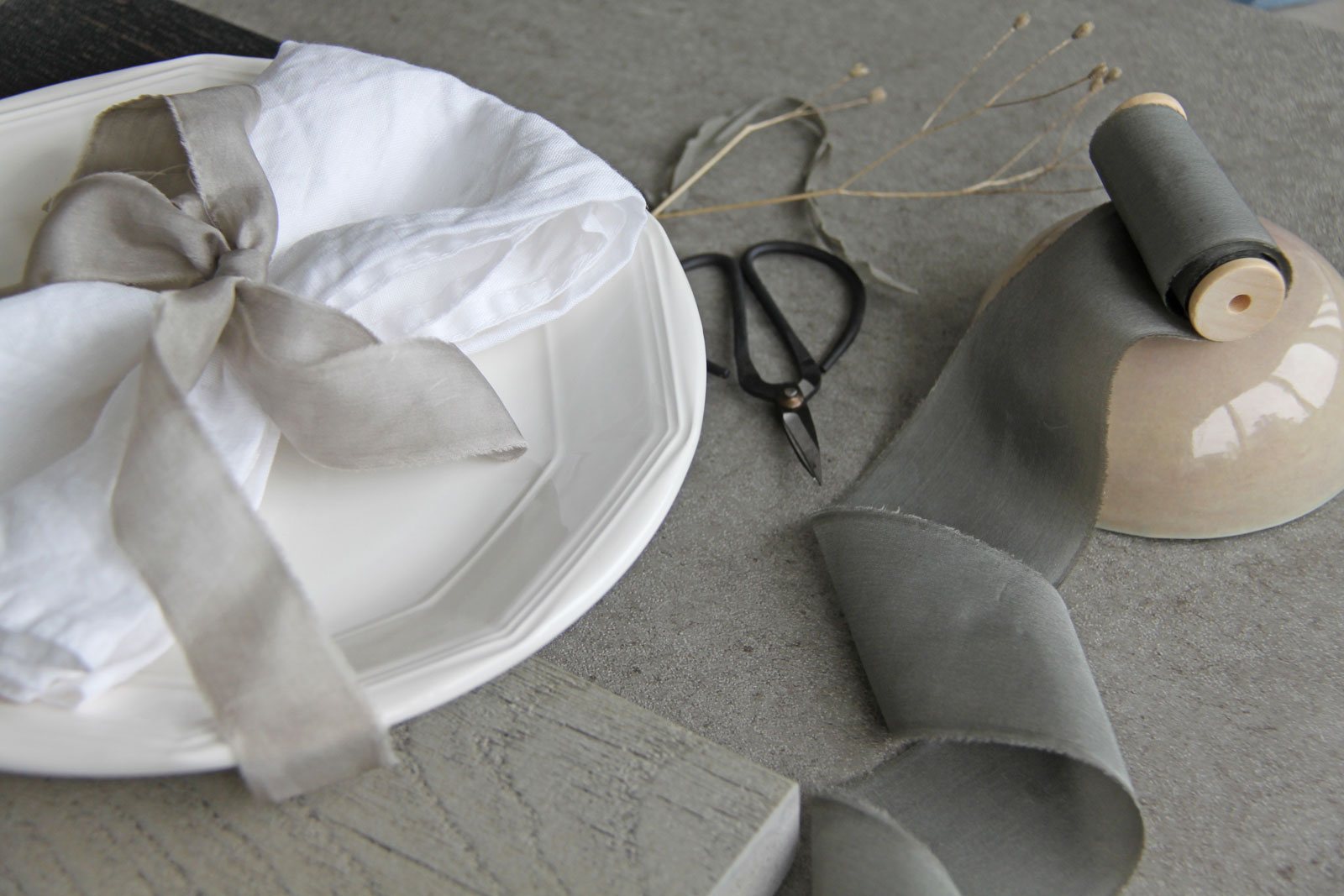 Wedding Ribbon is an absolute essential. It holds together your bridal bouquet, more often than not adds elegance to the stationery and sometimes even ties up your hair. But do you know where to actually buy the ribbon from? Well here are my favourite wedding ribbon suppliers, to make buying them for your wedding that little bit easier.
Wedding Ribbon Suppliers aren't that easy to find. If you simply google 'wedding ribbon', it doesn't actually come up with much. Well it does – but just a lot of cheap, brightly coloured ribbon. So how do you find that beautiful ribbon that you see in so many Instagram images? Well, you ask someone that knows the best wedding ribbon suppliers. So this is exactly why I'm going to list my favourites…
The first supplier I'm going to tell you about, is one that I learnt about from the amazing stationer that is Nat's Paper Studio. Nat used this supplier for her own wedding, and I loved it so much that I bought samples for our wedding too! We're going to use this ribbon to tie up our favours…which I might write a blog post about. But for now, back to ribbons.
C Fleurs Design
C Fleurs Design sells via Etsy – a website I have only ordered through a handful of times. But despite my lack of ordering through it – it is so easy to use. C Fleurs has her 80+ ribbon shades beautifully photographed, so you can see exactly what might work for your wedding.
The ribbons are all plant and hand dyed too, using a variety of different silks. Silk Ribbon, Chiffon, Organza, Habotai and Georgette. I've chosen to use the Pure Silk Habotai in Dark Steel blue and Deep Ocean.
C Fleurs Design is on Instagram too @cfleursdesign.
Google Wedding Ribbons and all that comes up is brightly coloured, cheap looking ribbon. Here are the suppliers that have taken Instagram by storm.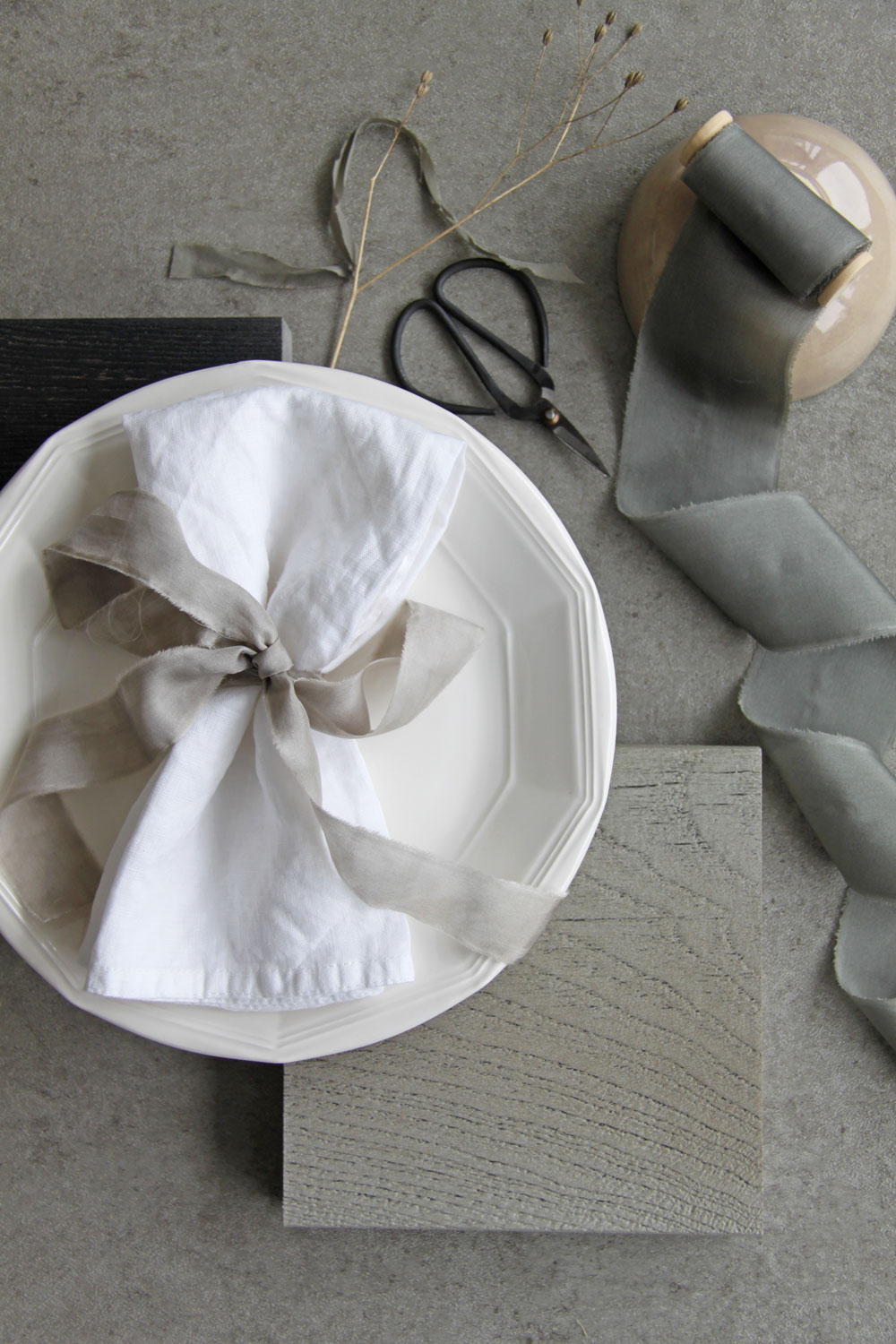 Although I know I've definitely chosen C Fleurs Ribbon to tie our wedding favours. I might actually also use the same coloured ribbon for my bridal bouquet.
If you'd like to read more about my wedding flowers, including mood board and the inspiration behind the designs, you can do here.
The second supplier I want you know to know about, is someone that I've followed on Instagram for years. I've also obsessed over using their ribbon, and finally got to use it for our wedding.
Kate Cullen
Kate Cullen is an absolute gem when it comes to the wedding ribbon suppliers world. And I say that personally, as Kate has actually made the ribbon for our wedding stationery. Not only for our invitations though, she's also made the runners for our tables too. So I think it's fair to say that I'm a massive fan of Kate's ribbon. And table runners!
With a collection of Habotai Silk, Silk Crepe and Velvet ribbon options available, there really is something for everything and everyone. As Kate hand dyes all of her ribbons, there can sometimes be a slight variation in colour. But isn't that the beauty of something that is handmade?
Kate's dyes are mostly made from plants and flowers, as well from waste food products such as skins or stones. Some are foraged, such as berries, leaves and bark.
Kate Cullen is also on Instagram, where her ribbons feature in lots of styled shoots. Follow her here @katecullenstyle.
As soon as anyone asks me about wedding ribbon suppliers, my first answer is Kate. She really is at the top of the ribbon game, and so well known within the weddings world.
I've wanted to use Kate Cullen's ribbons for years. And finally, with my wedding this year I was able to use them!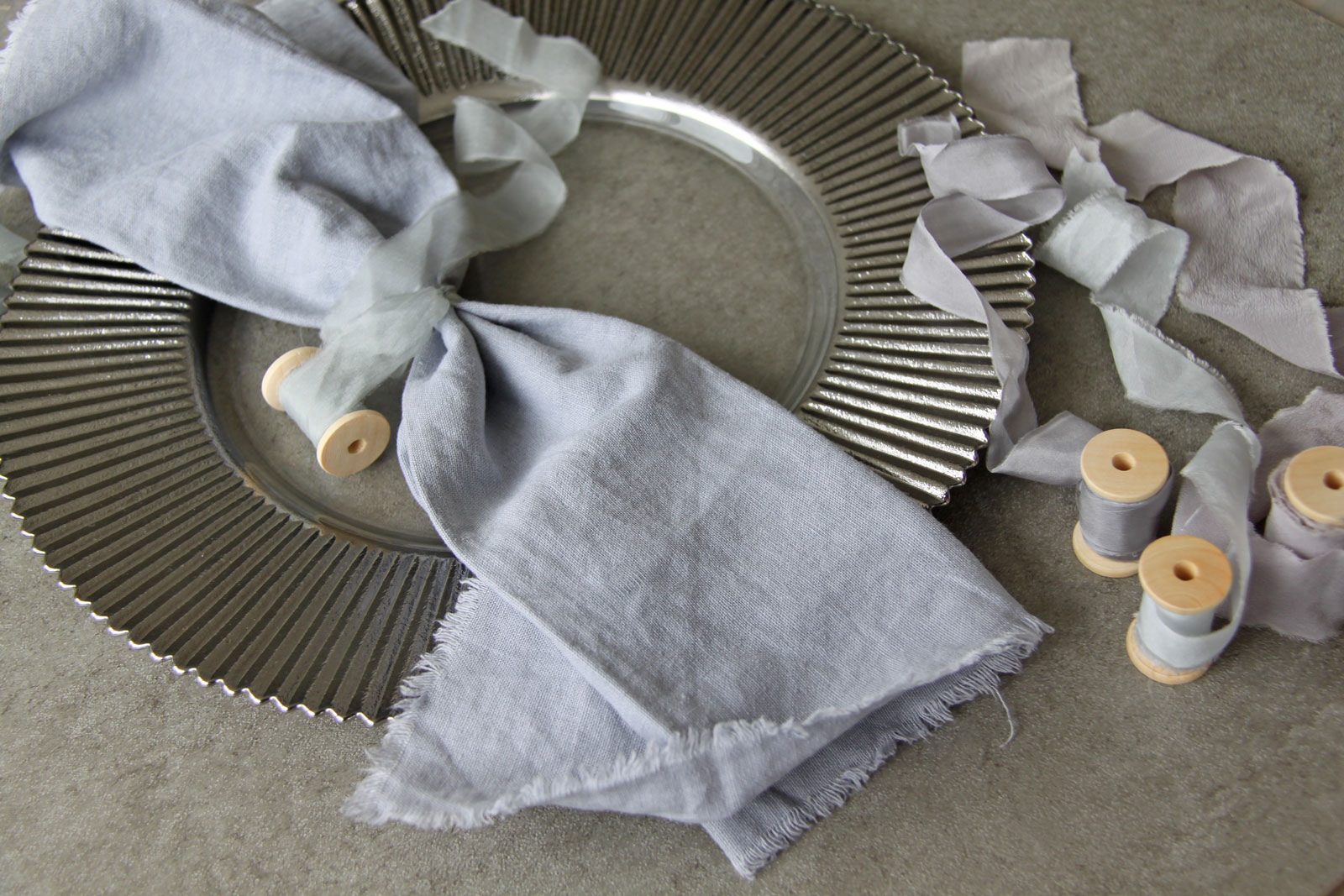 Next up are two American companies. So if you are a hop across the ocean, then these wedding ribbon suppliers would be perfect for you. Although they do ship to the UK, remember that shipping will take much longer and will cost considerably more than using a British company. To make shipping worth it, you really need to be order larger quantities.
Tono and Co
Tono and Co has been a ribbon company on my radar for a long while, and I really would love to order their styling kit. One day, when I have a little more spare change, it will be the first thing on my list. The thing I love about their ribbons most are the colour collections. They have 8 different collections where you can order three complimenting shades of ribbon.
This really is perfect for anyone trying to add a colour pop to their wedding day, but without it being too strong. By having the varying shades of colour, it helps to tone it down. My favourite, (of course) is the marine collection which is a collection of grey/blues.
Frou Frou Chic
Frou Frou Chic have an amazing selection of silk ribbons, in a huge range of different colours. They also have five different silk options to choose from. Including Original Silk that has a soft sheen and drape. Crinkle that is a textured silk chiffon. Chiffon that is has a crepe-like matte finish. Gauze which is a really soft flowing silk and Organza, which is a translucent full bodied fabric.
International Delivery is available via USPS. Although they do state that taxes and customs fees may apply at delivery. These charges vary and you would be responsible for these charges.
My favourite ribbon colours are the greys and blues - but then I suppose there's no surprise there!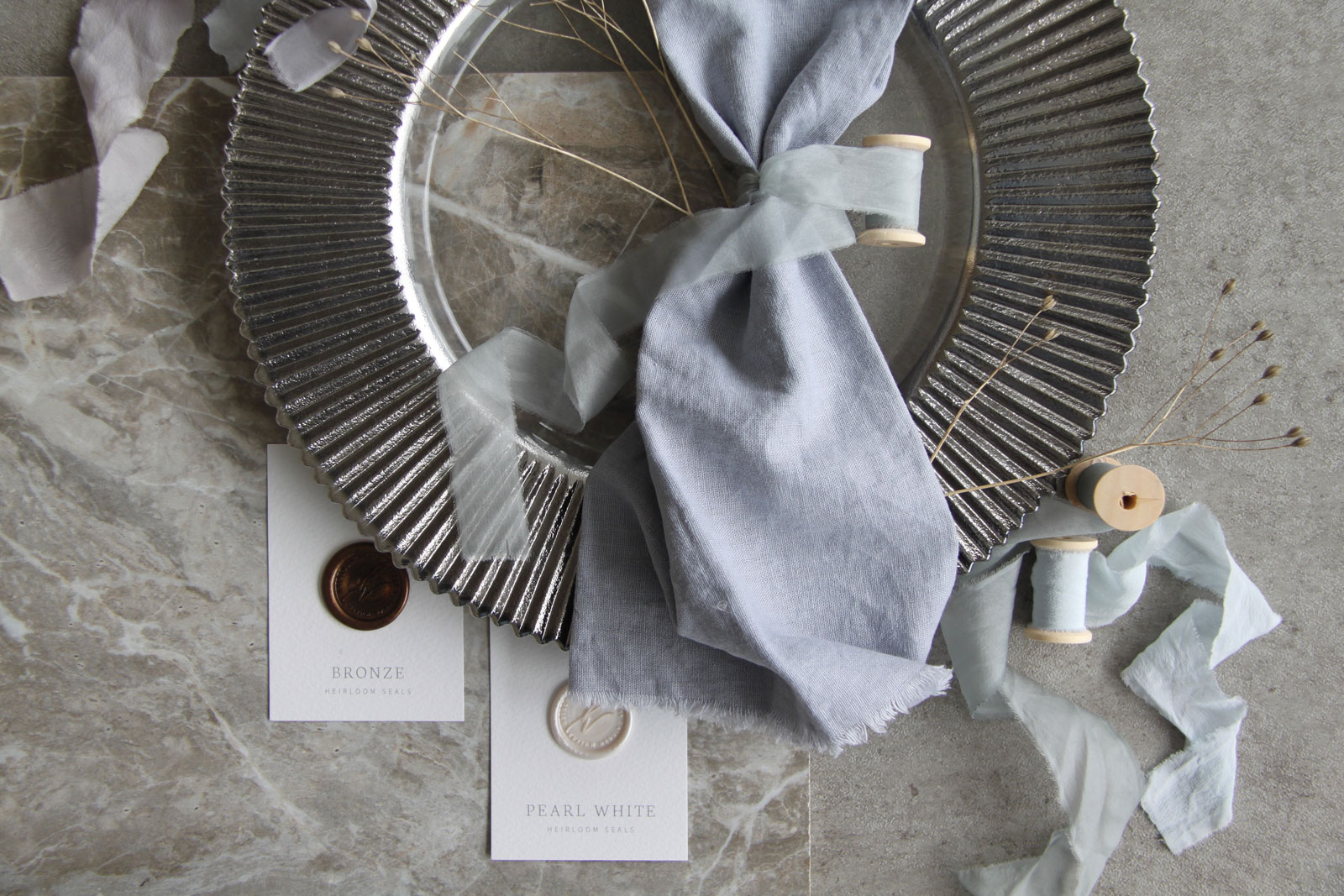 Then last but by no means least, a slightly smaller British company…
Little Acorn Silks
Based in Nottinghamshire (where I'm from), Little Acorn Silks actually also sells on Etsy, or directly through Instagram. The silk ribbons are hand-dyed and also come in a variety of different silk styles. Including Silk Velvet, Bamboo Silk, Habotai and Crepe de Chine.
If the ribbon is in stock, then it would be dispatched within 3-5 days from order. As the ribbons are hand dyed, occasionally you will see the odd pigment or marbling marks, which I think just simply adds a little more character.
You can follow @little_acorn_silks on Instagram too.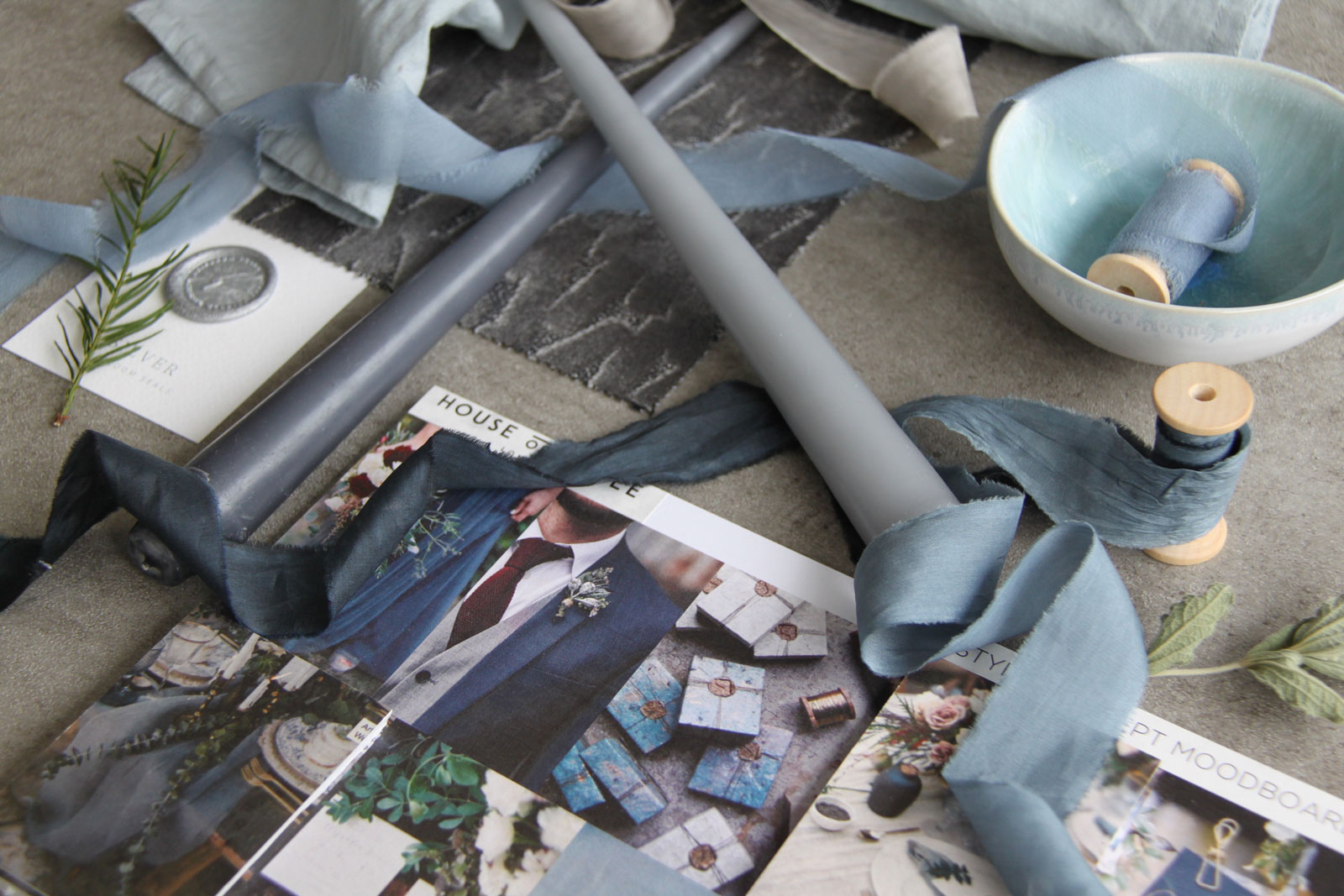 Disclaimer – We always endeavour to credit the correct and original source of every image that we use. If you think that this credit may be incorrect, then please contact us at info@houseofthree.co.uk